Rich, yet still soft and decadent, these thumbprint caramel shortbread cookies will be all the rage during your annual cookie exchange (or be like me and not share any at all!)
I am so happy to be a part of a Canadian cookie exchange this year. No cookies are physically being exchanged, but it did bring together Canadian food bloggers with their latest and greatest creations.
While I am all over these thumbprint caramel shortbread cookies (and swear they are the best!), other bloggers went through a lot of work, and it would be great if you could check out their recipes at the end of this post 🙂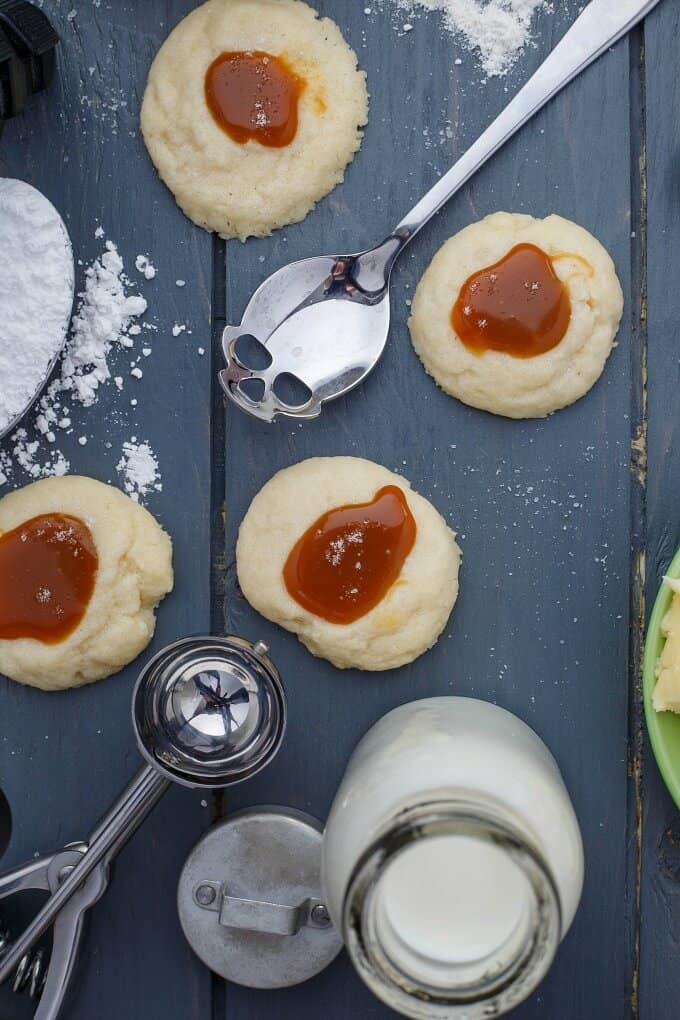 If I had to pick one Christmas cookie to enjoy each year, it would be a real hard toss up between snickerdoodles and shortbread cookies. My caramilk stuffed snickerdoodles were all the rage last year, and I needed something to top it. Since I LOVE caramel sauce (check out my dry method caramel sauce,) I knew I had to incorportate that somehow. And that is how these thumbprint caramel shortbread cookies were born!
Originally I had planned to make some sort of royal icing decorated cookie but I completely ran out of time. With the fine attention to detail and having to wait for the royal icing to dry between each layer, I knew there was no way it was happening. So I opted to go with these caramel shortbread cookies instead and I was soooooo happy!

Then again, I did hit some hiccups along the way but that is why I am here: to share with you the right way to make cookies so you don't have to deal with the pain I did.
First off, if using homemade caramel sauce, be sure to make it a day in advance and allow it to firm up in the fridge. My first batch of cookies was great, except I was too impatient in allowing my caramel sauce to cool so it just ran everywhere. My fault.
Second: Don't go too crazy with the caramel sauce. The whole idea is a "thumbprint." I am all about the caramel sauce, but if you add too much they are just going to run off the sides. Plus, the shortbread is fantastic on its own, so you don't want to mask any flavors 🙂
Third: To chill the dough before baking or not. Very rarely do I refrigerate my cookie dough rounds before baking. I know some people swear by it, but I dont' care for it. I went both ways with this recipe, testing out how they turned out chilled from the refrigerator, and baked just straight from the mixer.
To be honest, I preferred the ones baked straight from the bowl, no chilling required. If you look at my pictures, the cookies with the feathery looking edges were the chilled ones, and the soft edges were the non-chilled ones. Personal preference, but just letting you know 🙂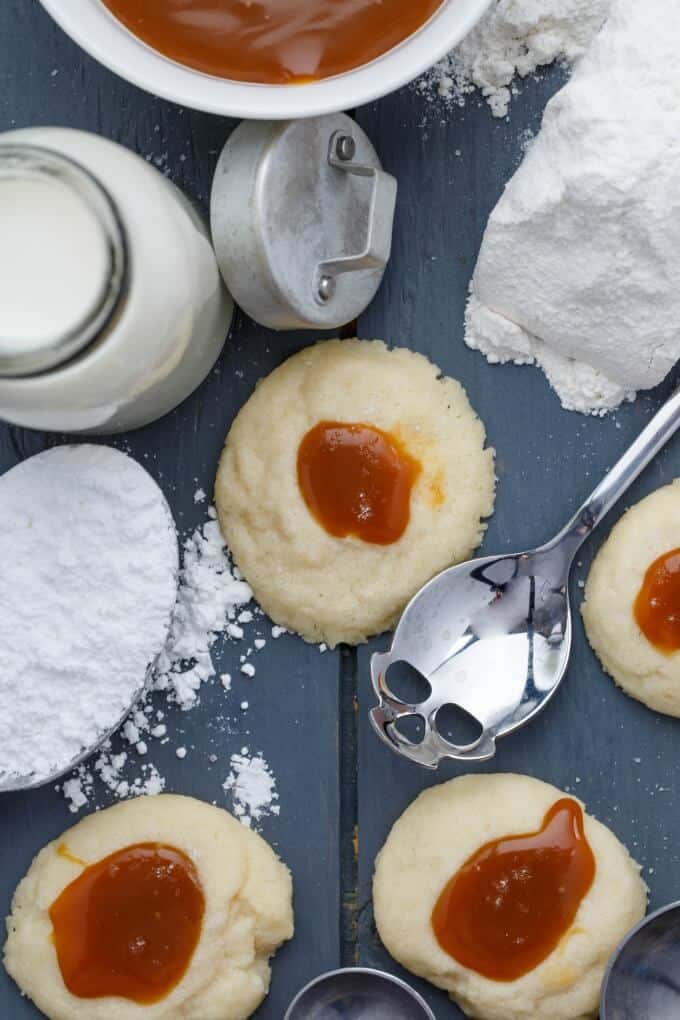 And there we have it! These thumbprint caramel shortbread cookies are a adaptation from my shortbread cookies (which were originally by Uncle Bill from Food.com) The recipe is fool-proof and is probably my most requested cookie recipe every year!
📖 Recipe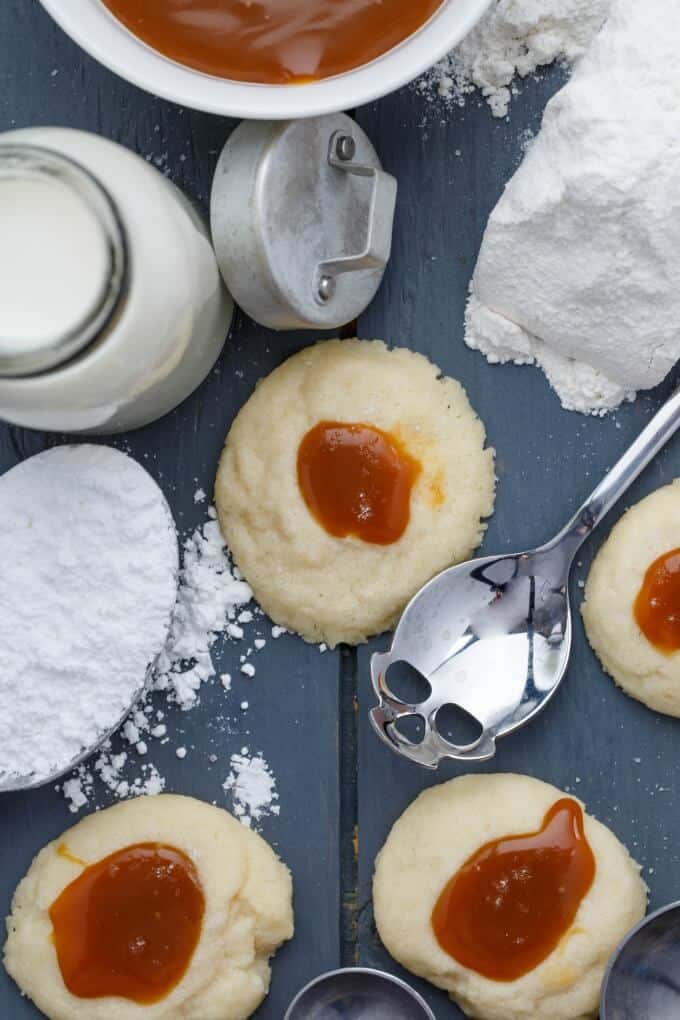 Thumbprint Caramel Shortbread Cookies
Your cookie exchange just got a whole lot better with these thumbprint caramel shortbread cookies! Fun, easy, and totally delicious!
Ingredients
1 cup salted butter, room temperature
1 ½ cups all-purpose flour
¼ cup granulated sugar
¼ cup confectioners' sugar
¼ tsp. almond extract
Store-bought or homemade caramel sauce
Instructions
Combine butter and sugars into the bowl of your stand mixer. Beat until light and fluffy, about 5 minutes. Mix in almond extract. Pour in flour and mix until JUST combined.
Preheat oven to 350F. Line a baking sheet with parchment paper or silicone liner. Measure out one tablespoon-sized portions and roll into a ball. Use your finger or thumb to make a "thumbprint" in the cookie.
Bake for 11-13 minutes. Allow to cool 5 minutes on baking sheet before moving to wire rack.
Decorate
Place a SMALL amount of caramel sauce into each thumbprint, and move cookies to fridge so caramel firms up. If you find your caramel is too runny (I store my homemade batch in the fridge so it is nice and firm to work with) then mix in some confectioners' sugar until you have a caramel paste.
Notes
If your caramel sauce is loose, mix in some confectioners' sugar so that your caramel thumbprint stays in place and doesn't melt.
Nutrition Information:
Yield:

24
Serving Size:

1
Amount Per Serving:
Calories:

113
Total Fat:

8g
Saturated Fat:

5g
Trans Fat:

0g
Unsaturated Fat:

2g
Cholesterol:

20mg
Sodium:

67mg
Carbohydrates:

10g
Fiber:

0g
Sugar:

4g
Protein:

1g
As I said, it wasn't just me putting in the effort to come up with a delicious Christmas cookie recipe, but many Canadian food bloggers as well. I finally had the chance to meet many of them in person this past October and cannot wait to see them again (but this cookie exchange will have to do for now!)