Once you try snickerdoodles, there is no going back. But you know what is even better?! Caramilk stuffed snickerdoodles!
Christmas time means cookie time in my books! I love the smell of baking and giving away all the creations (after taste-testing a few of course!)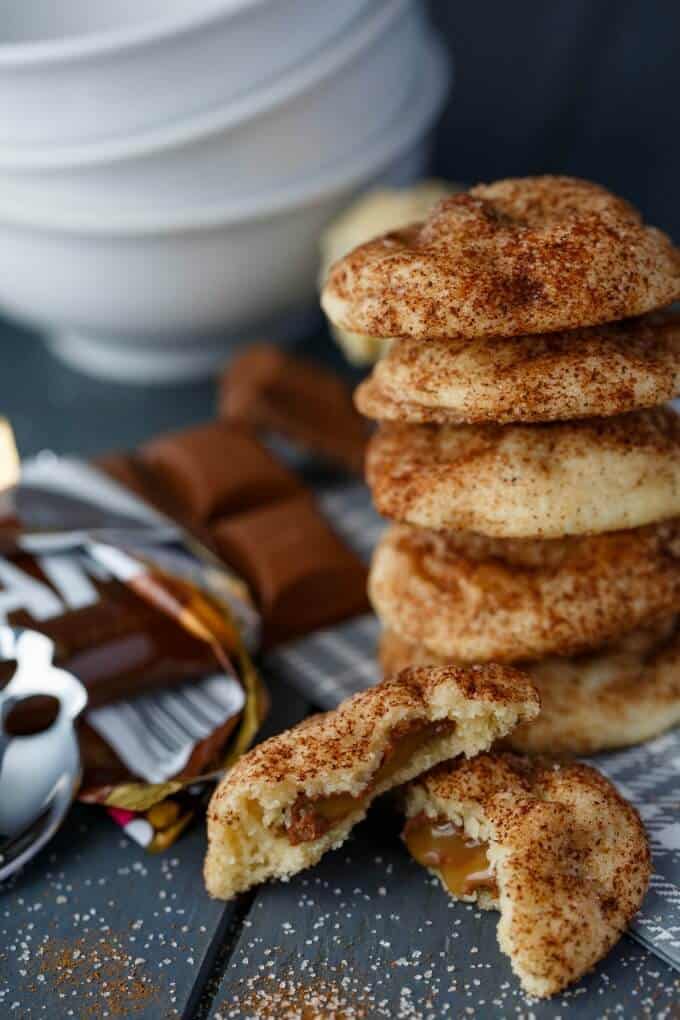 Snickerdoodles are a type of cookie that I was introduced to many years ago and fell in love! As you know, I am trying to update past cookie recipes, but sometimes a new and exciting post is necessary to bring out the wonders of an older recipe. I wanted to make my own snickerdoodles recipe that stood out from the rest. When I first started making snickerdoodles, I didn't realize they were suppose to be big and fluffy. The recipe I had used was delicious, but would not pass the snickerdoodles test! Now I am here with my own version: Caramilk stuffed snickerdoodles! You can leave them un-stuffed for that same great snickerdoodle taste, but has chocolate ever hurt anyone?!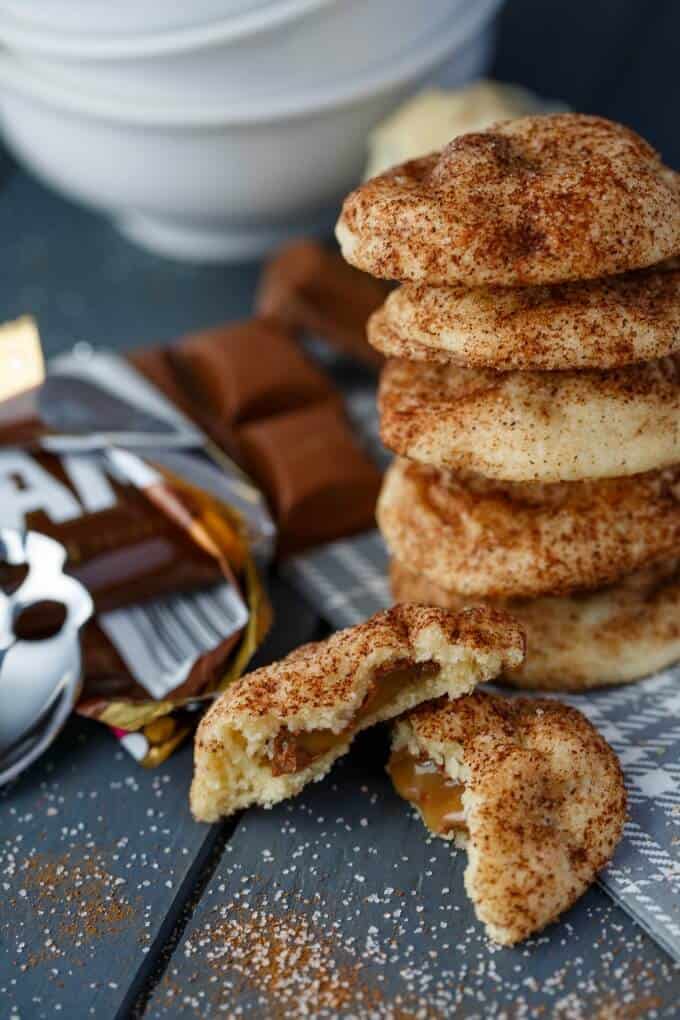 Now, I probably would not have made these stuffed snickerdoodles had it not been for the over abundance of Halloween candy my daughter still has left! It is never-ending! I was rummaging through the bag (taste-testing a few things along the way) and picked out the chocolate bar I had the most of, which happened to be Caramilk (no affiliation.) The idea of biting into a cookie and being welcomed with a mix of chocolate and caramel was too hard to pass up. And that is how this snickerdoodle variation was born!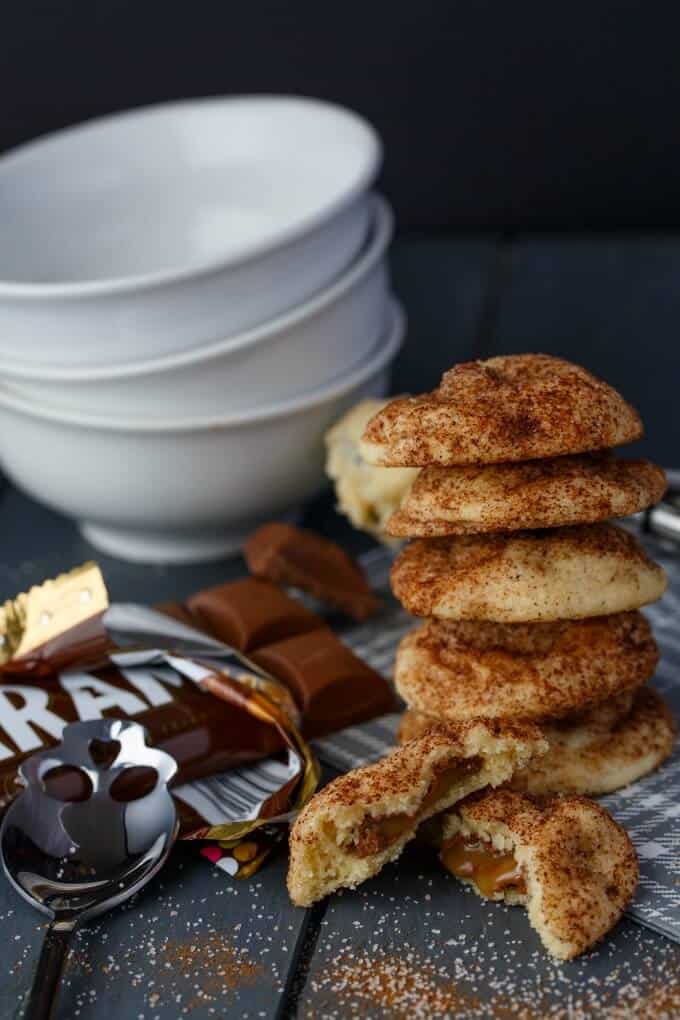 📖 Recipe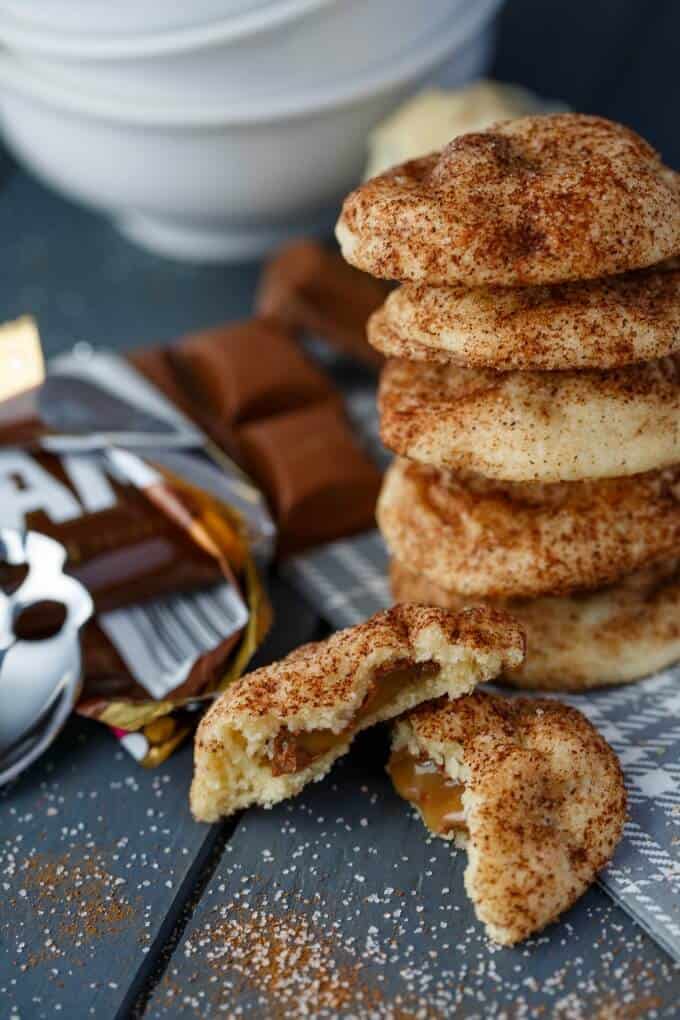 Caramilk Stuffed Snickerdoodles
Use up that leftover Halloween candy to make these decadent cookies!
Ingredients
½ cup butter, room temperature
½ cup granulated sugar
⅛ cup brown sugar
1 egg, room temperature
½ tsp. vanilla
1 ⅓ cups all-purpose flour
½ tsp. cream of tartar
½ tsp. baking soda
Pinch of salt
Topping
2 tbsp. granulated sugar
2 tsp. ground cinnamon
36-48 individual Caramilk chocolate bar pieces
Instructions
Preheat oven to 350F. Line a baking sheet with parchment paper or silicone liner.
In the bowl of your stand mixer, add the butter and sugars. Cream until light and fluffy, about 5 minutes. Mix in egg. Add vanilla and mix.
Sift together the flour, cream of tartar, baking soda, and salt in a separate bowl. Slowly add to wet ingredients and mix until JUST combined.
In another small bowl, combine the granulated sugar and cinnamon. Measure out 1 tablespoon-sized portions of dough, flatten out the best you can, add 1 Caramilk piece into the middle, fold over dough and roll into a ball. Roll in the sugar mixture. Be generous and coat entirely! Repeat until no dough remains!
Bake for 8 mins and allow to cool slightly on baking pan before moving to cooling racks.
Notes
The cookie dough may get soft on you as you stuff the little rounds. Just pop them into the fridge to firm up a bit before baking. You may have to manipulate the dough a bit to fit around the chocolate pieces, but do not worry, it works!
Nutrition Information:
Yield:

24
Serving Size:

2
Amount Per Serving:
Calories:

162
Total Fat:

8g
Saturated Fat:

5g
Trans Fat:

0g
Unsaturated Fat:

2g
Cholesterol:

21mg
Sodium:

77mg
Carbohydrates:

20g
Fiber:

1g
Sugar:

13g
Protein:

2g
Even with all the Christmas shopping and wrapping out of the way, I still feel panicked! I have my holiday recipes planned out for the rest of the month, but there is just the matter of creating them and sharing everything with my readers...
Love these Caramilk stuffed snickerdoodles?! Try some of these recipes: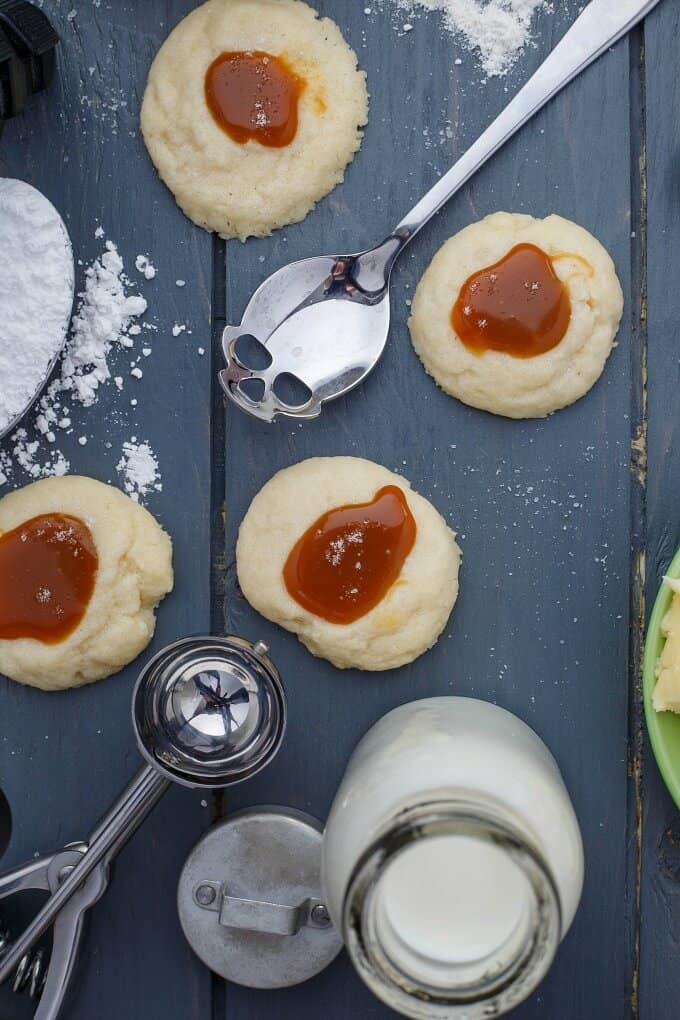 Thumbprint Caramel Shortbread Cookies