Nothing starts off the holidays better without some homemade eggnog (using leftover egg yolks from baked goods!) Trust me, this is 1000x better than the store-bought stuff!
Can you believe we are in December?! Where did the year go?!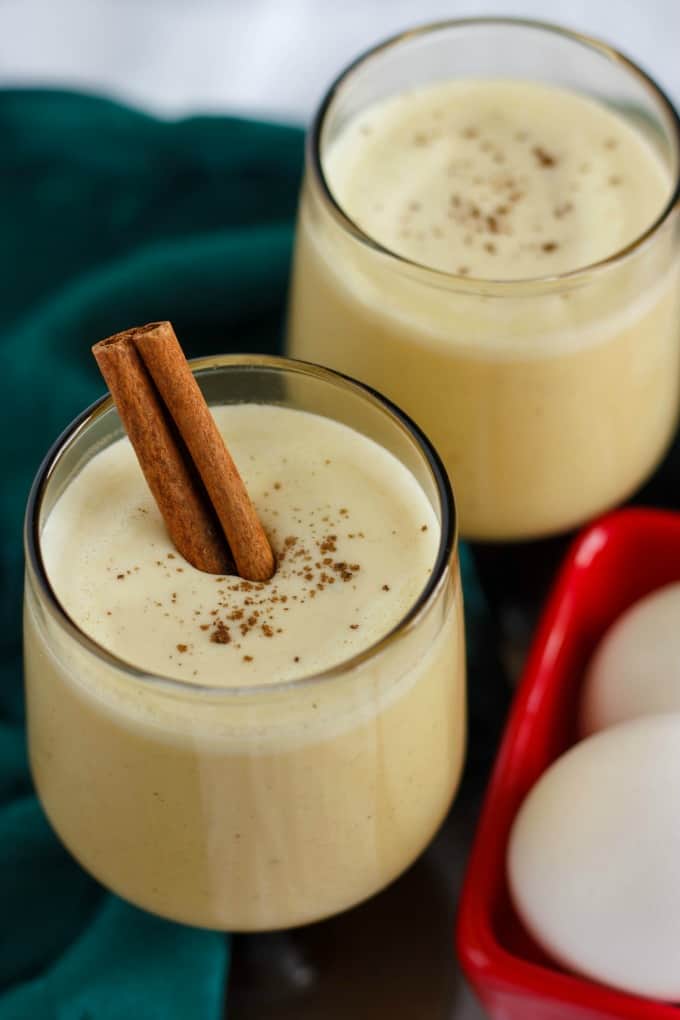 Growing up, I remember liking eggnog as a really young child. I mean super young. Then it happened; I grew out of it. I swear the stores changed their recipes but my dad just thought I was crazy. He has continued to drink the store-bought stuff over the years and I cannot stomach myself to try it again.
That being said, recently I had an abundance of leftover egg yolks sitting around. This is quite common during my heightened cake-baking season because Swiss meringue buttercream uses 5 egg whites alone to make its luscious, silky icing. Heck, even coconut macaroons use a ton of egg whites, and yet the egg yolks get the shaft. I have made lemon curd in the past with the excess, but sometimes I am not in the mood to babysit a recipe. Then there is homemade ice cream, but with the cold weather here, I don't really think of ice cream right away. I started researching online and actually found some recipes that helped use up leftover egg yolks.
And of course I had to go with the homemade eggnog!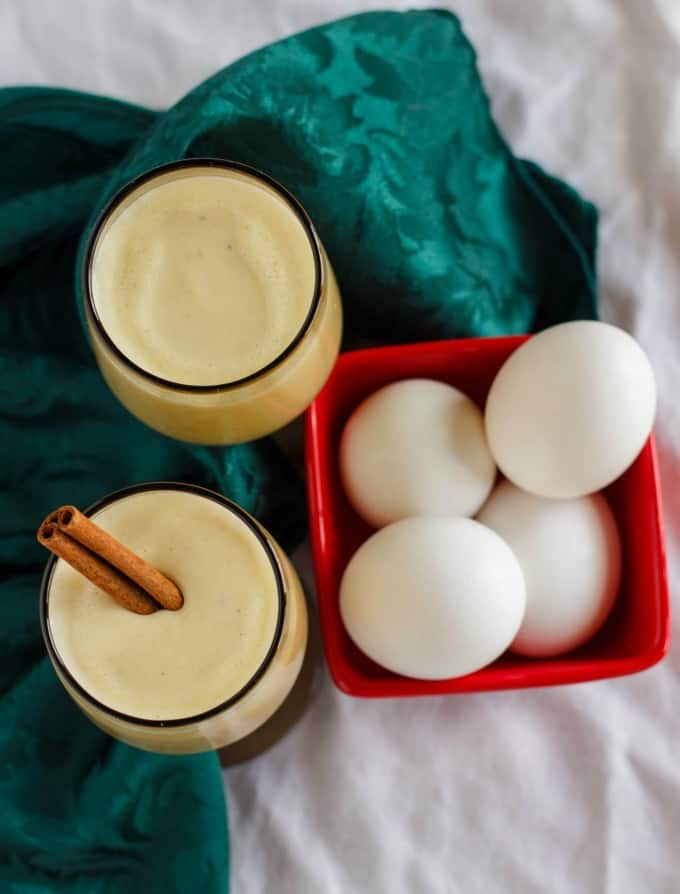 It was super fun to make! It reminded me of an ice cream base just before the freezing step. As soon as I tried a sip I thought "mmmm, melted ice cream!" Seriously, it was THAT good! Why did I bash eggnog all these years? Oh, because homemade eggnog is totally different than store-bought.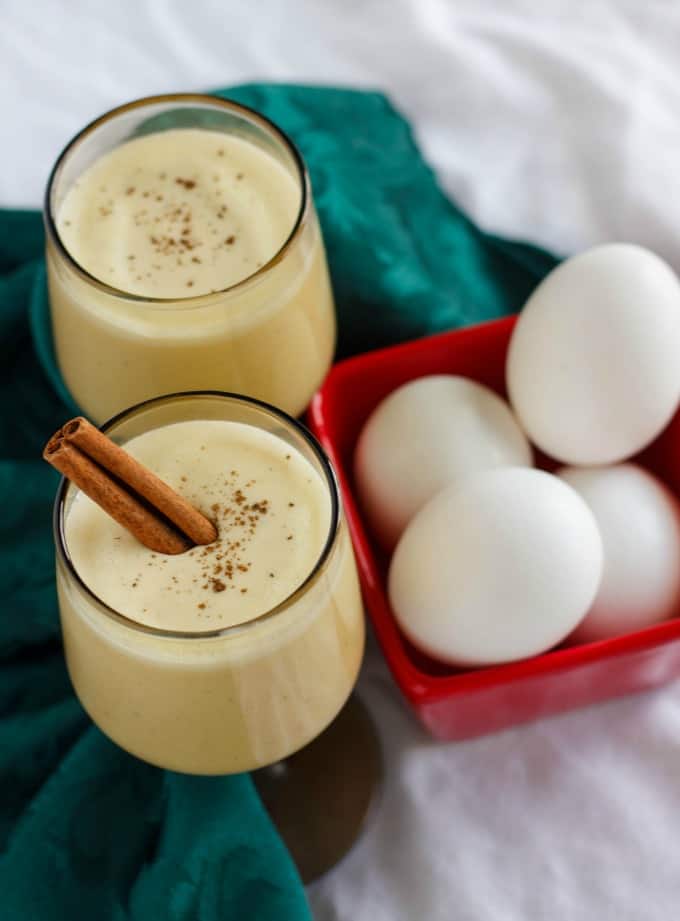 Since Mr. TCW was taking the leftovers into work with him for his coworkers, no alcohol was placed into this recipe. But trust me, I am sooooo looking forward to this with some brandy or rum or whatever! It is going to be my holiday drink this year 🙂 I understand not everyone is into alcohol so it is nice to have a base recipe to work with (and for you drinkers, load up the booze!)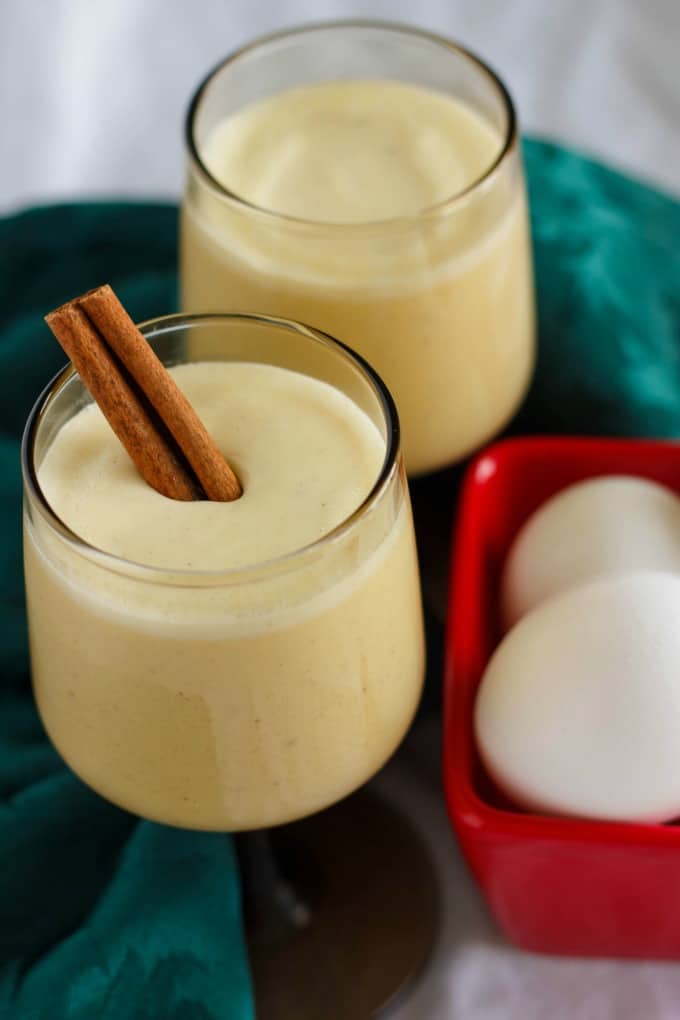 📖 Recipe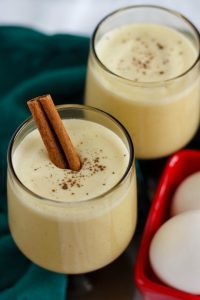 Homemade Eggnog using Leftover Egg Yolks
Homemade Eggnog is fun for the whole family and uses up any leftover egg yolks you may have sitting around during the Holiday season!
Ingredients
5 egg yolks
2 cups milk
½ cup heavy whipping cream
½ cup granulated sugar (or brown sugar!)
1 small cinnamon stick
¼ tsp. nutmeg (I used the pre-ground but fresh would be nice!)
1 tsp. vanilla
Instructions
In a small saucepan over medium heat, add the milk, cinnamon stick, nutmeg, and sugar. Cook until all the sugar has dissolved and the mixture is quite hot (but never boil!)
In a large mixing bowl, whisk egg yolks until pale and fluffy (I do this while the above mixture is heating.) Slowly and carefully pour the hot mixture into the egg yolks, stirring constantly so you do not scramble the eggs. Whisk, whisk, whisk. Pour the mixture back into the pan and place back on the stove.
Over medium-low, stirring occasionally, heat until nice and hot, but never boiling, about 20 minutes. You can always lower the heat if necessary. Strain through fine mesh and stir in cream (you can also add booze at this point!)
Cool to room temperature. Cover and chill until chilled (I put mine into individual cups but you can leave in the pot if you want!
*Note: I found the recipe quite sweet with no alcohol added, so you can always omit one to two tablespoons of sugar if desired. Also, it is quite thick without the booze!
Nutrition Information:
Yield:

2
Serving Size:

1
Amount Per Serving:
Calories:

664
Total Fat:

38g
Saturated Fat:

21g
Trans Fat:

1g
Unsaturated Fat:

15g
Cholesterol:

548mg
Sodium:

152mg
Carbohydrates:

66g
Fiber:

0g
Sugar:

65g
Protein:

17g
Traditional eggnog is supposed to have egg whites mixed in (I believe in raw form.) However, I wanted a recipe that purely used up egg yolks because I am sure to have many extras in the next month. And we all know that raw eggs creep a lot of people out! This homemade eggnog recipe stayed true to a standard ice cream base and we heated the yolks to at least 160F to be safe.
With December here you know my blog will be full of holiday recipes! But I won't be the only one so have fun browsing all the other amazing food blogs out there (and be sure to follow me on Instagram, Facebook, and Twitter as I will be sharing tons of food bloggers' holiday treats this year!)