Whether for Christmas or Thanksgiving, this gingerbread cheesecake is just too cute to pass up! Design the top however you see fit 🙂
I am so proud of today's recipe!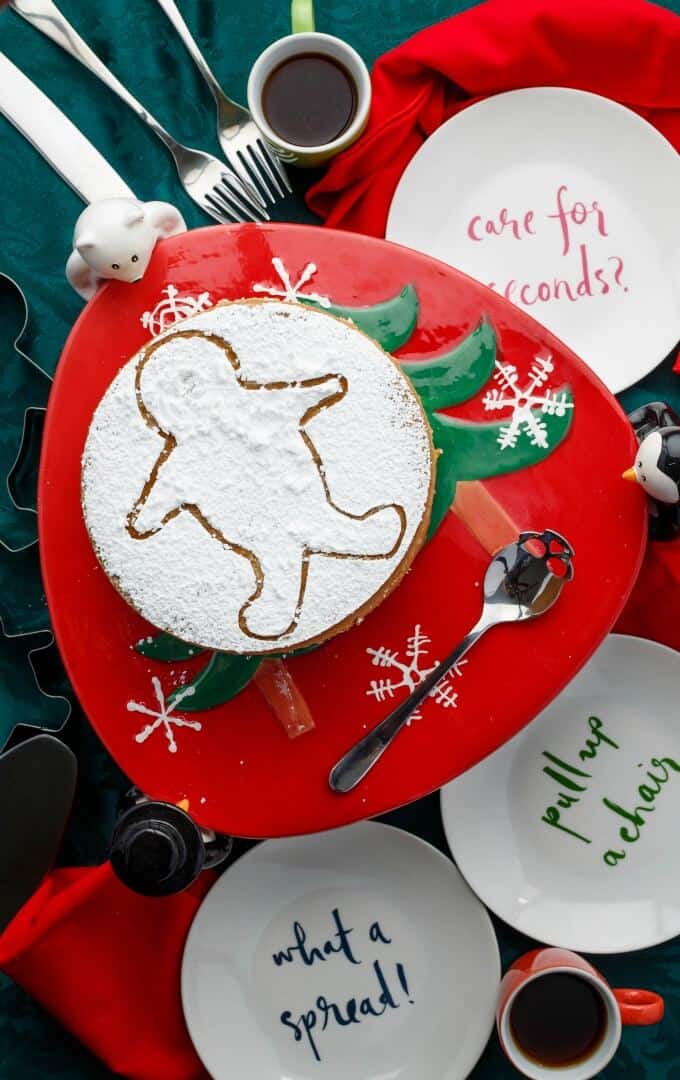 With the holidays coming, I wanted to share some desserts since I have definitely been focusing on savory recipes. This gingerbread cheesecake came to mind when thinking about Thanksgiving. Originally I had planned to do a turkey outline on top of the cheesecake, but when gingerbread came to mind for the flavor, I thought, why not a gingerbread man?!
And thus the gingerbread cheesecake was born!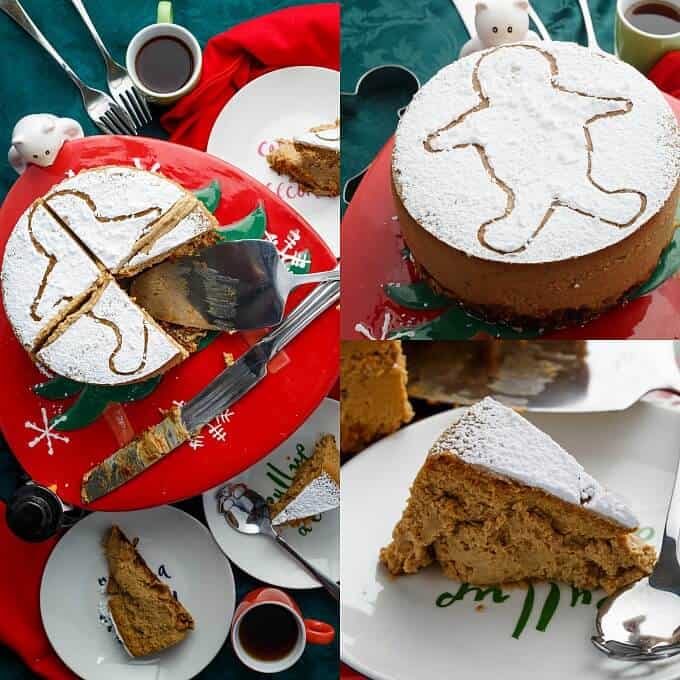 Continuing my tradition in other cheesecake posts, I will share with you the fact that I do not care for cheesecake at all! But making them? So much fun!!! Probably one of my top desserts to make and I love how smooth and silky the texture comes out to be in the end. Move over no-bake cheesecakes, because there is something special about the baked variety.
That being said, this gingerbread cake was heavier than usual. I added molasses for that classic gingerbread flavor, along with some spices, and found while the cake was still "light," it did have some weight to it. Basically you will want a small slice! But isn't that always the case with cheesecake? I will admit this, the gingerbread flavoring did a nice job masking the cheese flavor in the cake, so it was a win in my books!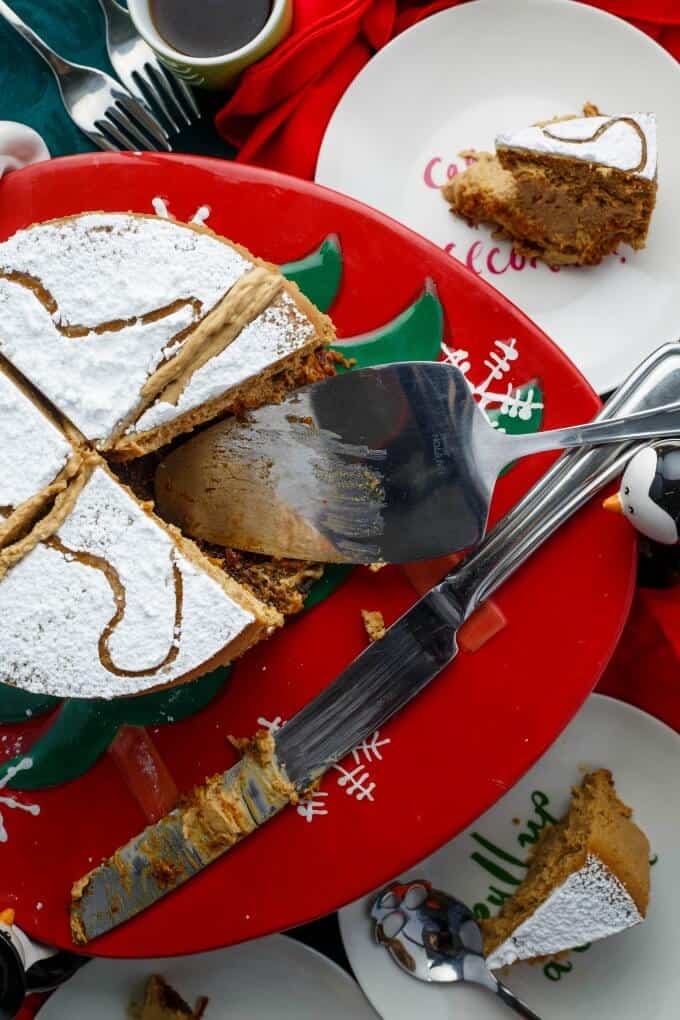 Of course, when I went about to make this cake I didn't realize that I was 99% out of graham cracker crumbs. Could have went crustless but I thought a molasses, coconut crust would work 🙂 It kind of did! The flavors were there, but it definitely stuck to the bottom of the pan. So for this recipe, I suggest either using your own graham cracker crust recipe or omitting it altogether (making the entire cheesecake gluten-free!) Saves you some time, too 🙂
📖 Recipe
Gingerbread Cheesecake
Total Time:
2 hours
20 minutes
How cute is this gingerbread cheesecake for the holidays?!
Ingredients
3 large eggs, room temperature
1 cup sour cream, room temperature
500 g cream cheese, room temperature (about 1 lb)
¼ cup butter, room temperature
½ cup brown sugar
1 ½ tbsp. cornstarch
¼ cup molasses
½ tbsp. ground ginger
1 tsp. ground cinnamon
⅛ tsp. ground cloves
1 tsp. lemon zest
Topping
Instructions
Grease the insides of your 6" springform pan with butter. Wrap a couple of layers of aluminum foil around the outside of the bottom and sides of the pan. Do not skip this part! Have available another pan that is big enough to hold your 6" springform.
Preheat oven to 300F.
Add the eggs and sour cream into a large bowl and beat well with a hand mixer. In another bowl, add in the cream cheese and butter. Mix with your hand mixer until smooth (no lumps.) Pour this mixture into the sour cream mixture. Beat again until combined and smooth.
Add in the sugar, cornstarch, spices, lemon zest and molasses. Beat until combined, about 2 minutes (you want a nice, soft batter, but you don't want to over-mix either.) Pour the mixture into your pan until it is just a tad short of the top.
Place this springform pan into the larger pan. Fill the larger pan up with hot tap water, just about halfway up the springform pan. Place into oven and bake for 2 hours, or until lightly brown (note: start checking the cheesecake around the 1 hour 45 minute mark.)
Remove the pan from the oven and transfer the cheesecake out of the water and onto a cooling rack. Leave the aluminum foil on for the first 20 minutes to half an hour. Then remove the foil and continue to cool completely. Refrigerate, uncovered, overnight preferably.
I used to cover my cheesecake but I find too much condensation appears!
Topping
Cut out desired template. Place on top of chilled cheesecake. Before ready to serve, sprinkle with confectioners' sugar. Remove template and serve!
Notes
Since you are covering the cake with confectioners' sugar, feel free to stick a knife into the cake to test if it is done or not (I go based on how jiggly the cake is.)
Nutrition Information:
Yield:

12
Serving Size:

1
Amount Per Serving:
Calories:

329
Total Fat:

23g
Saturated Fat:

13g
Trans Fat:

0g
Unsaturated Fat:

7g
Cholesterol:

110mg
Sodium:

190mg
Carbohydrates:

27g
Fiber:

0g
Sugar:

25g
Protein:

5g
For fun, here is a cheesecake tip:
When slicing the cake, make sure to run the knife under warm water and wipe it every time so you get nice, clean lines. Otherwise, you will get what you see in the photos: big globs building up on top! If appearance is not your thing, and you have no patience to wait and dig into this dessert, than just dig in!
Love this gingerbread cheesecake?! Try some of these recipes: