Free up the oven and stove this holiday season with these slow cooker lemon thyme butter carrots! Vegetarian and gluten-free, they are bound to win over the pickiest of eaters!
During our holidays, you always find some sort of carrot dish on the table. They are essential! I prefer a tender-crisp carrot dish, and today's recipe definitely has that going for it. Which can be a bit surprising since the recipe is made entirely in the slow cooker. Yes, that's right, the slow cooker!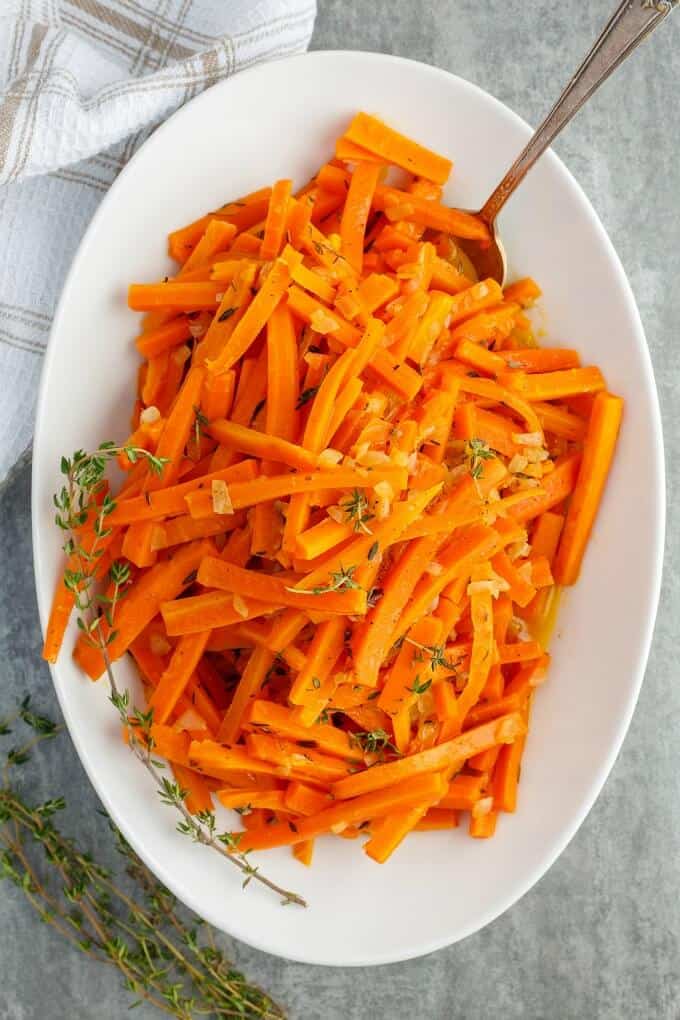 These slow cooker lemon thyme butter carrots are really easy to make, and reward you with a ton of flavor! 3 hours on high heat is all it takes, and the carrots come out with that perfect texture and consistency. Because let's be honest, no one wants soggy, mushy carrots.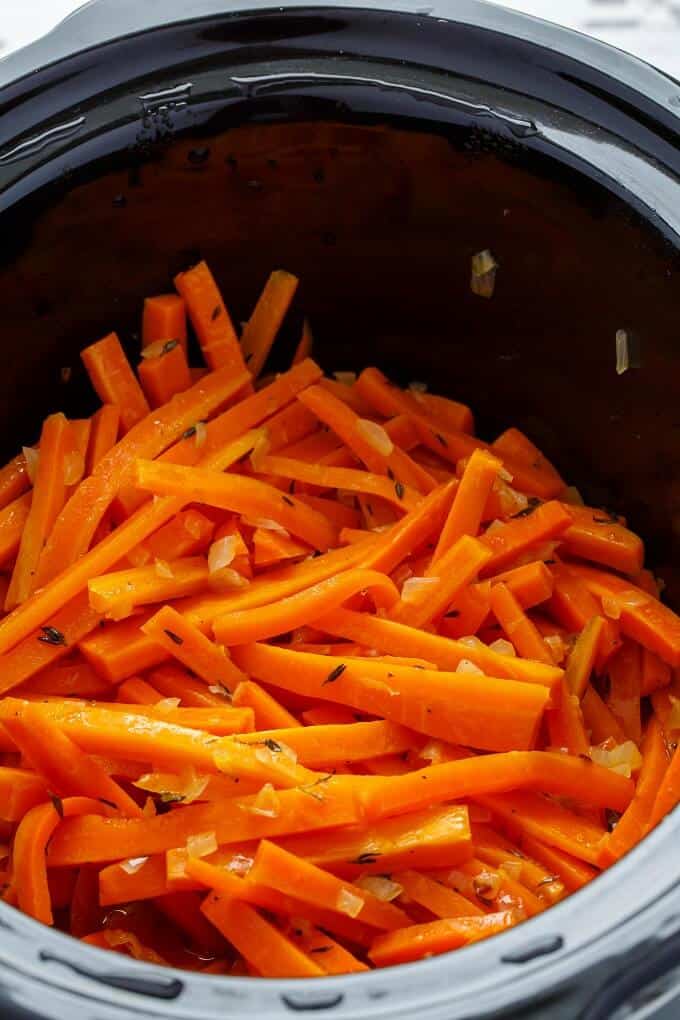 As I have said many times, thyme is my favorite herb. And does it ever work perfectly with lemon and carrots! I find carrot recipes always taste better the next day, so if you want to prepare yourself even more for the holidays, make the recipe a day in advance!
I like a bit of tartness to any of my lemon dishes, so I only added 1 tsp. of sugar. However, taste as you go, and if needed, add more sugar to these slow cooker lemon thyme butter carrots. Also, if you have a family member like my dad who hates onions, you can easily omit them! UPDATE: The more I make these carrots, the more I prefer them without sugar! So now I just omit that ingredient altogether!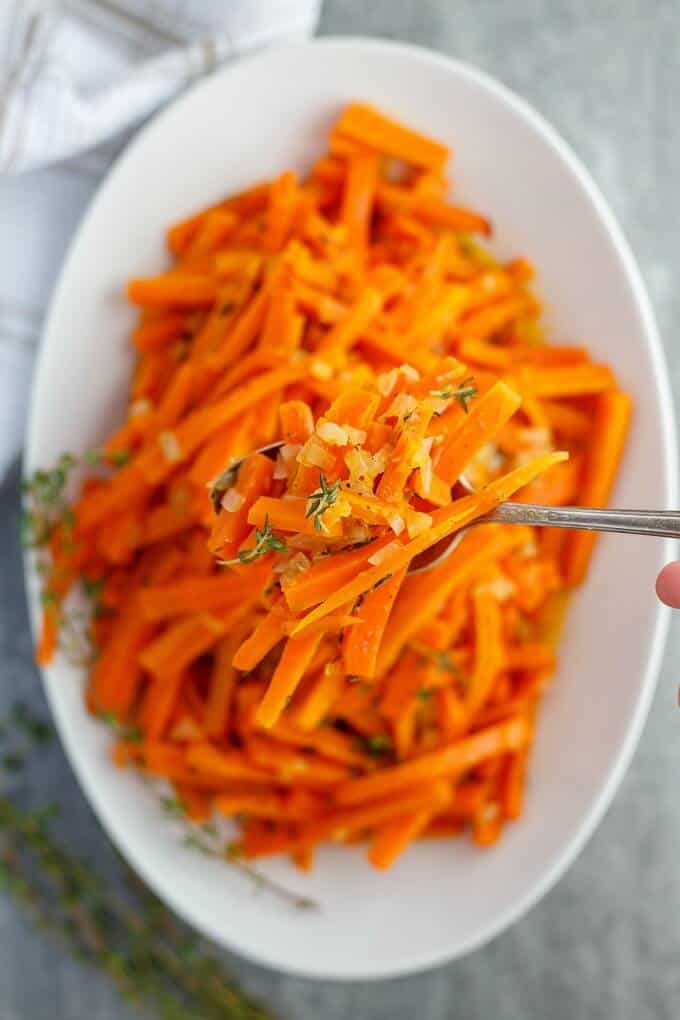 Then again, if you don't need to omit anything, you can always add more! This recipe can be doubled 🙂 I would stir a bit more often so the flavors get all over the carrots, and not just the bottom ones. UPDATE: These carrots can be made in a 6-quart or a 4-quart slow cooker. Both have worked out perfectly for me 🙂 Carrot cook-time may vary depending on thickness of matchsticks 🙂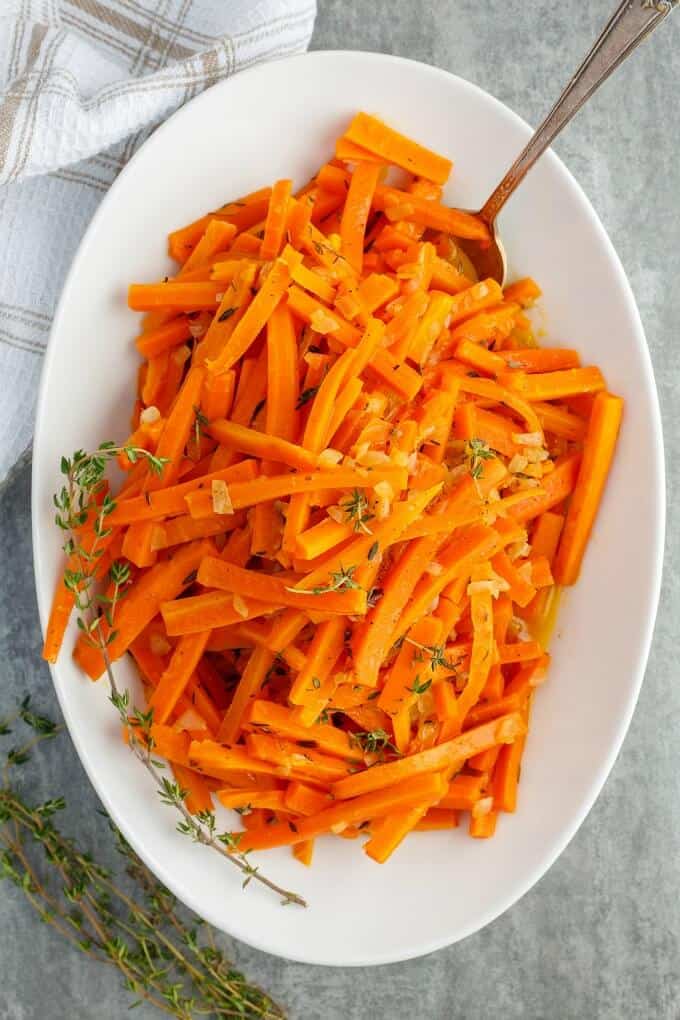 Slow Cooker Lemon Thyme Butter Carrots
Total Time:
3 hours
10 minutes
Free up the oven and stove this holiday season by using the slow cooker!
Ingredients
2 lbs carrots, cut into matchsticks
1 onion, diced
¼ cup butter
1 tbsp. freshly chopped thyme + more for garnish
¼ cup freshly squeezed lemon juice
1 tbsp. lemon zest
2 tsp. brown sugar (optional)
Salt and pepper
Instructions
Add carrots and onions to a 6-quart slow cooker (4-quart works, too! Just stir a bit more often.) Combine butter, thyme, zest, and lemon juice in a small bowl until thoroughly combined. Pour over carrots. Season with salt and pepper.
Cook on high heat for 3 hours, stirring halfway through.
Near the end of cook time, stir in 1 to 2 teaspoons of sugar depending on tartness of lemon juice (I prefer no sugar!)
Garnish with additional thyme if desired and serve!
Notes
Adding sugar is optional if you want to cut back on the tartness of the recipe 🙂 Personally, I LOVE the recipe as is 🙂
Nutrition Information:
Yield:

4
Serving Size:

1
Amount Per Serving:
Calories:

202
Total Fat:

12g
Saturated Fat:

7g
Trans Fat:

0g
Unsaturated Fat:

4g
Cholesterol:

31mg
Sodium:

302mg
Carbohydrates:

24g
Fiber:

8g
Sugar:

11g
Protein:

2g
No fresh thyme on hand? Dried thyme can work here. I would start at 1 tsp. dried thyme and go from there. Dried herbs are way more potent that than fresh variety, so DO NOT add 1 tbsp. dried thyme. As much as I love thyme, that would probably kill the dish 😉
Love these slow cooker lemon thyme butter carrots?! Try some of these recipes: