You either love brussels sprouts, or you hate them! This shredded lemon brussels sprouts saute will convert anyone over (just ask my husband!) Naturally vegetarian and gluten-free, but can easily be made vegan.
Growing up I would eat brussels sprouts all the time with my dad, but they had to be made a certain way: doused in lots of butter! And sooooo soft. I liked them soft.
As I have grown older, I have found brussels sprouts are not anything amazing to me. People cook them with bacon, which smells great, but I cannot eat them that way. And even when made vegetarian, I find some sprouts have a bitter taste to them.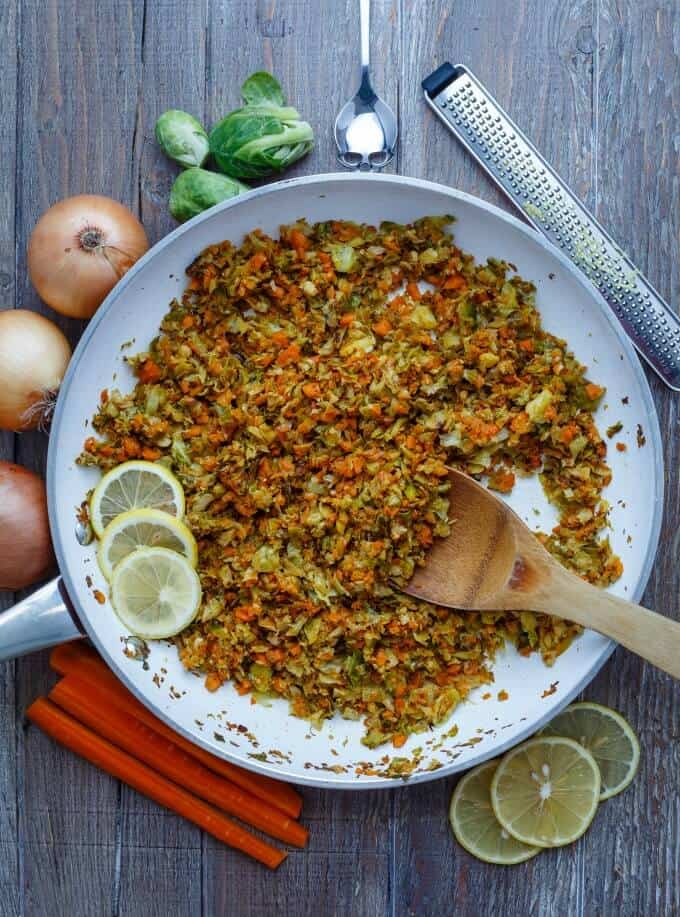 So I set out to find a recipe that the entire family loved and came up with this shredded lemon brussels sprouts saute! The perfect balance of veggies and lemon juice. And no bitter flavour! Since I shredded the brussels sprouts (and other veggies) in my food processor, we were left with no big chunks. I also find since we shredded all these veggies together, kids (and adults!) won't know exactly what is in here… Which is not a bad thing!
While I was at the Food Bloggers of Canada Conference (2016) this year, I had the opportunity to meet with some people from Half Your Plate which has an awesome initiative: fill half your plate with veggies with every meal. People already don't get enough fruits and veggies in their diet, so with this philosophy, Canadians should be able to improve their diets (and it is so easy!)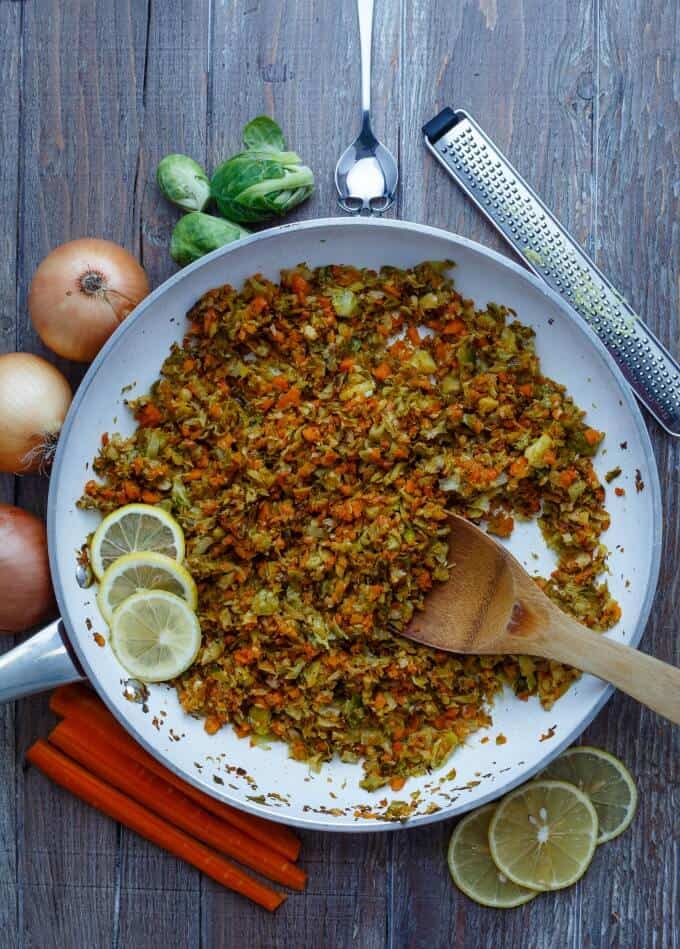 That being said, they were on my mind when I created this shredded lemon brussels sprouts saute! I did not expect my husband to love this meal as much as he did, but he raved about it, and brussels sprouts are NOT his thing. Originally I made these with the intention of giving them to my mother-in-law, but seeing how much we all enjoyed them, they were hard to give up. So I suggested we make them for Christmas dinner this year 🙂

I've done the whole roasted brussels sprouts thing, but so has everyone else! Plus, my dad says when I go that route the brussels sprouts are nothing special (thanks, Dad!) With this recipe, I feel everyone can dig in! Something different, something flavourful, something packed full of nutrients! Oh! And like I said, easily made vegan by subbing in oil or vegan butter 🙂
Love this shredded lemon brussels sprouts saute?! Try some of these recipes:
Bacon-Wrapped Apple Stuffed Pork Tenderloin