The holiday season is sneaking up on us, and with this gluten-free carrot cake, Celiac sufferers will not have to feel left out!
November is upon us and that means we are getting closer and closer to Christmas! While Canadian Thanksgiving has already passed, America has yet to celebrate theirs. I find a lot of my readers are from the US so it is only fitting I try and incorporate everyone. This month you will be seeing a lot of Thanksgiving recipes that were made for my celebration this year. A win-win for everyone!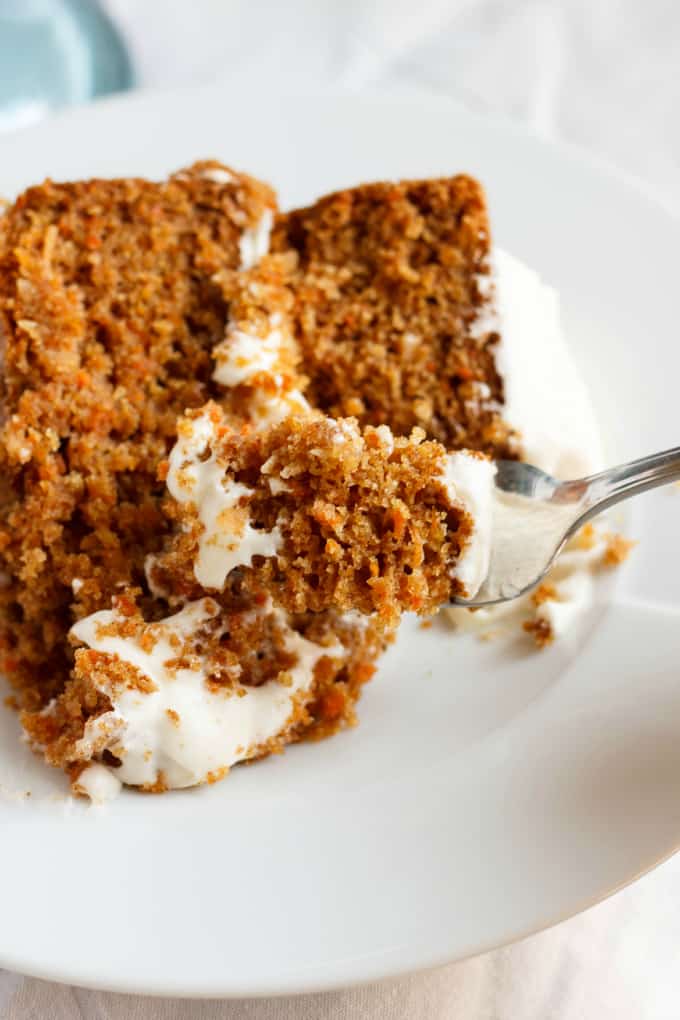 Today, however, is a much delayed recipe. I made this gluten-free carrot cake for my mother-in-law for her birthday... In July... Yes, I am far behind but there has been so much going on I could not find an appropriate time to post the recipe! I wanted to wait until Easter but that just felt too long. With the holiday season drawing near, I figured it was time this carrot cake made its debut because it is FANTASTIC! We all really loved it, and considering it is gluten-free, the taste and texture were just phenomenal. I have talked about Robin Hood Nutri Flour Blend (gluten-free) in previous posts and have remarked that the goods made from this flour almost remind me of whole wheat goodies. It just has that texture about it. But in carrot cake, it works! If I had not mentioned this cake was gluten-free, I don't think anyone would have noticed.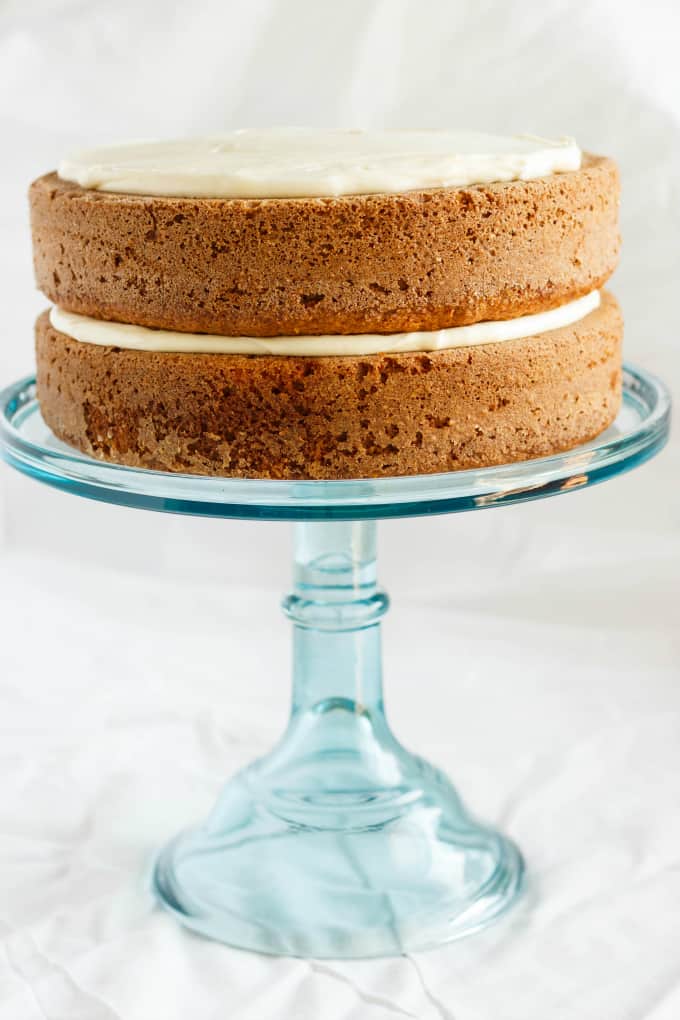 Coming up with the recipe, I wanted to work with a favorite carrot cake recipe of mine and transform it. I think it worked perfectly, and it is quite similar to Robin Hood's recipe on their site (but hey, this is the one I created!) However, I do think mine came out with a fluffier texture and held its moisture quite well. Just saying 😉
Usually when it comes to gluten-free baking, it is hit or miss. There is definitely a noticeable taste difference in many gluten-free recipes, but as my mother-in-law has stated, she is really happy with how far the gluten-free industry has come because she has no choice but to eat these foods. I am not affiliated or endorsed by Robin Hood, but I have really enjoyed working with their product. It is quick and simple for the non-bakers, and for people who do not want to buy fancy ingredients but still live gluten-free. Sometimes it is a choice, but many times it is not, so I am happy to help out the Celiac-diagnosed. Who knows how far I would have ventured into gluten-free baking had my mother-in-law never been diagnosed. Vegan baking is one thing, but I find I struggle most with keeping gluten-free baked goods moist (and tasty!)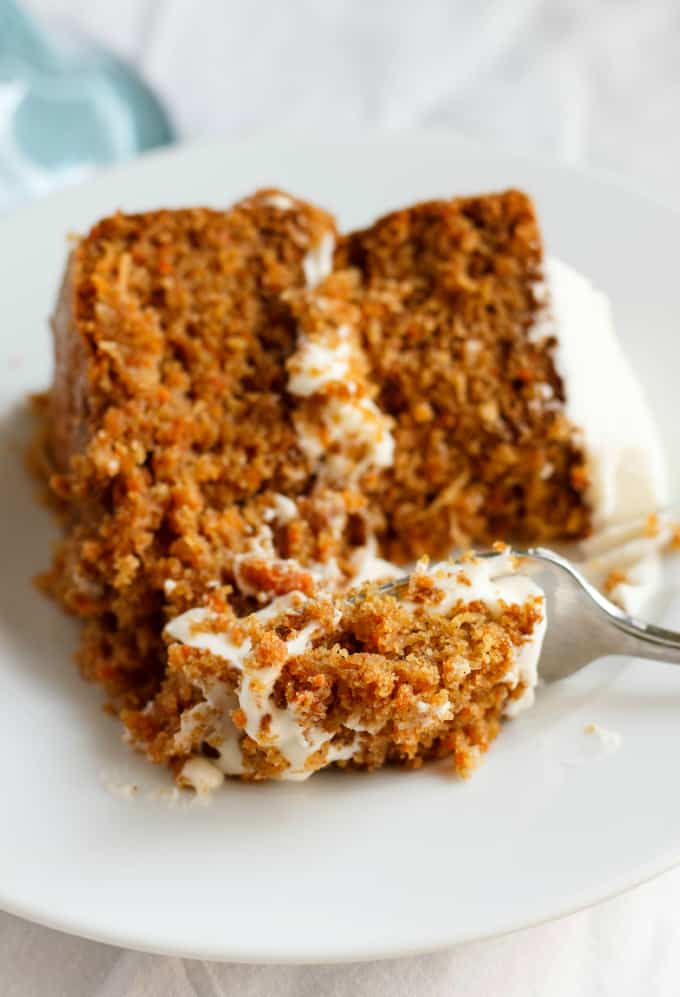 That being said, this gluten-free carrot cake is really simple and great for the holidays. I am considering whipping up this recipe again very soon in cupcake form so my mother-in-law can have some frozen treats in her freezer (I definitely find gluten-free desserts parish a lot faster than ordinary baked goods.)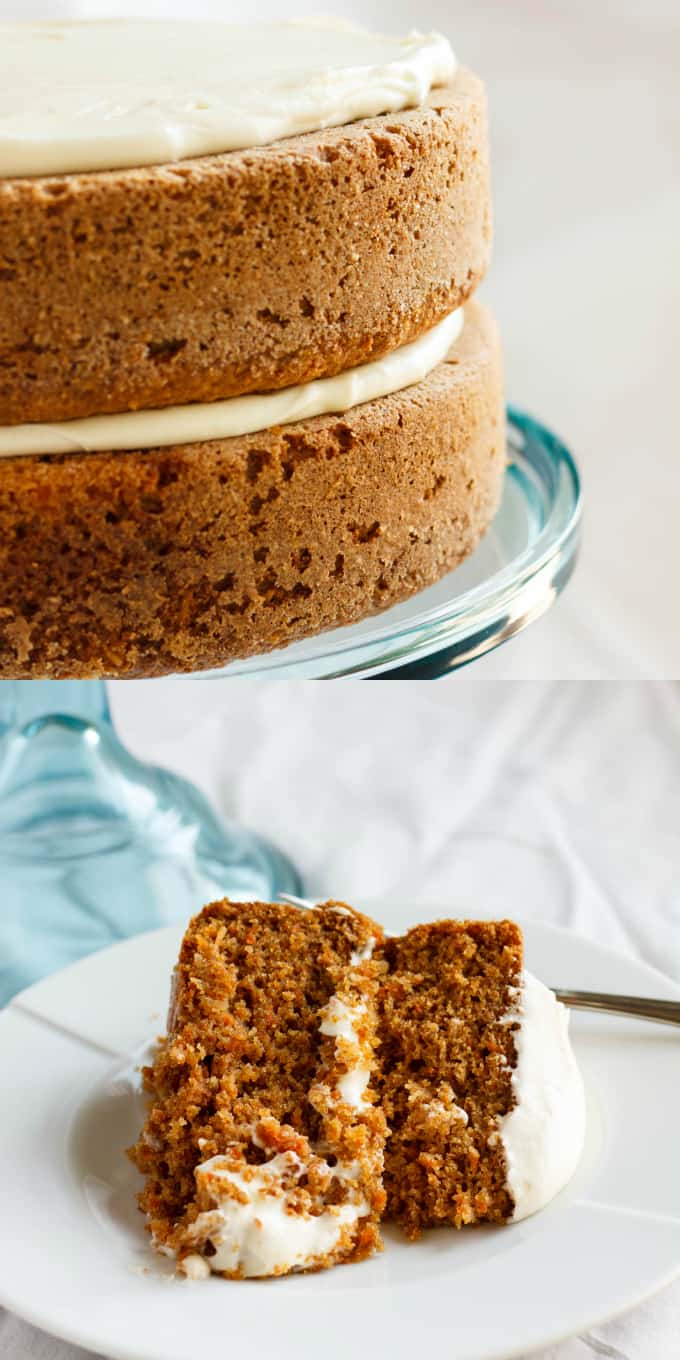 📖 Recipe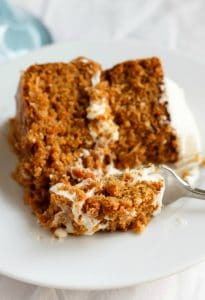 Gluten-Free Carrot Cake with Robin Hood Nutri Flour Blend
Total Time:
1 hour
15 minutes
Easter or Christmas, this gluten-free carrot cake using Robin Hood Nutri Flour Blend (Gluten-Free) is perfect for any guests (Celiac or not!)
Ingredients
1 lb carrots, peeled and grated (food processor works great here!)
3 eggs, room temperature
1 cup brown sugar
1 cup granulated sugar
1 cup melted coconut oil
2 cups Robin Hood Nutri Flour Blend (gluten-free) flour
½ cup buttermilk, room temperature
2 tsp. baking soda
2 tsp. baking powder
Pinch of salt
½ tsp. xanthan gum
2 tsp. cinnamon
½ tsp. ground ginger
¼ tsp. ground nutmeg
½ cup unsweetened, shredded coconut
Cream Cheese Frosting:
¼ cup butter, room temperature
½ cup cream cheese, room temperature
2 ¼ cups confectioners' sugar
½ tsp. vanilla
Instructions
Preheat oven to 350F. Grease two 8-inch pans with shortening and coat with flour. Set aside.
In a large bowl, mix together the carrots, eggs, sugars, buttermilk, vanilla, coconut, and coconut oil. In another bowl, sift together the flours, baking soda, baking powder, xanthan gum salt, cinnamon, ginger, and nutmeg. Pour the dry mixture into the wet mixture and mix until just combined.
Separate the batter evenly between the two pans. The cake does not rise too much, so do not be concerned if there appears to be a lot of batter. Place into the oven and bake for 40-45 minutes, or until centre comes out clean when you insert a toothpick inside. Set on cooling racks for 10-15 minutes, or until you can handle the pans without burning yourself. Flip cakes out and allow to finish cooling.
Buttercream:
Add the butter to the bowl of your stand mixer. Whip until light and fluffy, about 5 minutes. Add in the cream cheese and whip for 1-2 more minutes. Add confectioners sugar and vanilla, whipping again to combine (add more confectioners' sugar for a stabler buttercream, but you risk the chance of masking the cream cheese.)
Assembly:
Level cake tops if necessary. Place one half onto cake tray and spread half the buttercream onto the layer. Add the next layer and pour the rest of the buttercream on top.
Nutrition Information:
Yield:

12
Serving Size:

1
Amount Per Serving:
Calories:

578
Total Fat:

30g
Saturated Fat:

22g
Trans Fat:

0g
Unsaturated Fat:

5g
Cholesterol:

69mg
Sodium:

436mg
Carbohydrates:

74g
Fiber:

3g
Sugar:

54g
Protein:

5g
With all the Thanksgiving recipes coming up, my dessert posts will be limited. But do not worry, I have already been thinking (and creating) about Christmas baked goods and cannot wait to share them! I love Christmas, especially making cookies, so try and refrain from being too excited for what is to come!