Thanksgiving, Christmas, or Easter, these honey-glazed carrots are requested each year by my family!
One of my favorite side dishes ever is honey-glazed carrots. You have probably seen my old recipe hanging around the blog, and I highly recommend trying it out. Today's recipe is my new interpretation of a classic, and the addition of fresh thyme really adds oomph! Strange how such a simple change can make such a large impact! I always say how much I love basil, but thyme is a really close second. Heck, it might even pass basil soon!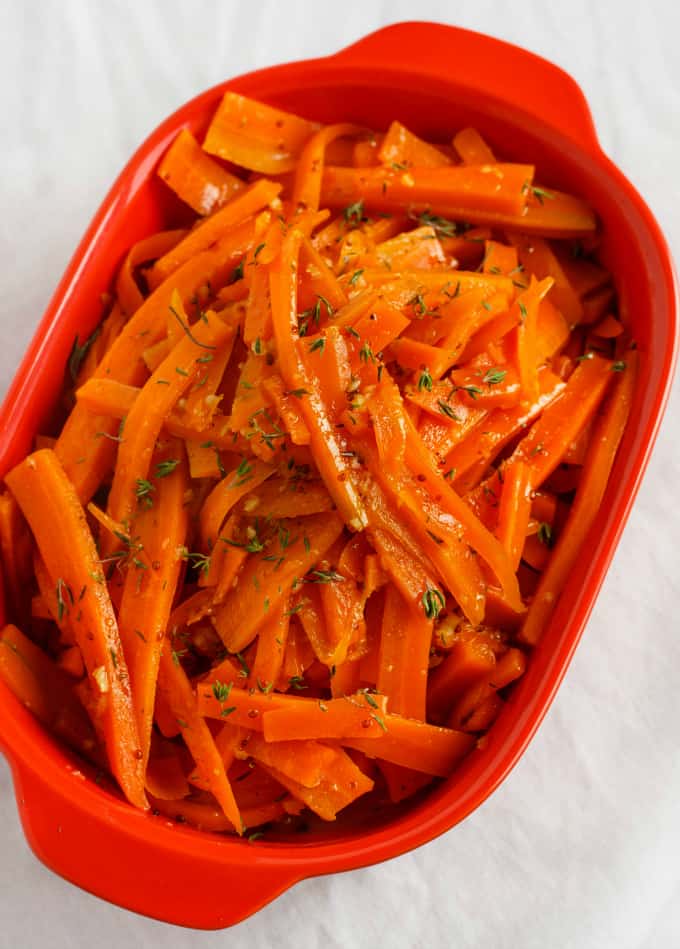 These honey-glazed carrots are really simple to make and are completed in no time. I actually tend to make them ahead of time because I find their flavors really develop as they cool. Plus, when you go to reheat them, the honey-syrup thickens nicely, coating each carrot perfectly. Maybe I am just weird, but some food tastes better the second time around!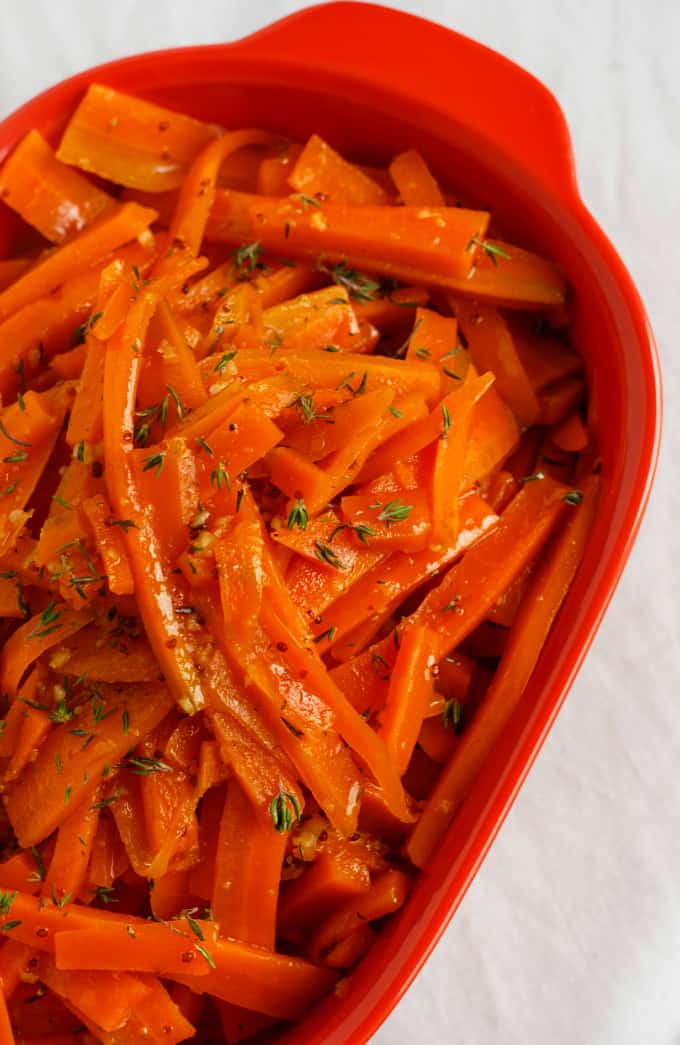 Now, please note, it really depends on how large/small you slice your carrots when it comes to cooking time. I used to cut the carrot quite thick, so 1 ½ cups of broth was needed to ensure the carrots cooked through. Over the years I have cut them smaller and smaller, most recently cutting them as thinly as possible with a knife (not mandolin!) which resulted in me reducing the broth amount. Worse comes to worse, your carrots cook a bit faster than expected and you have some extra broth in the pan (I love this because the carrots are sure to develop even more flavor!) Do note that this recipe makes quite a bit! No complaints here and we love leftovers, but if only two of you are eating dinner together, you may want to halve the recipe 🙂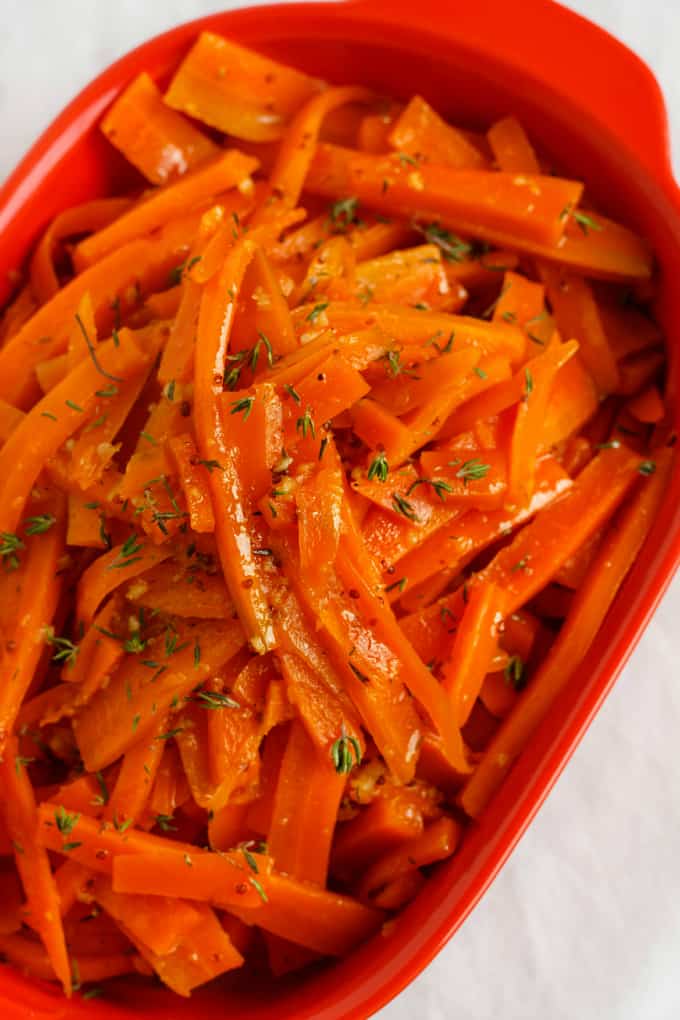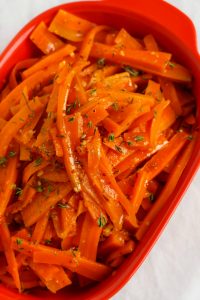 Honey-Glazed Carrots with Fresh Thyme
These honey-glazed carrots with fresh thyme are out of this world! Easy and packed full of flavor, no one can resist seconds!
Ingredients
3 lbs carrots, sliced into matchsticks
3 tbsp. butter
1 ¼ cup vegetable broth
½ cup honey
¼ cup sherry
4 garlic cloves, minced
1 tbsp. coarse mustard
Pinch of cayenne pepper
Salt and pepper
Fresh thyme
Instructions
Over medium-high heat, add butter to a large pan and fry carrots for about 5 minutes. While carrots are cooking, combine the broth, honey, sherry, garlic, mustard, cayenne, salt, and pepper.
Pour in liquid mixture, bring to a boil, season with salt and pepper. Throw in a bunch of fresh thyme sprigs (and I just leave them whole!) reduce heat and simmer, covered, for 10 minutes.
Uncover, and raise heat to medium-high, cooking for another 8-10 minutes, or until carrots are tender. Bring temperature to high heat if you find you still have a lot of liquid in your pan after 8 minutes. You still want some liquid, but not where it is soupy.
Remove thyme sprigs and serve beside your main dish!
Nutrition Information:
Yield:

6
Serving Size:

1
Amount Per Serving:
Calories:

229
Total Fat:

6g
Saturated Fat:

4g
Trans Fat:

0g
Unsaturated Fat:

2g
Cholesterol:

15mg
Sodium:

456mg
Carbohydrates:

44g
Fiber:

7g
Sugar:

31g
Protein:

2g
Halloween was a blast and we totally have more candy then we need (who doesn't have enough?!) It was another rainy Halloween... At least the temperatures were half descent. However, they were no where what we are experiencing this week! 20 degree weather in Canada, in November?! This is probably a sign that we are going to have another cold winter... We will enjoy the warm weather for now 🙂