Silky, smooth, and filled with creamy coconut, this gluten-free coconut cream pie is encased in a giant macaroon crust!
Let me tell you, and I have told you before, there was a time in my life that I did not like pies. None. Nothing could convince me to eat them. I would ask for a plate of whipped cream to eat (still ask for extra whipped cream wherever I go!) The most common pies that appeared were pumpkin and apple. I mean, apple would be alright, but still to this day I will not eat pumpkin pie... Blah.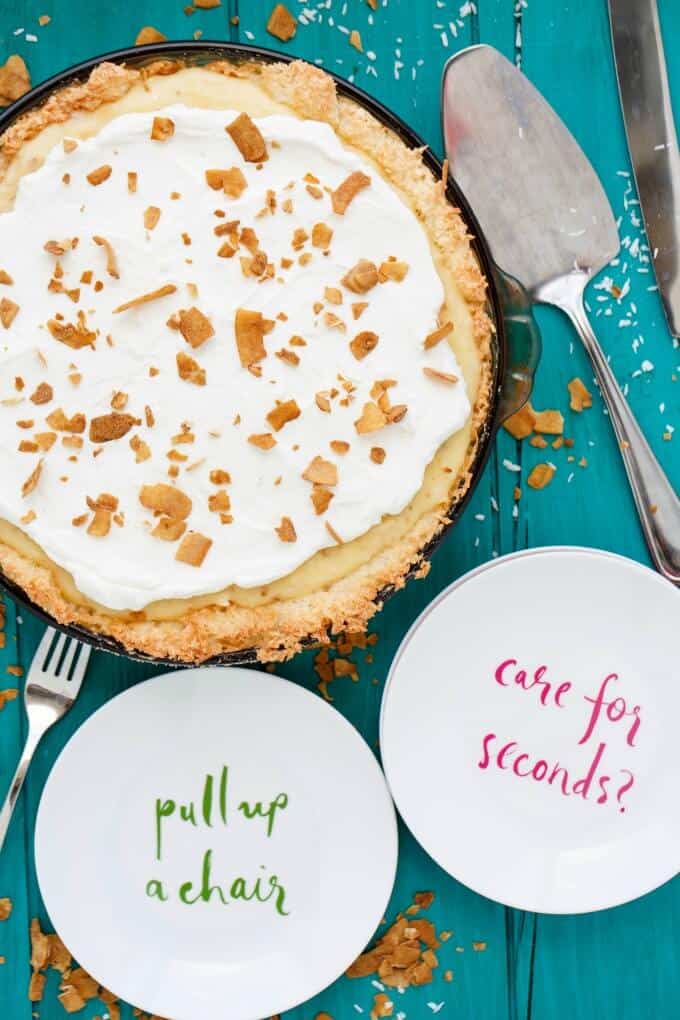 Thankfully I can say I pushed those feelings aside and now have no problem eating pies! Lemon meringue, chocolate, strawberry-rhubarb, you name it! But one pie I probably like the most, and that is definitely a tough call, is coconut cream pie. It is just so silky and light, but with that wonderful coconut flavor. Sigh, wish I had one in front of me right now. Let's just talk about this gluten-free coconut cream pie and get it over with!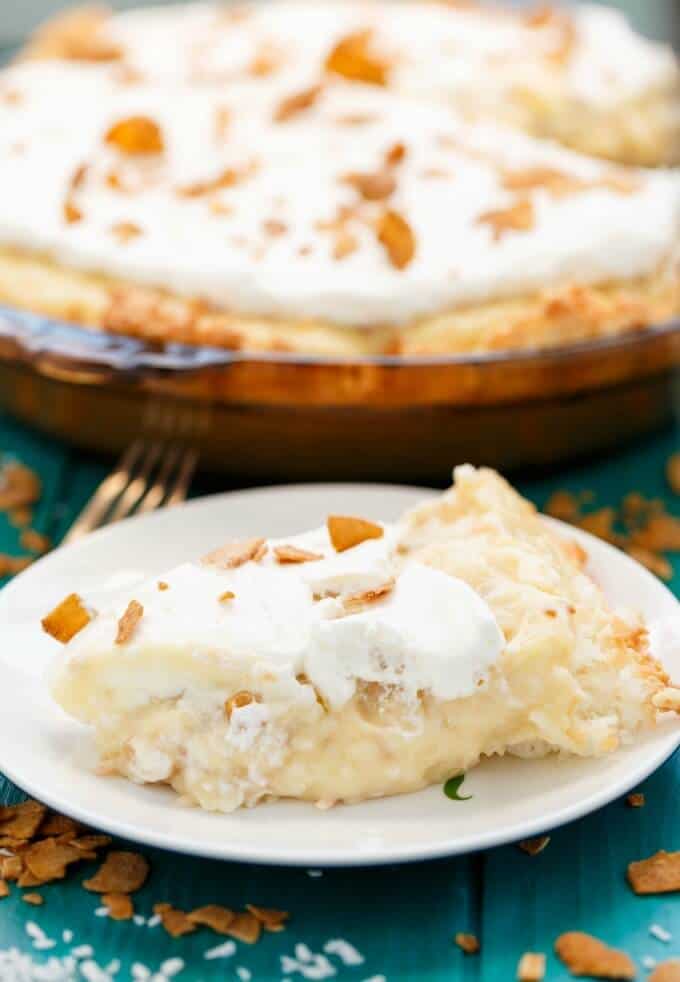 I made this gluten-free coconut cream pie for Canadian Thanksgiving this year. Mother-in-law deals with celiac so I try to create recipes that include everyone. One thing I always worry about with gluten-free recipes is the taste. Some recipes are really, really good, and then others have that tell-tale hint of gluten-free in them. Luckily, this recipe was a hit and really, if I had not said anything, no would know it was gluten-free. The crust was anything but traditional, but it pulled off perfectly and everyone seemed to enjoy the change.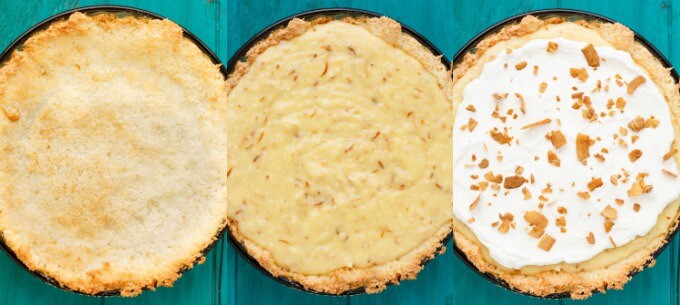 Converting this recipe to gluten-free was really simple! If you have a favorite gluten-free crust recipe, you are all set as the filling was gluten-free to begin with! I know some prefer to make their filling with flour, but I have never had trouble with this cornstarch method and don't plan to change the recipe any time soon (read: never!) When I set about making this crust, I had a ton of egg whites leftover that needed to be used up. I started throwing things together and hoping for the best. In the end I realized I had basically made a coconut macaroon recipe. Not identical, but close. Heck, I think any traditional coconut macaroon recipe would work here so give it a shot! The one plus being that you always pre-cook your crust for a coconut cream pie so if it doesn't turn out right, you aren't wasting much. For people with no gluten-free persons in their lives, any ole crust recipe will do.
📖 Recipe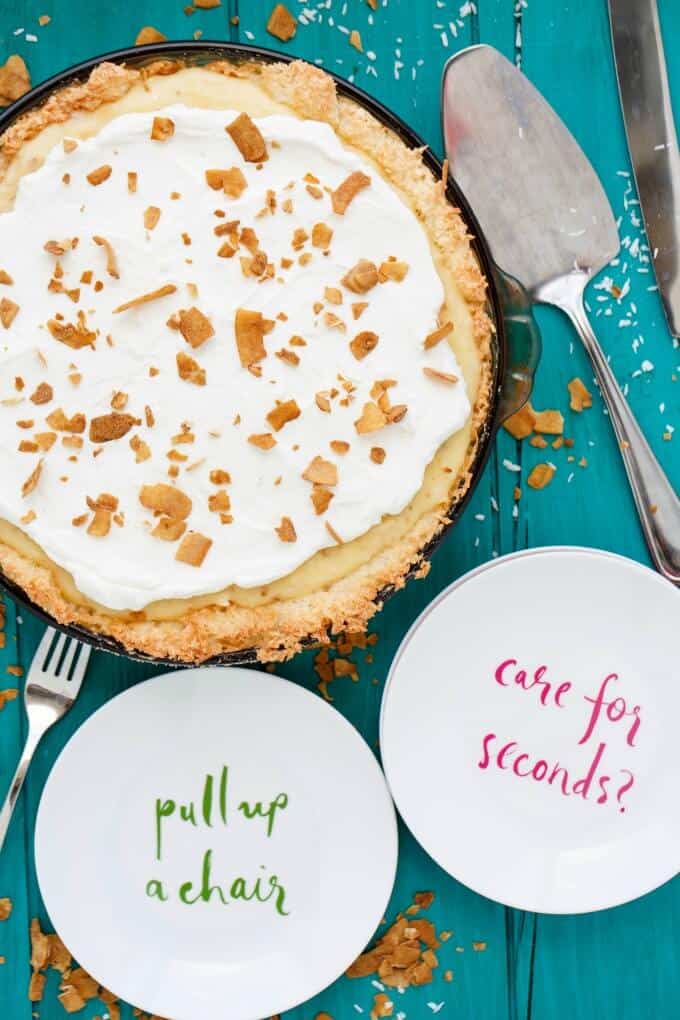 Gluten-Free Coconut Cream Pie
Total Time:
1 hour
5 minutes
I only had sweetened coconut on hand, but I highly suggest using unsweetened coconut as you can control the sugar content!
Ingredients
2 cups sweetened shredded coconut
1 cup unsweetened shredded coconut
4 egg whites
½ cup granulated sugar
½ tsp. almond extract
Pinch of salt
Filling
1 (400mL) can coconut milk (about 1 ¾ cups)
1 ¼ cups milk
⅓ cup cornstarch
½ cup granulated sugar
1 ½ cups toasted sweetened shredded coconut (unsweetened would work here and I actually prefer it but had none on hand!)
4 egg yolks
2 tbsp. butter
1 tsp. vanilla
¼ tsp. almond extract
Topping
1 cup heavy whipping cream
1 tsp. granulated sugar
Instructions
Crust
Add egg whites to a large mixing bowl and whip until stiff peaks form (I use a hand mixer!) Stir in coconuts, sugar, almond extra, and salt.
Pour into 9-inch pie pan and push up sides, forming a macaroon crust. Place into 350F oven and bake for 20-25 minutes or until browned and cook through. Remove and set aside. If the crust is really poofy, you can use your hands to gently flatten the middle part like I did.
Filling
Place egg yolks into a medium-sized mixing bowl. Whisk until yolks are paler in color and look creamy. In another bowl, whisk the cornstarch and ½ cup milk together
Mix together the coconut milk, ¾ cup milk, and sugar together in a large pot over medium-heat. Stir until sugar has dissolved, but never let the mixture boil. When nice and hot, slowly and carefully pour into the egg yolks, whisking CONSTANTLY so not to scramble the eggs. If you are concerned about any egg chunks (if you do this slowly it should not be an issue,) strain the mixture before pouring back into saucepan.
Return to heat and stir in cornstarch mixture. Heat until nice and thick. Remove from heat and stir in butter, vanilla, almond extract. and toasted coconut.
Allow the mixture to cool for a bit, stirring every so often, before pouring into pie crust. Cover and chill in refrigerator until ready to serve.
Topping
Whip cream until soft peaks form. Add in sugar and whip a bit longer until stiff peaks form. Dollop on top of pie and smooth. Garnish with toasted coconut or coconut chips if desired
Nutrition Information:
Yield:

8
Serving Size:

1
Amount Per Serving:
Calories:

574
Total Fat:

38g
Saturated Fat:

30g
Trans Fat:

1g
Unsaturated Fat:

7g
Cholesterol:

137mg
Sodium:

196mg
Carbohydrates:

53g
Fiber:

5g
Sugar:

41g
Protein:

8g
With the holiday season pushing in, our days (and weekends especially) are beginning to get eaten up with parties, birthdays, and more! I don't think we have a free weekend until December 12-13, but even then I will not hold my breath because we (okay, really "I") have lots of Christmas shopping to do. My goal is to have all the shopping done before December but we will see how that goes!
Love this gluten-free coconut cream pie?! Try some of these recipes: