Sometimes miniature form is better, and in this case, these toasted coconut cupcakes are mouthwatering-delicious!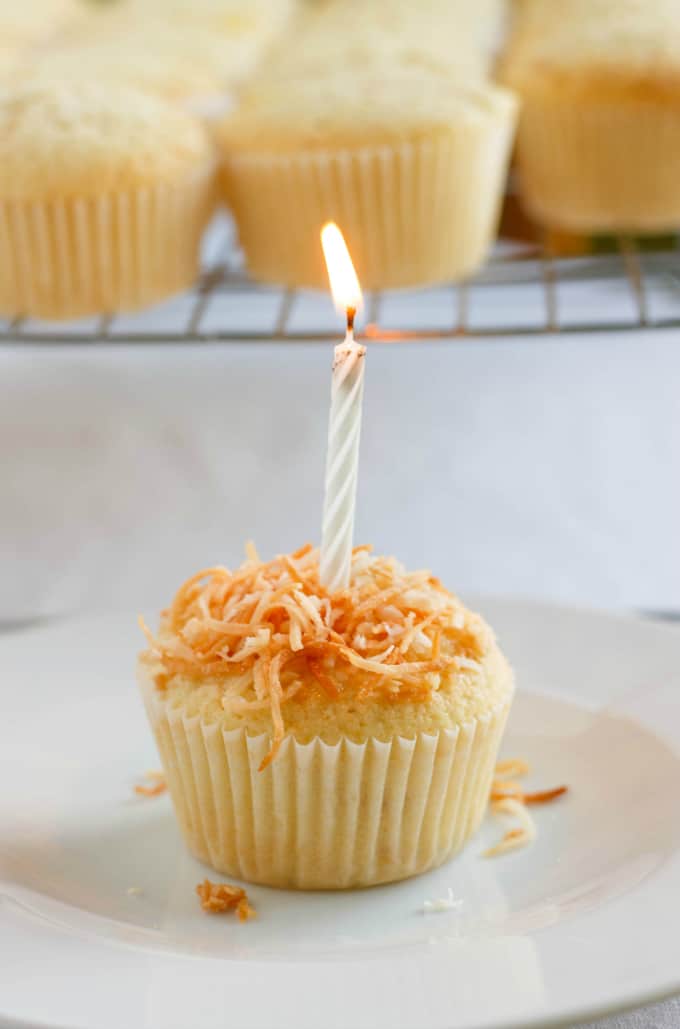 My husband's birthday was last week, and I must admit, after being swamped in the beginning of October, my mind is far from elaborate cake making. Thankfully my husband does not expect anything crazy and usually prefers the easy desserts (tiramisu anyone?!) but I still feel bad that he is second fiddle to our birthdays. He mentioned he liked the subtle coconut flavor in my ghost cake so I revisited the recipe and created these cute and delicious toasted coconut cupcakes with coconut glaze.
He states he "isn't a sweet eater," but I see him going back for seconds!! Knowing he does not care for overly sweet foods, I decided to skip a buttrecream altogether and top these cupcakes with a simple glaze. This allowed for the coconut flavor to come through and not risk masking it. We both loved the change from standard buttercream on these cupcakes, and for people short on time or just not into cupcake decorating, this recipe is for you! Plus, I like to tease him that old people like coconut-flavored desserts (psh, non-coconut-lovers are just weird!)
📖 Recipe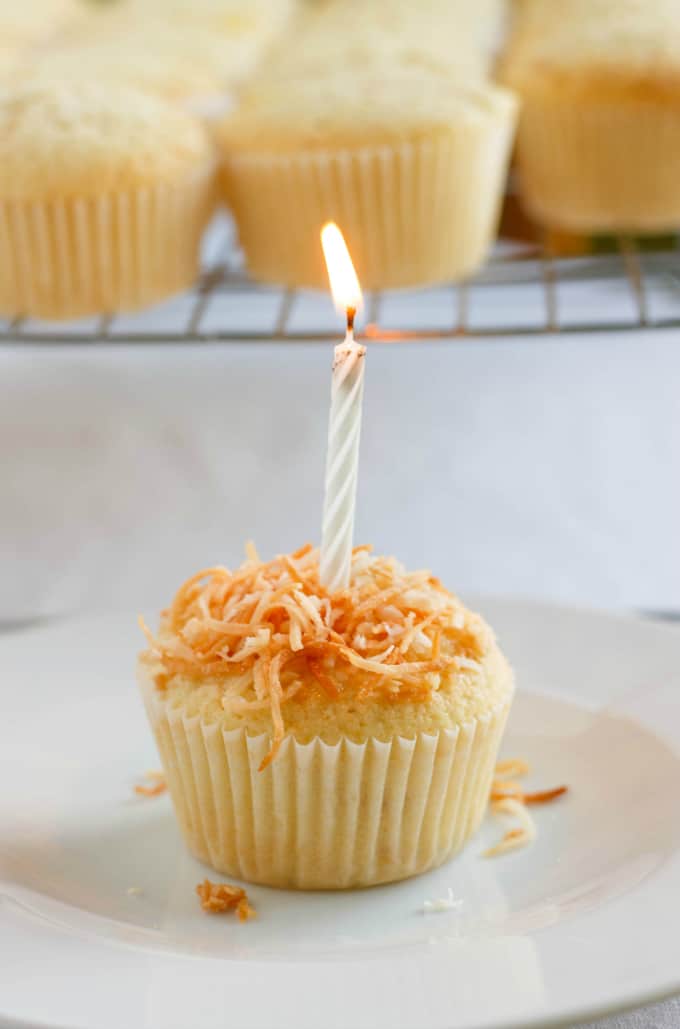 Toasted Coconut Cupcakes with Coconut Glaze
Easy and subtle Toasted Coconut Cupcakes that requires no buttercream to complete! Fast, simple, and to the point, without being too coconut-y or artificial.
Ingredients
1 ½ cups cake & pastry flour
1 cup all-purpose flour
2 tsp. baking powder
¼ tsp. salt
Instructions
Preheat oven to 350F. Line muffin pan with cupcake liners.
In the bowl of a stand mixer, add the coconut oil and sugar. Beat until light and fluffy, about 5 min. Beat in the eggs one at a time, making sure to combine well before adding the next. Add almond extract and mix well. In a separate bowl, combine the coconut cream and vinegar. Set aside.
Sift together the flours, baking powder, and salt.
With the mixer on low, add in the flour mixture and cream mixture alternatively, always starting and ending with the dry ingredients. I usually work in ½ cup flour mixture and ⅛ to ¼ cup liquid alternatively. Mix until just combined. Stir in ½ cup toasted coconut.
Using an ice cream scoop, add enough batter to each muffin liner until almost to the top. Place into oven and bake for 18-22 minutes (depends on your sizing!) Allow to cool slightly in muffin tin before moving the cupcakes to a wire rack to finish cooling.
To make the glaze, mix together sugar, milk, and extract. Add more milk if necessary (you don't want too liquidity, but you don't want too firm either!) Dip cupcakes into glaze or use a spoon like I did to gently glaze the cupcakes. Sprinkle with toasted coconut and press down lightly to help it stick.
Nutrition Information:
Yield:

20
Serving Size:

1
Amount Per Serving:
Calories:

376
Total Fat:

19g
Saturated Fat:

14g
Trans Fat:

0g
Unsaturated Fat:

4g
Cholesterol:

52mg
Sodium:

170mg
Carbohydrates:

48g
Fiber:

1g
Sugar:

33g
Protein:

4g
I absolutely adore using coconut oil in my desserts. Butter has a special place in my heart, but there is something about the moistness that coconut oil adds to a cake recipe. I know not everyone loves the taste of coconut, but if I add coconut oil to a chocolate recipe, you cannot taste it. In a vanilla recipe, it does pop through a bit so you may want to keep an eye on that. However, in the case of these toasted coconut cupcakes, I found the coconut flavor quite subtle considering I used coconut oil and coconut cream/milk. I am sure coconut extract would enhance the flavor but sometimes I find that can make things taste artificial.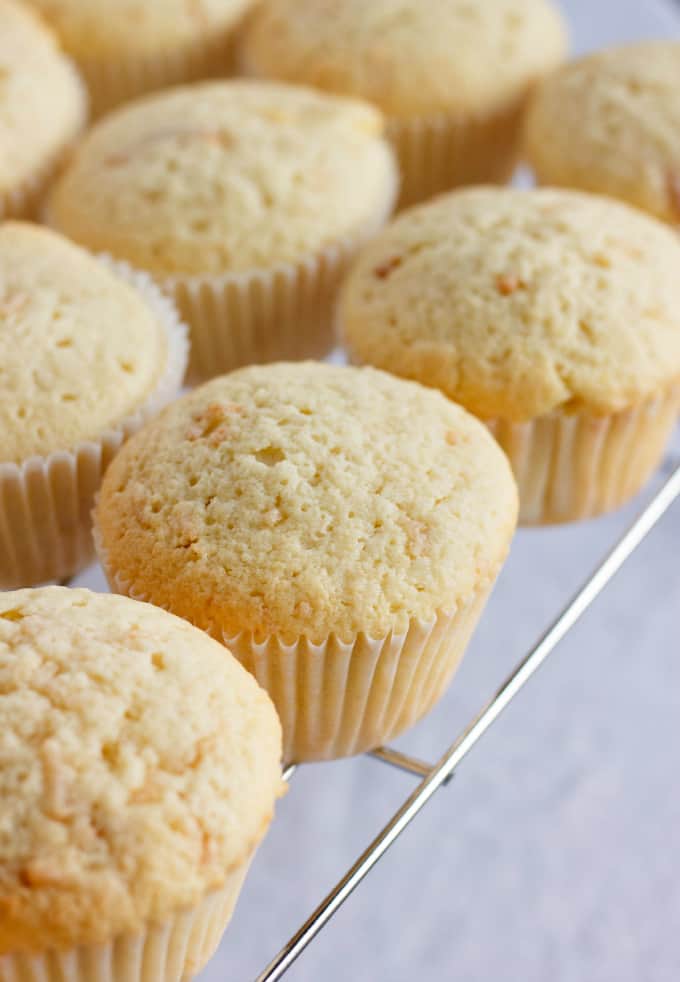 Plus, toasting coconut just adds another coconut-y element and seriously, I don't think I ever use non-toasted coconut in recipes now! So simple and quick, I have converted non-coconut people into accepting coconut because toasted coconut just has an awesome flavor about it! Keep an eye out for a future tutorial on how to make toasted coconut (because these toasted coconut cupcakes wouldn't be the same without that special ingredient!)