Woohoo! It is that time of year! Here come all the wonderful Christmas recipes (aka, lots of dessert recipes!)
But first!! I would like to thank Alton Brown for choosing these cookies for his #ABCookieSwap (first one chosen!) Nothing brings more satisfaction than having your favourite chef share one of your photos! Woohoo!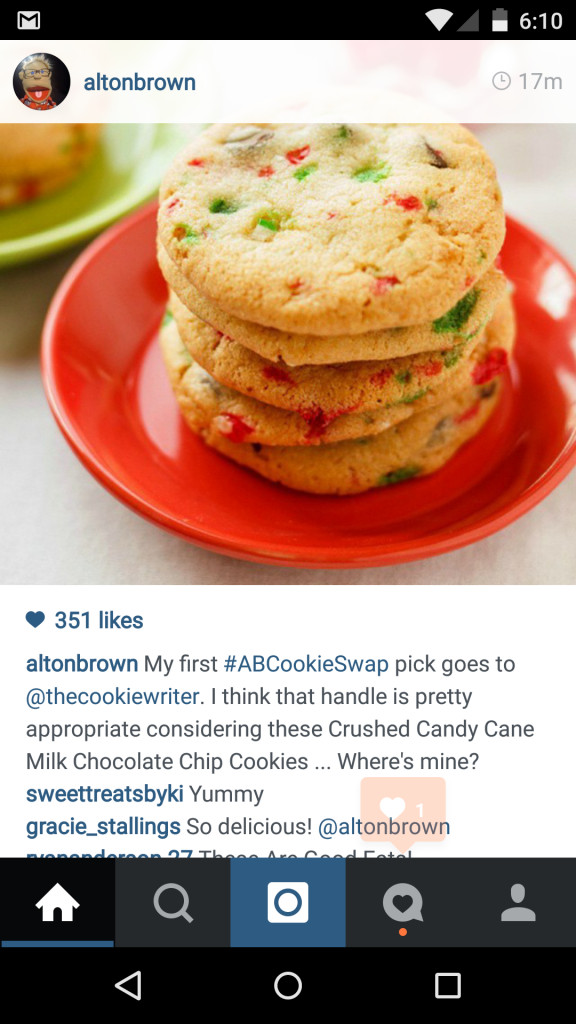 I promise there will be savory recipes, too, but I am definitely most excited about Christmas desserts.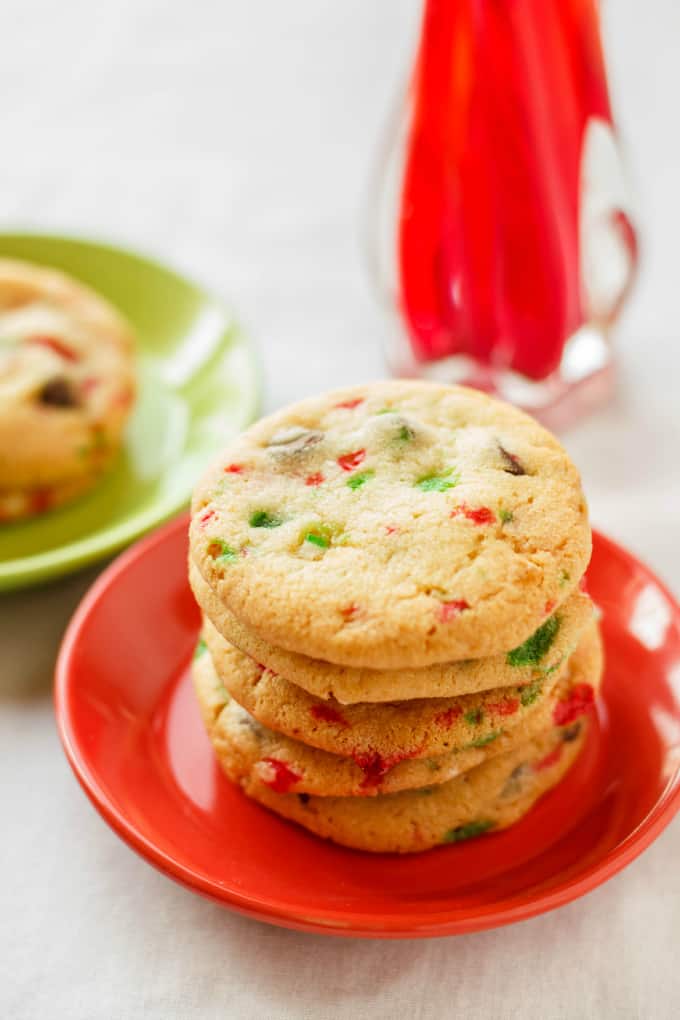 Last week I experimented with peppermint and candy cane. I wanted decadent chocolate chip cookies, without being overly peppermint in flavour. So I experimented three times, and then a final fourth time with a gluten-free recipe. Here is the first recipe I came out with: crushed candy cane chocolate chip cookies. My goal here was to have a subtle peppermint flavour in the actual cookie dough, only adding between 1/2 – 1 tsp. of peppermint extract, and finishing off the mint impact with crushed candy cane. I also added in milk chocolate chips to balance out the flavours. These crushed candy cane chocolate chip cookies are for people who enjoy a nice dose of peppermint, without being super overpowering (however, if you love peppermint, feel free to add in more candy cane or extract!)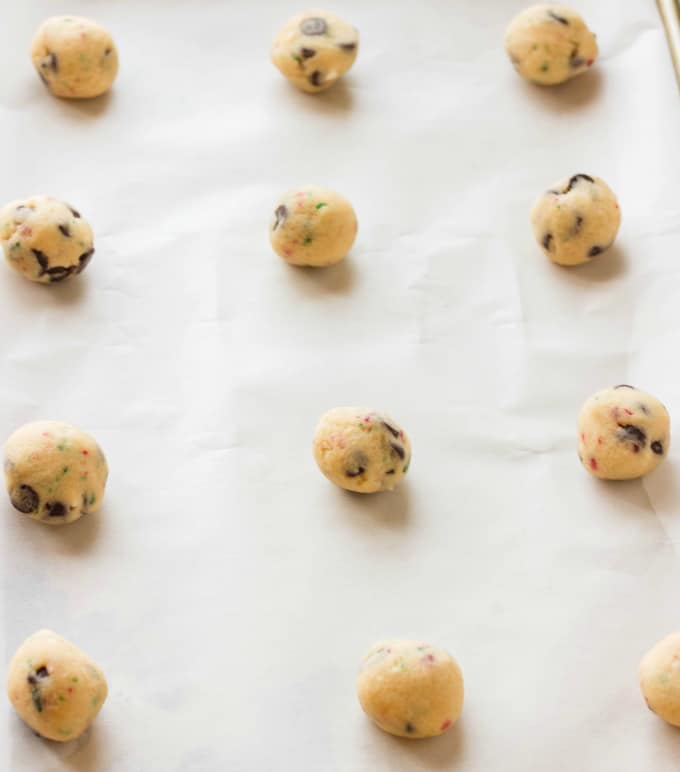 Now, like I said, I made this recipe three times, three different ways. Basically I wanted to cater to everyone. Some people like lots of mint flavour, others do not (I prefer the subtle taste.) I am sure you could just adjust this recipe accordingly, but what fun would that be for me (and all the others who get to eat my test-recipes!) Be on the lookout for more peppermint recipes, but for now, enjoy these crushed candy cane chocolate chip cookies! Ps. You can buy already crushed candy cane at the store, which will make your job a lot easier.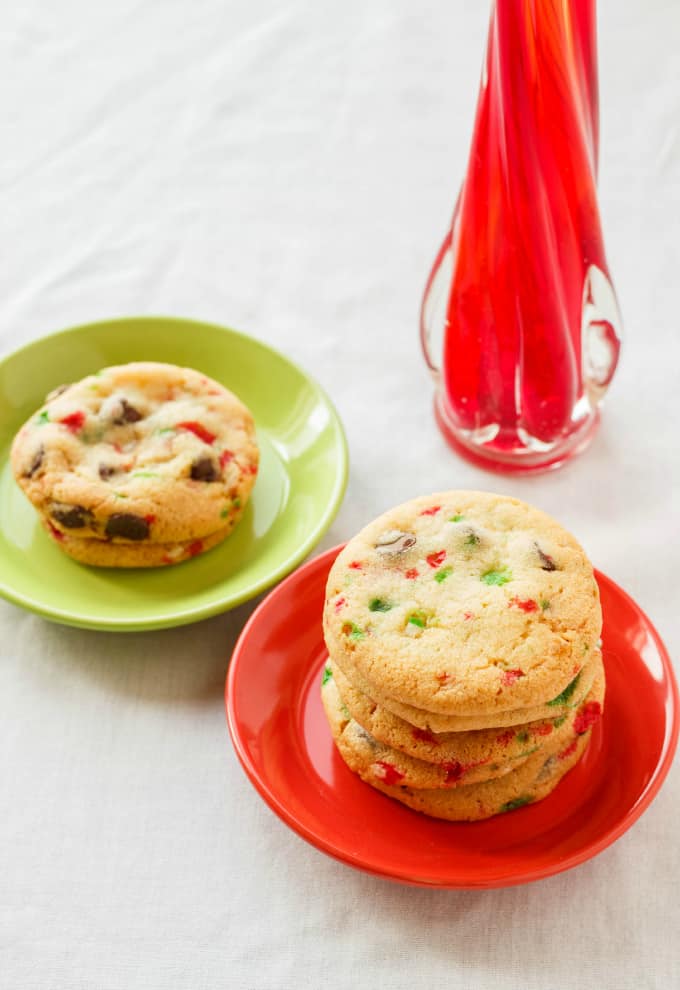 Crushed Candy Cane Chocolate Chip Cookies
---
Kacey
Yields 24-30
15 minPrep Time
10 minCook Time
25 minTotal Time
Ingredients
1/2 cup packed brown sugar
1/2 cup granulated sugar
1 cup butter, softened
1/2 - 1 tsp. peppermint extract (remember, the candy cane is also minty.)
1 egg, room temperature
2 cups all-purpose flour
1 tsp. baking soda
1/4 tsp. salt (1/8 tsp. if using salted butter.)
1 cup milk chocolate chips
1 tbsp. crushed candy cane
Instructions
In the bowl of a stand mixer, add the butter and sugars. Beat until light and fluffy. Pour in the egg and peppermint and mix until combined.
In a small bowl, sift together the flour, baking soda, and salt. Gradually add to the butter mixture, mixing until just combined. Stir in the chocolate chips and crushed candy cane.
Preheat oven to 350F. Line a baking sheet with parchment paper.
Measure out one tablespoon-sized portions and roll into balls. Continue doing this until no dough remains.
Bake 12 cookies at a time, spread evenly apart, for about 10-12 minutes, or until slightly golden. Remove from oven and allow to cool for a couple of minutes on the tray before moving to a cooling rack.
7.8.1.2
210
https://thecookiewriter.com/crushed-candy-cane-chocolate-chip-cookies/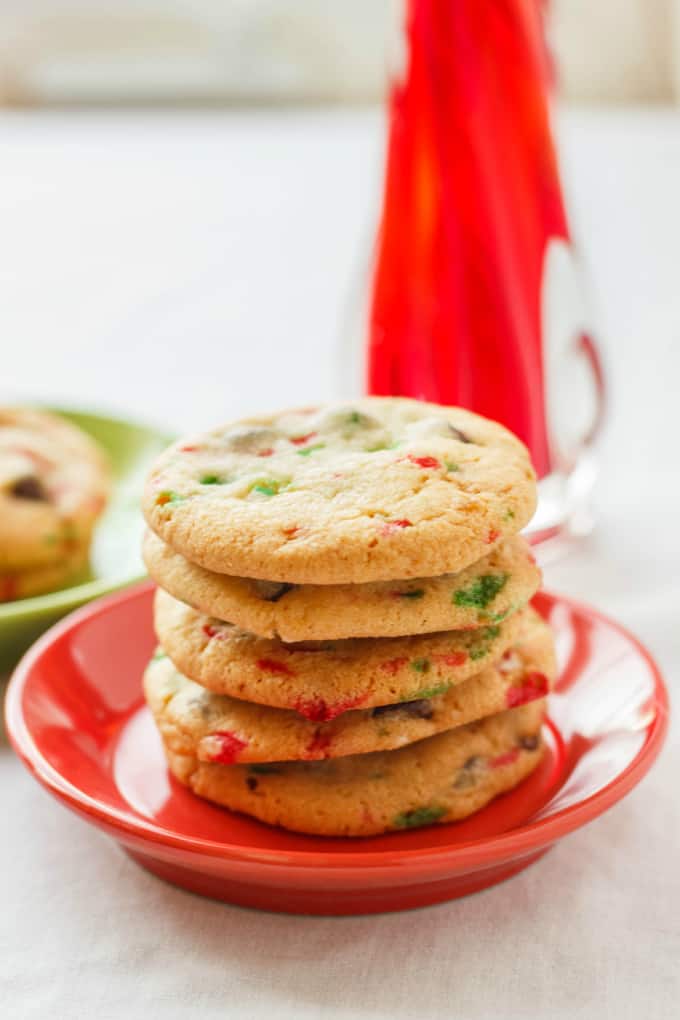 I figure I need to get around to making a little FAQ on my baking techniques. I know everyone has their different methods, and that can really make or break a recipe. For example, I always bake with salted butter. I know some swear by unsalted, but I have never had an overly salty dish using salted butter. Instead, I lower my salt quantity in my recipe or omit it altogether. Secondly, I always bake on Convection Bake. This can change the final bake time in the end compared to those who use the ordinary bake setting on their stove. As always, keep an eye on your baked goods when cooking. I always remove my cookies a bit early because who does not like soft, slightly under-baked cookies?! Plus, the residual heat will help them to finish cooking.