Rainy weekends and fall weather call for some baking! These chocolate chip banana bread muffins are full of so many goodies that it is hard to go back to plain banana bread 😉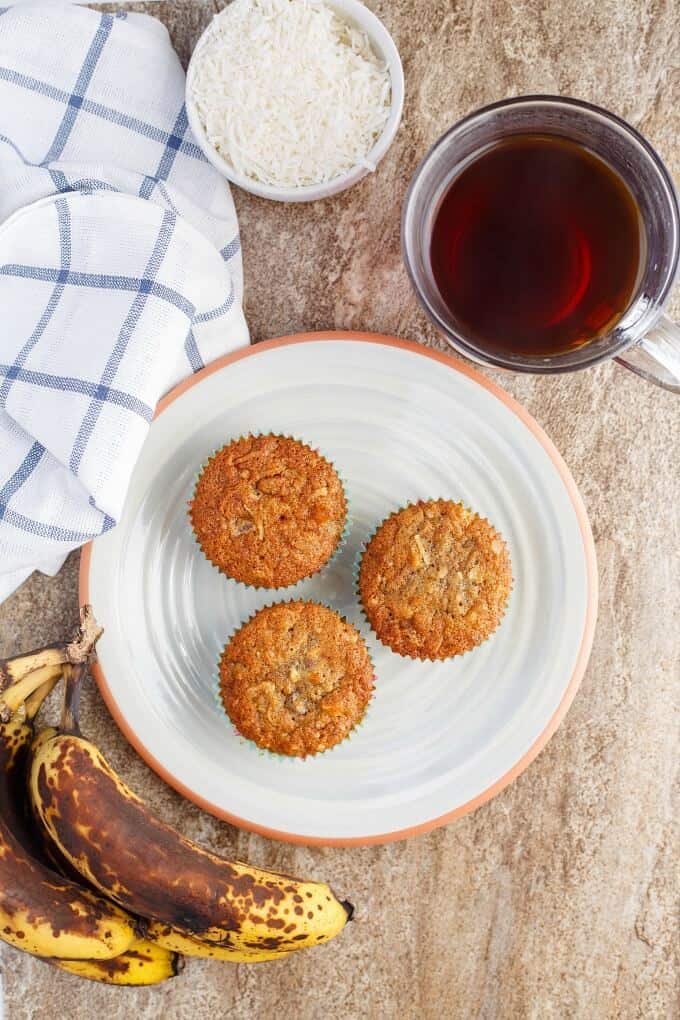 I am kind of cheating with today's recipe!
It is a remake of my chocolate chip banana bread with coconuts and nuts recipe (which dates back all the way to 2014!!)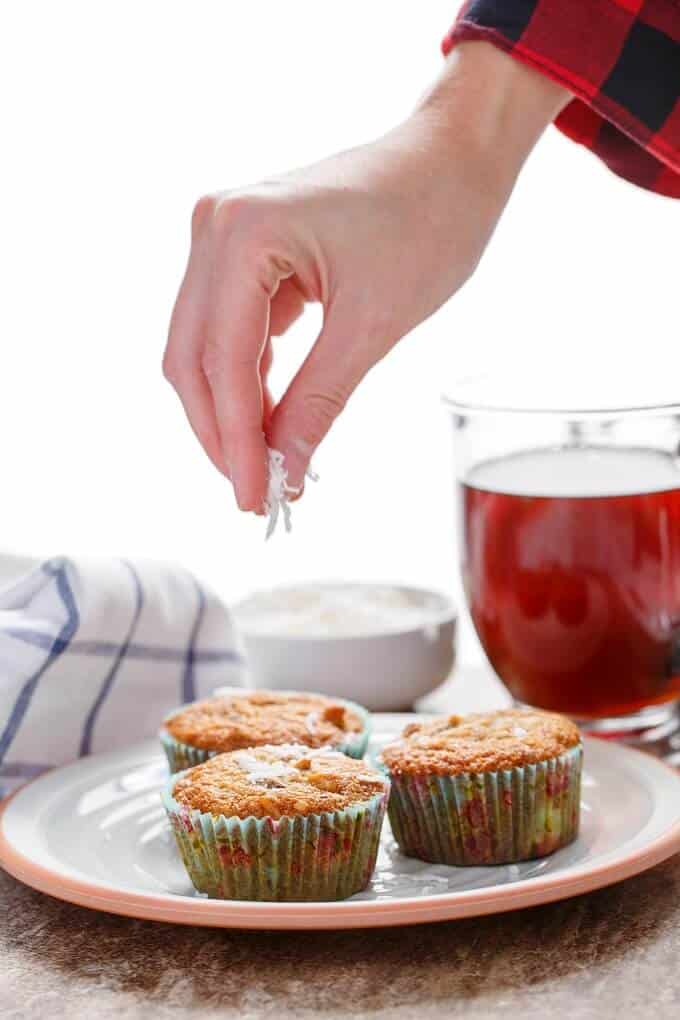 No big changes in this chocolate chip banana bread muffins recipe, except for cook-time. But hey! Sometimes I want banana bread muffins over banana bread 😉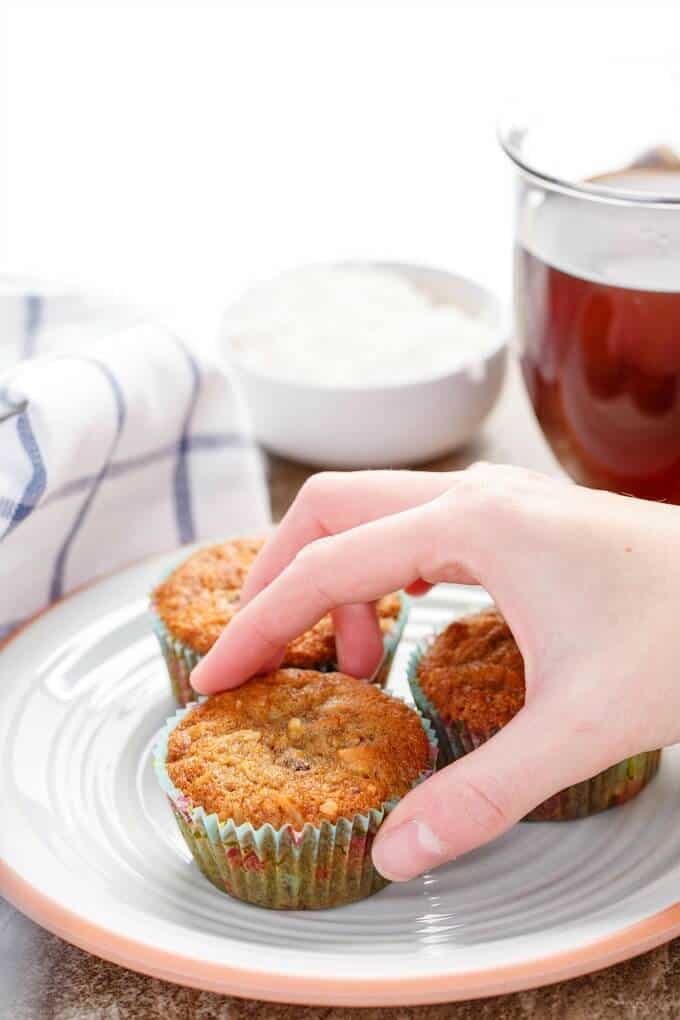 I will say though, that if you are sending these muffins to school, I would leave out the nuts. Here in Canada we have to keep our lunches and snacks nut-free. But if you are just munching on these at home, I highly recommend adding the nuts! There is something about the crunchy texture mixed with the soft texture of the banana bread 🙂
Basically I call these chocolate chip banana bread muffins my "kitchen sink" muffins. You cannot really go wrong with banana bread by adding extra ingredients (I am not talking about dairy or eggs.) Then again, adding double the amount of chocolate could lead to some issues... Okay, just don't add ingredients that add moisture to your bread and you should be fine!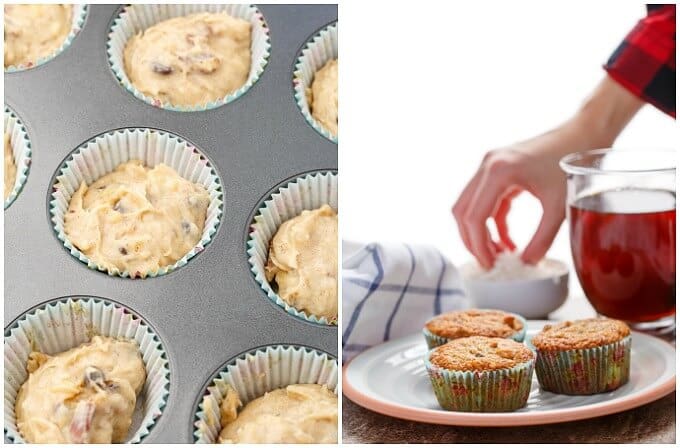 Lastly, make sure you are using unsweetened coconut. There is a lot of sugar in this recipe (I like things on the sweet side,) and if you use sweetened coconut, well, that is just more sugar! You can actually cut back on the sugar slightly if need-be (I have done it before with no mishaps!)
📖 Recipe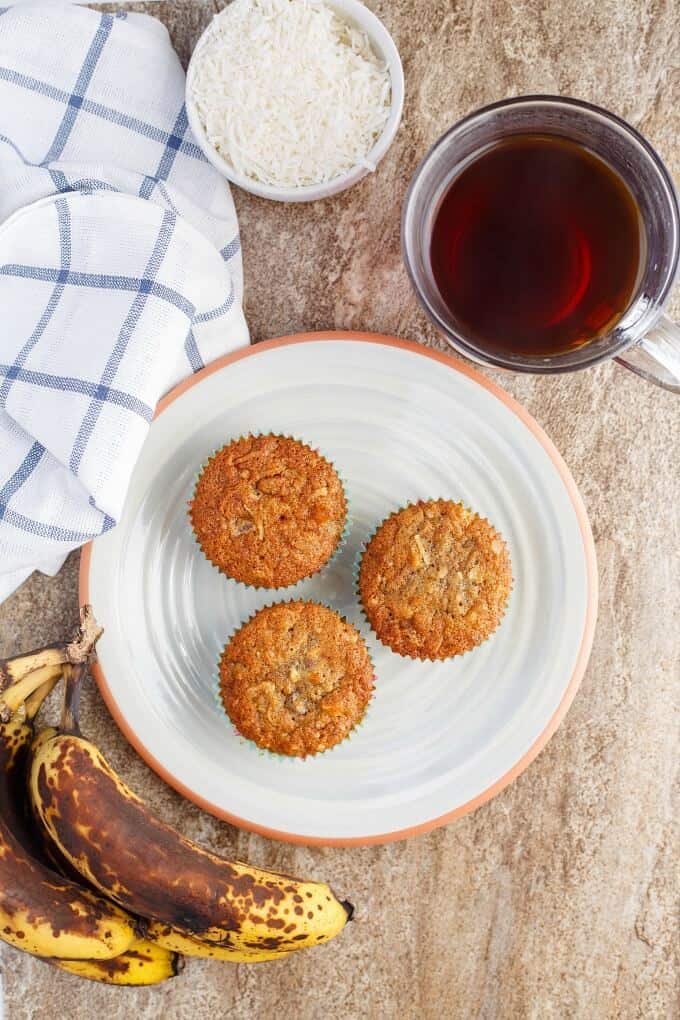 Chocolate Chip Banana Bread Muffins with Coconut & Nuts
A great way to use up bananas AND get breakfast out of the way! These chocolate chip banana bread muffins are a great freezer-friendly breakfast meal!
Ingredients
1 ¼ cups all-purpose flour
1 tsp. baking soda
¼ tsp. salt
2 large eggs, room temperature
½ cup coconut oil, room temperature
1 tsp. vanilla
½ cup brown sugar
½ cup granulated sugar
3 ripe bananas, mashed
½ cup walnuts, roughly chopped
½ cup pecans, roughly chopped
½ cup chocolate chips
½ cup shredded, unsweetened coconut
Instructions
Sift flour, baking soda, and salt into a bowl. Set aside.
Preheat oven to 350F. Line muffin tin with paper liners.
Cream together coconut oil and sugars until light and fluffy (basically until the sugars meld together: about 5 minutes.) Add one egg at a time, waiting to fully incorporate before adding the next. Add in vanilla and bananas: mix until bananas have broken down. Add the flour mixture, chocolate chips, nuts, and coconut. Mix until just combined!
Pour into muffin tin (about ⅔rd way full) getting about 15-18 muffins total. Place into oven and bake 20-25 minutes, or until toothpick comes out clean (some chocolate may show up, but batter is a no-no!)
Cool for 5 minutes in pan before moving to cooling rack.
Notes
Room temperature ingredients work best! You can omit the nuts, chocolate, and/or coconut if need-be. Make sure to use UNSWEETENED coconut if you do not like sweet muffins.
Nutrition Information:
Yield:

18
Serving Size:

1
Amount Per Serving:
Calories:

230
Total Fat:

14g
Saturated Fat:

8g
Trans Fat:

0g
Unsaturated Fat:

5g
Cholesterol:

21mg
Sodium:

113mg
Carbohydrates:

26g
Fiber:

2g
Sugar:

16g
Protein:

3g