When it comes to beginner baking, banana bread makes for a great test subject! This white chocolate strawberry banana bread is a bit more gourmet (and romantic!) than traditional banana bread, but just as easy!
I am keeping my posts very simple this week as we have two birthdays and Canadian Thanksgiving lined up (among a birthday party my daughter is attending on top of all that!)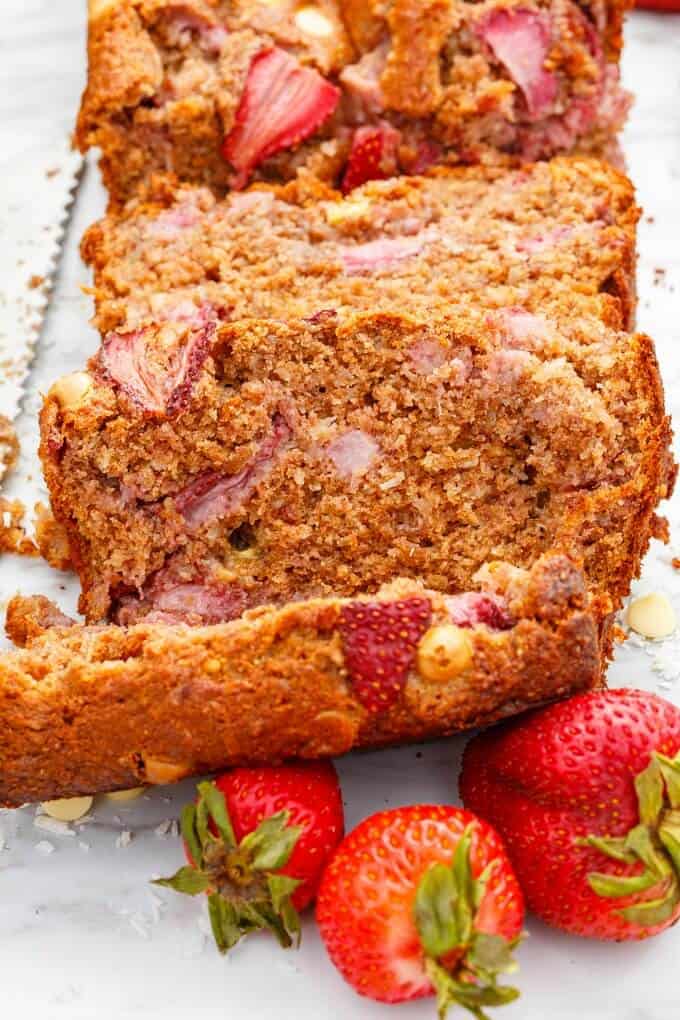 I have been making this white chocolate strawberry banana bread for YEARS. Or at least some variant of it.
And the funny part is, while I make it fairly regularly, I never wrote down the recipe...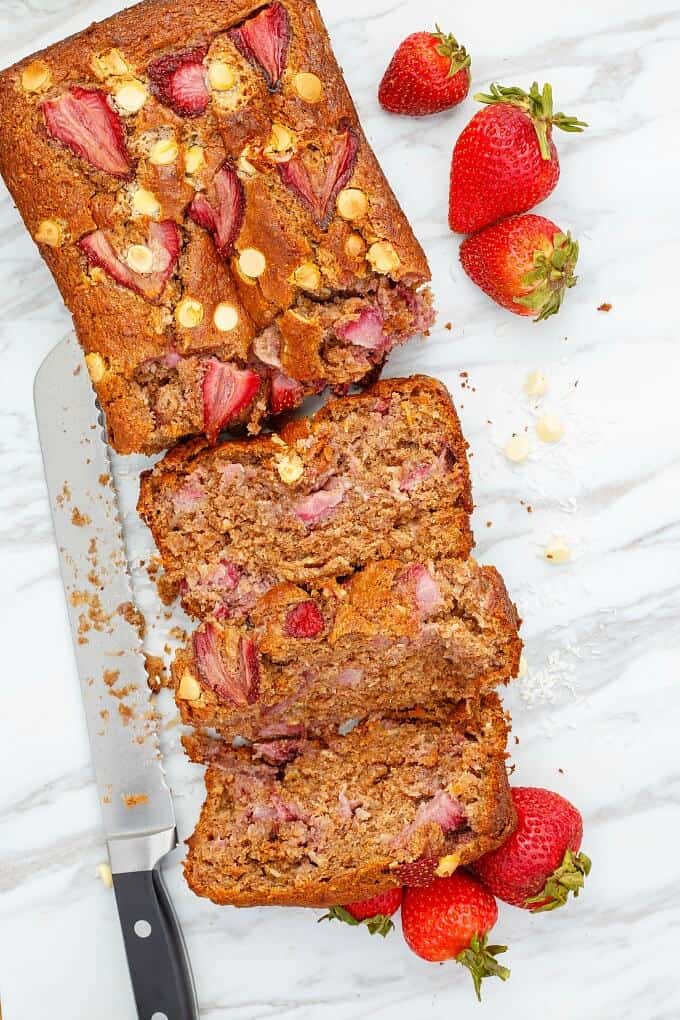 Which, surprisingly (or not,) happens quite often!
As much as I love the blog, there are times I miss just cooking a meal and not having to worry about writing the recipe down for future use or taking pictures of meals.
Then again, my photography would be no where near what it is now, and even then I still have hangups with it. But whenever I feel down, I look back to my older recipes and I am quickly reminded how far I have come!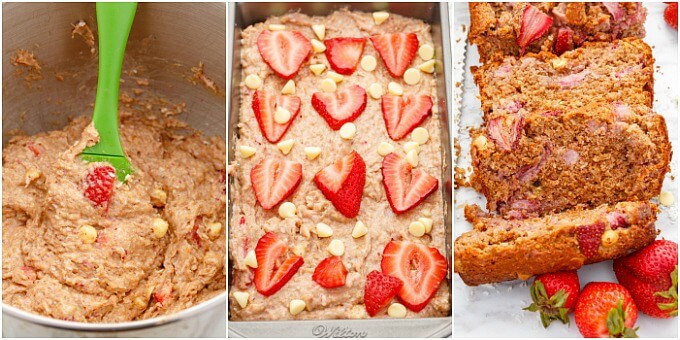 Pushing that mushiness aside, this white chocolate strawberry banana bread is a great fall recipe! I love banana bread during the cooler months. Don't know why: maybe it is a comfort thing, or maybe it is because it makes for a great school snack 🙂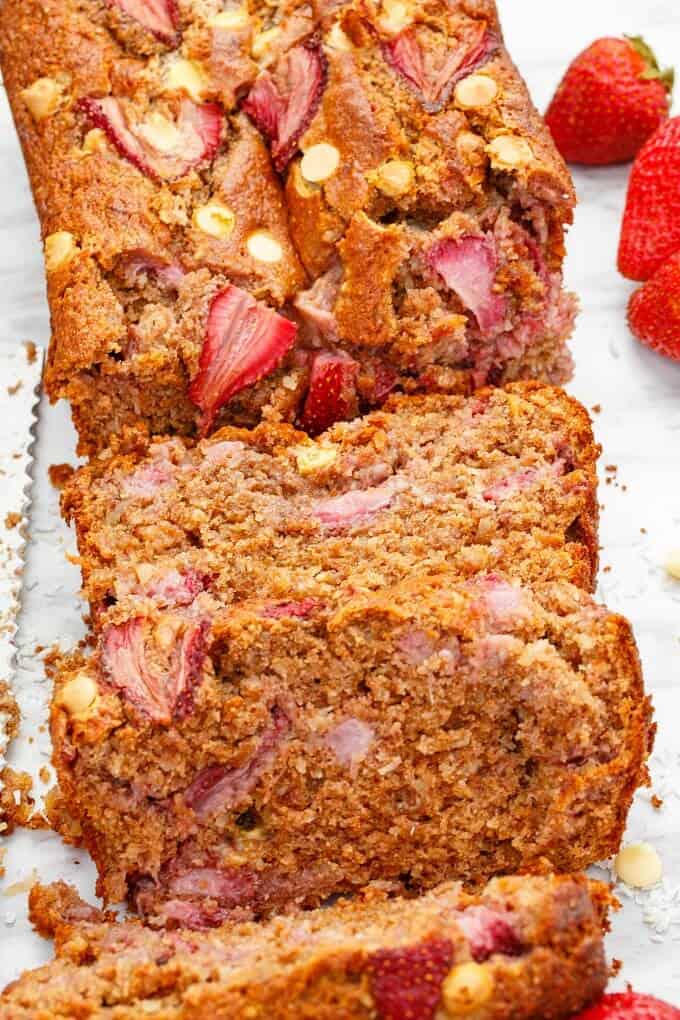 But this banana bread recipe is also great for Valentine's Day! Sometimes you encounter people who are not big sweet eaters (is that even possible?!) and I do find this strawberry banana bread is less sweet than traditional Valentine's Day desserts.
If you don't have white chocolate, milk chocolate will work, too! You can also leave out the chocolate entirely (which we have done many times!)
📖 Recipe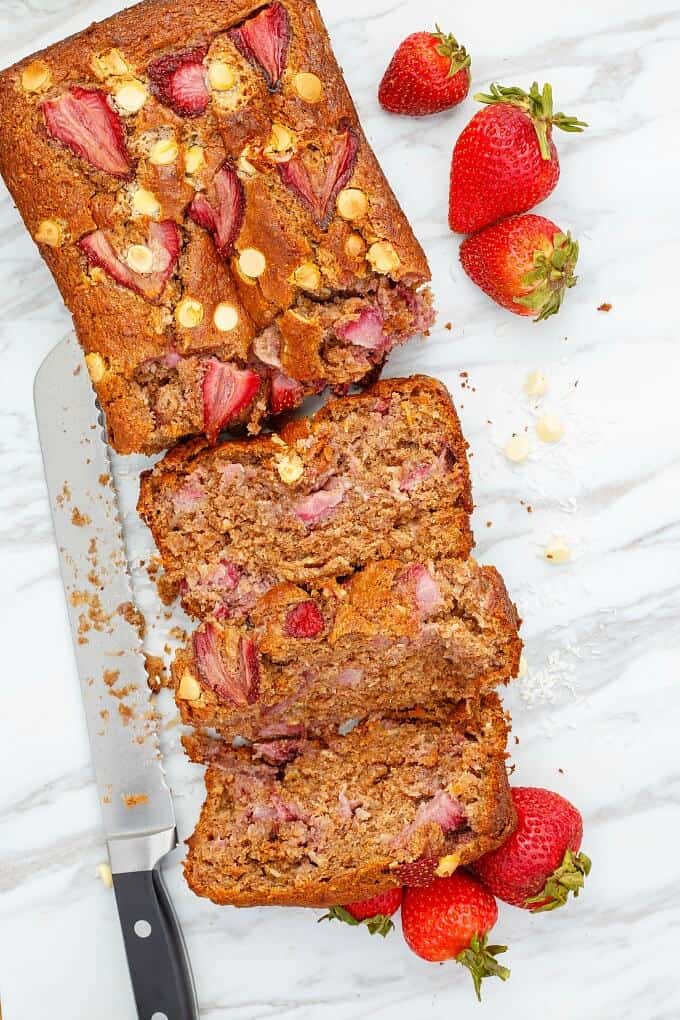 White Chocolate Strawberry Banana Bread
Cook Time:
1 hour
10 minutes
Total Time:
1 hour
25 minutes
A mix of fresh garden strawberries and ripe bananas makes for an ultimate breakfast! This white chocolate strawberry banana bread is a great freezer meal, but makes for a simple Valentine's Day dessert 🙂
Ingredients
1 lb fresh strawberries, stems removed and divided
1 ¾ cups all-purpose flour
1 tsp. baking soda
¼ tsp. salt
½ tsp. ground cinnamon
2 large eggs, room temperature
½ cup coconut oil, room temperature
1 tsp. vanilla
½ cup brown sugar
½ cup granulated sugar
3 ripe bananas, mashed
½ cup white chocolate chips
½ cup shredded, unsweetened coconut
Instructions
Place enough strawberries into a food processor to yield ¼ cup pureed strawberries (start with about 3 if they are large!) Slice remaining strawberries. NOTE: You can run the pureed strawberries through a fine sieve if you are not a fan of strawberry seeds.
Sift flour, baking soda, cinnamon and salt into a bowl. Set aside.
Preheat oven to 350F. Grease loaf pan with coconut oil.
Cream together coconut oil and sugars until light and fluffy: about 5 minutes. Add one egg at a time, waiting to fully incorporate before adding the next. Add in vanilla, pureed strawberries, and bananas: mix until bananas have broken down. Add the flour mixture, chocolate chips, and coconut. Mix until just combined! Stir in sliced strawberries, saving some for the top of the loaf if desired (you can also slice up a few extra to add on top before baking!)
Pour into loaf pan and bake for 1 hour, 10 minutes or until toothpick comes out clean. Start checking around the 55 minute mark. Cool until you can handle the loaf pan and invert onto cooling rack. Flip right-side-up and cool completely before slicing!
Notes
Sometimes banana bread sinks in the middle. There are some neat tricks online on how to prevent that! You can also top the banana bread with more chocolate chips before baking 🙂
Nutrition Information:
Yield:

8
Serving Size:

1
Amount Per Serving:
Calories:

482
Total Fat:

22g
Saturated Fat:

17g
Trans Fat:

0g
Unsaturated Fat:

3g
Cholesterol:

49mg
Sodium:

264mg
Carbohydrates:

67g
Fiber:

4g
Sugar:

39g
Protein:

6g
Love this white chocolate strawberry banana bread?! Try some of these recipes: