2017 is coming to an end, and I have one more Canadian Turkey recipe for you! This roasted cranberry butter turkey combines cranberry butter with real butter (confusing, I know, but keep reading!) and yields a festive holiday dinner that is colorful AND tasty 🙂

This is a sponsored post. I was fortunate enough to receive monetary compensation and/or products from Canadian Turkey. Though compensation was received, all opinions are my own and I would not recommend a product that I did not enjoy.
Just over a week until Christmas!!!
2017 flew by. Maybe it goes by quicker as I see my daughter grow up, and more than ever I want it to slow down!
However, it was a great year for us, and I must say, my brand ambassadorship with Canadian Turkey has been one of the best experiences ever for me!
---
I get asked a lot of questions about my vegetarianism and why I still cook meat, how do I taste my recipes, etc. And I know it is rather odd, but trust me, it works for my family!
I am vegetarian for many reasons, but my family is not. And I respect their choices, just like they respect mine (though, there is lots of friendly banter going on!)
My husband and daughter are my ultimate taste-testers! I ate meat as a kid, and turkey was my favorite (though we only got it around the holidays, so I am glad Canadian Turkey is showcasing that turkey is great all-year-round.) As I grew up a foodie, I learned what works and what doesn't. I cooked whenever I could and that furthered my skills, though I still have A LOT to learn! But it is all about practice, experimenting, and having two family members who will eat just about anything, lol.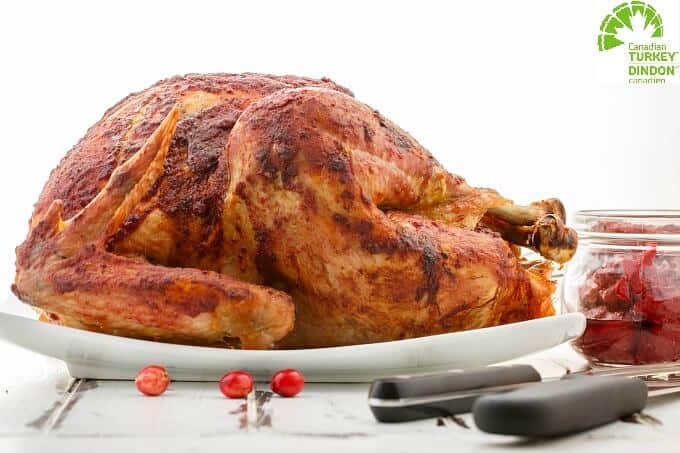 So no, I don't taste meat dishes (that's what my two favorite taste-testers are for!) HOWEVER, many times the sauces are vegetarian or vegan, so I'm golden there! Like today's recipe! This roasted cranberry butter turkey is all about pairing turkey with its perfect love: cranberries! In case you missed it, I already posted my slow cooker cranberry butter recipe which is vegan and gluten-free. What?! Butter isn't vegan! But fruit butters are! And so simple, too! I love cranberry sauce, but cranberry butter is a nice change 🙂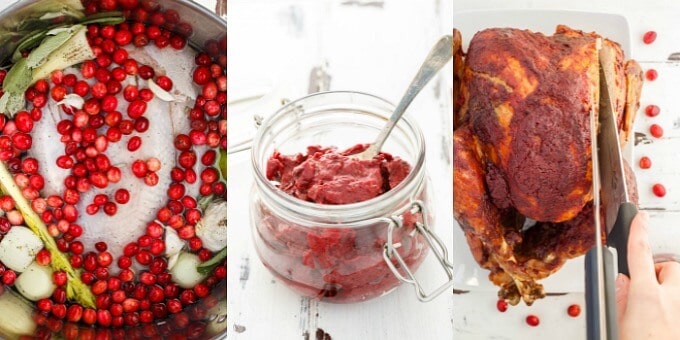 However, I did take my cranberry butter a step further when coating my turkey. I mixed even cups of cranberry butter with real butter. This way the turkey is covered in a fat, but still has that sweetness from the cranberry butter. The two together just made for an awesome dressing, and the color on this roasted cranberry butter turkey could not turn out any more festive!! There was also the fear of burning the cranberry butter on the turkey without additional fat as it does have sugar in it 😉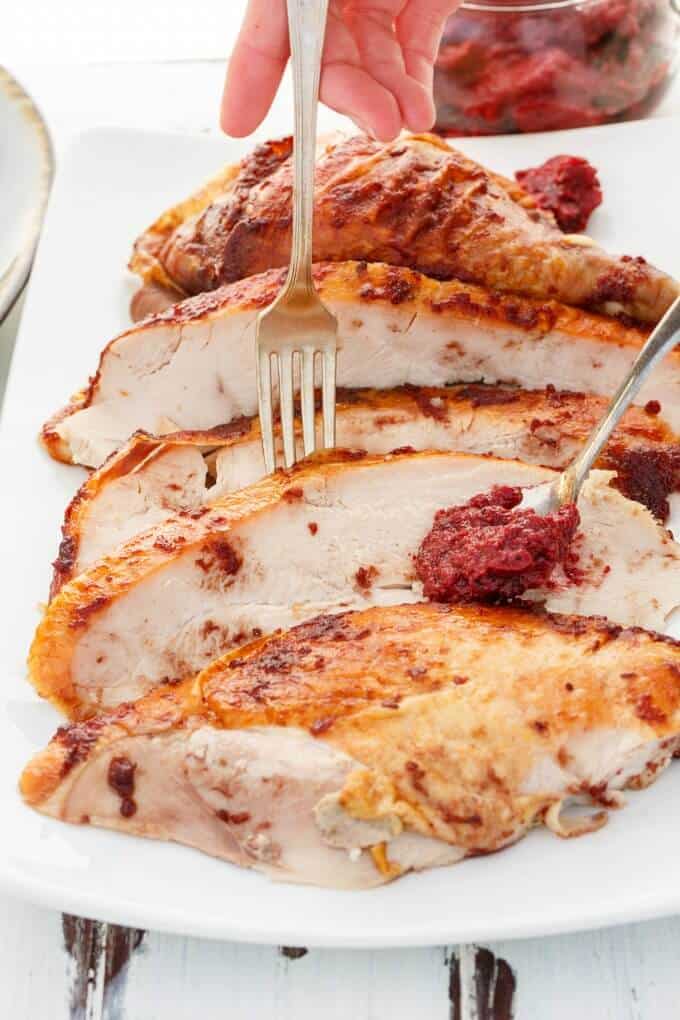 Whenever I think about any major holiday, I think of Canadian Turkey. There are so many cuts of turkey and the recipes are endless. You can go spicy or sweet, whole turkey or half-breast. Whether you have a large crowd or small gathering, there is always something for everyone 🙂 And for me, it makes me so happy to see my family EXCITED to eat my food. It is my favorite part of the holiday season 🙂 Foodies all around here!
So, you remember me talking about my vegetarianism? Well, I am not left out! The great thing about Canadian Turkey is that it is so versatile. More often than not I can actually create a meat dish that is easily transformed into a vegetarian one (see my grilled turkey caprese salad, taco turkey-lentil lettuce wraps, and ground turkey taco salad posts!) A whole turkey can be a bit difficult to transform, but in this case, the sauce leaves me open to many options (cough cough, spreading over homemade stuffing and mashed potatoes!) Canadian Turkey is all about families eating together, inventing new traditions, and quick/simple healthy recipes. It is nice to know that my family can still eat together even with our dietary/lifestyle choices 🙂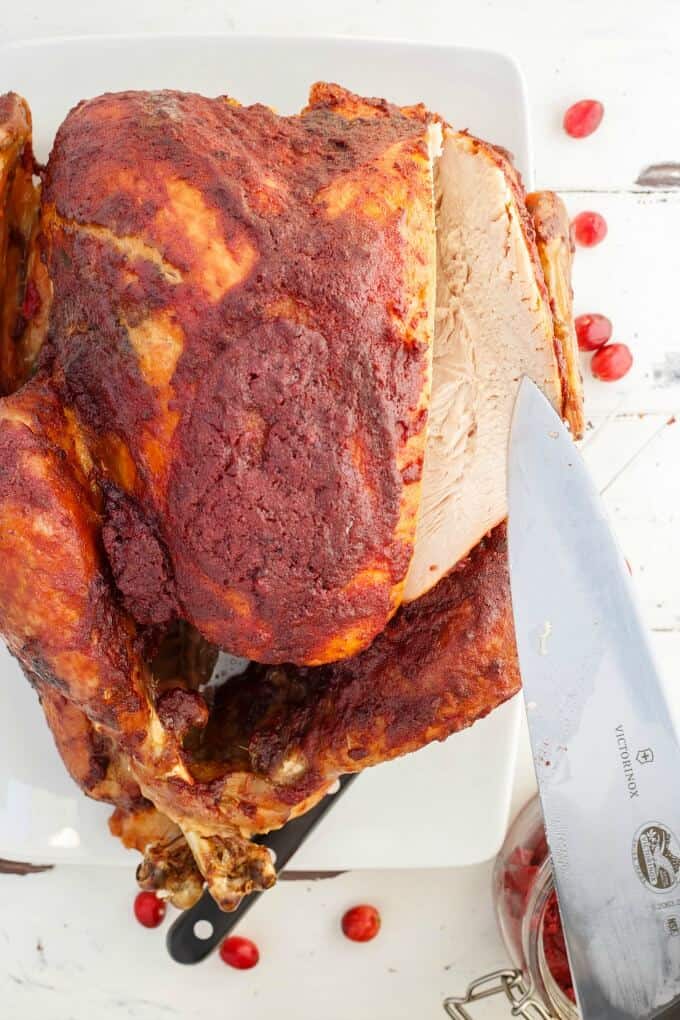 If you have never cooked a whole turkey before, don't stress! Canadian Turkey has a great How-To section that will guide you through every step. A meat thermometer is essential in my opinion. I always use one because you just never know, your oven temperature may fluctuate, your turkey may not have been completely thawed, or you may experience another problem. Things happen, but with a meat thermometer you will always know where your meat is at. No more dry turkey EVER!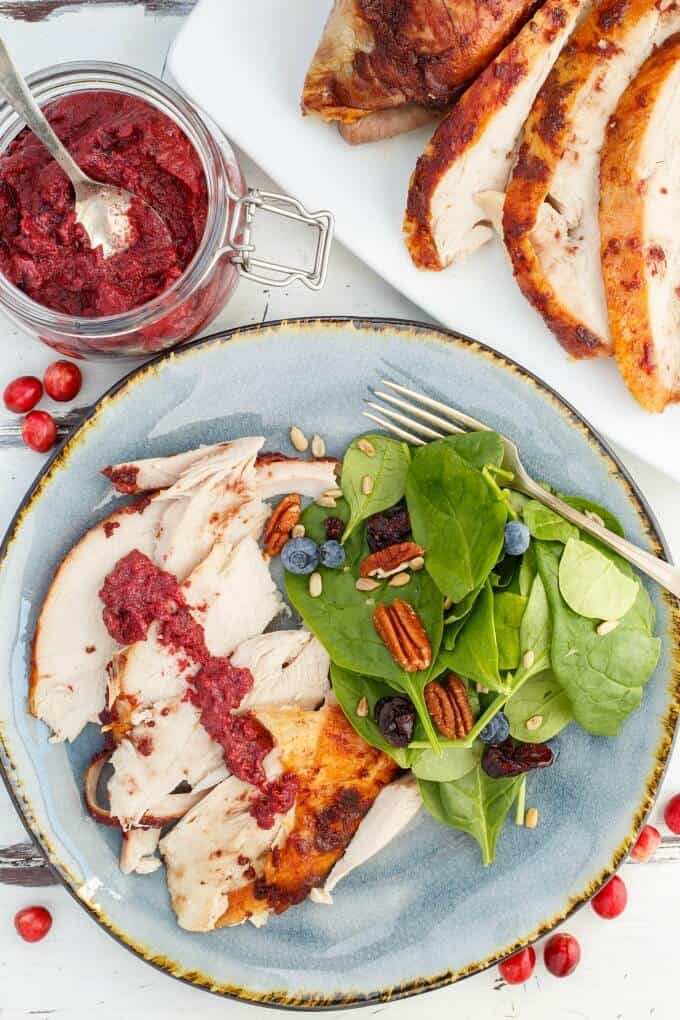 Here are some handy tips this holiday season:
Take into consideration how many people will be joining you. Turkey breasts, half-breasts, thighs, and drumsticks are perfect alternatives if you are feeding a smaller crowd. You can still combine some crazy flavors!
Make sure to take thaw-time into consideration.
If brining, have a big enough pot or brining bag AND make sure you have room in your refrigerator (I SWEAR by brining.)
Don't salt a brined turkey!! It will be salty enough!
For a really crispy skin, pat your turkey dry after brining and allow to sit uncovered in your refrigerator overnight (up to 24 hours) to further dry it out. Sounds bad but it totally works and we always have the crispiest turkey!
Don't panic! Ask for help: tips, tricks, family recipes 🙂
Don't throw away the turkey carcass: it makes for great homemade turkey stock which can be used for homemade soups!
Another "wet" marinade for my roasted cranberry butter turkey, but dry rubs are so good, too!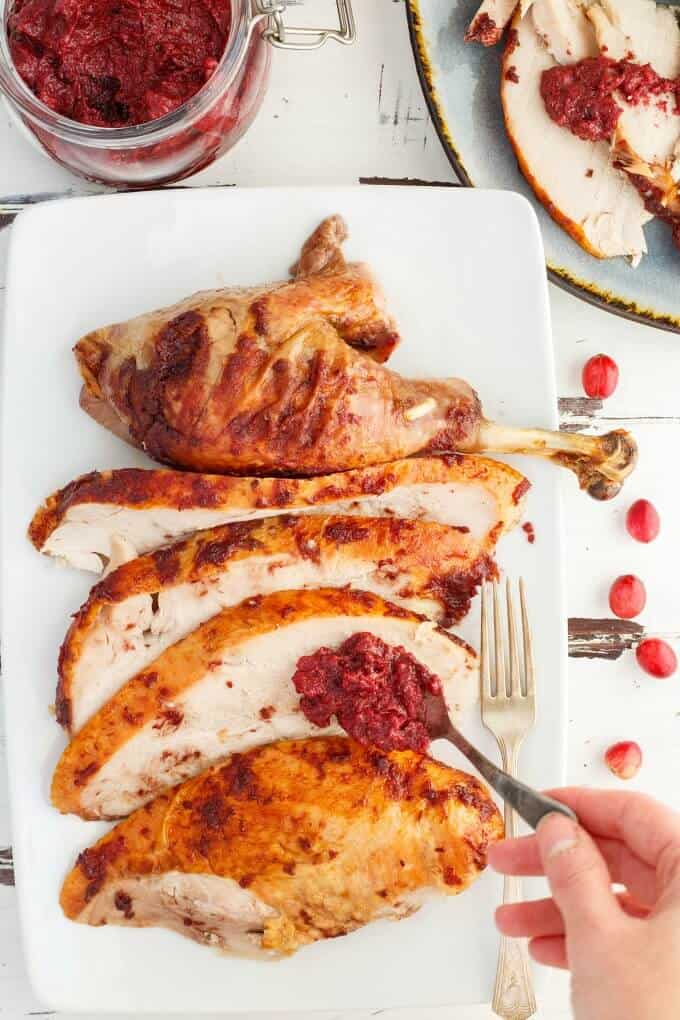 Lastly, my brine includes cranberries! Because, why not?! If cranberries and turkey were a celebrity couple, people would constantly dish on them 😉 In all seriousness, ever since I began brining meat, I cannot go back to not doing it. My husband swears there is something magical about it and we have not had any dry or flavorless turkey here since working in this little extra step. However, if you are short on fridge space or have no time, you can skip this step because the cranberry butter is so flavorful, you won't be disappointed! Just be aware that brined turkeys cook faster, so you may need longer cook-time for your unbrined turkey.
📖 Recipe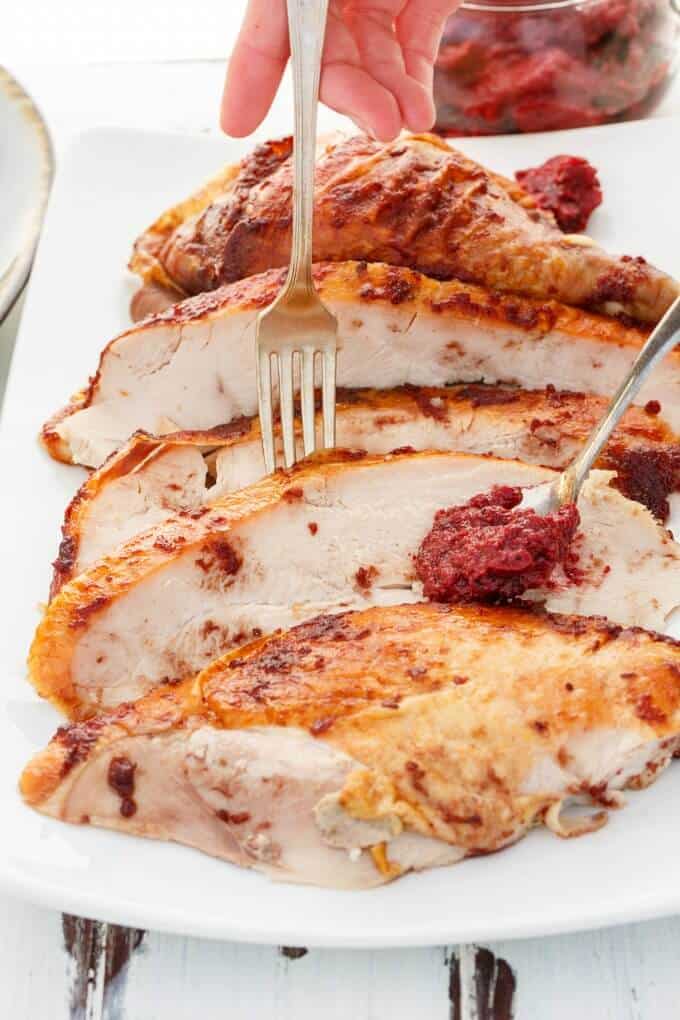 Roasted Cranberry Butter Turkey
Cook Time:
3 hours
15 minutes
Total Time:
3 hours
35 minutes
Brining, stuffing, how often you baste, convection/regular cooking all come into play when roasting a turkey! Turkey cook-time will vary depending on all of these criteria!
Ingredients
1 (5 kg or 11 lbs) whole turkey, insides removed, unstuffed
½ cup cranberry butter
½ cup butter
Brine
32-40 cups water (enough to cover your turkey)
1 ¼ cups salt
1 ½ cups granulated sugar
2 large onions
2 celery stalks
2 apples
1 head of garlic
1 large carrot
2 sprigs of fresh sage
3 cups cranberries, divided
Black pepper
Instructions
Combine sugar, salt, 1 cup cranberries, and 8 cups water into a large pot over medium heat. Cook, stirring occasionally, until salt and sugar dissolve completely. No need to boil! Remove from heat and allow to cool to room temperature.
Place turkey into brining bag or large stock pot that does not react to water, salt, etc. Pour sugar-water over top along with onions, celery, apples, garlic, carrot, sage, black pepper, and remaining cranberries. Begin adding water until turkey is submerged (you may need to place a heavy plate or weight on top of the turkey so it does not float.)
Cover and place into refrigerator for 24 hours.
Drain and pat turkey dry. Move to large plate and allow to sit, uncovered, in refrigerator overnight. Note: This is not necessary but helps with nice, crispy skin!
Turkey
Combine cranberry butter and butter into a mixing bowl and whip until combined (I used a hand-mixer for this.)
Preheat oven to 450F. Place turkey into roasting pan with elevated rack and pour 2-4 cups water in the bottom of the pan (turkey is lean so drippings can be sparse. Add more throughout cooking if necessary.)
Place into oven, uncovered, and lower heat to 325F. Cook for 1 hour. Remove from heat and baste with ⅓ of the butter mixture.
Return to oven and continue cooking until internal temperature reaches 170F (I tend to cook mine to 165F, however, Canadian Turkey states 170F as the safe temperature.) Make sure to baste two more times with your butter! My turkey took about 2 ½ - 3 hours but brined turkeys cook faster!! Refer to this chart here for cook-time. Unstuffed vs stuffed comes into play, too.
Cover turkey in aluminum foil and allow to rest for 20 minutes. Slice and serve with additional cranberry butter if desired!
Notes
Don't stress about the brine ingredients! I throw in everything but the kitchen sink (also a great recipe to use up not-so-pretty produce.) Cook & prep-time do not include brining, cranberry butter, resting, or overnight refrigeration times.
Nutrition Information:
Yield:

10
Serving Size:

1
Amount Per Serving:
Calories:

271
Total Fat:

11g
Saturated Fat:

7g
Trans Fat:

0g
Unsaturated Fat:

3g
Cholesterol:

31mg
Sodium:

15456mg
Carbohydrates:

44g
Fiber:

3g
Sugar:

37g
Protein:

2g
Please be aware that many factors affect cook-time: basting causes oven heat loss, convection cooks faster even at a 25 degree lower temperature (I always cook with convection,) and size of roasting pan. Remember, MEAT THERMOMETER is your friend 🙂
This is a sponsored post. I was fortunate enough to receive monetary compensation and/or products from Canadian Turkey. Though compensation was received, all opinions are my own and I would not recommend a product that I did not enjoy.
Love this roasted cranberry butter turkey?! Try some of these recipes: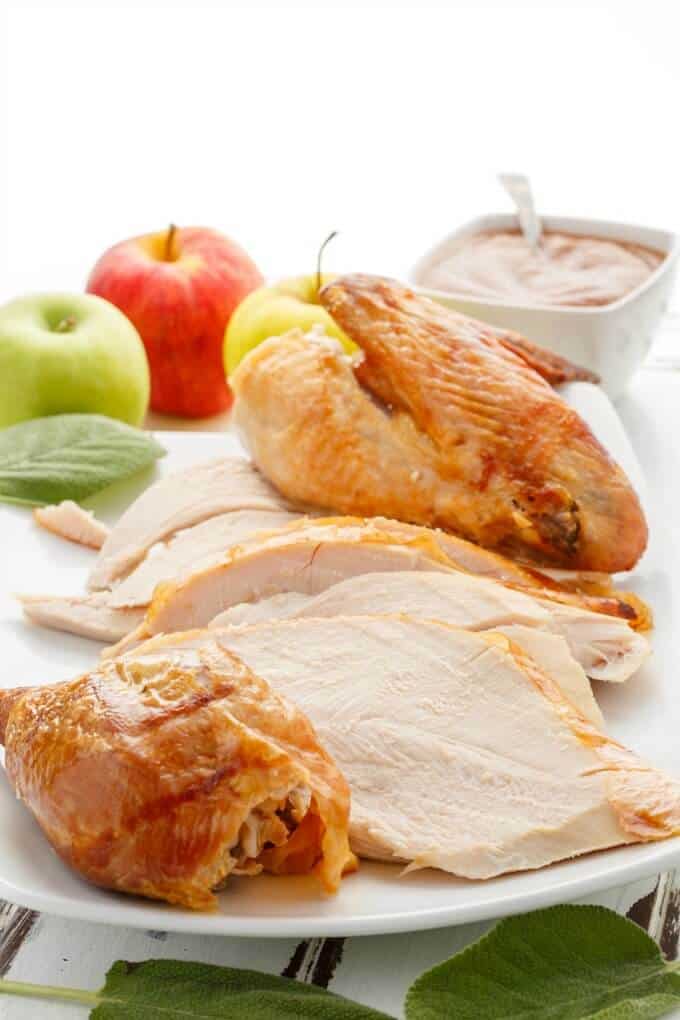 Roasted Apple Butter Turkey with Turkey Bacon Scalloped Potatoes