Winter is here, and it's cold! More than ever we want comfort food, but we also want to stay on track with our health-related goals. This roasted potato-vegetable soup fits all the criteria, even yielding a vegan version.
This is a sponsored post. I was fortunate enough to receive products and/or monetary compensation from The Little Potato Company. Though products were received, all opinions are my own and I would not recommend a product that I did not enjoy.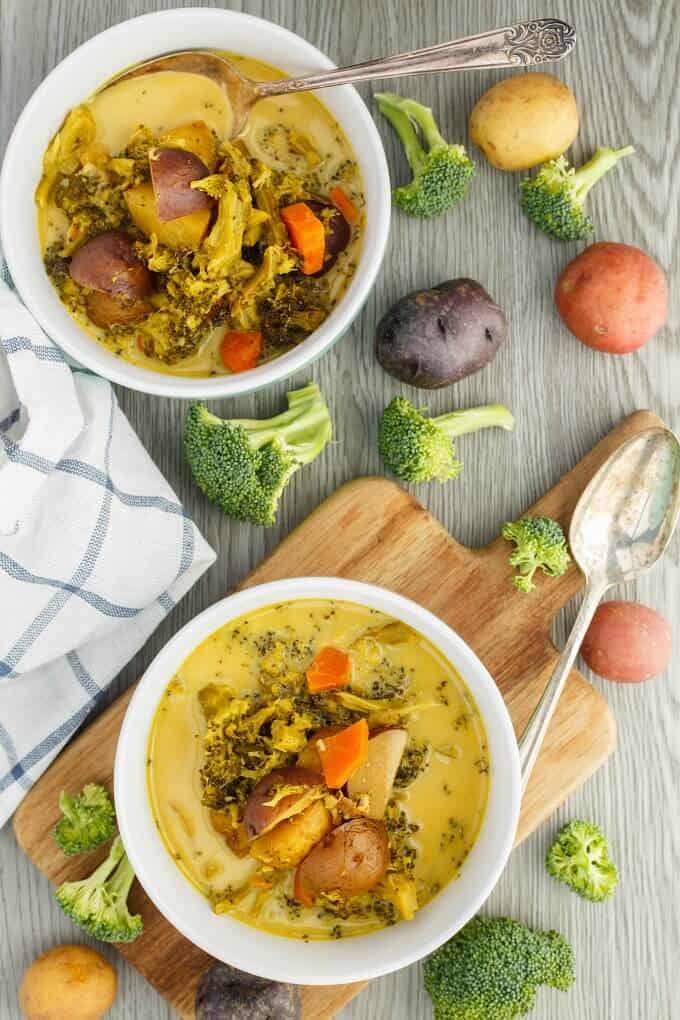 Happy 2018!
I cannot believe my first post is more than a week into the new year! Finally took my first "vacation" in the three years of my blogging life. Admittedly, I didn't leave the house and enjoyed MANY hours of video gaming, but the point was to step back and reassess everything. I have been burning out for some time and realllllly needed a few weeks to myself 🙂 Plus, winter break meant my daughter was home every. single. day. And let me tell you, we are having one true Canadian winter so we weren't enjoying fun times in the snow!
But I am so happy my first post of the year is with The Little Potato Company!! My longtime readers will note that it has been three years since I became a brand ambassador for LPC and I haven't looked back! I share a new recipe every month using one of their many varietals, but rest assure that I am using these little potatoes all the time in my regular cooking. The convenience of not having to peel potatoes, and that they come pre-washed, makes life so much easier. I am understanding more than ever what it means to have a busy life/work schedule where quick and easy recipes are needed.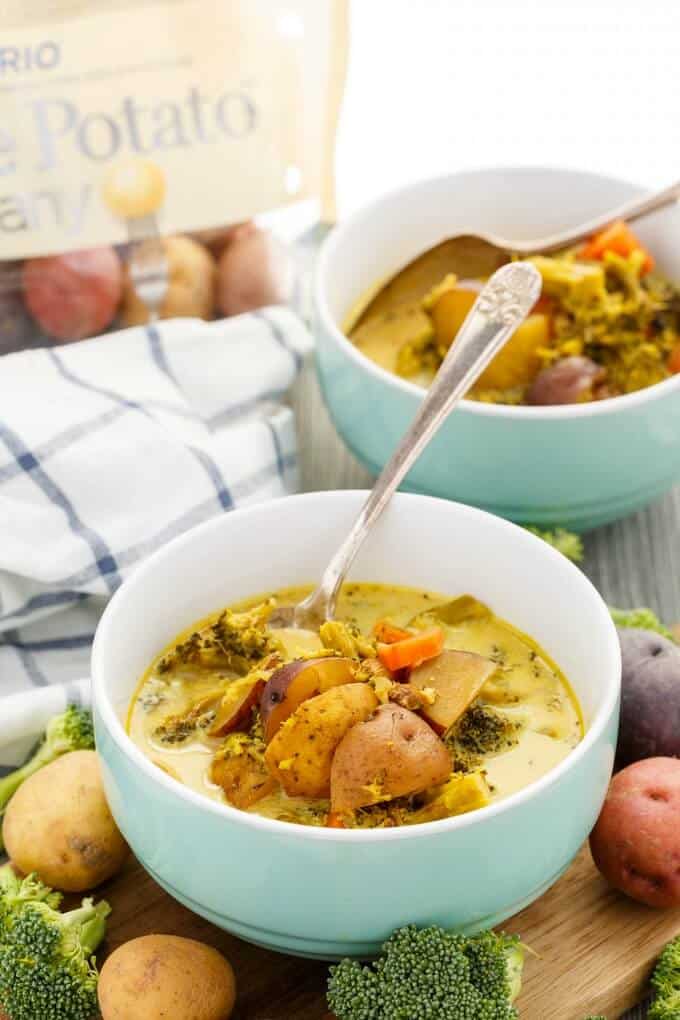 So today's roasted potato-vegetable soup recipe came to me in the form of broccoli. Yes, broccoli! I now order my groceries online straight to my door. Not only does this make blog recipes easier, it helps me reduce food waste. Let's admit it, you go to the store with good intentions but pick up a bunch of extra, unnecessary items because they are on sale or because you are shopping hungry. I actually do not like sending my husband out because he is the worst for it!
I went about ordering ingredients for another Little Potato Company recipe and while I was at it, I grabbed some broccoli. But I did not pay attention to the weight. Turns out I bought A LOT of broccoli, haha. It definitely worked out as the recipe I had in mind was already on their website and I like to think outside the box 🙂 So yes, lot of broccoli in this recipe, but also lots of delicious potatoes!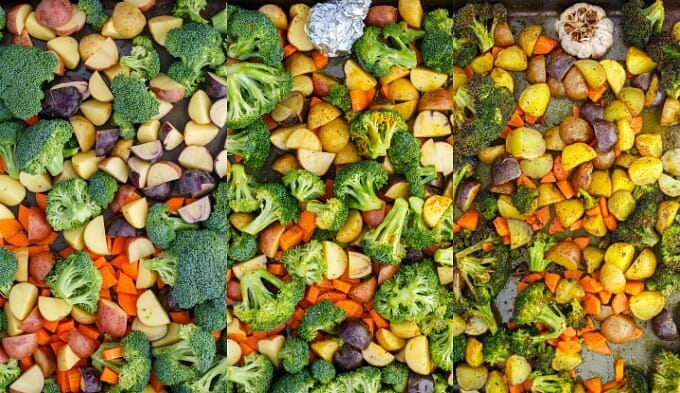 You can easily omit the cream to make the dish vegan. I like it both ways and prefer to leave the cream out until serving as this way you can freeze any leftovers. Dairy-free milks will work, too. And really, don't overthink the ingredient measurements. Some extra veggies never hurt anyone 😉
Besides being gluten-free and vegan, I LOVE how this roasted potato-vegetable soup is practically one pot. Sure, you are roasting everything on a baking sheet, but then you are only moving the cooked veggies into a pot to simmer. All veggies and garlic are roasted, bringing out amazing flavors you would not have otherwise. Seriously, if I could only cook veggies one way for the rest of my life, roasted would be the way!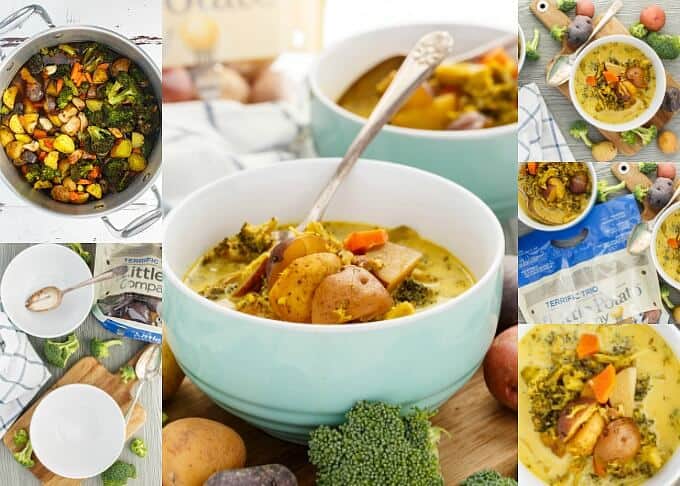 So keep those resolutions safe and sound this year and enjoy my roasted potato-vegetable soup (with or without cream!)
📖 Recipe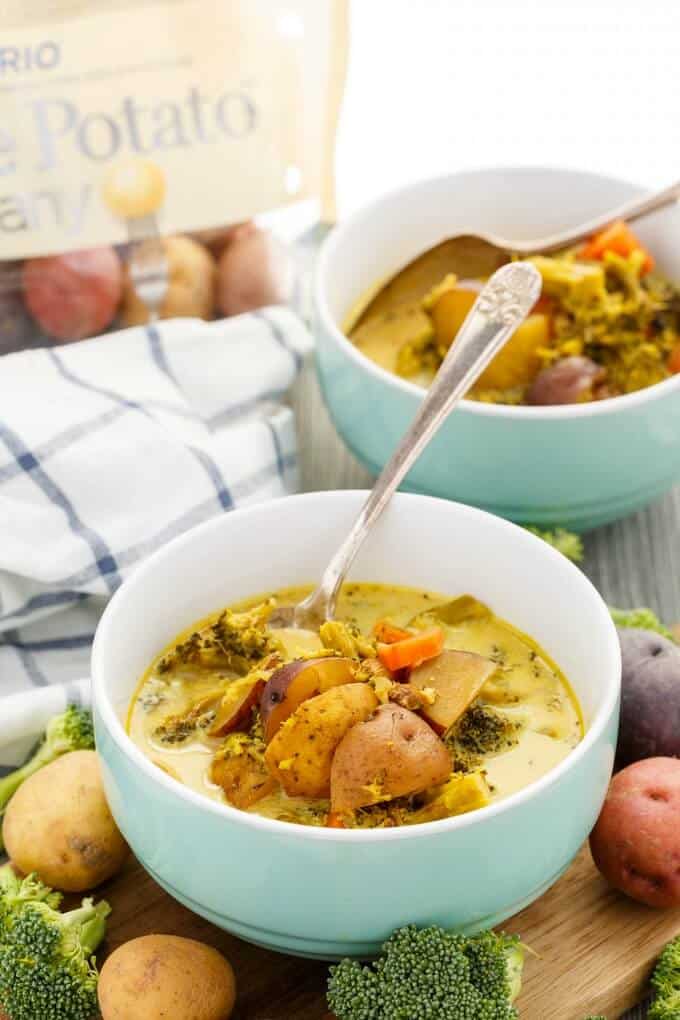 Roasted Potato-Vegetable Soup (Vegan Version Included)
Total Time:
1 hour
15 minutes
A comforting roasted potato-vegetable soup that doesn't harm your new resolutions!
Ingredients
1.5 lbs Little Potato Company's Terrific Trio, quartered
2 lbs broccoli crowns, cut into florets
½ lb carrots, cut into small cubes (I quartered mine.)
¼ cup olive oil
Salt and pepper
1 tsp. ground turmeric
8 cups mushroom or vegetable broth
½ cup heavy whipping cream (optional)
Garlic
1 head of garlic, top cut off to expose garlic
1 tsp. olive oil
Salt and pepper
Instructions
Preheat oven to 425F.
Place garlic on small piece of aluminum foil. Pour oil over top and rub into all crevices. Season with salt and pepper. Wrap garlic firmly in foil.
Add potatoes, broccoli, and carrots to a large baking sheet. Pour oil, salt, pepper, and turmeric onto veggies. Toss until everything is well coated. Place garlic (wrapped in foil) onto the pan.
Roast for 15 minutes. Toss veggies and cook for another 10 minutes. Carrots and potatoes should be tender-crisp.
Transfer to large soup pot, making sure to remove garlic from papery-skin. Cover with broth and bring to a boil.
Reduce heat, partially cover with lid, and simmer for 30 minutes to 1 hour, or until veggies are softened to your liking.
Stir in cream if using, season with salt and pepper, and serve!
Notes
Make sure to keep your veggies small so they cook for the most part in the oven. Simmering will soften them more. The longer you simmer your soup, the more concentrated the flavors become (so I simmer forever!) Soup always taste better the next day!
Nutrition Information:
Yield:

6
Serving Size:

1
Amount Per Serving:
Calories:

385
Total Fat:

19g
Saturated Fat:

6g
Trans Fat:

0g
Unsaturated Fat:

11g
Cholesterol:

22mg
Sodium:

294mg
Carbohydrates:

49g
Fiber:

12g
Sugar:

11g
Protein:

13g
This is a sponsored post. I was fortunate enough to receive products and/or monetary compensation from The Little Potato Company. Though products were received, all opinions are my own and I would not recommend a product that I did not enjoy.
Love this roasted potato-vegetable soup?! Try some of these recipes: