Back-to-school is upon us (yay!) These taco turkey-lentil lettuce wraps are a great school or office lunch as they require no reheating. Feel free to sub in tortillas if lettuce isn't your thing 😉 #getBTSready
This is a sponsored post. I was fortunate enough to receive monetary compensation and/or products from Canadian Turkey and Lentils.org. Though compensation was received, all opinions are my own and I would not recommend a product that I did not enjoy.
How is everyone enjoying back-to-school?!
I miss my daughter dearly, but I have been able to up my recipe-making game big time!
The Cookie Writer began as a hobby but over the years I have turned it into my full-time job (which is awesome!!) Throughout it all, I always said my daughter comes first. While I did not take the summer off, I spent as much time as possible with her (meaning my blog posts were quite irregular.)
Now that she is off with her friends living it up in grade one, I can focus on her lunches (and dinners!) Today's collaboration with Canadian Turkey and Lentils.org is a fun one!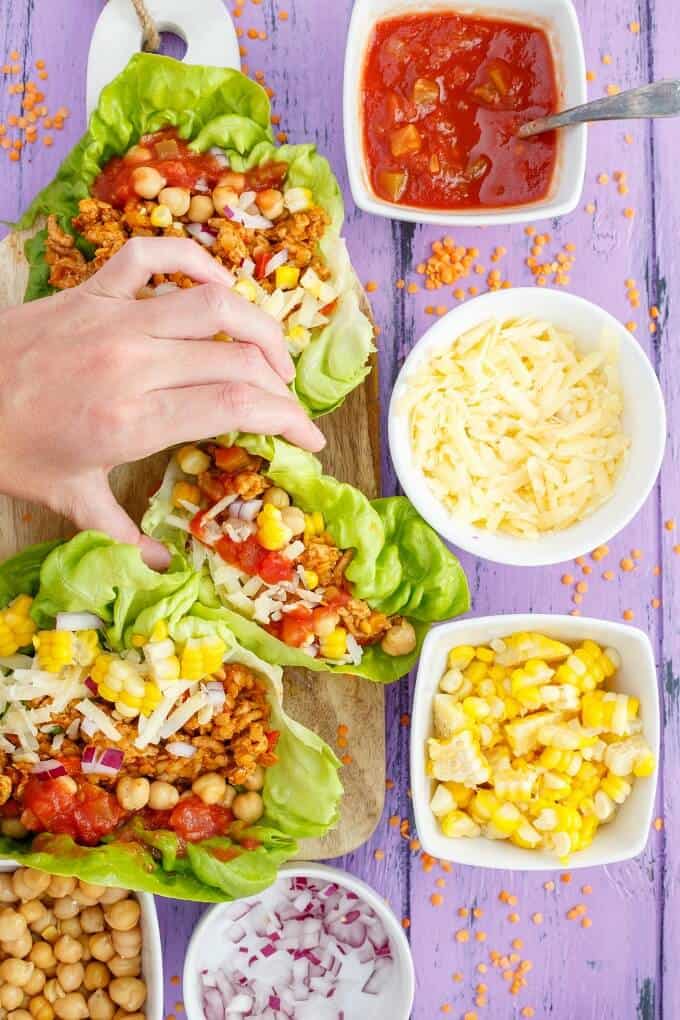 I am the only vegetarian in the household so lentils are common in my diet. However, my husband and daughter, while big meat-eaters, have no issues enjoying this hearty pulse. Both turkey and lentils are economical and great to have around. Plus, both are high in protein! Protein delivers long-lasting satisfaction, so it can help manage those munchies 🙂
Today's taco turkey-lentil lettuce wraps come from my daughter (yes, my 5-year old requested lettuce wraps!) She said a tomato sauce would be perfect here, but I talked her into taco seasoning 🙂 No going wrong with Mexican cuisine!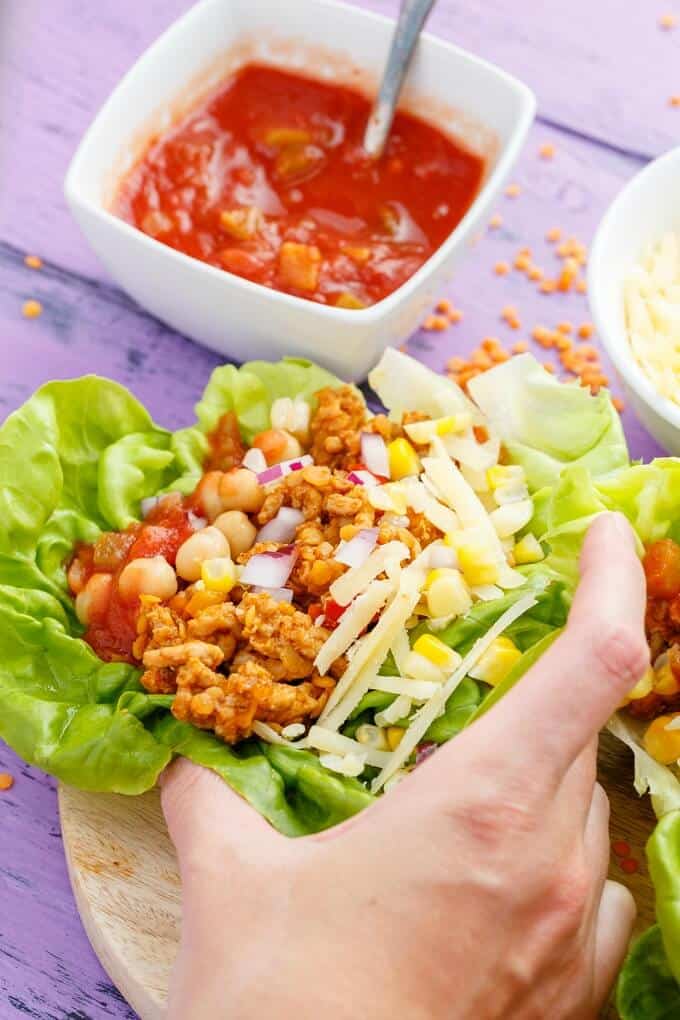 Now, what I LOVE about this recipe is how easy it is to customize!
Kiddo went with red lentils, but green would be just as great. Red lentils do cook MUCH faster than green, so if you are in a hurry, I suggest this route.
Ground turkey also helps tie in everything (including that seasoning,) and if needed, "masks" the lentils. What I mean is that they kind of blend together so if your kids are picky, they may not notice the addition of this nutritious, high-fiber pulse. And in my case, I omitted the turkey and made taco-lentil lettuce wraps! Just shows you that you can have a family with mixed dietary-restrictions and still enjoy one dish together 🙂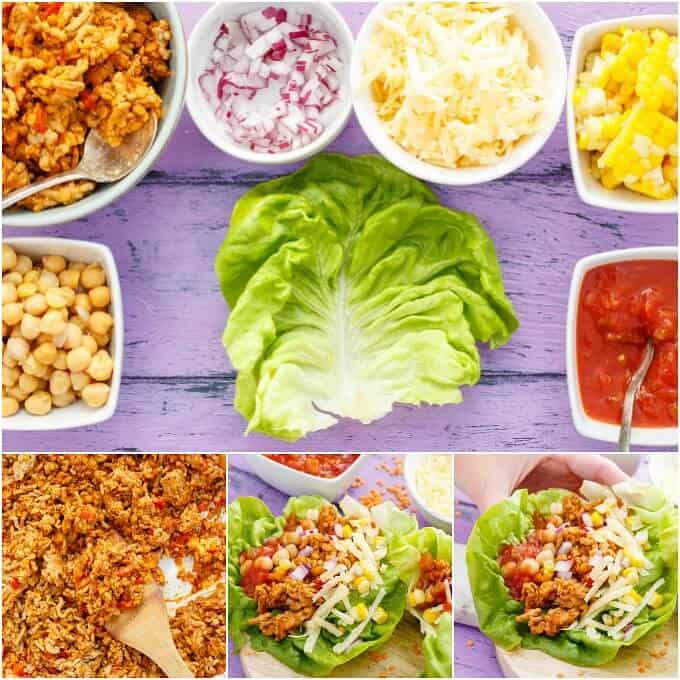 Soooo, I totally get that my recipes aren't always quick. I'm more than willing to spend hours in the kitchen no problem (like today!) however, now I see why people need quick and simple recipes! That being said, I still believe in the "from scratch" method (to an extent!) I make my own taco-seasoning, but don't fret, the store-bought version is great! For the video I went simple and used the store-bought varietal just because I assume many people will be going this route. If you do use my homemade seasoning, be sure to check out the little note section for a bit of change in the cook method (nothing major!)
Speaking of "from scratch," recipes and prep don't have to be hard or tiresome. Storing lentils in a dry, cool space allows them to keep for one year. You can cook them in batches to store in the freezer, but if you have a big pantry, canned lentils save you time! But trust me, lentils are sooooo easy to cook and require no soaking! And with turkey, you can marinade ahead of time, meaning all that is left the day of is the cook-time! My sister actually comes out to prep a ton of veggies for me so I can just get to cooking right away the following day 🙂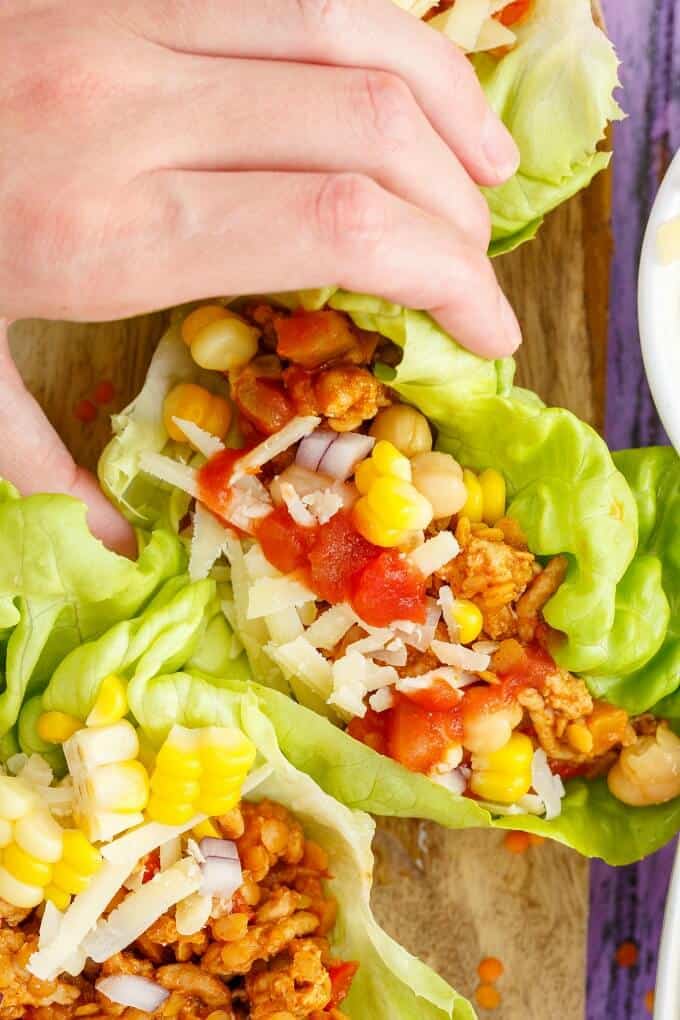 Lastly, I want to bring up meal prep.
I am sure you have seen all the meal prep recipes out there! These taco turkey-lentil lettuce wraps work fantastically for a busy work week! I actually prep everything ahead of time and store the ingredients in separate twist-lock containers. When it is time to eat, I have quick and easy access to all the cooked ingredients to make this recipe right then and there. That's why Canadian Turkey and Lentils.org are encouraging big-batch cooking. Lots of work at once; no cooking later!
Personally, I utilize all the leftovers and make taco turkey-lentil bowls! Just toss everything into a bowl and you have a healthy, nutritious lunch or dinner! Great for kids who like the filling and not the lettuce wraps 😉
📖 Recipe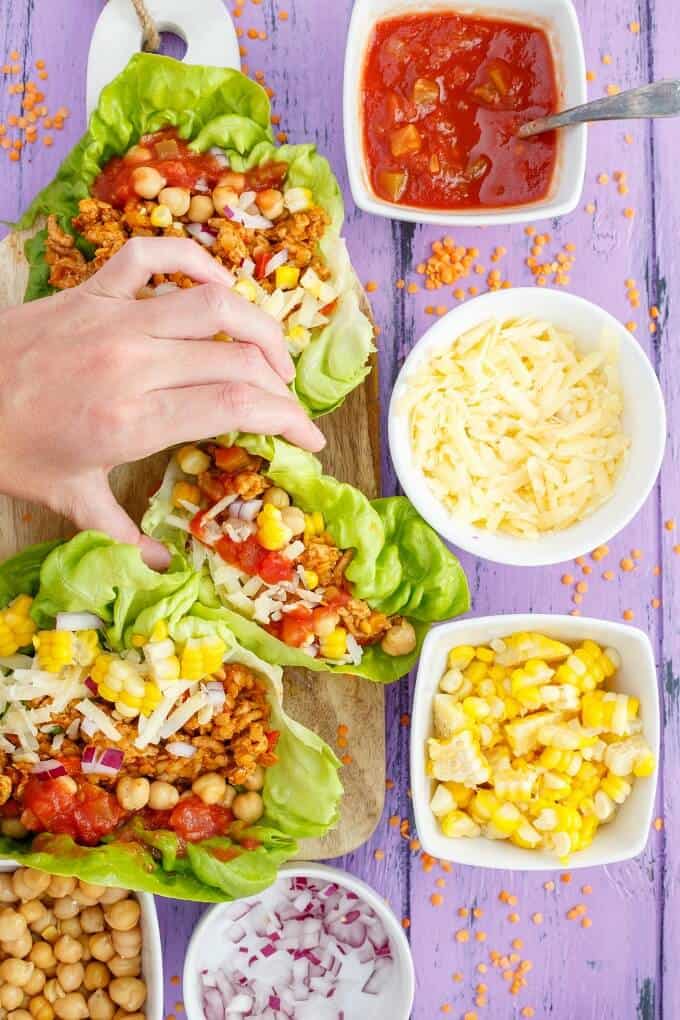 Taco Turkey-Lentil Lettuce Wraps
Freezing cooked lentils ahead of time will help save you in the long run, but the canned variety works, too! Quantity is all up to you 🙂
Ingredients
1 lb (450g) extra lean ground turkey
½ cup dry red lentils
2 cups + ⅔ cup water
1 garlic clove, minced
½ red pepper, diced
½ orange pepper, diced
1 (35g) taco seasoning (homemade taco seasoning)
1 head Boston lettuce, leaves removed from stem and washed
Toppings
Corn (I used fresh corn on the cob but frozen works!)
Canned chickpeas
Diced red onion
Grated cheddar or mozzarella cheese
Salsa
Instructions
Combine lentils and 2 cups water in a small saucepan. Cover, place over high heat, and bring to a boil. Reduce heat and simmer 5-7 minutes, or until tender (but not mush!) Drain and set aside.
Place large frying pan over medium-high heat. Add turkey and cook for one minute. Stir in garlic and peppers. Cook for 3 minutes. Stir in lentils. Cook for another 5-8 minutes, or until turkey meat is browned consistently.
Stir in taco seasoning and ⅔ cup water. Reduce heat to medium and simmer for a few minutes (until mixture thickens and very little liquid remains.)
Assembly
Lay your lettuce leaf out flat. Add turkey-lentil filling, onion, cheese, corn, chickpeas, and salsa.
Serve as is, or roll into a wrap for better support!
Notes
My homemade taco seasoning doesn't need as much water for simmering. ¼ cup is usually enough 🙂
Customize these wraps with any toppings you see fit! Using in-season produce helps reduce cost.
Nutrition Information:
Yield:

8
Serving Size:

1
Amount Per Serving:
Calories:

208
Total Fat:

7g
Saturated Fat:

3g
Trans Fat:

0g
Unsaturated Fat:

3g
Cholesterol:

26mg
Sodium:

278mg
Carbohydrates:

24g
Fiber:

5g
Sugar:

4g
Protein:

13g
This is a sponsored post. I was fortunate enough to receive monetary compensation and/or products from Canadian Turkey and Lentils.org. Though compensation was received, all opinions are my own and I would not recommend a product that I did not enjoy.
Love these taco turkey-lentil lettuce wraps?! Try some of these recipes: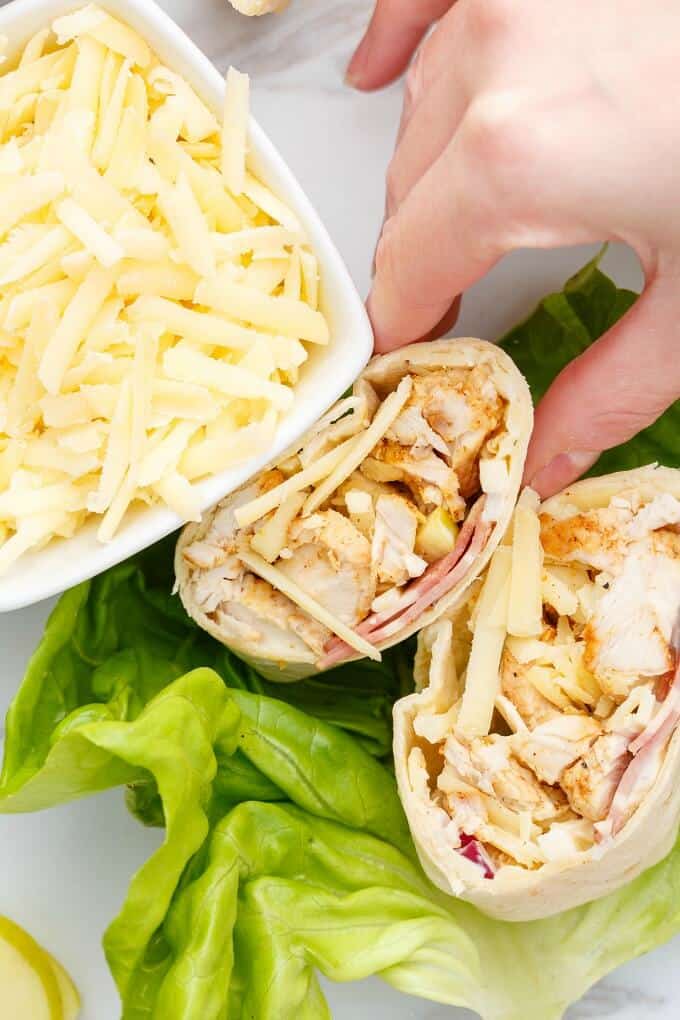 Turkey Bacon Wraps with Cheddar