Canadian Thanksgiving is just under a month away and I am already preparing for leftovers! This homemade turkey pot pie uses leftovers, but it can also be made with fresh turkey breasts. #2meals1recipe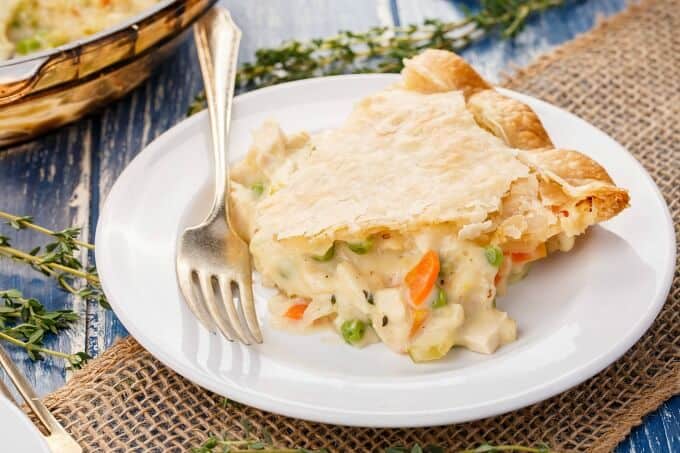 Surviving the first week back to school has never been easier!
As kiddo gets older, I find routine really takes over and we work as a team. Check back with me next month and we will see where we stand 😉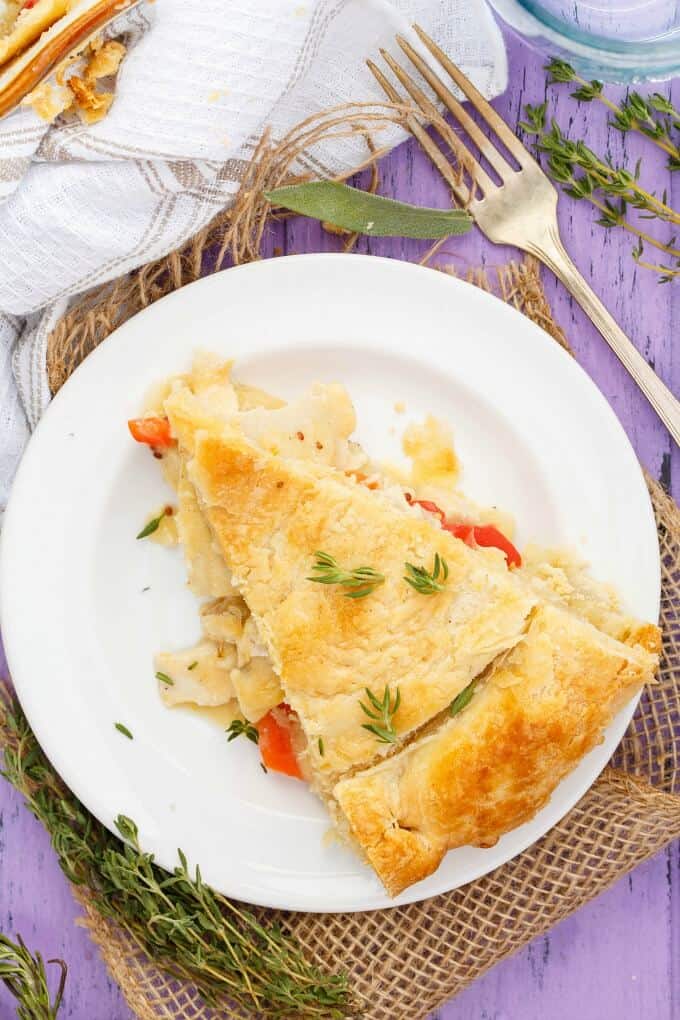 However, I must say, keeping consistent with weeknight meals is the difficult part. With us back to packing work and school lunches throughout the week, I cannot seem to keep any leftovers in the fridge! Meaning, I am cooking every night (which I usually love, but at the same time, wish I was ahead!)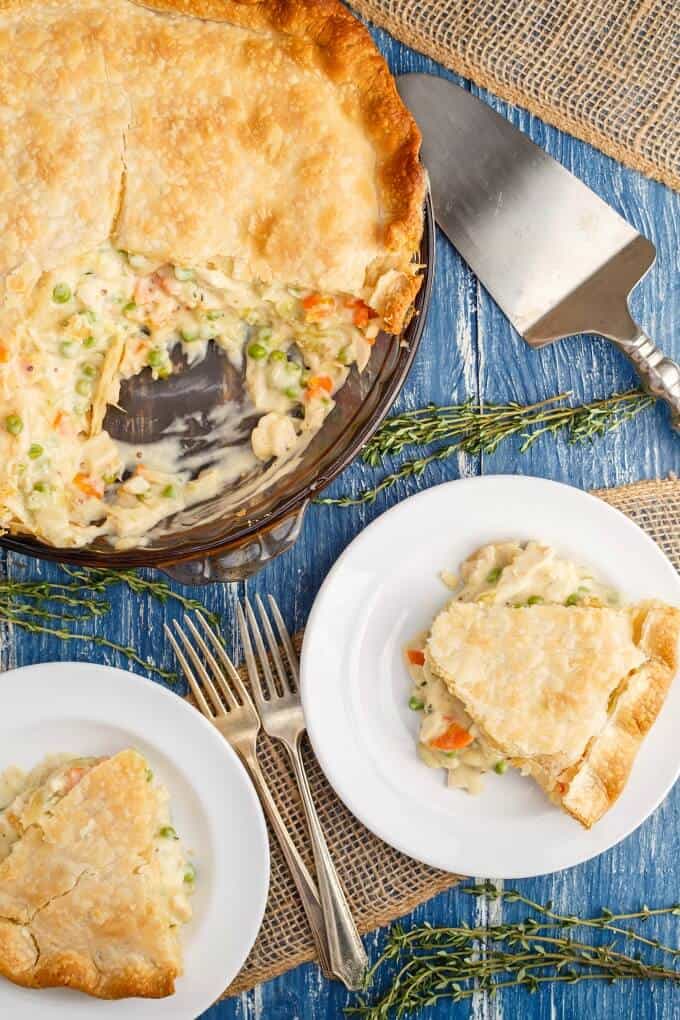 However, during the holidays there is always an abundance of food! With Canadian Thanksgiving just under a month away, I am sharing with you this homemade turkey pot pie! It is a great recipe to utilize leftovers, but it is also perfect with fresh turkey meat (and shared with a smaller crowd.)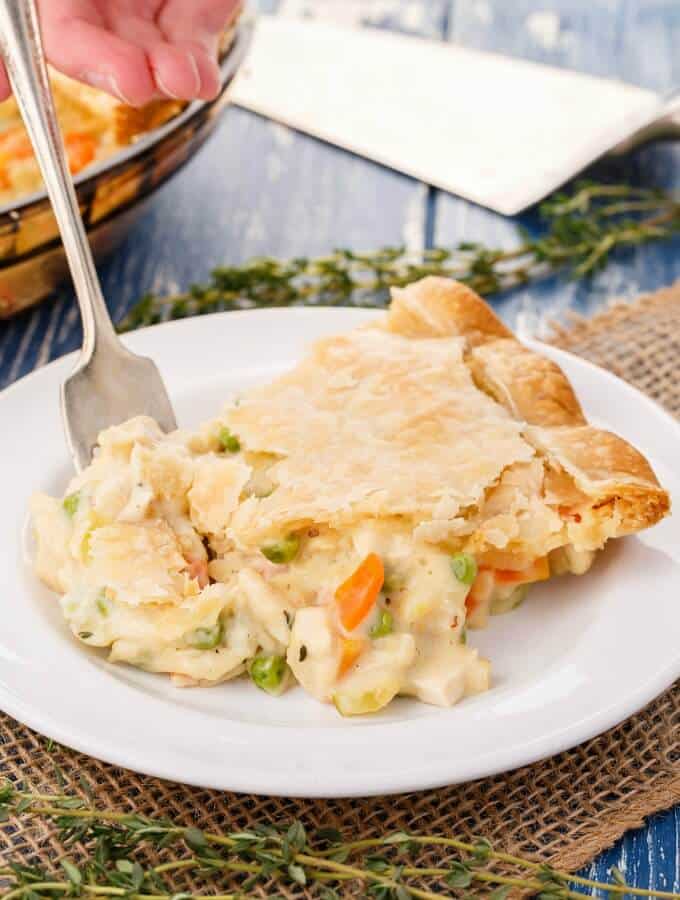 My only gripe with Thanksgiving is that both my daughter and I have birthdays that fall on that weekend. And this year is no different! I turn the big 3-0 and the last thing I want to be doing is cooking dinner (but who knows, my mind changes frequently!)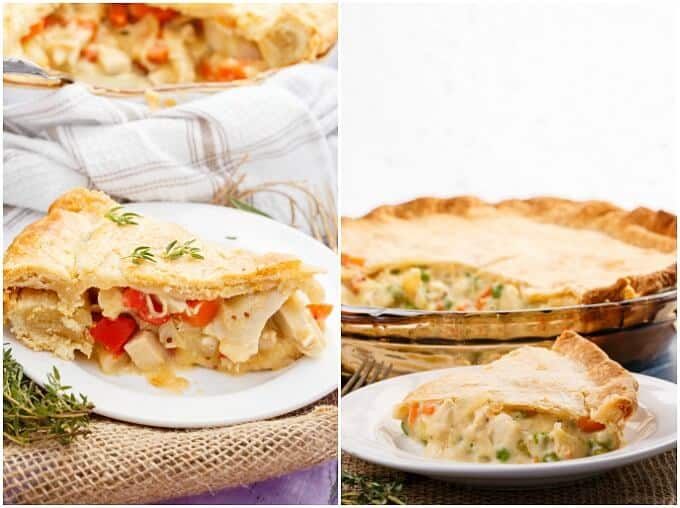 I have made this homemade turkey pot pie MANY times and find every turn yields great results! You will see in the photos that I have used two different pans. 9-inch is your standard pie dish, and totally fine! But I have this beautiful pie dish from Kitchen Stuff Plus that I love, however, it is 12-inches. In that case, I just add more veggies and meat to the dish and still have a great pot pie!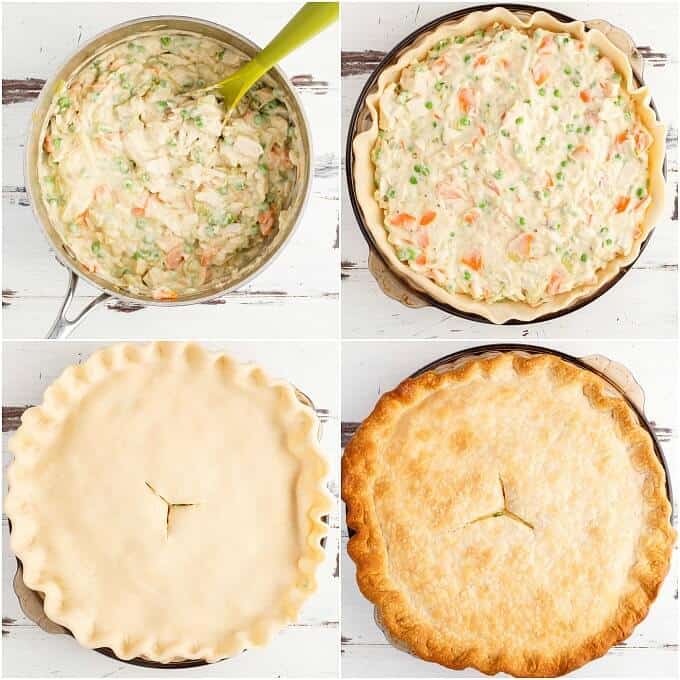 As always, feel free to adjust the veggies to your liking. And remember that even if you don't have a large crowd for Thanksgiving, you can still enjoy Canadian Turkey on your dinner table. Get creative, think outside the box, and spend time with your loved ones 🙂
📖 Recipe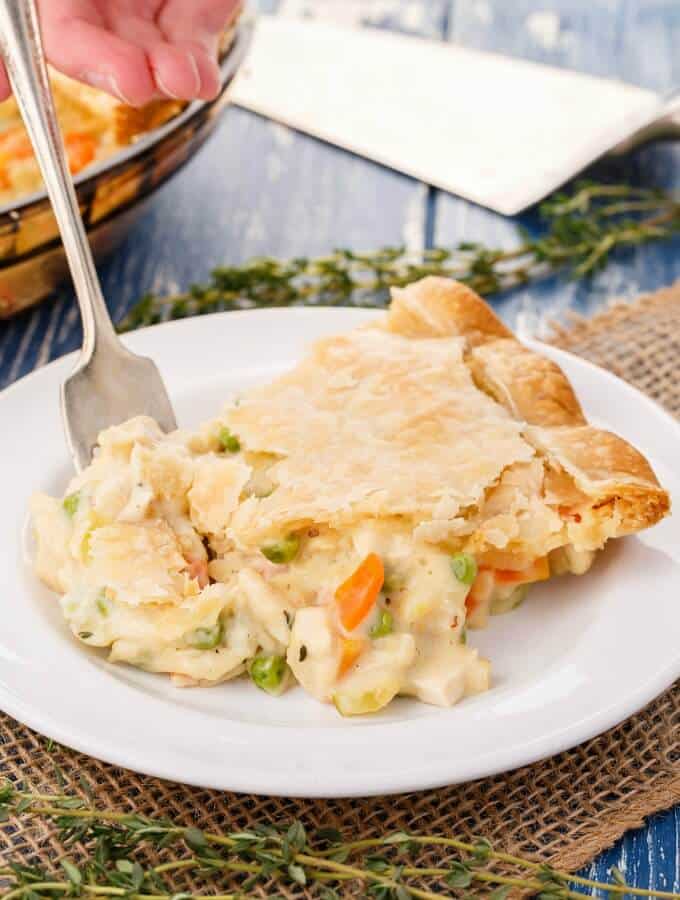 Homemade Turkey Pot Pie Using Leftovers!
Total Time:
1 hour
10 minutes
Homemade turkey pot pie is great for the holidays, especially when it utilizes leftovers! You can also use fresh turkey and roast it ahead of time to complete this pie!
Ingredients
1 (double layer) homemade or store-bought pie crust
2 cups leftover, cooked, chopped turkey
1 tbsp. olive oil
1 onion, diced
2 celery stalks, halved lengthwise then sliced thin
1 large carrot, quartered lengthwise, then sliced thin
2 garlic cloves, minced
1 cup frozen peas
2-3 sprigs fresh thyme
Salt and pepper
Sauce
⅓ cup butter
⅓ cup all-purpose flour
1 cup turkey broth
1 cup milk
½ tbsp. coarse, whole grain mustard
4 oz plain cream cheese
Salt and pepper
Instructions
Add oil to a medium-sized saucepan over medium-high heat. Once hot, stir in onion, celery, carrot, and thyme. Cover and cook for a few minutes. Remove lid, stir, season with salt and pepper, and add garlic. Cover and cook for another 3 minutes. Remove lid, stir, and continue cooking for 5 minutes, stirring frequently. Lower heat to medium and move veggies to bowl. Remove thyme stems.
Return pan to heat and add butter. Once bubbling, stir in flour. Whisk frequently for 4-5 minutes, or until roux has browned. Combine milk, broth, and mustard. Pour into roux, whisking constantly to rid of lumps. Add in cream cheese, salt, and pepper. Continue whisking until cheese melts and mixture thickens.
Stir in turkey, cooked veggies, and peas. Remove from heat and stir until well combined.
Preheat oven to 425F.
Roll out dough and place half into bottom of 9-inch pie plate. Pour filling on top. Roll out remaining dough and cover, sealing edges with design of your choice.
Place into oven and bake for 20 minutes. Remove and cover crust with aluminum foil or pie cover. Place back into oven and bake for another 10 minutes.
Remove and allow pie to rest for a bit before slicing (otherwise your filling may run everyone as it has not had time to set.)
Notes
You can make the filling ahead of time and transfer to pie dish the day of cooking.
Nutrition Information:
Yield:

8
Serving Size:

1
Amount Per Serving:
Calories:

356
Total Fat:

23g
Saturated Fat:

11g
Trans Fat:

0g
Unsaturated Fat:

10g
Cholesterol:

74mg
Sodium:

481mg
Carbohydrates:

22g
Fiber:

2g
Sugar:

5g
Protein:

15g
Here is the sneak peek of the hearty vegetarian pot pie going live tomorrow!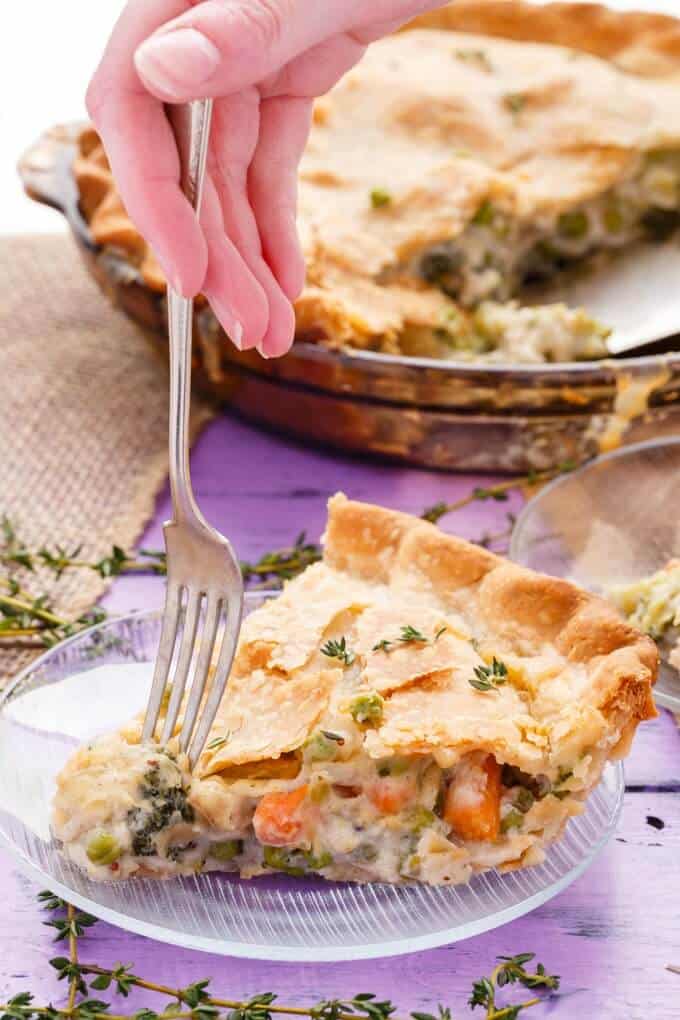 Love this homemade turkey pot pie?! Try some of these recipes: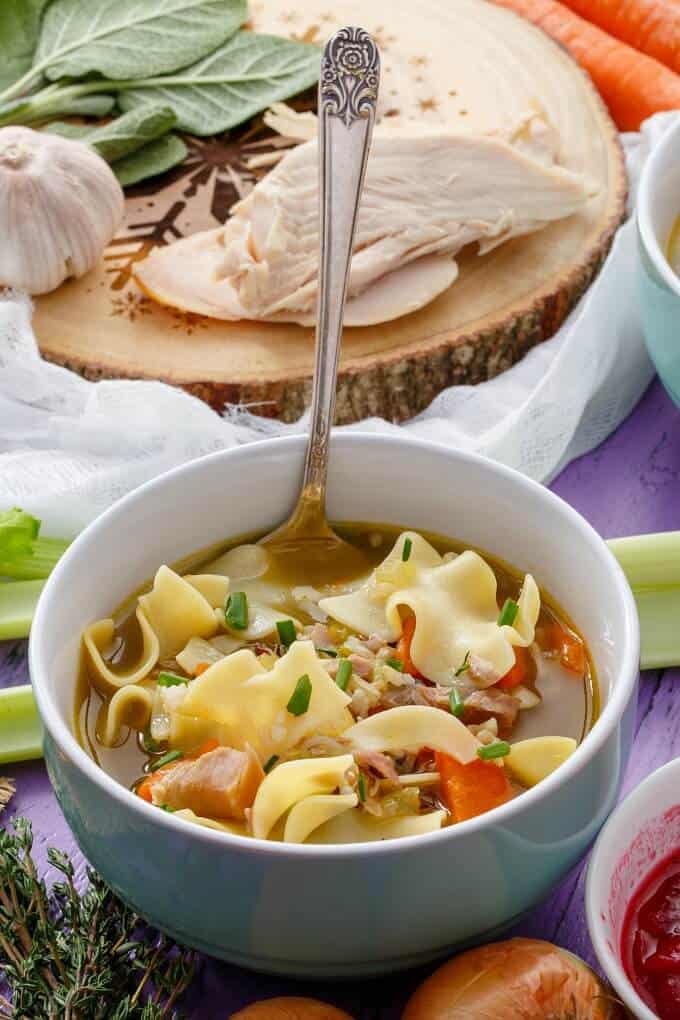 Turkey Noodle Soup (Using Leftover Turkey)