I love nothing more than comforting food during the cooler months! This hearty vegetarian pot pie is every non-meat-eaters dream! Loaded with delicious veggies and a flavorful sauce, there is no feeling left out this holiday season! #2meals1recipe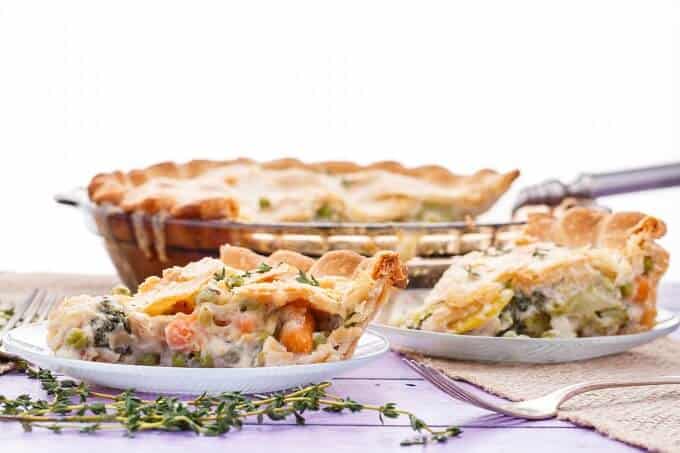 Hello, all!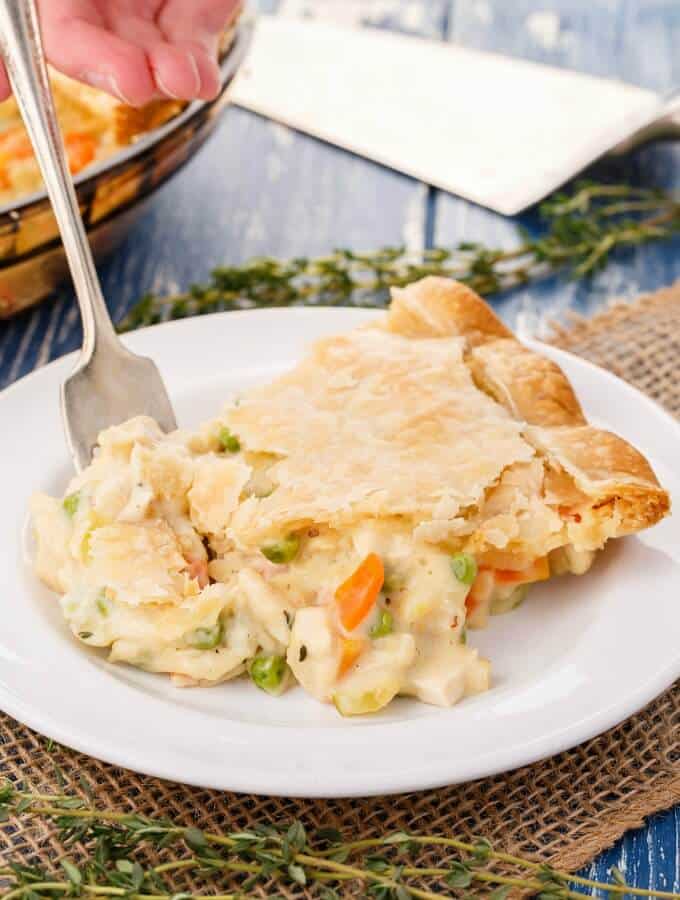 Back with the vegetarian version of yesterday's homemade turkey pot pie!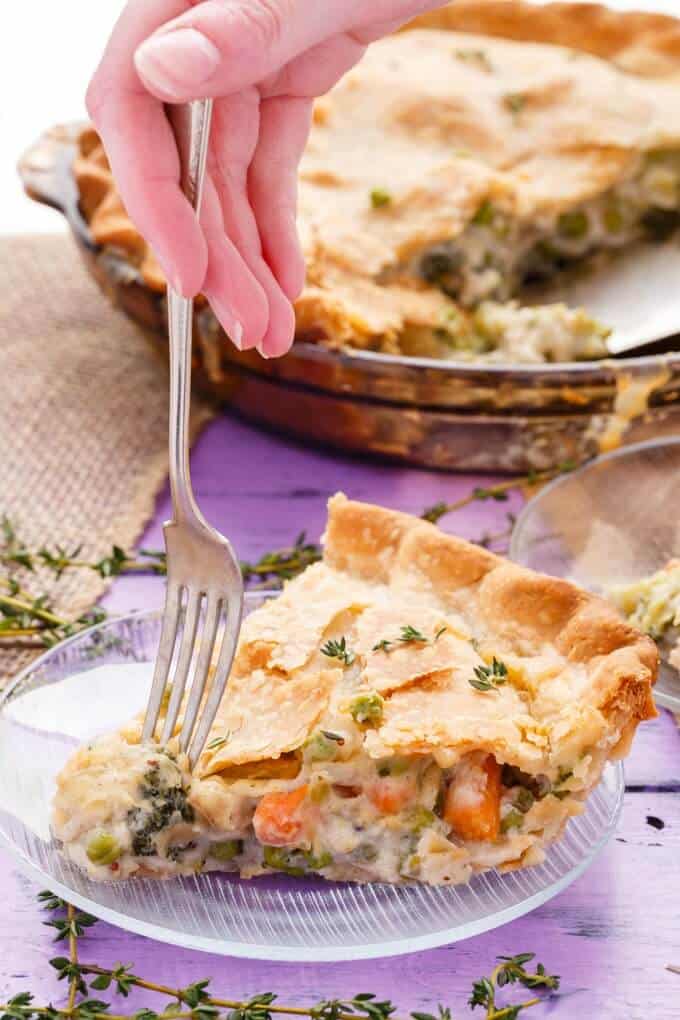 This hearty vegetarian pot pie is super easy to make and loaded with veggies! Plus, there is just something about the sauce...
It is funny, because no where in my childhood do I remember eating pot pies. Even ones with meat. But then again, my parents are picky and us kids are far from it!
Thanks to my brother, he has shown me just how amazing pot pies are! Sure, I am not eating the meat versions, however, this is one classic dish that translates well into a vegetarian version. In the simplest terms, I tend to just double up my veggie ratios and omit the meat when it comes to making a vegetarian dish. This does not work for EVERY recipe (that's why I am here to test things out!)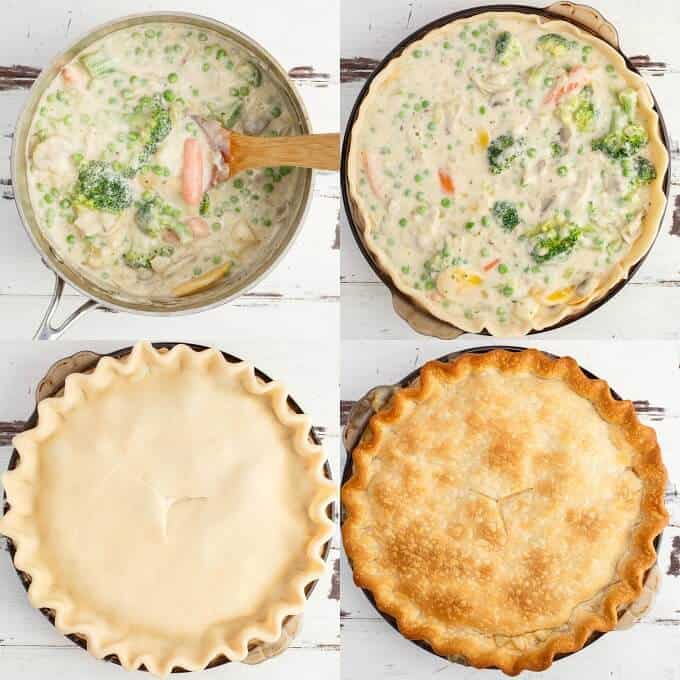 When I was experimenting with this recipe, I thought about using fresh vegetables. Usually I have a ton on hand in the refrigerator. But then I got to thinking: generally during the holidays your refrigerator is overcrowded. You want to save as much room as possible! So I went the frozen veggies route and I am soooooo happy with the results!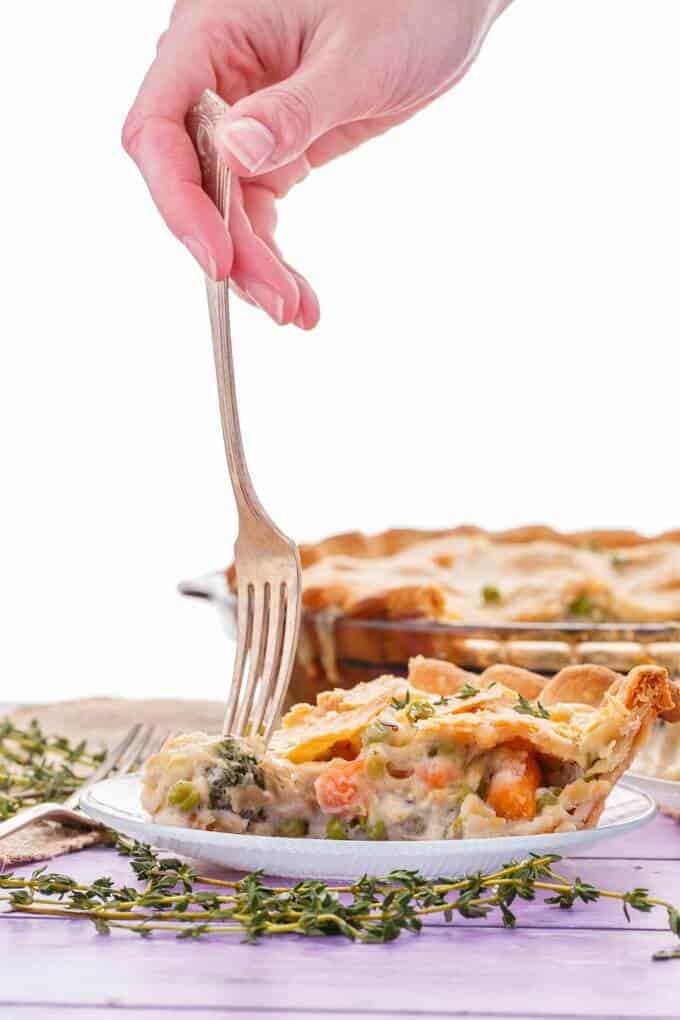 To think I used to avoid frozen veggies! Not that I thought they were bad or anything; my thoughts were on loss of nutrients when freezing. Turns out, availability, cost, etc. all come into play, and well, frozen vegetables are awesome!!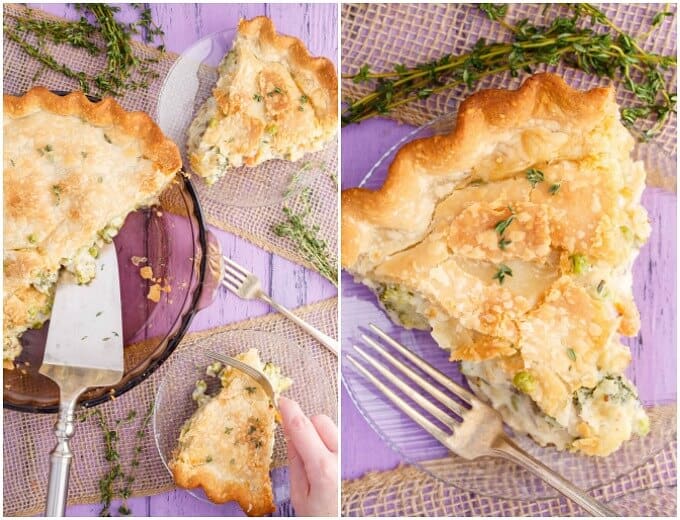 However, if you are looking for more traditional vegetables (and "meatier" elements,) I highly recommend my roasted mushroom pot pie. Mushrooms are one of my top vegetables, and actually my daughter's favorite, so we have no shortest of vegetarian mushroom recipes here 🙂
📖 Recipe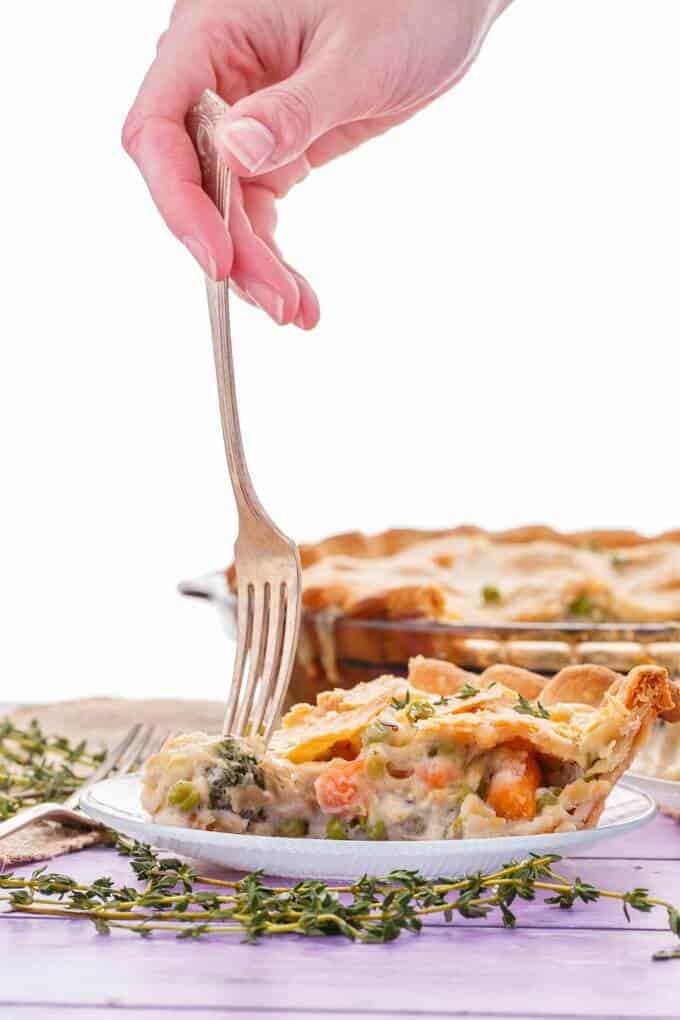 Hearty Vegetarian Pot Pie
Total Time:
1 hour
10 minutes
Whether for Thanksgiving, Christmas, or Easter, this hearty vegetarian pot pie is perfect for vegetarians and meat-eaters! Comforting to the max and a delicious way to celebrate with family and friends!
Ingredients
1 (double layer) homemade or store-bought pie crust
2 cups frozen veggies (mine were cauliflower, carrots, and broccoli)
1 tbsp. olive oil
1 onion, diced
1 celery stalk, halved lengthwise then sliced thin
2 garlic cloves, minced
8 oz mushrooms, sliced
1 cup frozen peas
2-3 sprigs fresh thyme
Salt and pepper
Sauce
⅓ cup butter
⅓ cup all-purpose flour
1 cup vegetable broth
1 cup milk
½ tbsp. coarse, whole grain mustard
4 oz plain cream cheese
Salt and pepper
Instructions
Add oil to a medium-sized saucepan over medium-high heat. Once hot, stir in onion, celery, mushrooms, and thyme. Cover and cook for a few minutes. Remove lid, stir, season with salt and pepper, and add garlic. Cover and cook for another 3 minutes. Remove lid, stir, and continue cooking for 5 minutes, stirring frequently. In the last few minutes, stir in frozen veggie mix. Lower heat to medium and move veggies to bowl. Remove thyme stems.
Return pan to heat and add butter. Once bubbling, stir in flour. Whisk frequently for 4-5 minutes, or until roux has browned. Combine milk, broth, and mustard. Pour into roux, whisking constantly to rid of lumps. Add in cream cheese, salt, and pepper. Continue whisking until cheese melts and mixture thickens.
Stir in cooked veggies, and peas. Remove from heat and stir until well combined.
Preheat oven to 425F.
Roll out dough and place half into bottom of 9-inch pie plate. Pour filling on top. Roll out remaining dough and cover, sealing edges with design of your choice.
Place into oven and bake for 20 minutes. Remove and cover crust with aluminum foil or pie cover. Place back into oven and bake for another 10 minutes.
Remove and allow pie to rest for a bit before slicing (otherwise your filling may run everyone as it has not had time to set.)
Notes
You can make the filling ahead of time and pour into pie crusts when ready to bake!
Nutrition Information:
Yield:

8
Serving Size:

1
Amount Per Serving:
Calories:

327
Total Fat:

21g
Saturated Fat:

10g
Trans Fat:

0g
Unsaturated Fat:

9g
Cholesterol:

37mg
Sodium:

423mg
Carbohydrates:

29g
Fiber:

5g
Sugar:

7g
Protein:

7g
Love this hearty vegetarian pot pie?! Try some of these recipes: