Easter hasn't even arrived and I am all about the leftovers! These open-faced turkey sandwiches utilize leftover turkey, cranberry sauce, gravy, and veggies of your choosing!
While everyone will be enjoying their turkey this weekend, we totally jumped ahead and made a smoked turkey recipe a couple of weeks ago! It is part of my brand ambassadorship with Canadian Turkey (though today's post uses up that leftover turkey, it is not a sponsored post.)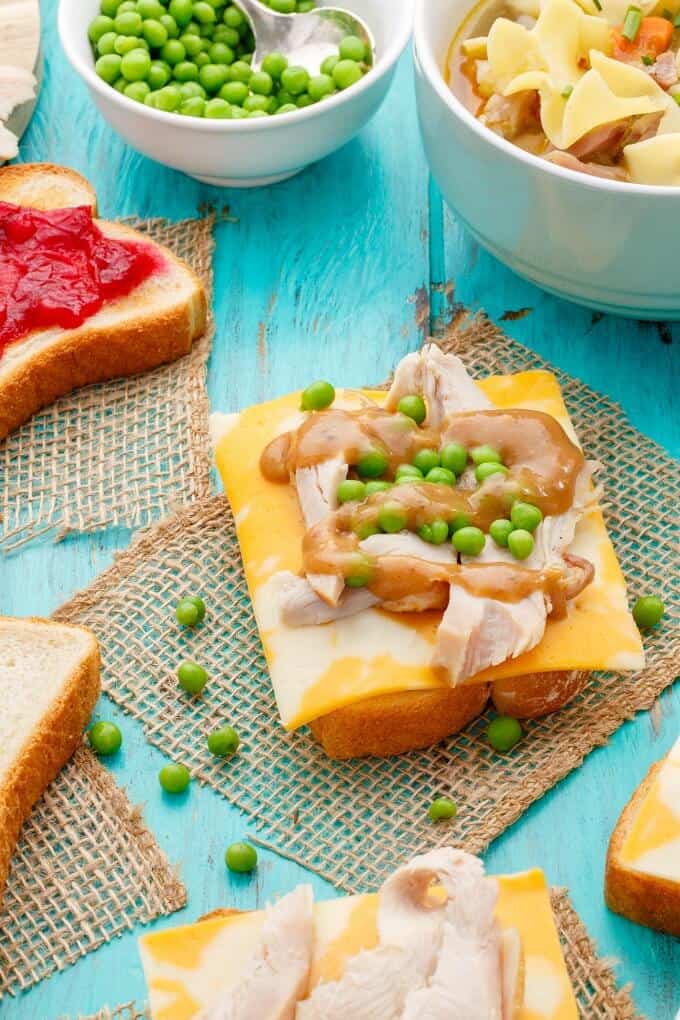 Having worked at a popular sub shop back in the day, I am all too familiar with making sandwiches. I was, after all, a sandwich artist 🙂 My husband has had his fair share of subs, and to be honest, he isn't much of a sandwich fan. So when he suggested these open-faced turkey sandwiches, I was a bit surprised!
Sometimes you just have a craving and this turned out beneficial for me. Before going vegetarian, turkey was one of the few meats I would actually eat. And it had to be a fresh turkey, not those deli style ones (which is funny because my sister will only eat turkey deli-style, not the awesome turkey you serve on your dinner table!) The thing is, the only time we had a whole turkey was during the holidays, and even then sometimes my parents would just make ham (not my thing!)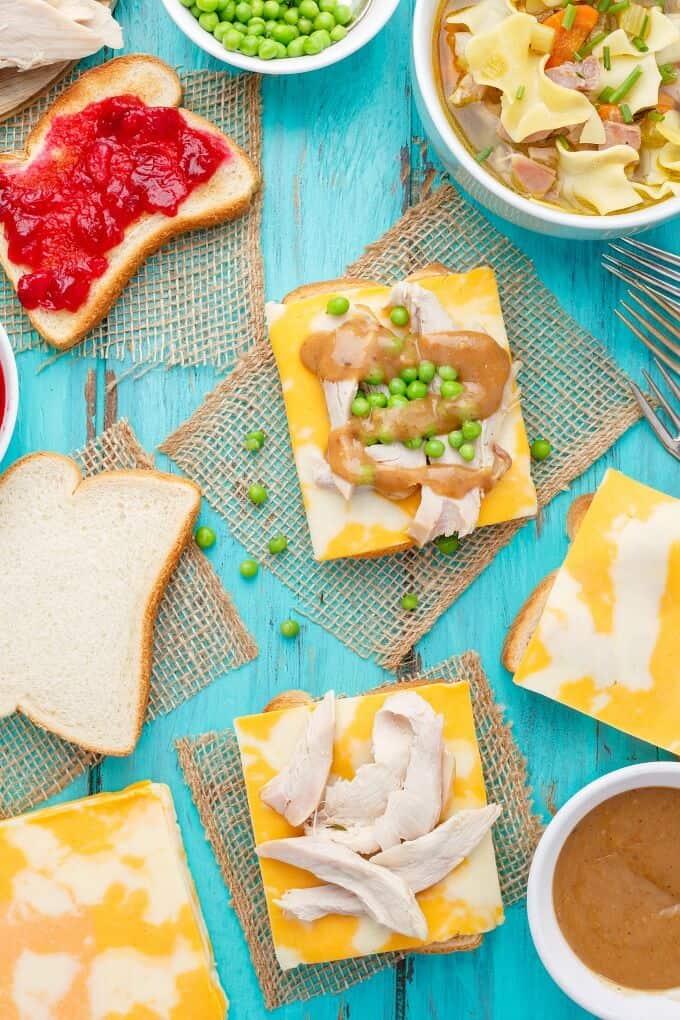 While fresh turkey was my favorite part, leftover turkey sandwiches were longed for! A bit of mayo, some lettuce and tomato. Bam! But now I would have loved to enjoy these open-faced turkey sandwiches! Gravy, homemade pear cranberry sauce, and CHEESE! Life is pretty amazing for my family 🙂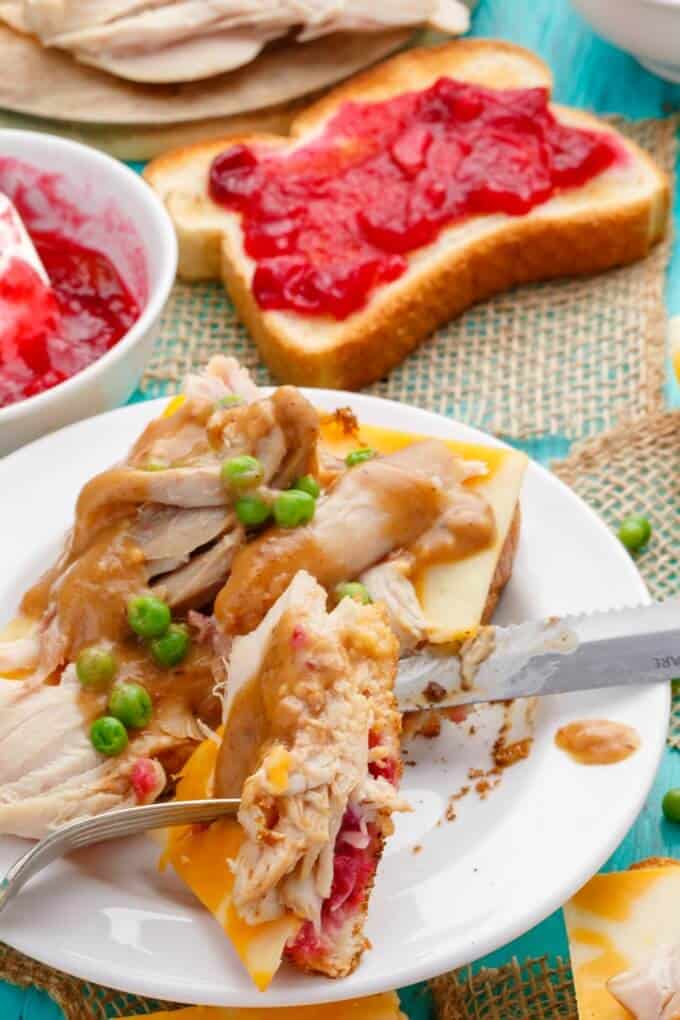 My recipe and directions for these open-faced turkey sandwiches are kind of generic and lacking. How much of each ingredient you use is up to you! And toppings are never-ending. We always have some peas and corn hanging around, but I imagine carrots or asparagus would be good here, too.
📖 Recipe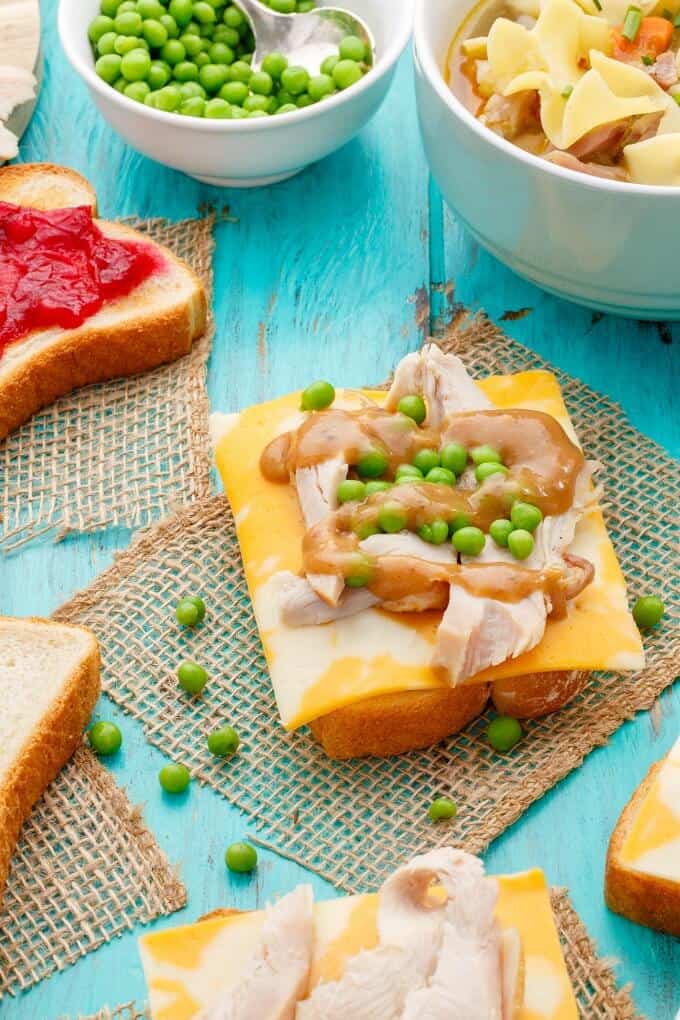 Open-Faced Turkey Sandwiches (Using Leftover Turkey)
You cannot get any simpler than this! Use any leftover ingredients you desire!
Ingredients
Leftover turkey, roughly chopped
Bread of your choosing (gluten-free, whole-grain, etc.) toasted if desired
Leftover cranberry sauce
Leftover gravy
Leftover peas (or other veggies.)
Cheese slices
Instructions
If desired, toast you bread slices.
Spread cranberry sauce onto each slice. Add cheese. Layer turkey, followed by peas, and gravy.
Slice, serve, and eat!
Nutrition Information:
Yield:

1
Serving Size:

1
Amount Per Serving:
Calories:

1007
Total Fat:

21g
Saturated Fat:

8g
Trans Fat:

0g
Unsaturated Fat:

10g
Cholesterol:

154mg
Sodium:

682mg
Carbohydrates:

155g
Fiber:

13g
Sugar:

99g
Protein:

53g
Also, life is so much easier when your dad treats you to pre-sliced real cheese slices, muahaha. I have one more leftover turkey recipe coming up tomorrow! Am I saving the best for last?! Only tomorrow will tell.