One more leftover turkey recipe for the holidays, I swear! This leftover smoked turkey mac and cheese with bacon is sure to fill all desires (and maybe add a couple of more pounds on!)
I LOVE using leftovers to make homemade mac and cheese. I feel it needs that extra oomph. Much like spaghetti, I turn to mac and cheese when I want to clear out my fridge (looking at you, cherry tomatoes!)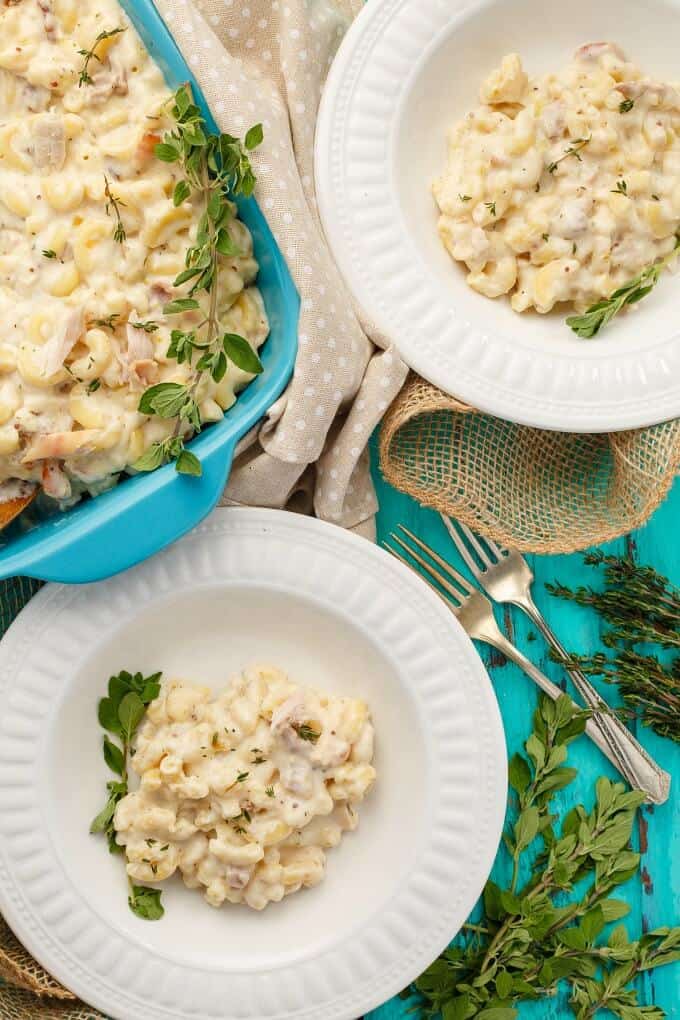 This leftover smoked turkey mac and cheese with bacon is rich, flavorful, and produces an obscene quantity! You will basically have more leftovers than before, haha.
Now, if you have not had the chance to check out my smoked turkey recipe, I highly recommend it. It was my first time smoking a turkey and my sister and her boyfriend don't need to convince me further: I need a smoker! Words cannot describe how easy it is (once you prep the smoker) and the wait is worth it (though my small turkey cooked a lot faster than I would have thought.)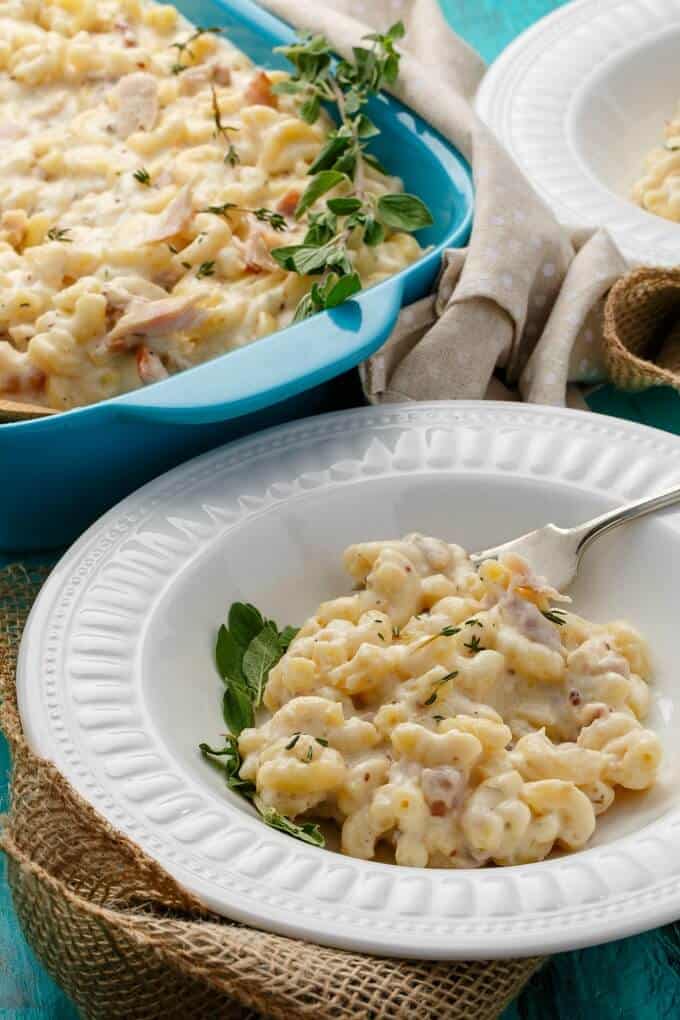 My smoked turkey recipe was sponsored in conjunction with Canadian Turkey (as I am a brand ambassador) but today's post is not sponsored. I've just been enjoying my time creating recipes using leftovers. That means it isn't just leftover turkey we are utilizing, but cranberry sauce, gravy, and veggies!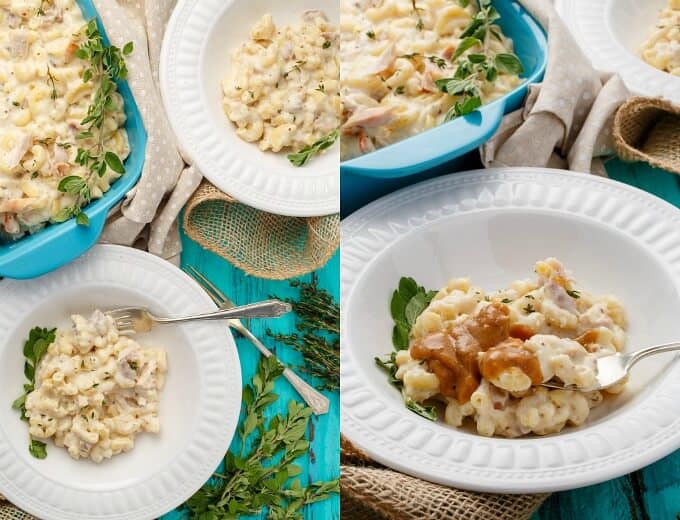 Of course, with this leftover smoked turkey mac and cheese with bacon, simple is not always for me 🙂 I just had to add bacon to it! Afterwards I wish I had thought of using turkey-bacon in the meal, but there is always a next time 😉
📖 Recipe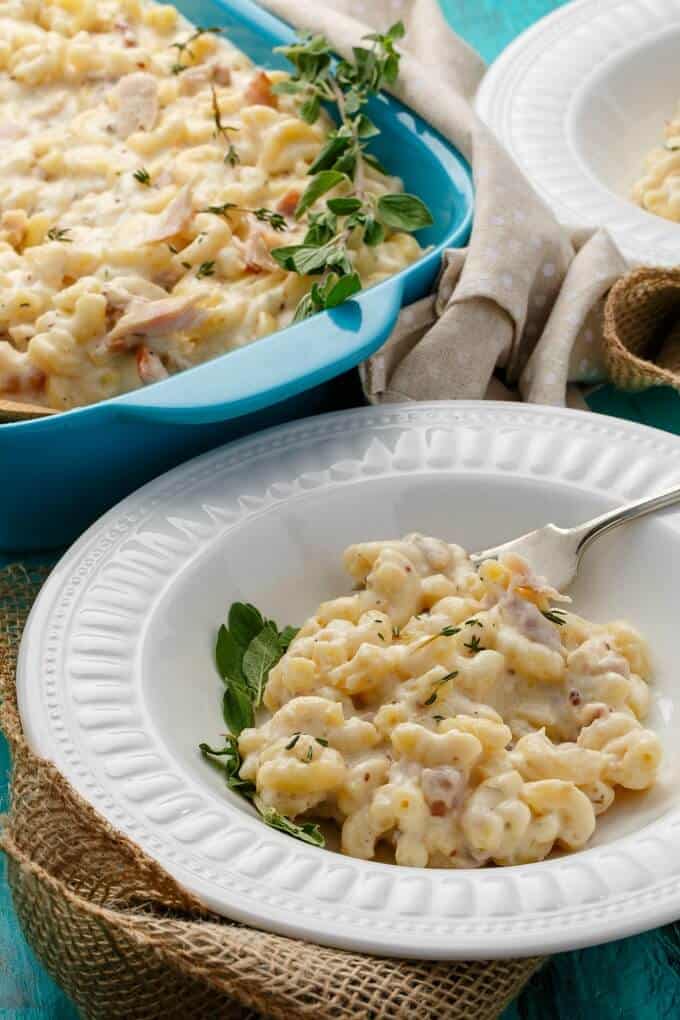 Smoked Turkey Bacon Mac and Cheese (Leftover Turkey)
Pour some leftover gravy over top for even more flavor!
Ingredients
1 lb dry elbow macaroni pasta
¼ cup leftover cooked bacon, crumbled (about 5 uncooked slices)
12 oz roughly chopped leftover turkey
½ cup butter
1 onion, diced
½ cup all-purpose flour
4 garlic cloves, minced
3 ½ cups milk
1 cup heavy whipping cream
Salt and pepper
¼ tsp. cayenne powder
2 tsp. dried oregano
1 tsp. dried thyme
½ tbsp. coarse whole grain mustard
3 cups grated cheddar cheese (or your favorite!)
Instructions
Bring a large pot of salted water to a boil. Add pasta and cook for 7 minutes, or until al dente. Drain and set aside.
Sauce
Melt butter in a small saucepan over medium heat. Once bubbling, stir in onion. Cook for a few minutes. Whisk in flour. Continue whisking until roux browns, about 5 minutes. Stir in garlic and cook until aromatic.
Whisk in milk and cream. Add in spices and mustard.
Cook, whisking occasionally, until mixture thickens, 3-5 minutes.
Stir in cheese. When melted, stir in macaroni, bacon, and turkey. Keep mixing until well combined.
Garnish with extra bacon and cheese if desired.
Notes
You can always bake your mac and cheese with bread crumbs for added texture 🙂
Nutrition Information:
Yield:

6
Serving Size:

1
Amount Per Serving:
Calories:

896
Total Fat:

58g
Saturated Fat:

33g
Trans Fat:

2g
Unsaturated Fat:

20g
Cholesterol:

218mg
Sodium:

762mg
Carbohydrates:

50g
Fiber:

3g
Sugar:

10g
Protein:

43g
No more turkey recipes for Easter! But be on the lookout in the future 🙂 Enjoy your weekend and I'll be revisiting some old recipes in the mean time.
Love this smoked turkey mac and cheese with bacon?! Try some of these recipes: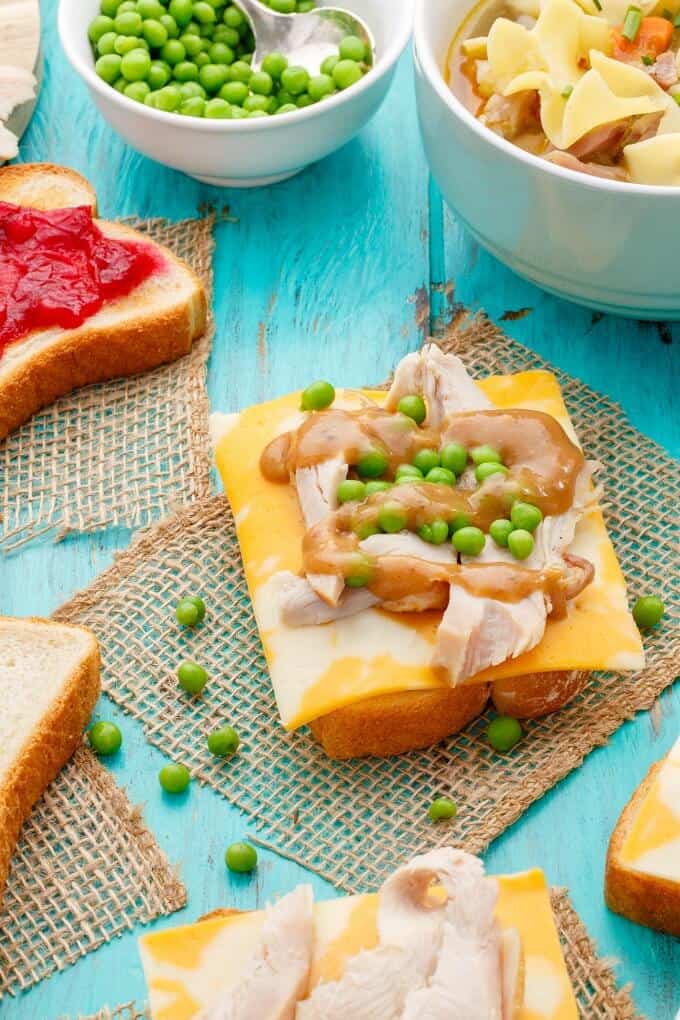 Open-Faced Turkey Sandwiches (Using Leftover Turkey)