This homemade turkey gravy does not use pan drippings! Instead, we utilize the turkey neck (and optional backbone) to create a rich and tasty sauce!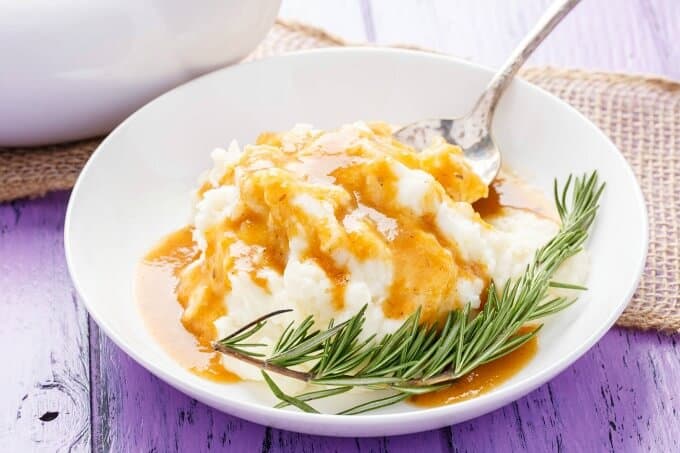 I cannot believe we are into December already!!
This year has flown by!
I am trying to fit in the rest of my recipes for the year before my hiatus.
For personal reasons, I will be off beginning this month with very limited posts until March (roughly.) I look forward to spending time with my Nana and enjoying Christmas with my family.
During this time you may see some new posts that have been written out ahead of time. I may throw in something here and there, but the goal is just to separate myself from work for a bit. Once I come back, I am going to move my post days to Tuesday and Thursday so I can spend time with my daughter on the weekends without having to worry about typing up a post for Monday.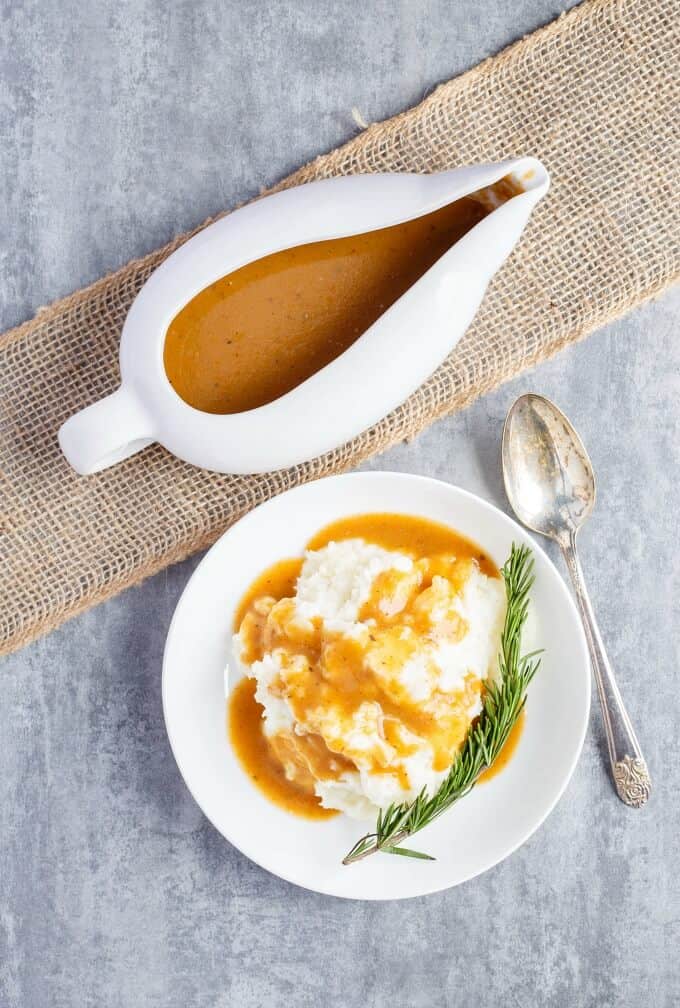 That aside, we can focus on today's homemade turkey gravy!
Gravy is such an essential part of holiday dinners and I find more often than not people stress over them when they really do not have to!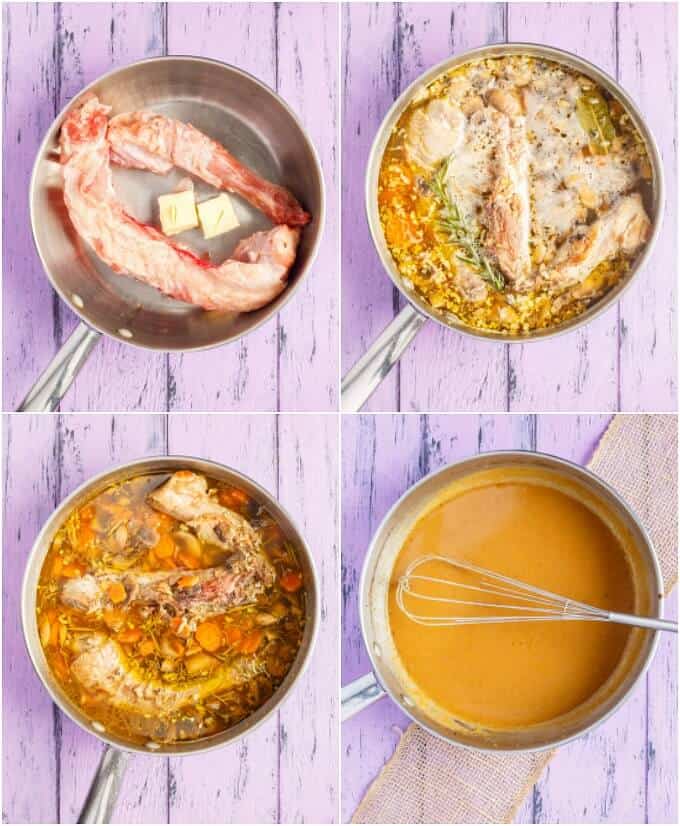 It is all about keeping things simple and planning ahead.
I cannot for the life of me bother gathering pan drippings after making a holiday turkey to make gravy. Sure, during my blog posts I do! But a real dinner is all about getting the food out on a timely manner! I usually save the drippings for a future gravy.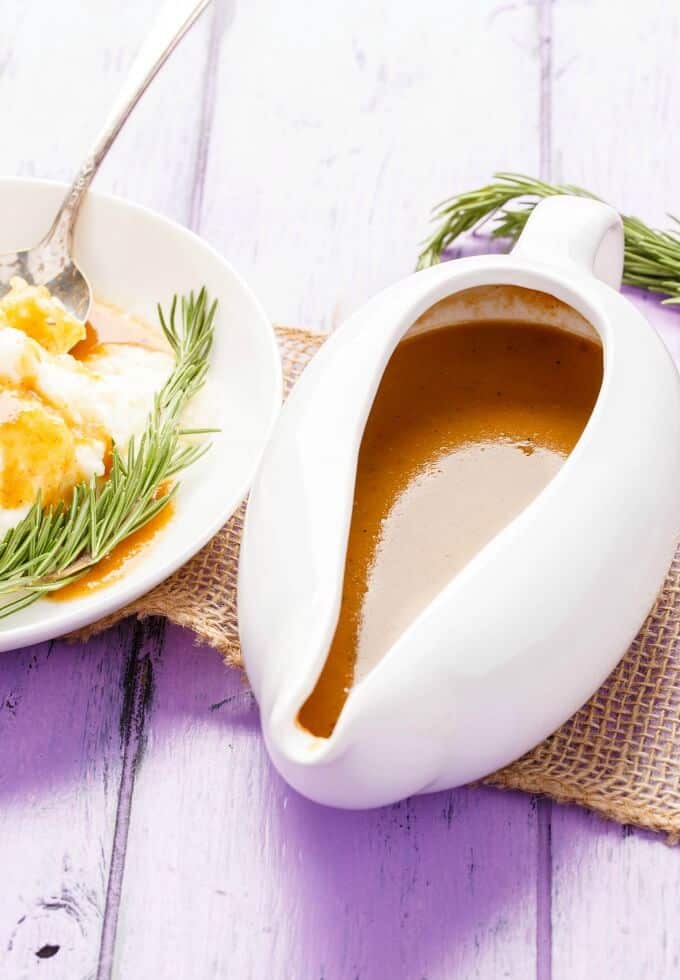 Instead, I plan ahead and use other ingredients to make a simple homemade turkey gravy! Tomorrow's post is my oven spatchcock turkey. You may be familiar with this method because I made it on the grill this past summer. When prepping the recipe, you are left with the turkey neck and backbone. Usually I just throw them into soup, but in this case, I made sure to utilize them into a homemade turkey gravy! They add sooooo much flavor! No one will notice the pan drippings missing!
And the best part is that you are making it ahead!
Spatchcocking the turkey is done in advance, so you get those necessary ingredients a few days before dinner. Take advantage and make the gravy ahead of time and just heat when needed! No more rushing to make gravy as your turkey rests 🙂
📖 Recipe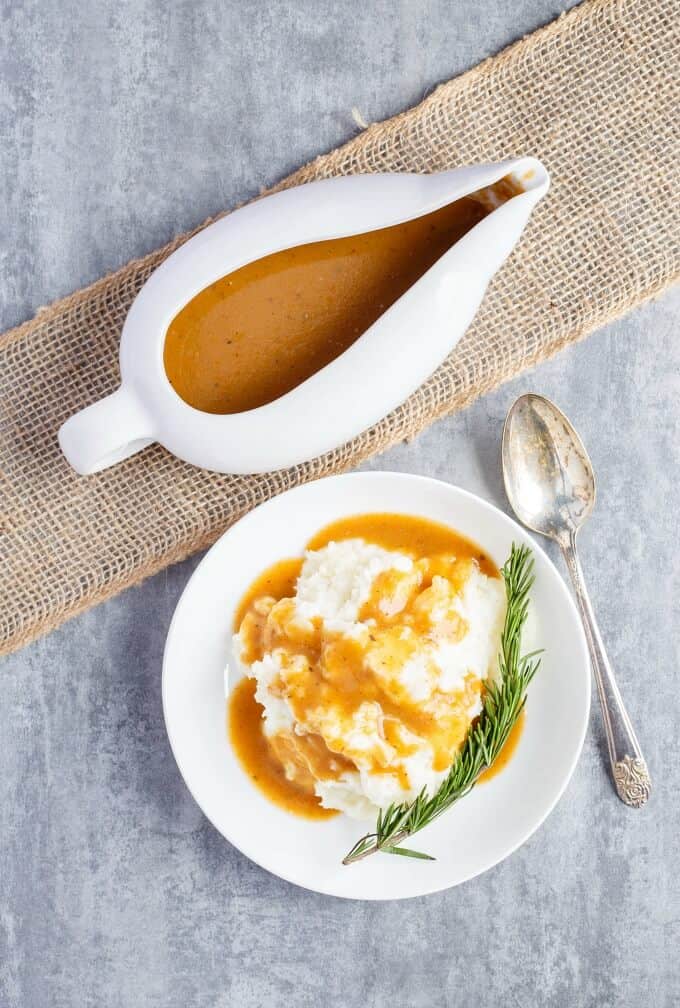 Homemade Turkey Gravy (using Neck)
Don't stress if you do not end up with any pan drippings! This homemade turkey gravy uses the neck and backbone to create a very flavorful sauce! Perfect for Thanksgiving, Christmas, and Easter!
Ingredients
Uncooked turkey neck and backbone (see note)
4 tbsp. salted butter, divided
½ lb carrots, chopped small
¼ lb button mushrooms, chopped
2 garlic cloves, minced
Salt and pepper
Sprig of fresh rosemary
1 dry bay leaf
2 tbsp. all-purpose flour
900 mL chicken or turkey broth
Instructions
Add 2 tbsp. butter to a large frying pan over medium-high heat. Once bubbling, add turkey neck and backbone. Cook, stirring often, until browned on all sides, about 7 minutes.
Add in carrots and mushrooms. Cook for 5 more minutes. Stir in garlic, salt, pepper, rosemary, and bay leaf. Cook for 1 minute, or until aromatic.
Pour in broth and bring to a boil. Reduce heat and simmer for 30 minutes, or until reduced to your liking.
Remove turkey parts, rosemary sprig, and bay leaf. Pour through a fine sieve and mash veggies through the sieve to the best of your ability, making sure to scrape underneath the sieve to get those built up bits into the gravy.
Add remaining butter to the same pan over medium heat. Once bubbling, stir in flour. Whisk frequently for 3-5 minutes, or until mixture has browned. Pour in broth (whisking constantly, and be careful, the mixture will steam up!)
Bring to a boil, reduce heat, and simmer until thickened to your desire, anywhere between 10-20 minutes.
Taste, season accordingly with salt and pepper, and serve over turkey and mashed potatoes!
Notes
I had both the neck and backbone because of the cooking method I used on my turkey (spatchcock.) You can use just the neck or even add in the liver and heart.
Nutrition Information:
Yield:

12
Serving Size:

1
Amount Per Serving:
Calories:

154
Total Fat:

10g
Saturated Fat:

4g
Trans Fat:

0g
Unsaturated Fat:

5g
Cholesterol:

56mg
Sodium:

182mg
Carbohydrates:

3g
Fiber:

1g
Sugar:

1g
Protein:

12g
Love this homemade turkey gravy (using neck)?! Try some of these recipes: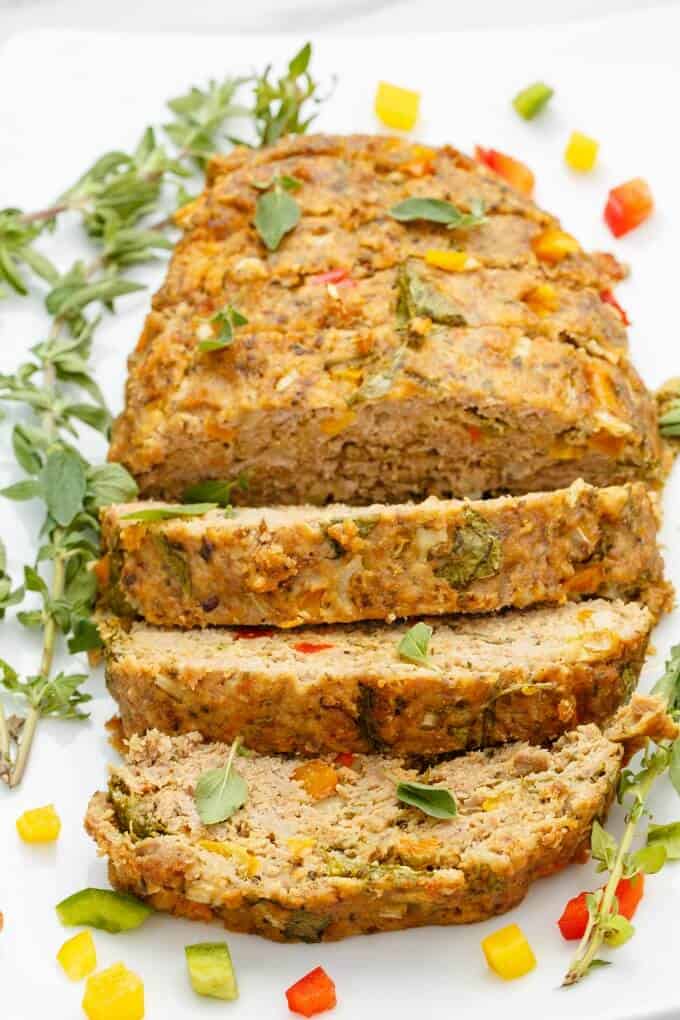 Slow Cooker Turkey Meatloaf (Veggie Loaded!)