Minimal prep makes this slow cooker turkey meatloaf the perfect summer recipe! Packed full of nutritious veggies, you won't be able to turn down a second slice!
This is a sponsored post. I was fortunate enough to receive monetary compensation and/or products from Canadian Turkey. Though compensation was received, all opinions are my own and I would not recommend a product that I did not enjoy
When it comes to summer recipes, I totally get that people don't want to use their stoves/ovens. I'm spoiled with air conditioning but on those days where you know it is super hot you cannot help but want something light and low maintenance.
That's where this slow cooker turkey meatloaf comes into play!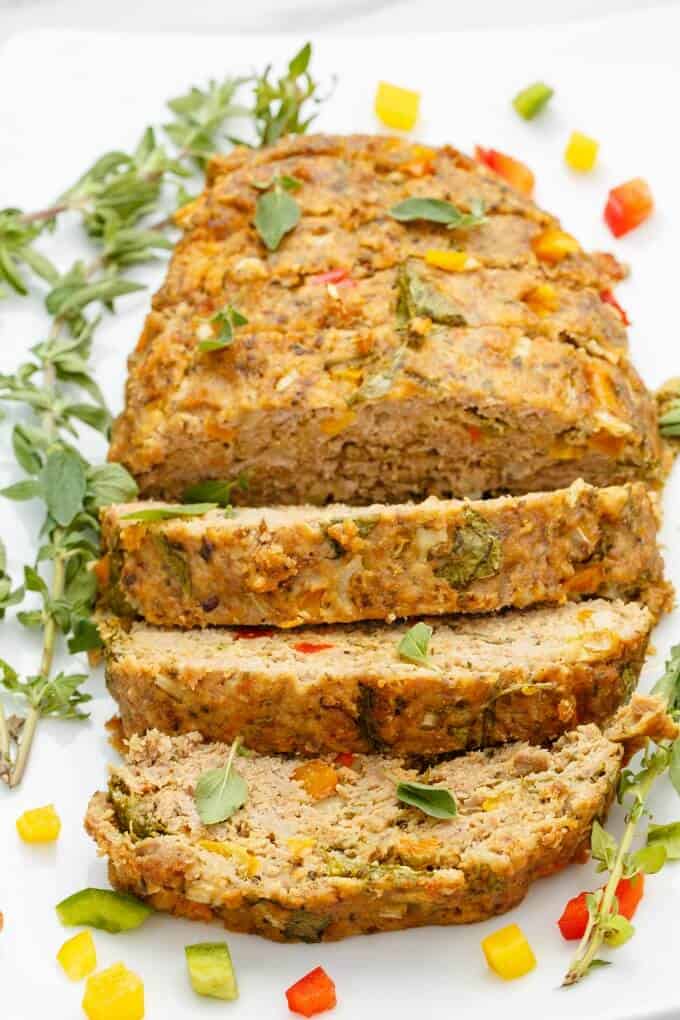 No worries about heating up the house, and preparation is pretty minimal. I choose to cook my veggies first before adding them to the meatloaf, but honestly, raw veggies work, too. They may have more of that raw veggie taste, however, if you are really dead-set on not using the stove, you will survive 🙂
Over the past years we have been turning to ground turkey more and more when it comes to our favorite classic recipes. It's light, hearty, but still yields a wonderful taste to spaghetti, Shepherd's pie (cottage pie,) and more! My husband has stated since I have made this slow cooker turkey meatloaf multiple times now, he wants me to transform the recipe into spaghetti and turkey meatballs 🙂 Ohh, that time will come!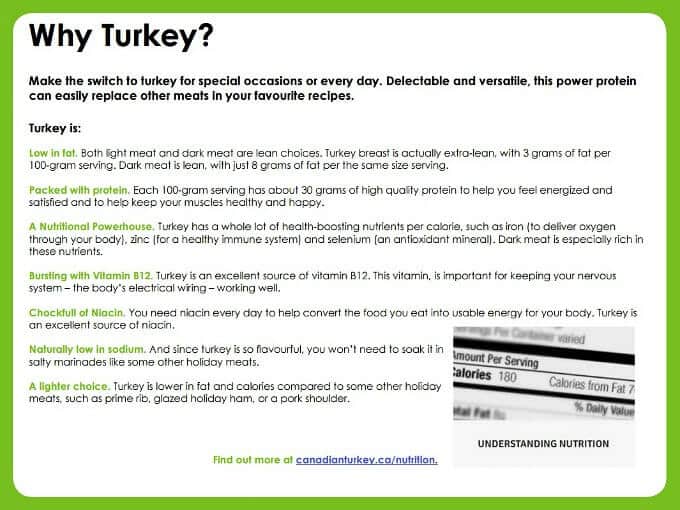 That being said, ground turkey is one ingredient that can be transformed infinitely. My last post focused on the whole bird (see my smoked turkey recipe,) and we all know how versatile that can be!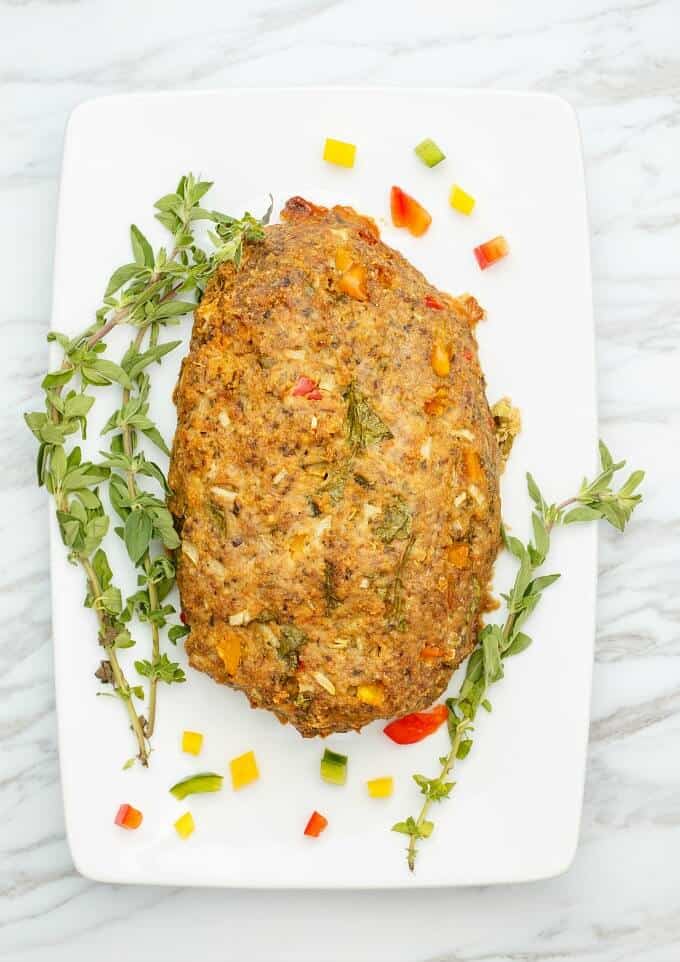 This time around I wanted to show that spring/summer recipes can be super simple and delicious, all the while remaining healthy and hearty. Canadian Turkey wants to show you that this low-fat, high-protein meat is the ideal food to have on your table every day. It feels kind of crazy to be promoting meatloaf through the summer, however, the use of turkey and fresh veggies really keeps this meal light (yet filling at the same time!) I know for me, personally, I want light, simple, economic, and healthy during the summer. But I don't want to sacrifice on flavor! Turkey is a win-win in all categories, and this slow cooker turkey meatloaf is lean and nutrient rich (and perfect to serve alongside salad or corn-on-the-cob!)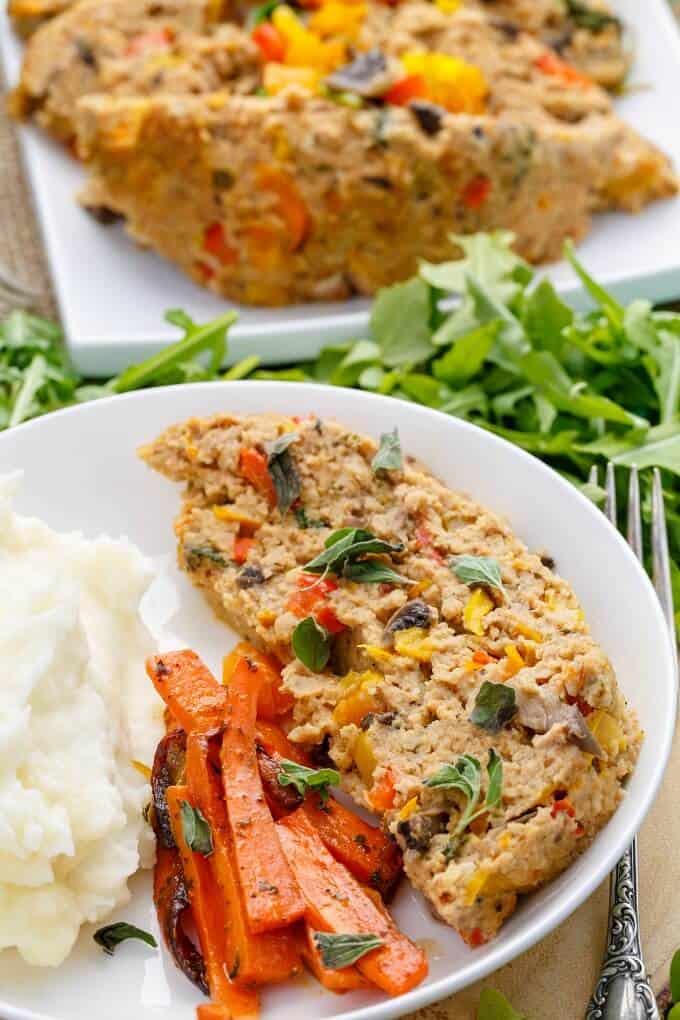 And finally, what's better than a recipe that is simple, light, and tasty?! One that needs no babysitting and can be made all-year-round! Of course we are all planning our summer vacations right now, so slow cooker recipes are on the mind. But I have no issues making this any season! And you can change up the veggies to be seasonal-friendly, resulting in a even more economical meal!
Oh! Final note! Since I have made this recipe multiple times, I have played around with ratios. Don't be too set on how many veggies you throw in there. And feel free to switch them up! Some celery and green pepper would be great here 🙂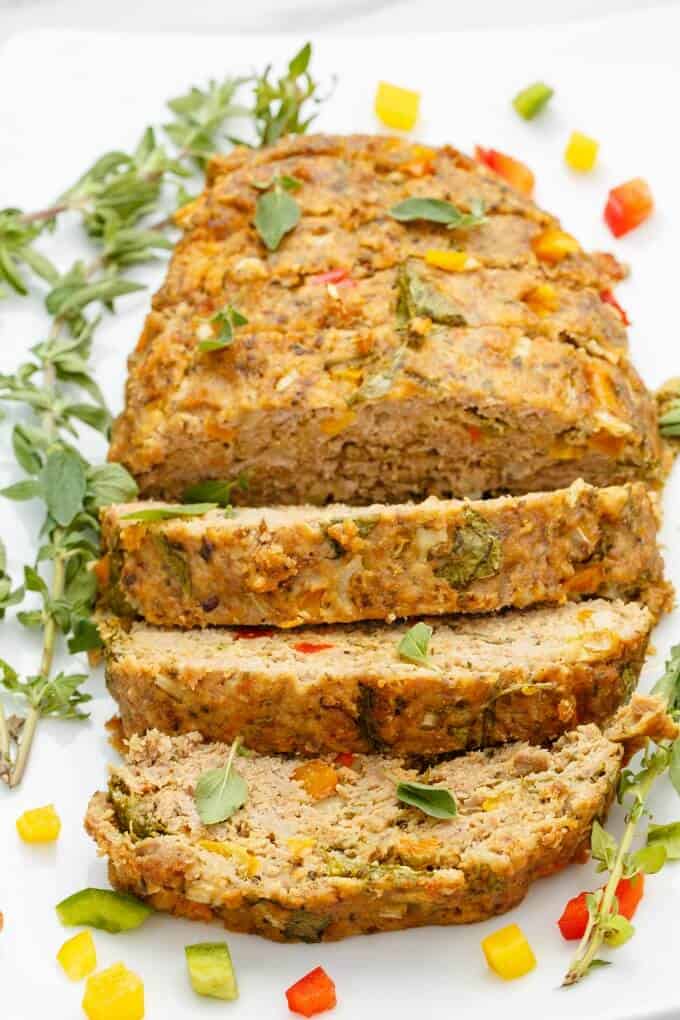 Slow Cooker Turkey Meatloaf (Veggie Loaded!)
Total Time:
4 hours
15 minutes
Quick, to the point, and great any time of the year!
Ingredients
1 lb extra lean ground turkey
1 egg
1 small onion, diced
4 oz mushrooms, diced
½ red pepper, diced
½ yellow pepper, diced
½ orange pepper, diced
2 oz fresh spinach
½ cup milk
¼ cup salsa
1 cup breadcrumbs (I used have Panko half Italian)
½ tbsp. coarse whole grain mustard
½ tbsp. Worcestershire sauce
Salt and pepper
1 tsp. dried oregano
1 tsp. dried basil
½ tsp. paprika
Instructions
If you plan to cook your veggies, add 1 tbsp. olive oil to a large frying pan over medium-high heat. Stir in onions, mushrooms, and peppers. Cook until softened, about 5 minutes. Remove from heat and stir in spinach. Cool.
Combine all ingredients into a large mixing bowl. Mix until JUST combined. Overworking the meat will make it tough.
Place into a 6-quart slow cooker and shape into loaf form.
Cover and cook on low 3-4 hours, or until internal temperature reaches 165F.
Slice and serve!
Notes
My slow cooker has a built in thermometer so mine took roughly 3 hours 20 minutes. This will also depend on the shape of your loaf 🙂
Nutrition Information:
Yield:

6
Serving Size:

1
Amount Per Serving:
Calories:

236
Total Fat:

5g
Saturated Fat:

1g
Trans Fat:

0g
Unsaturated Fat:

3g
Cholesterol:

86mg
Sodium:

377mg
Carbohydrates:

20g
Fiber:

3g
Sugar:

5g
Protein:

30g
Mother's Day has come and gone, but Father's Day is sneaking up! This slow cooker turkey meatloaf would mean a lot to dad (though, for my father I would have to leave out the onions!)
This is a sponsored post. I was fortunate enough to receive monetary compensation and/or products from Canadian Turkey. Though compensation was received, all opinions are my own and I would not recommend a product that I did not enjoy
Love this slow cooker turkey meatloaf?! Try some of these recipes: