Cool temperatures are here and nothing beats comfort food! This apple-pork shepherd's pie uses Ontario apples to create the perfect sweet and savory dish 🙂 #ONappleAday
This is a sponsored post. I was fortunate enough to receive products and monetary compensation from Ontario Apple Growers. Though products were received, all opinions are my own and I would not recommend a product that I did not enjoy.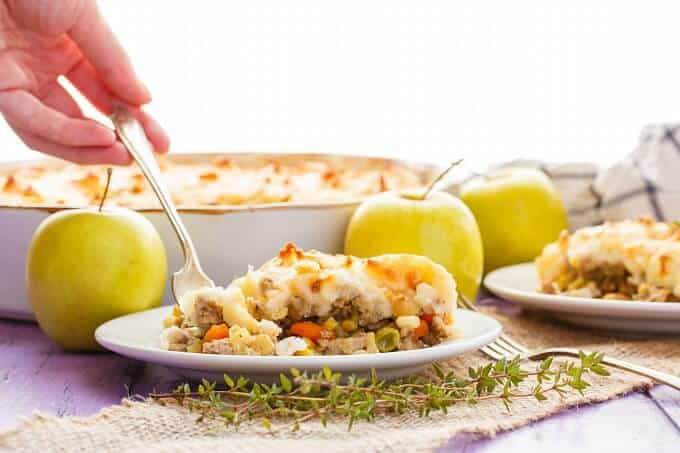 I am back with Ontario Apple Growers!
You may remember I was part of their campaign a couple of years ago. Farm tour, facility tour (which I was unable to attend,) and then being featured in their e-book (PDF warning!) Not only did I meet some awesome people, but the information we took home has stuck with me!
And now I am back with even more info! Always learning new things when it comes to the food & farming industries 🙂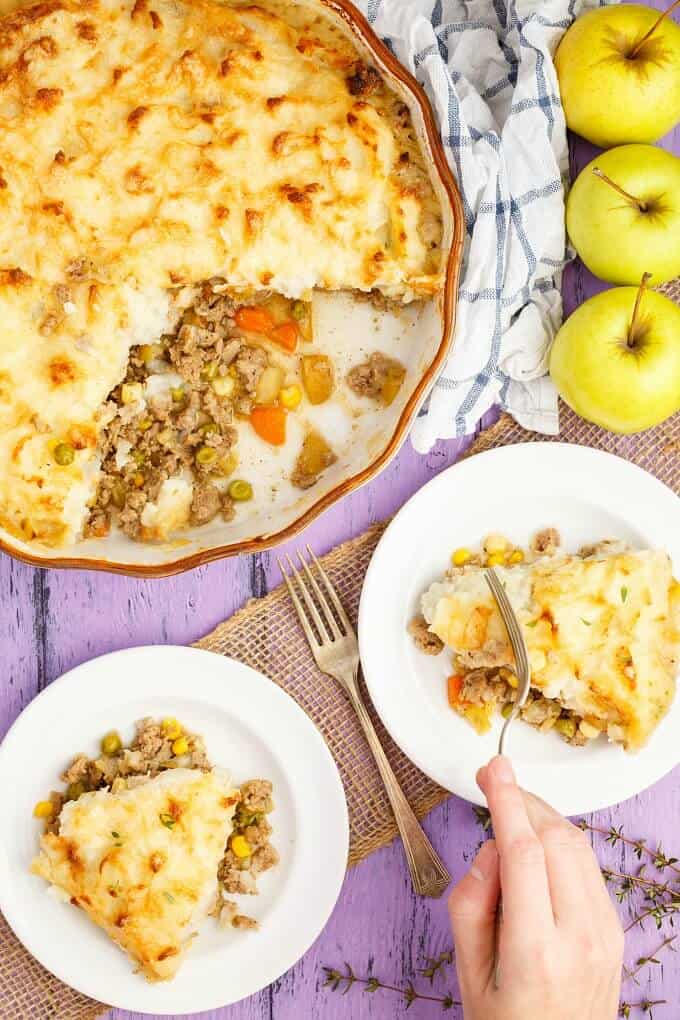 Today's apple-pork shepherd's pie is definitely a spin on the classic, and more-so resembles a cottage pie, but I grew up calling it shepherd's pie so I am sticking to that name! Pork and apples pair so nicely together, so working the two into a shepherd's pie is logical. However, I still had some reservations because let's face it, apples in shepherd's pie is unheard of.
Until now!!
What a success! I am so happy with how this apple-pork shepherd's pie turned out because I really wanted to represent everything Ontario Apple Growers stands for, and the people behind the scenes. Apple growing is not easy, and more so than ever I appreciate the apples on my grocery store shelves.
Since I'll be doing three posts for OAG, I do not want to overwhelm you with so much information at once 🙂
Both Wilmot Orchards and Algoma Orchards are around the corner from me. I have been to both many times, but never behind the scenes. The intimate setting was wonderful and as a quiet person (yes, I like to talk a lot but in smaller groups!!) I enjoyed others asking questions. There are just some things you do not think of that others do.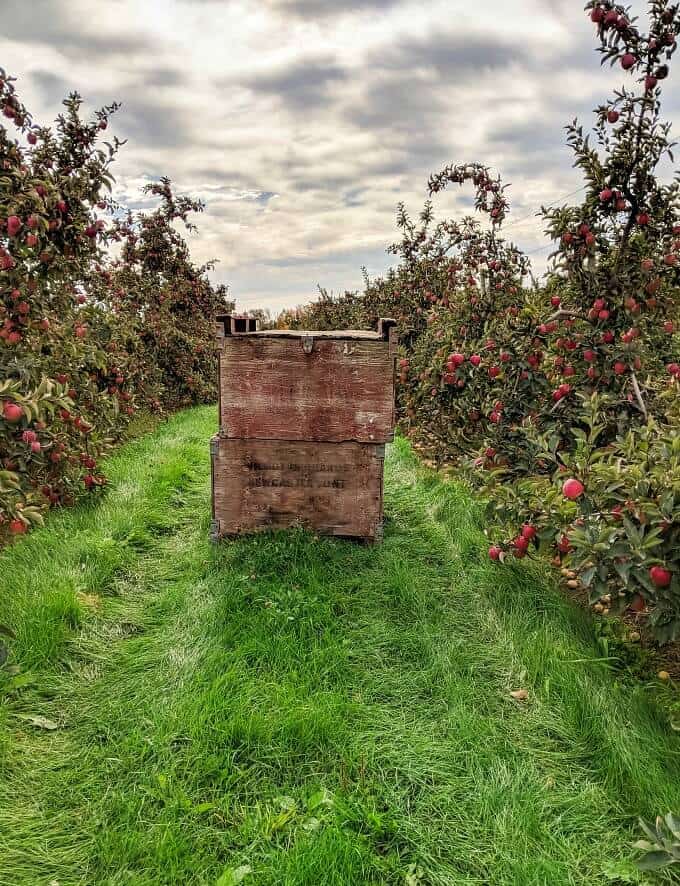 At Wilmot Orchards we spoke about apple farming. Everything from weather, to workers, to guidelines and safety practices, to hardships. While apple farming is hard work, it is also a very rewarding industry with very passionate people. The family dynamics are strong on this farm and everyone does their part. They have some workers from Mexico who have been coming to work on the farm every year for 30 years!! Other workers for Wilmot Orchards (and other Ontario farms) come from Barbados & other Caribbean countries, but in general, hiring temporary foreign workers is a process completed through the Seasonal Agricultural Worker Program (SAWP) when Canadians and permanent residents are not available (source.)
This program allows farms to put in requests for specific workers to return (building a life-long relationship,) but it also allows the workers to choose whether they want to return to the specific farm or not.
The farm is responsible for everything except food when it comes to housing the workers. They make minimum wage, are provided with WiFi (perfect to communicate with family members back home,) cars/transportation to get to town, and work experience.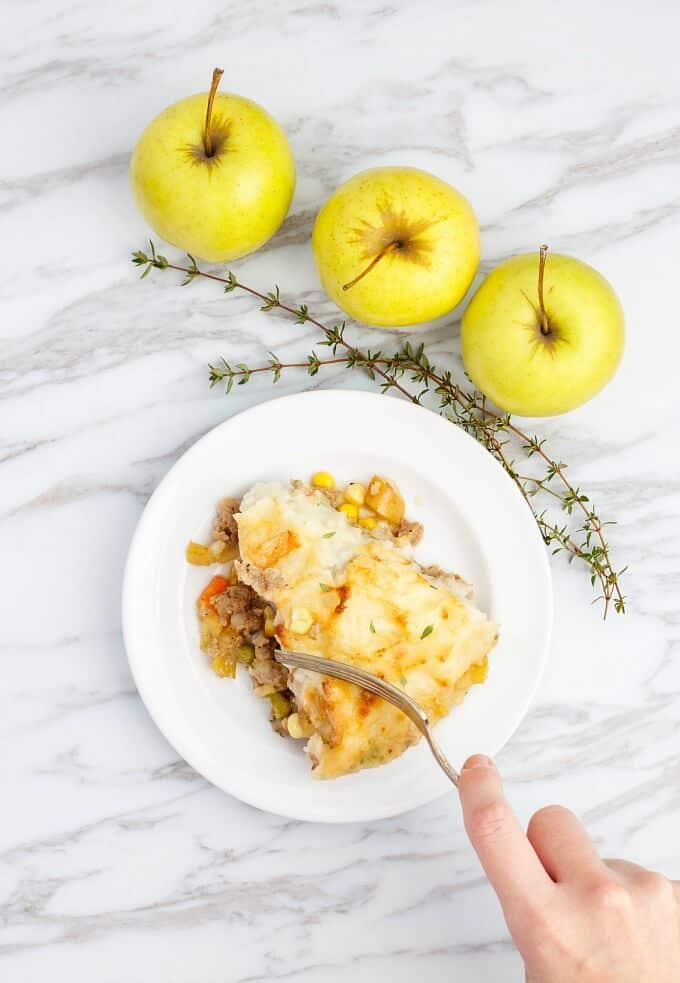 As said above, some workers have been coming back for 30 years, and are family to the Stevens. Courtney mentioned how one worker was in her first birthday party photos and is still working with them today! I love this! My husband and daughter mean the world to me, and this apple-pork shepherd's pie represents the perfect comfort meal, along with eating right!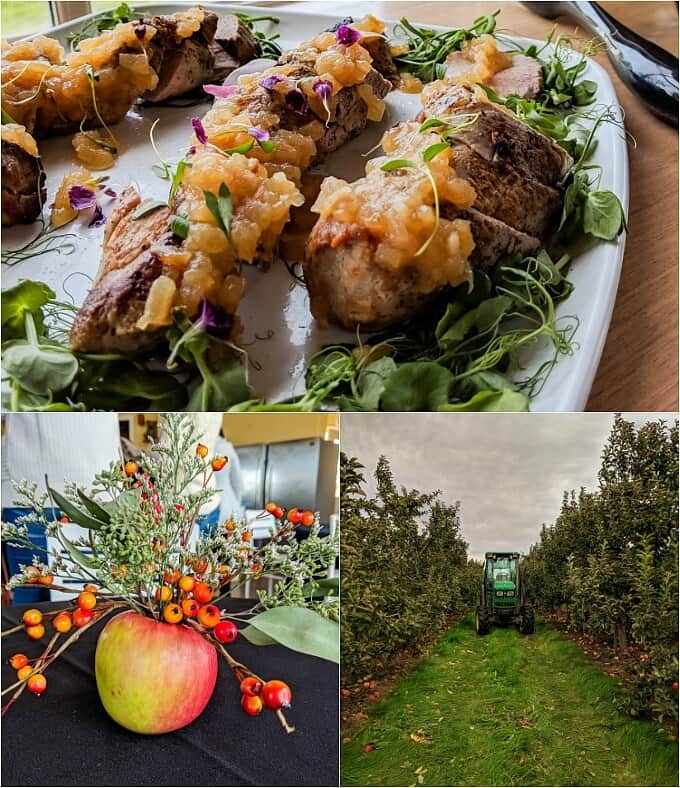 After a lovely lunch from Wilmot Orchards, we went over to Algoma Orchards. This part of the tour was more industrial. But do not let that fool you, Kirk, the President of Algoma Orchards, was just as passionate about apples! A small group of us went off with Kirk and the information he provided was amazing! So interesting and he kept us intrigued the entire time. I really could have spent all day there!
As I said, a lot to talk about but I will focus on the part I found most fascinating!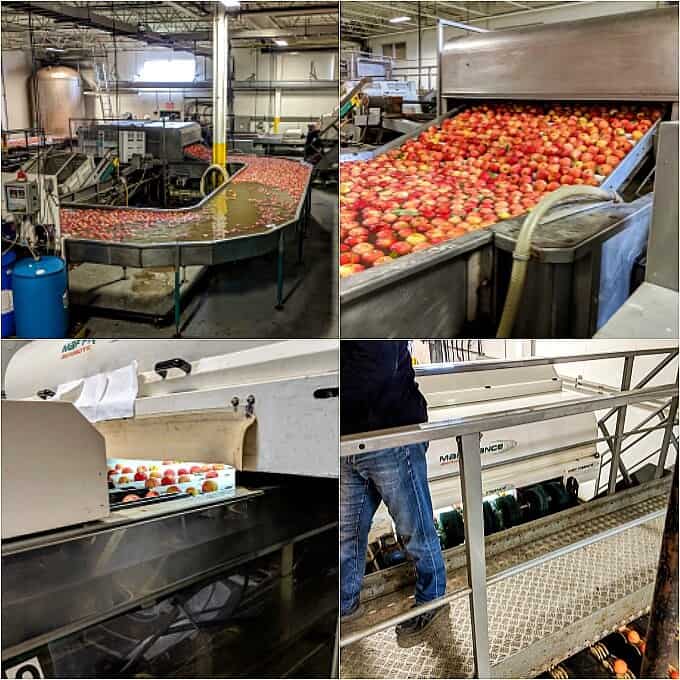 Apples come in and go through a bunch of stations. But the one station is SOOOO neat! After the apples have been washed, they go through a machine that photographs every single apple. The images load up onto a computer (remember, this is all super fast!) and the apples are then dropped into different areas off the conveyor belt (all from the information gathered from the computer pictures.) You can see in the pictures what I mean. The apples are not only sorted by size (diameter and weight,) but by color (light or dark,) and shape. The machine knows where to place them just by taking photos and running their information through the computer. I cannot get over this!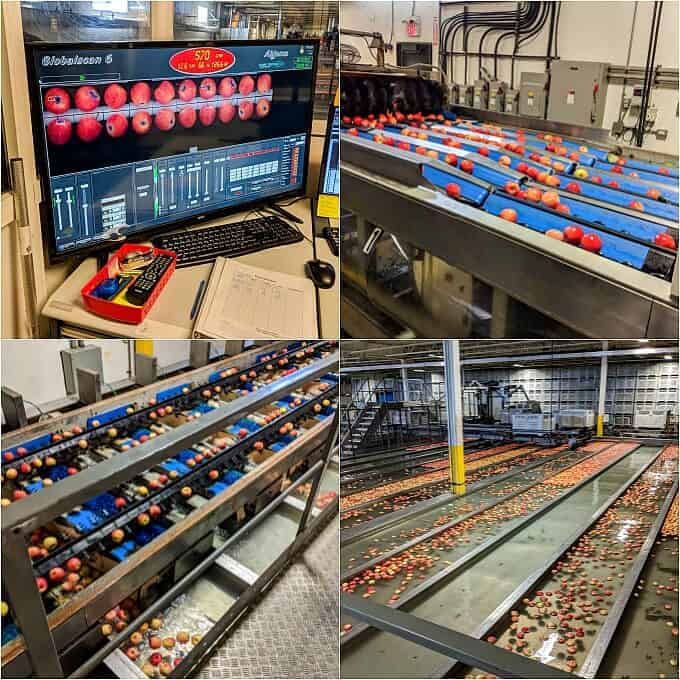 There is so much more I want to talk about, but I have two more posts to do so 🙂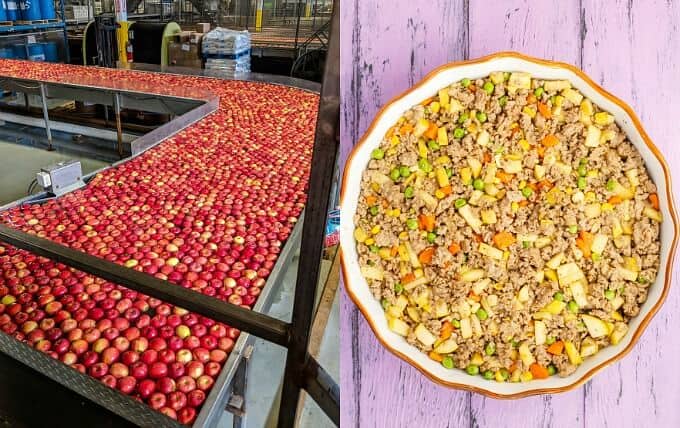 The apple-pork shepherd's pie is freezer-friendly and perfect for meal prep! It is gluten-free, and contains Golden Delicious apples because I like an apple that retains its shape while cooking. OAG has a handy guide here for you showing when and how to use your apples. Use your favorite local apple in this meal and convert any shepherd's pie skeptic (bragging rights: my husband's coworker HATES shepherd's pie, but she tried this version and loved it so much that she called her mom right then and there to tell her she was eating shepherd's pie!!) My daughter took it 3 days in a row for school lunch on top of eating it for dinner!
📖 Recipe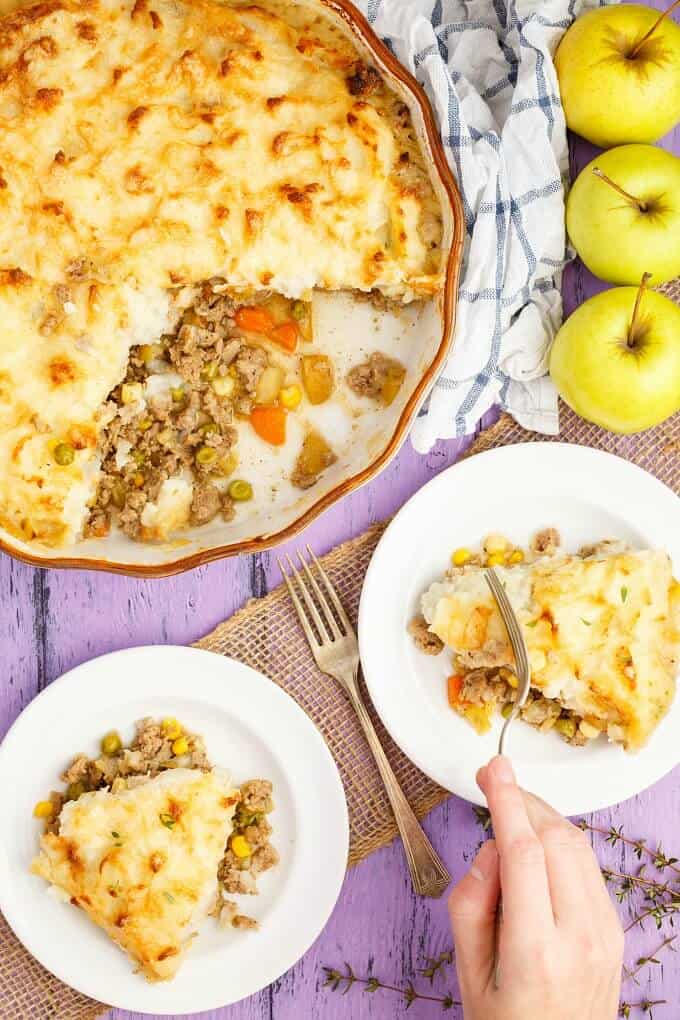 Apple-Pork Shepherd's Pie
Total Time:
1 hour
15 minutes
A twist on the classic! This apple-pork shepherd's pie is loaded with local apples, lean pork, and lots of veggies! You want to choose an apple than retains its shape while cooking so you don't end up with a mushy filling.
Ingredients
1 ½ lbs potatoes, peeled and cubed
½ cup milk
¼ cup butter
Salt and pepper
Filling
1 lb ground pork
1 lb hot Italian sausages, removed from casings and crumbled
¾ lb apples, cores removed and diced (use your favorite local apple!)
1 large carrot, peeled and diced
1 large onion, diced
½ cup broth (I used chicken because it was what I had on hand!)
1 tbsp. Worcestershire sauce
Salt and pepper
¼ tsp. dried thyme
½ cup frozen corn
½ cup frozen peas
½ cup grated cheddar cheese for topping (optional, but delicious!)
Instructions
Place potatoes into a large pot of cold salted water. Cover, bring to a boil, reduce heat, and simmer, uncovered, until potatoes are tender. Drain. Add butter and milk back into the pan over medium heat. Once very hot (but not bubbling,) remove from heat, add potatoes back in and mash. Season with salt and pepper.
Filling
In a large frying pan over medium heat, add in meats. Cook for a few minutes. Stir in onions and carrots. Continue cooking until meat is browned, about 10-15 minutes. Drain excess grease (I tend to skip this as I like the added flavor and our meat is lean.) Season with salt, pepper, thyme, Worcestershire sauce, and broth. Simmer for 10 minutes, uncovered. You want some liquid remaining (adding more if the meat dries out!)
Stir in corn, peas, and apples. Simmer for a few more minutes.
Preheat oven to 375F. Add filling to a large baking dish (9x13-inch) or a large pie dish (mine is a 12-inch dish.) Pour potatoes on top and spread out the best you can. Top with cheese if desired.
Place into oven, uncovered, and bake for 20-30 minutes, or until top is golden and filling is bubbling.
Allow to cool a bit before serving.
Notes
This recipe can be frozen before or after cooking. Don't add your apples too early or they will go mushy!
Nutrition Information:
Yield:

6
Serving Size:

6
Amount Per Serving:
Calories:

781
Total Fat:

48g
Saturated Fat:

21g
Trans Fat:

0g
Unsaturated Fat:

28g
Cholesterol:

146mg
Sodium:

931mg
Carbohydrates:

46g
Fiber:

5g
Sugar:

13g
Protein:

42g
Be sure to checkout my fellow Canadian food bloggers who are part of this campaign 🙂
Apple and Brie Tartlets from Little Sweet Baker
Instant Pot Baked Apples from Imagelicious
Stuffed Spiced Apples from Kravings Food Adventures
Apple, Fennel & Italian Sausage Stuffing from The Kitchen Fairy
The Best Apple Butter Recipe from Weekend At The Cottage
This is a sponsored post. I was fortunate enough to receive products and monetary compensation from Ontario Apple Growers. Though products were received, all opinions are my own and I would not recommend a product that I did not enjoy.
Love this Apple-Pork Shepherd's Pie?! Try some of these recipes: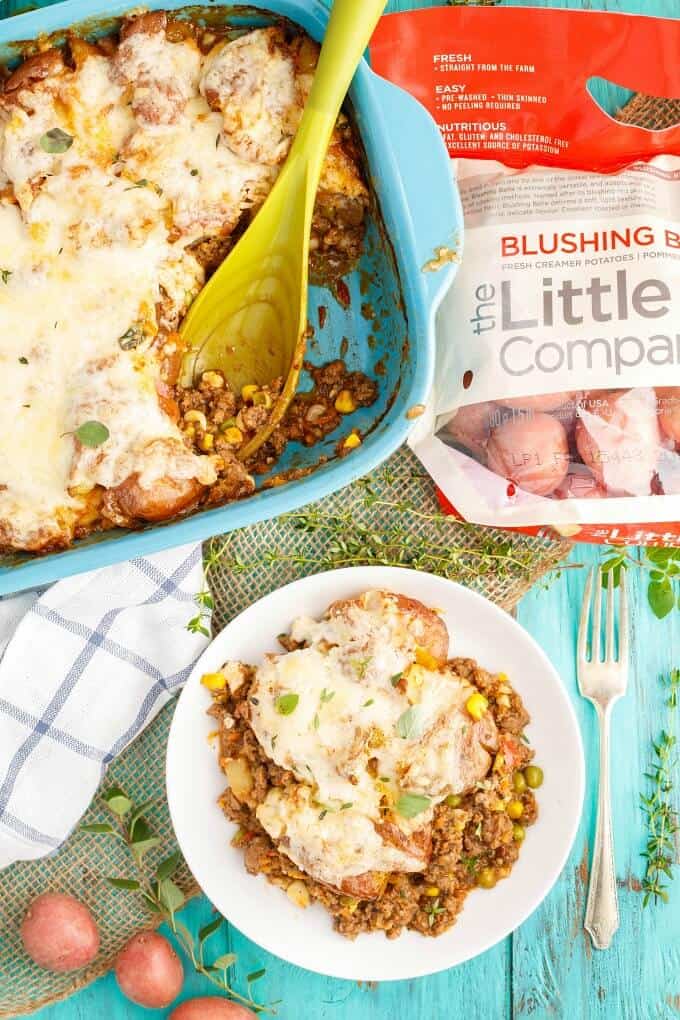 Smashed Potato Shepherd's Pie (Cottage Pie)