A healthy and delicious snack or lunch that is perfect anytime of the year, this raw apple salad is gluten-free, vegan, and soooo delicious! I am so happy to be working with Ontario Apple Growers again!
This is a sponsored post. I was fortunate enough to receive products and monetary compensation from Ontario Apple Growers. Though products were received, all opinions are my own and I would not recommend a product that I did not enjoy.
Here I am today, back with Ontario Apple Growers, and I must say, I went a completely different route this time around.
No bacon!
Ha! The last two recipes have used bacon, and while the third time's the charm, I wanted to go healthy, easy, and tasty! Not to say the other recipes weren't (I honestly thought nothing could get easier than that cheese ball!) but I feel this raw apple salad recipe is appropriate for everyone. No worries about allergies, dietary restrictions, or even ethical beliefs, because it is so simple and basic, you really cannot get any easier (with so much flavor!)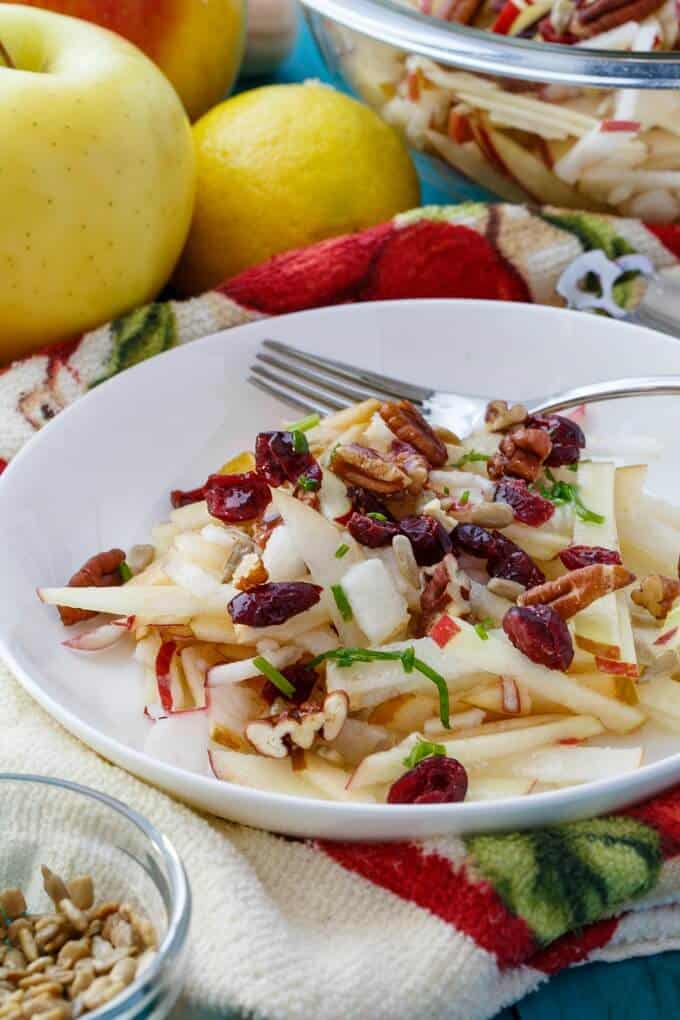 Now, I did use honey in the dressing. However, agave syrup, sugar, or any other sweetener can be substituted in. I have some vegan friends who still eat honey, but I understand others do not. That aside, this raw apple salad leaves you to all the customizing. Honestly, any apple varietal will work (but you will probably want a balance of sweet/tart so the flavors don't meld too much.)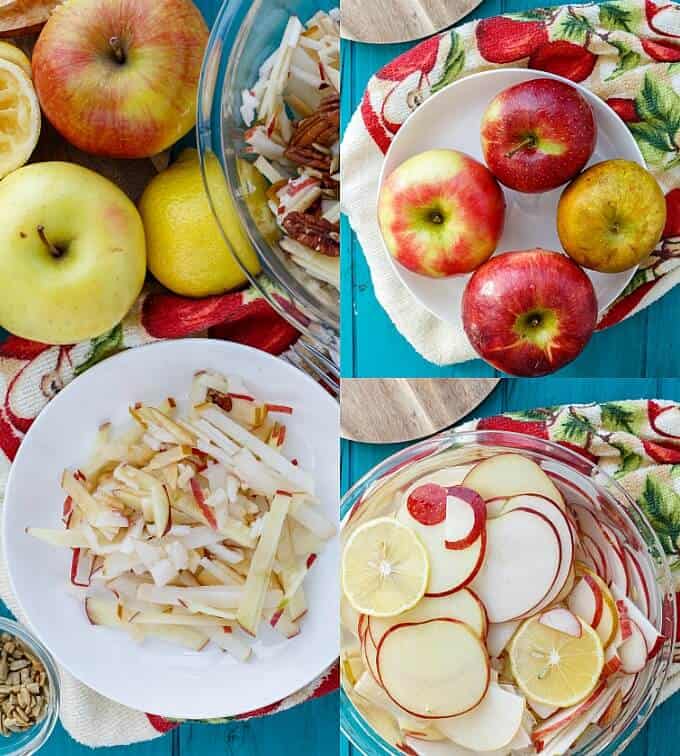 Of course, I was so focused on the apples that I completely forgot to add the fresh blueberries and blackberries I bought for this salad. And I only noticed AFTER I cleaned everything up, but it was so tasty as is! That being said, you can easily add in extra fruit, perhaps some walnuts instead of pecans, maybe even goat cheese for the non-vegan.
NOTE: I was invited to an apple processing tour at Martin's Family Fruit Farm on behalf of Ontario Apple Growers (along with the rest of the awesome food bloggers working on this project!) Unfortunately I was unable to attend this time around, but thankfully Lily from Little Sweet Baker and Ontario Apple Growers have provided me with some pictures of the day 🙂 As the other posts go live, I will link to them so you can see all the photos (and read up on the knowledge they accumulated during the tour!)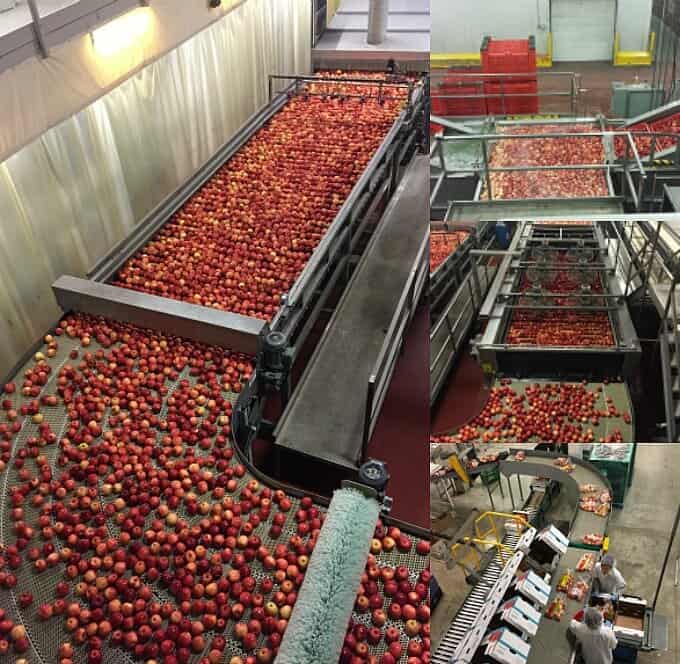 I've tried to cover everything from the farm tour and information that Ontario Apple Growers has shared, but you will not believe all the facts behind apples! I feel I am still learning something new each time I write a post for them 🙂 Once again, trying not to overwhelm you, I will share some tidbits I enjoyed!
In my bacon-wrapped apple stuffed pork tenderloin post I spoke about storage and care of apples. You always want to wash your produce, whether you are baking them or not. Ontario farmers do use pesticide, but they are trained and certified.
So what does organic mean?
Organic food must be produced by farmers who are certified every year.
Requirements can include grown without synthetic fertilizers, pesticides, genetically modified organisms, growth hormones, or medications.
All food, regardless of how it is grown, must meet the same inspection and food safety standards set by government.
Everyone has their opinions and beliefs, but no matter what, regulations must be followed and farmers' produce is inspected. So no trying to sneak something past the officials. For more information, please check out the Ontario Apple Growers website along with Farm & Food Care.
Okay, enough politics and more apples! Enjoy this recipe and share with me all your flavor combinations!
📖 Recipe
Raw Apple Salad (Vegan & GF)
A simple snack or lunch that is truly healthy and flavorful!
Ingredients
1.5 lbs assorted apples and pears of your choosing (I used a Red Prince, Cortland, and Russet Apple along with an Asian Pear)
1 small cucumber, peeled if desired
Lemon-Honey Dressing
2 tbsp. freshly squeezed lemon juice
1 tsp. lemon zest
1 tbsp. honey (or sweetener of your choosing)
¼ cup avocado oil
Salt and pepper
Chopped chives for garnish (if desired.)
Optional Toppings
½ cup toasted pecans
⅛ cup toasted sunflower seeds
¼ cup craisins
Fresh fruit such as blueberries, blackberries, and raspberries
Goat cheese
Instructions
Add lemon juice, zest, honey, salt, pepper, and chives to a bowl. Whisk in avocado oil until thoroughly combined. Set aside.
Salad
Wash fruit thoroughly. Slice apples,pears, and cucumber thinly using a mandoline. Take your knife and cut those thin slices into matchsticks.
Pat dry and add to large mixing bowl. Garnish with desired toppings.
Add desired amount of dressing to salad and toss OR serve individual portions out and top with dressing.
Notes
You can toast your own seeds and nuts at 350F for 5-10 minutes, stirring occasionally, until slightly browned and aromatic.
Nutrition Information:
Yield:

4
Serving Size:

4
Amount Per Serving:
Calories:

444
Total Fat:

27g
Saturated Fat:

4g
Trans Fat:

0g
Unsaturated Fat:

22g
Cholesterol:

3mg
Sodium:

343mg
Carbohydrates:

54g
Fiber:

9g
Sugar:

39g
Protein:

5g
Since this raw apple salad is definitely healthy, I wanted to remind you of the health benefits of apples. Ontario Apple Growers provides great information
here
. Whether raw, cooked, or used in baking, apples are an essential part of our lives and without the dedication and hard work of farmers, we wouldn't have the varietals we have today (let's face it, honeycrisp is super popular right now, but who knows what the future will bring!)
This is a sponsored post. I was fortunate enough to receive products and monetary compensation from Ontario Apple Growers. Though products were received, all opinions are my own and I would not recommend a product that I did not enjoy.
Love this raw apple salad?! Try some of these recipes: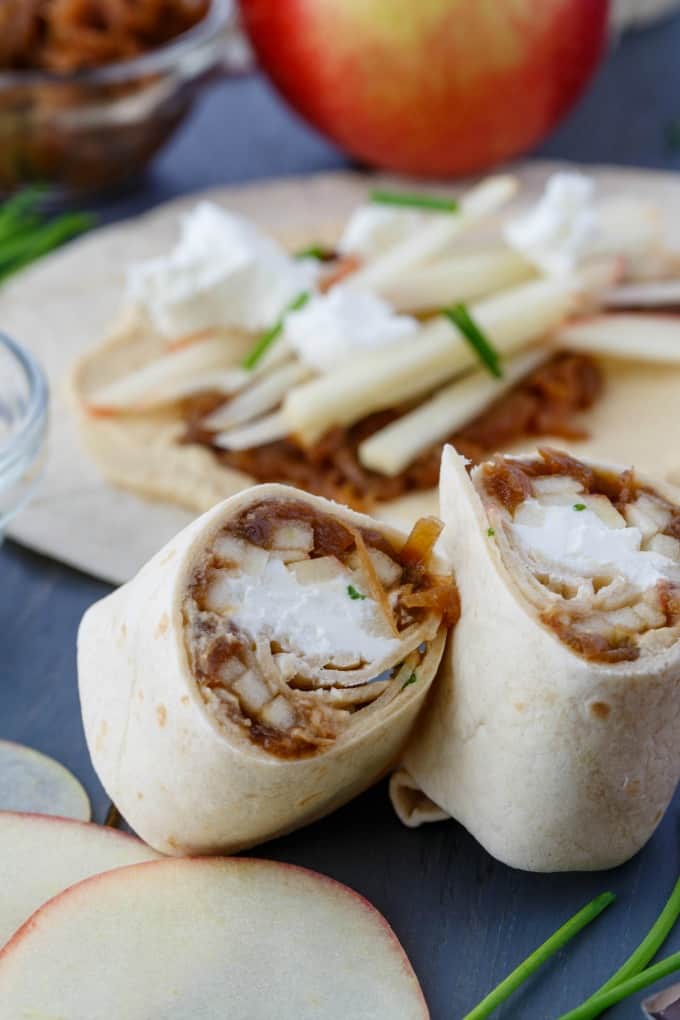 Caramelized Onion Apple Wraps with Hummus