Healthy, hearty, and easily made vegan by omitting the cheese, these caramelized onion apple wraps with hummus are the perfect lunch (can be made ahead of time!)
I feel like I am super late on this post this morning!
Yesterday I got up to take my daughter to school, first making sure the buses were up and running. Turns out they were cancelled, so she kind of had an unofficial snow day! But when I peaked outside we didn't have a drop of fresh snow on the ground... Guess they were playing it safe.
As the morning went out, snow did accumulate so I spent my day dragging her in her sled for our dog walk, shoveling the driveway, and making our way to the park to sled. After that it was nice to enjoy these caramelized onion apple wraps with kiddo!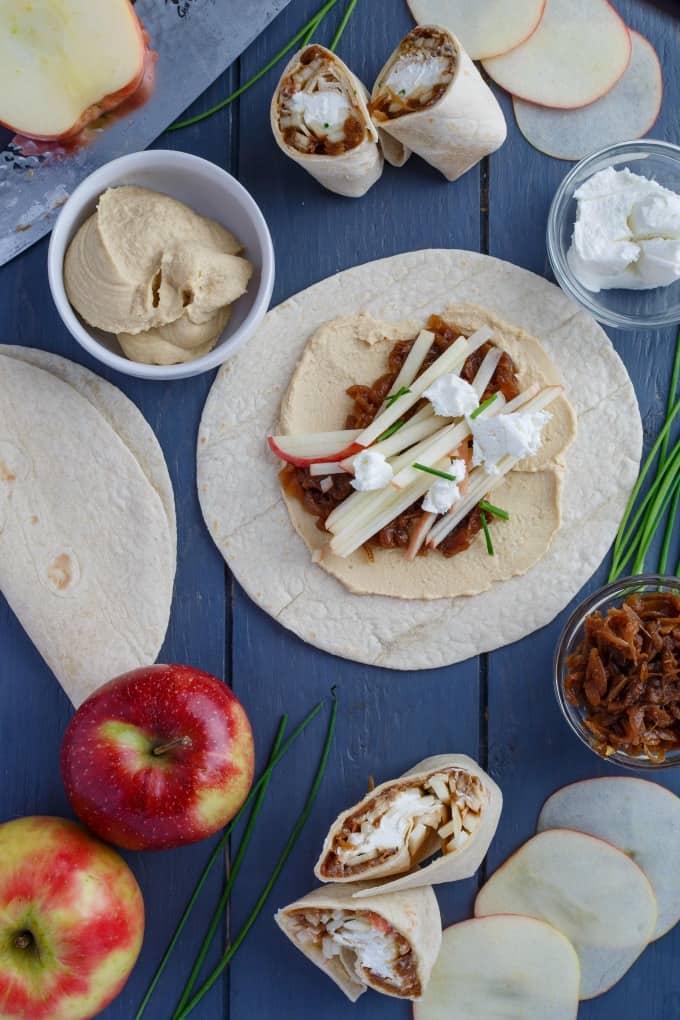 Yes, my daughter loves them! Ever since I got back from the apple tour with Ontario Apple Growers (I have written sponsored posts for them, but today's post is not in relation to that work,) I have been enjoying these wraps! During our lunch, they served us hummus, fresh apple and caramelized onion sandwiches on gluten-free bread (for the people in the dietary restriction category.) They were great! Personally, gluten-free bread is not my thing so I knew I had to recreate these at home my way.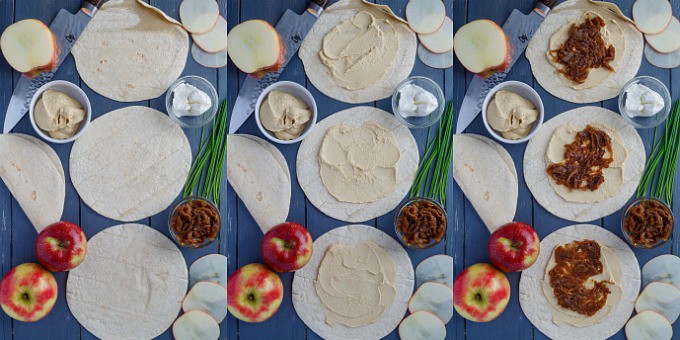 These caramelized onion apple wraps not only contain apples and caramelized onions, but hummus and goat cheese as well. Goat cheese is optional (for vegan lifestyles,) but I think it adds so much! This time around I added some fresh chives and couldn't help but eat three of these wraps! I usually make them with cheddar cheese for my daughter, thinking goat cheese wouldn't be her thing. But turns out she has no issue eating them my way!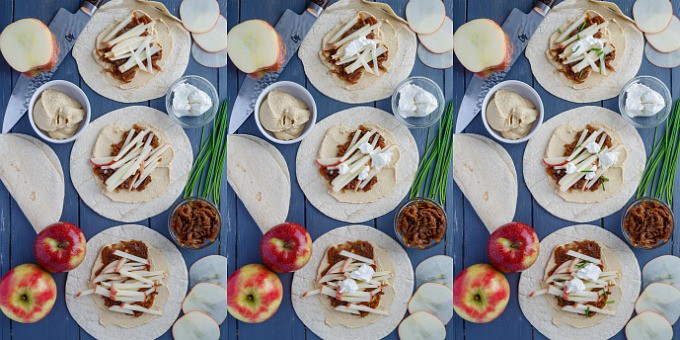 *Disappears for 5 minutes.* To be really honest, I totally stopped writing just now to go and make myself another wrap! Sooo good! Plus, they are the perfect lunch and easy to customize. You can also make them in advance (I don't find my apples brown too much.) I whip up an entire batch of caramelized onions because let's face it, having to caramelize onions each time for these wraps would make the meal burdensome. But one big batch yields you lunches for an entire week!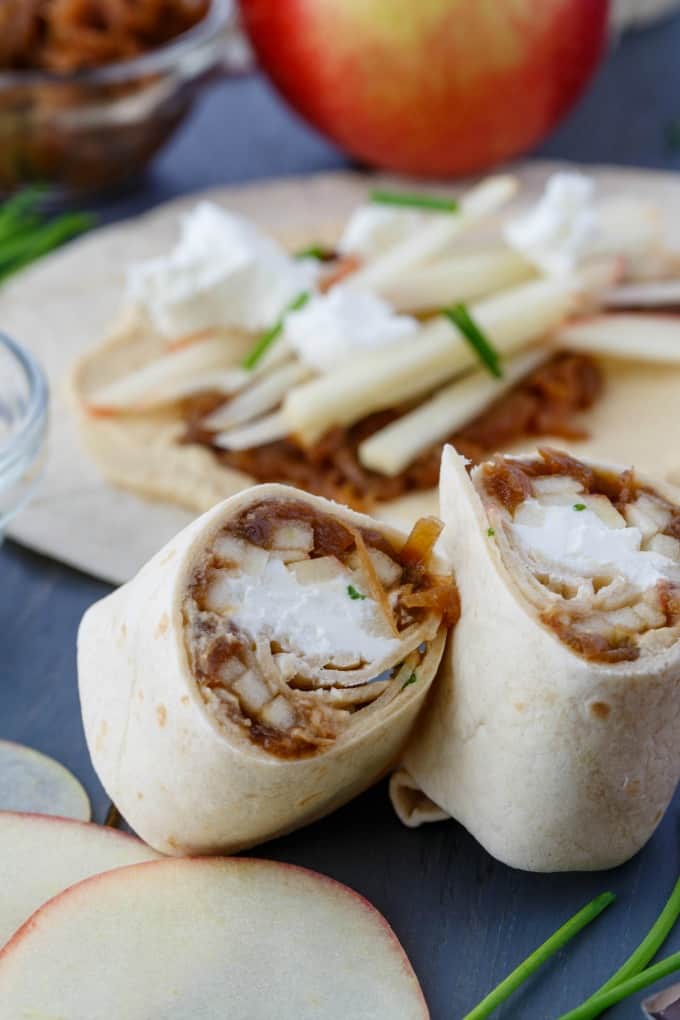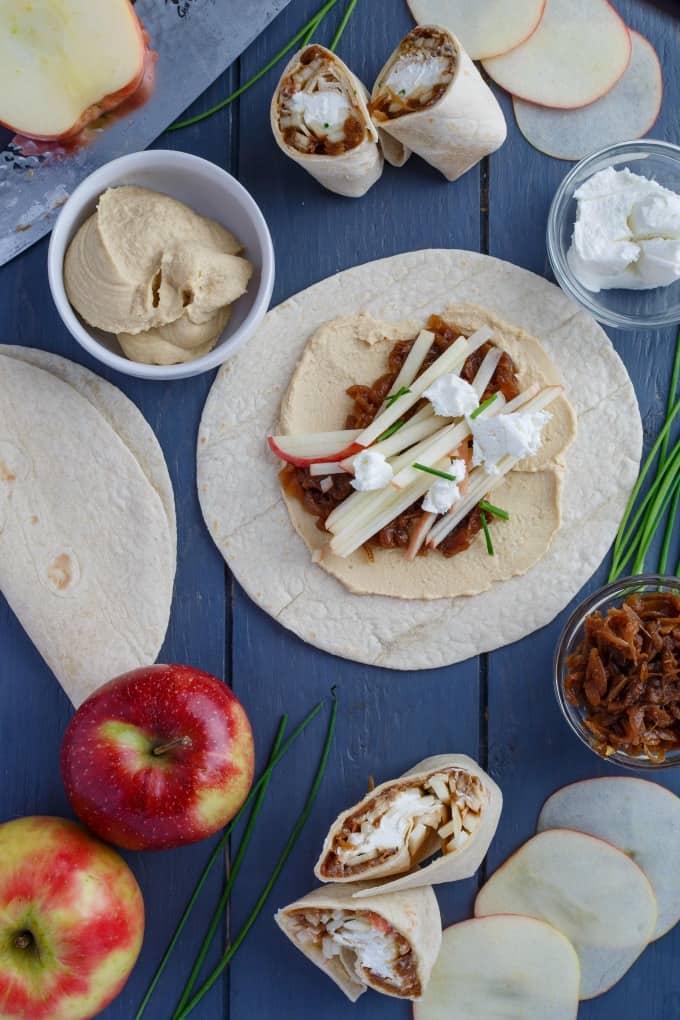 Caramelized Onion Apple Wraps with Hummus
A healthy and delicious lunch that will definitely fill you up!
Ingredients
1 batch caramelized onions
1 large apple of your choosing (I used honeycrisp), sliced thin and cut into matchsticks
5 (6 inch) tortillas
10 tbsp. hummus
Goat cheese (optional)
Freshly chopped chives (optional)
Instructions
Lay out tortillas. Add ½ - 1 tbsp. of hummus to each wrap and spread evenly.
Place desired amount of caramelized onions on top. Follow with apples, goat cheese, and chives if using.
Carefully roll them up. Slice diagonally if desired.
Notes
I make my caramelized onions in advance and quickly throw the wraps together when needed. The onions will help make MANY wraps.
Nutrition Information:
Yield:

5
Serving Size:

1
Amount Per Serving:
Calories:

96
Total Fat:

4g
Saturated Fat:

1g
Trans Fat:

0g
Unsaturated Fat:

3g
Cholesterol:

3mg
Sodium:

141mg
Carbohydrates:

12g
Fiber:

3g
Sugar:

6g
Protein:

4g
Apple are great any time of the year, and these caramelized onion apple wraps are the perfect way to use up extra apples hanging around. I really like how you use fresh apples here, so basically you can use any type of apple you like! My wraps used honeycrisp, but with the wide variety of apples out there, the possibilities are endless!
Love these caramelized onion apple wraps with hummus?! Try some of these recipes: