Don't let vegan food scare you off. This vegan potato curry over cauliflower rice has won over the biggest meat-eaters in my house (both my husband AND my daughter!) Stay tuned as I share with you my latest (gluten-free) recipe as I continue my brand ambassadorship with The Little Potato Company!
This is a sponsored post. I was fortunate enough to receive products and monetary compensation from The Little Potato Company. Though products were received, all opinions are my own and I would not recommend a product that I did not enjoy.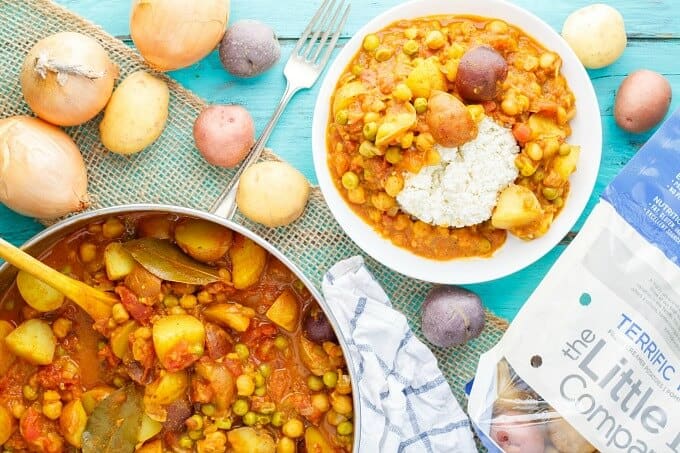 Second week into January and I have totally stuck to my healthy eating habits... Not!
Admittedly my daughter went back to school today, so I classify this as my official start to making some changes 🙂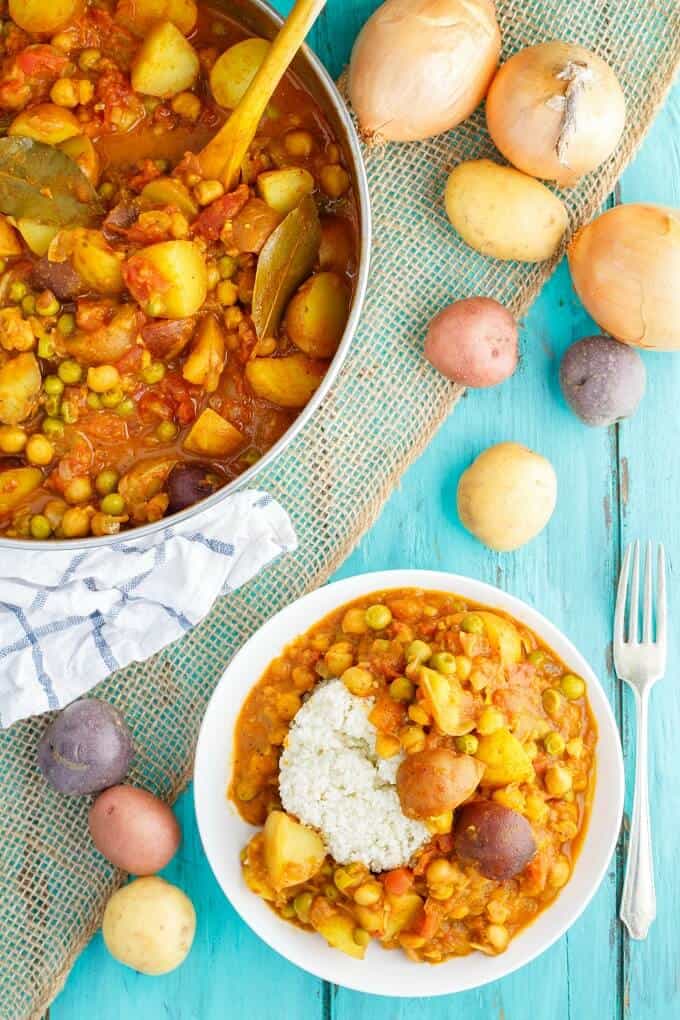 And for my first Little Potato Company post of the year?! This healthy, gluten-free, vegan potato curry over cauliflower rice. See, I can be healthy!
Super impressed with this recipe! My daughter, husband, and myself actually fought for the last bowl. I would totally have made another batch but was out of coconut milk (cursing myself because I had a can in my hand the other day and put it back because I thought I had an abundance!) Honestly, I am just happy my daughter really enjoyed it! No way did I have curry growing up, and I used to actually dislike it, but as I have grown older, curry has only gotten better to my taste-buds!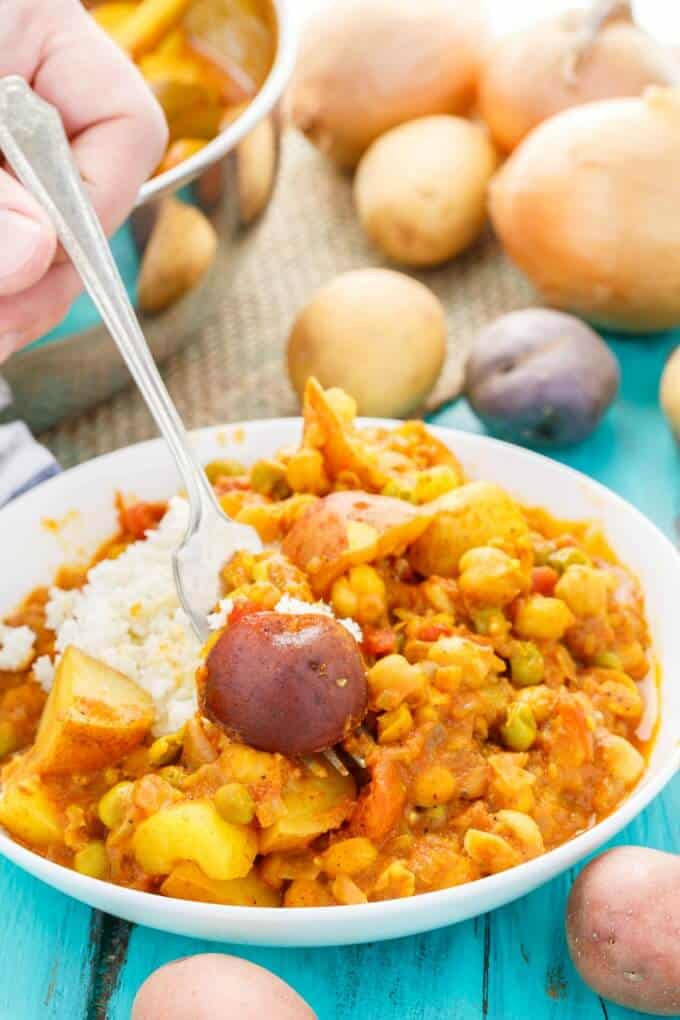 Now, cauliflower rice has been the craze for the past few years, and I fully support it! This vegan potato curry over cauliflower rice would be just as great over regular rice, but this is a New Year and people want healthy and innovative! That being said, if you don't feel like ricing your cauliflower, you could just include whole florets instead (but my family really liked the use of cauliflower rice here.)
My husband, the big rice eater, was really, really impressed with the cauliflower rice. Looks like I'll be ricing cauliflower a lot in the future... But wait! It is super easy! I used to grate the cauliflower on my cheese grater. However, my food processor is my favorite tool for ricing cauliflower! Quick, simple, and no mess! You can use either method! Innovative and cheap (because we all know those bags of already riced cauliflower are expensive.)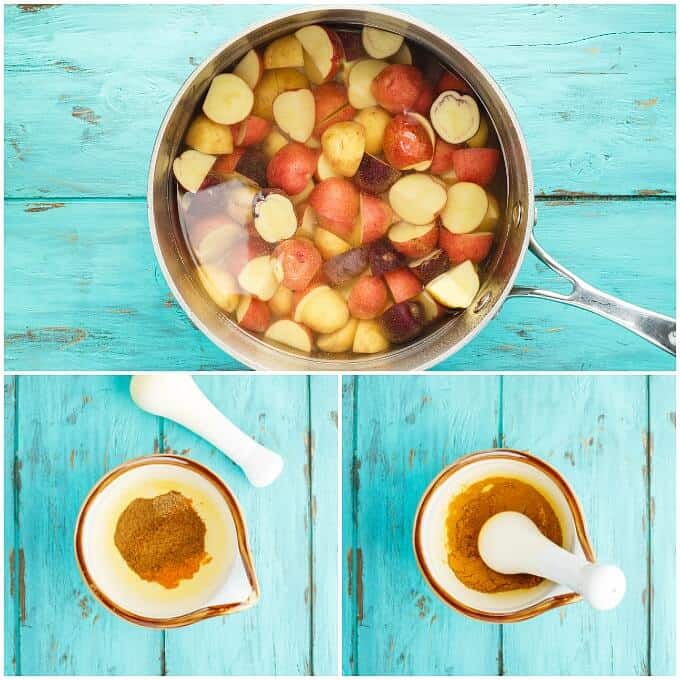 But what isn't expensive? All the varietals from The Little Potato Company! I swear by these bags, and so do my friends and family. I have brought them over to the dark side, muahaha. Okay, there are nothing dark about these potatoes at all, and if anything they are very light and refreshing. And perfect for those New Year resolutions!
How so?!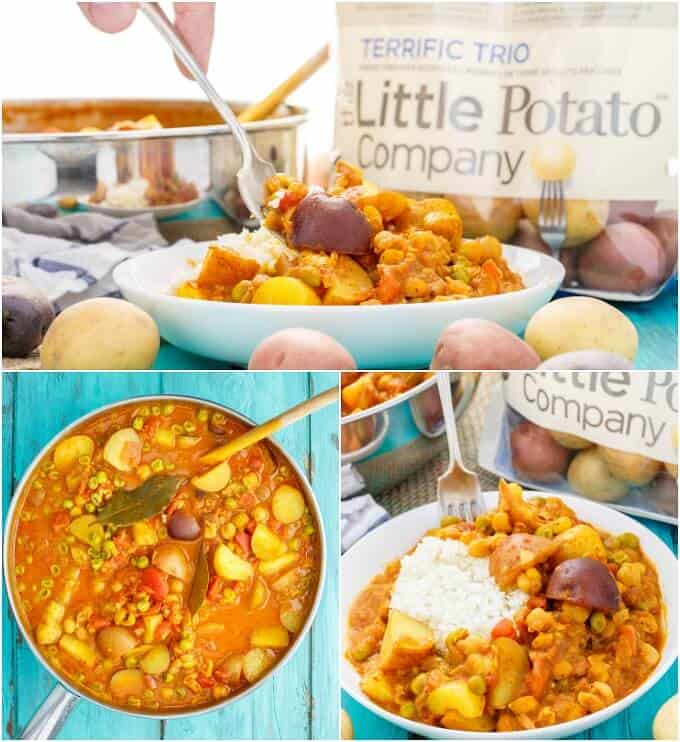 Well, as you can see in this vegan potato curry over cauliflower rice recipe, I went with the Terrific Trio varietal. I love all their products, but I chose these guys because of their color and the wide variety you get in the package. Three different varietals in one! And these Creamer potatoes are naturally fat-free, cholesterol-free, and only 20 calories each! (source.) Seriously, check out that source, because there are just so many amazing things about these potatoes that I feel I cannot do them justice!
And while you enjoy all those facts, be sure to check out more recipes on their website (or maybe enjoy my vegan potato curry!)
📖 Recipe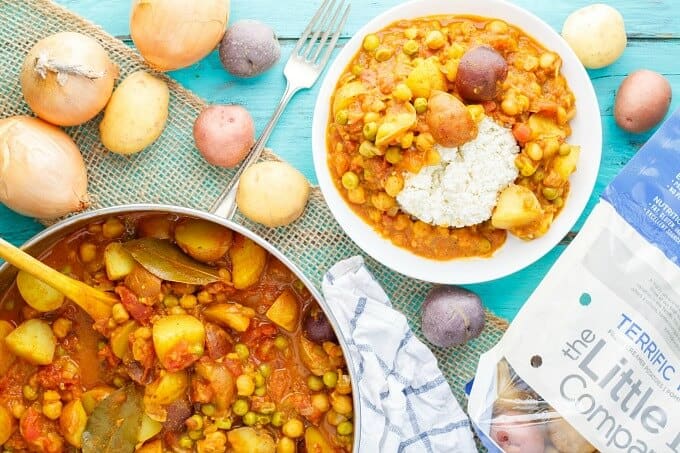 Vegan Potato Curry over Cauliflower Rice
A mild curry that is perfectly healthy for the New Year! Gluten-free, vegan, and just all-around amazing! If you like a stronger curry flavor, I suggest doubling the curry spices in this recipe!
Ingredients
1.5 lbs Little Potato Company's Terrific Trio potatoes (or your favorite varietal!)
2 tbsp. olive oil
1 onion, diced
3 garlic cloves, minced
1 tbsp. freshly minced ginger
14 oz can diced tomatoes
19 oz can chickpeas, drained
14 oz can coconut milk
2 dry bay leaves
1 cup frozen peas
Salt and pepper
1 large head of cauliflower
Curry
½ tsp. mustard seeds
1 tsp. cumin
1 tsp. ground coriander
1 tsp. ground turmeric
¼ tsp. cayenne
¼ tsp. ground nutmeg
1 tsp. garam masala
Instructions
Cut potatoes in half or quarters and place into a large pot. Fill with cold water and season with salt. Bring to a boil and cook until fork tender, 5-7 minutes. Drain and set aside.
Curry
You can use jarred sauce here, but to make your own, place a small frying pan over medium heat. Toast the mustard seeds, cumin, coriander, turmeric, cayenne, and garam masala together, pouring into a mortar and pestle. Toasting these spices takes seconds, so don't skip and remove from heat once they begin smoking! Add untoasted nutmeg to other spices.
Using your mortar and pestle, ground spices together until combined and powdery.
Cook
Add oil to a large frying pan over medium heat. When hot, stir in onions. Cook for 5 minutes. Stir in garlic and ginger. Cook for another minute or two. Stir in spice mixture. Season with salt and pepper Pour in tomatoes, chickpeas, bay leaves, and coconut milk. Bring to a boil, reduce to a simmer, and cook for 10 minutes. Stir in potatoes and peas and cook for another 10 minutes.
Cauliflower Rice
While meal is cooking, grate cauliflower on large-hole cheese grater or process in food processor until cauliflower resembles "rice." Place in a microwave safe bowl and cook for 5-7 minutes, or until tender. Season with salt and pepper.
Serve curry over cauliflower rice!
Notes
You can use your favorite jarred curry in place of the homemade version. Save time by cooking the cauliflower rice as your curry simmers! This is a MILD curry. For stronger flavors, double your curry spices. I accidentally added a 28 oz can of diced tomatoes and the recipe was still fantastic!
Nutrition Information:
Yield:

4
Serving Size:

1
Amount Per Serving:
Calories:

364
Total Fat:

8g
Saturated Fat:

1g
Sodium:

91mg
Carbohydrates:

62g
Sugar:

9g
Protein:

10g
I feel the versatility behind potato recipes is never-ending! Breakfast, side dishes, appetizers, you name it, potatoes are there. I know we will be enjoying more potatoes this year as we try to get on track for smart eating 🙂
This is a sponsored post. I was fortunate enough to receive products and monetary compensation from The Little Potato Company. Though products were received, all opinions are my own and I would not recommend a product that I did not enjoy.
Love this vegan potato curry over cauliflower rice?! Try some of these recipes: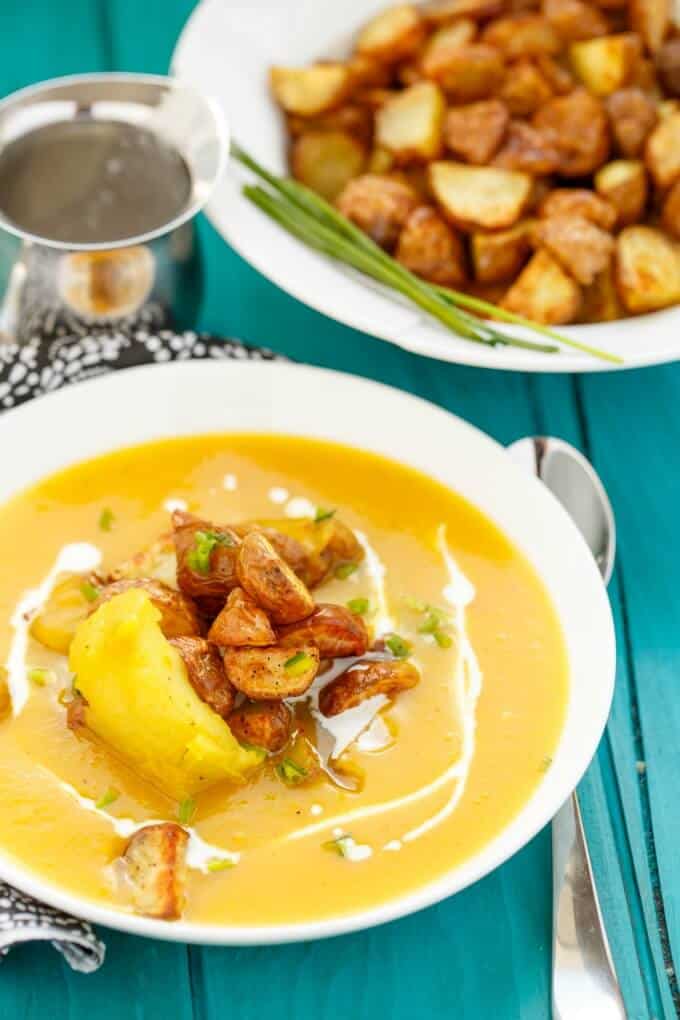 Roasted Apple Pumpkin Soup with Potatoes