Is this a new post?! It is!! I am grouping up with some awesome bloggers to share our favorite recipes and allow you to have a chance to win a KitchenAid Artisan Series 5-Qt Stand Mixer! Not only will you be able to make my gluten-free Caramilk stuffed snickerdoodles, but you get to choose your mixer color, so be sure to enter below!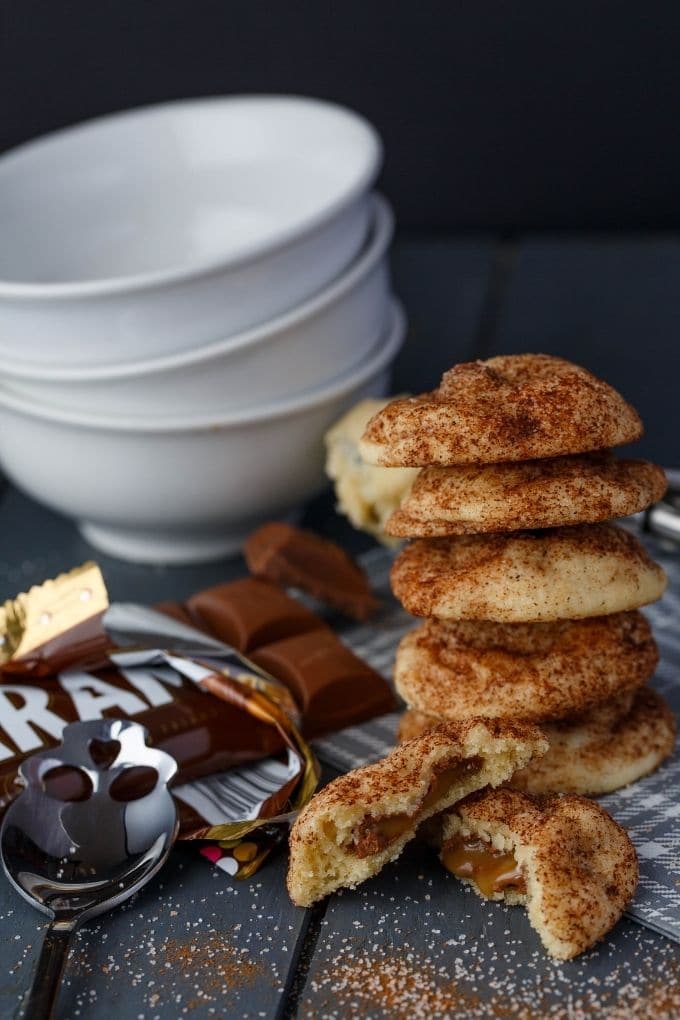 It is only November and we have had non-stop snow here!
With some temperatures reaching -22 already, I do not even want to think about January and February here in Canada!
But with the cold comes baking and it is my favorite time to do so!
A lot has happened since I took my break from blogging. The one main thing being that my husband has a gluten intolerance.
Noooooo!
Okay, it is not the end of the world but things have shaken up here. Now ALL my desserts have to be gluten-free for him to enjoy. And I do not know about you, but I can tell when desserts are gluten-free. Gluten-free flour tends to make desserts "grainy" or "whole wheaty." It is not necessarily a bad quality, and honestly my favorite carrot cake recipe is gluten-free! It is just different.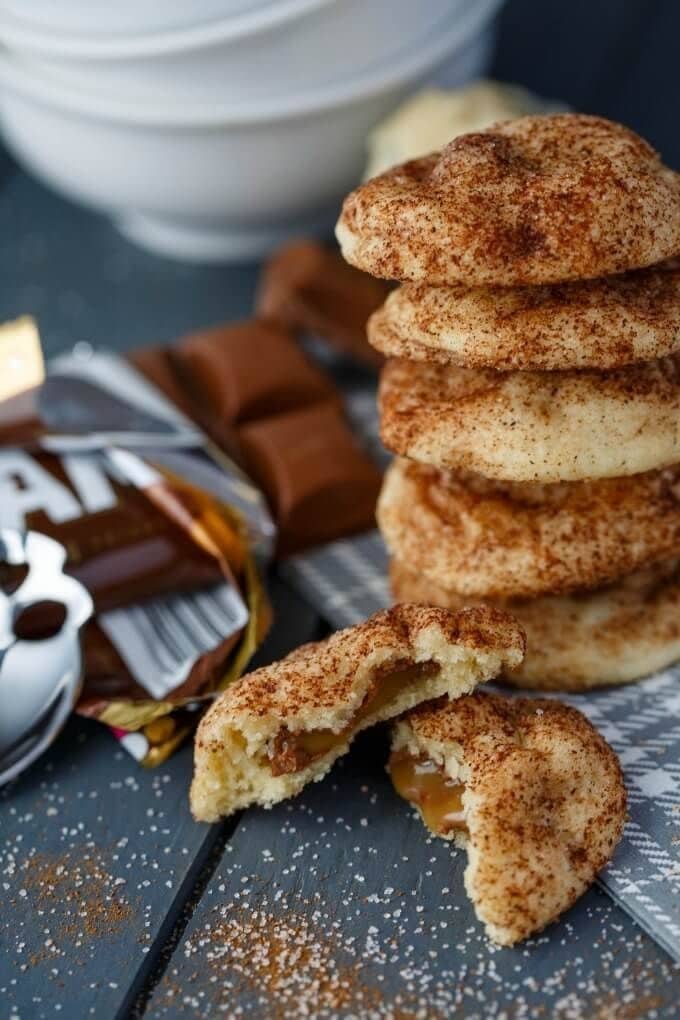 However, gluten-free cooking/baking has come a long way! Just ask my mother-in-law who has dealt with Celiac for over 10 years. So I do have some experience, and by the end of my lifetime I should be a pro 😉
Enough of that chit chat. Going to keep things brief today!
These gluten-free Caramilk stuffed snickerdoodles are easy, tasty, and perfect for your gluten-free friends this holiday season!
📖 Recipe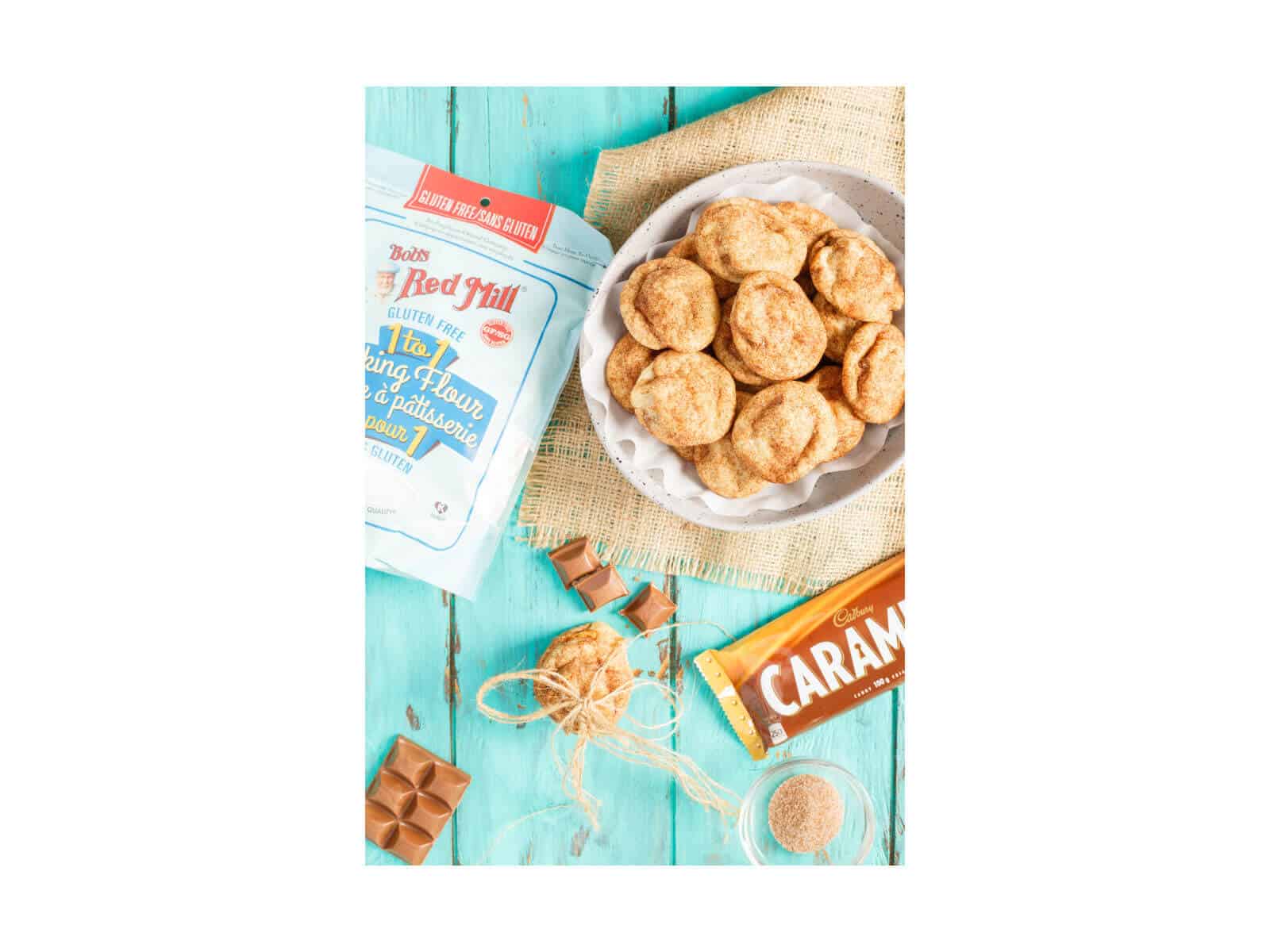 Gluten-Free Caramilk Stuffed Snickerdoodles
Don't feel left out this holiday season with your dietary concerns! These gluten-free Caramilk stuffed snickerdoodles are perfet for everyone!
Ingredients
½ cup butter, room temperature
½ cup granulated sugar
⅛ cup brown sugar
1 egg, room temperature
½ tsp. vanilla
1 ⅓ cups Bob Red Mill Gluten Free 1-to-1 Baking Flour
½ tsp. cream of tartar
½ tsp. baking soda
Pinch of salt
Topping
2 tbsp. granulated sugar
2 tsp. ground cinnamon
36-48 individual Caramilk chocolate bar pieces
Instructions
Preheat oven to 350F. Line a baking sheet with parchment paper or silicone liner.
In the bowl of your stand mixer, add the butter and sugars. Cream until light and fluffy, about 5 minutes. Mix in egg. Add vanilla and mix.
Sift together the flour, cream of tartar, baking soda, and salt in a separate bowl. Slowly add to wet ingredients and mix until JUST combined.
In another small bowl, combine the granulated sugar and cinnamon. Measure out 1 tablespoon-sized portions of dough, flatten out the best you can, add 1 Caramilk piece into the middle, fold over dough and roll into a ball. Roll in the sugar mixture. Be generous and coat entirely! Repeat until no dough remains!
Bake for 8 mins and allow to cool slightly on baking pan before moving to cooling racks.
Notes
Gluten-free baking is the opposite of regular baking (sometimes!) You want to really mix your flour well into the batter to create air bubbles as you have no gluten in the recipe. You may have to manipulate the dough a bit to fit around the chocolate pieces, but do not worry, it works!
Nutrition Information:
Yield:

36
Serving Size:

1
Amount Per Serving:
Calories:

104
Total Fat:

5g
Saturated Fat:

3g
Trans Fat:

0g
Unsaturated Fat:

2g
Cholesterol:

14mg
Sodium:

51mg
Carbohydrates:

12g
Fiber:

0g
Sugar:

9g
Protein:

1g