While this sage butter round roast with Creamer potatoes is a great holiday meal, The Little Potato Company and myself plan to show you that this comfort meal is great during the super cold months! #Creamerpotatoes
This is a sponsored post. I was fortunate enough to receive products and/or monetary compensation from The Little Potato Company. Though products were received, all opinions are my own and I would not recommend a product that I did not enjoy.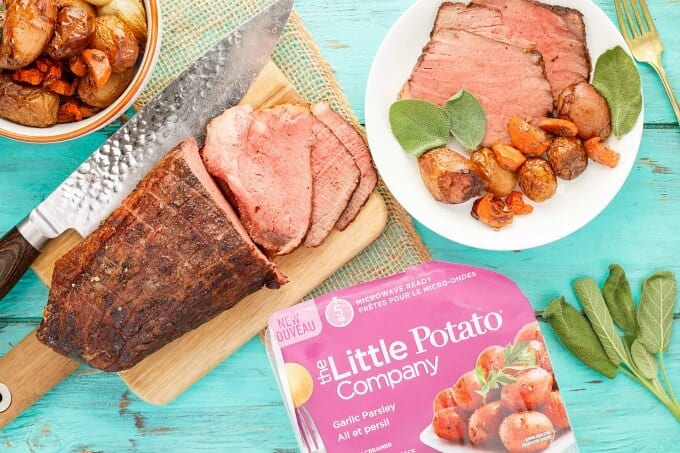 I find January is the middle ground to winter.
You get some colds day, but you also get some nice days.
February, on the other hand, is always AWFUL! -22 temps in the morning, making me dread not only the walk to the bus stop, but Rex's dog walk as well! Usually we have to cut our distance back as the cold, salty ground is not nice on his feet (he sometimes takes a dive halfway through our walk for me to remove the salt from his paws!)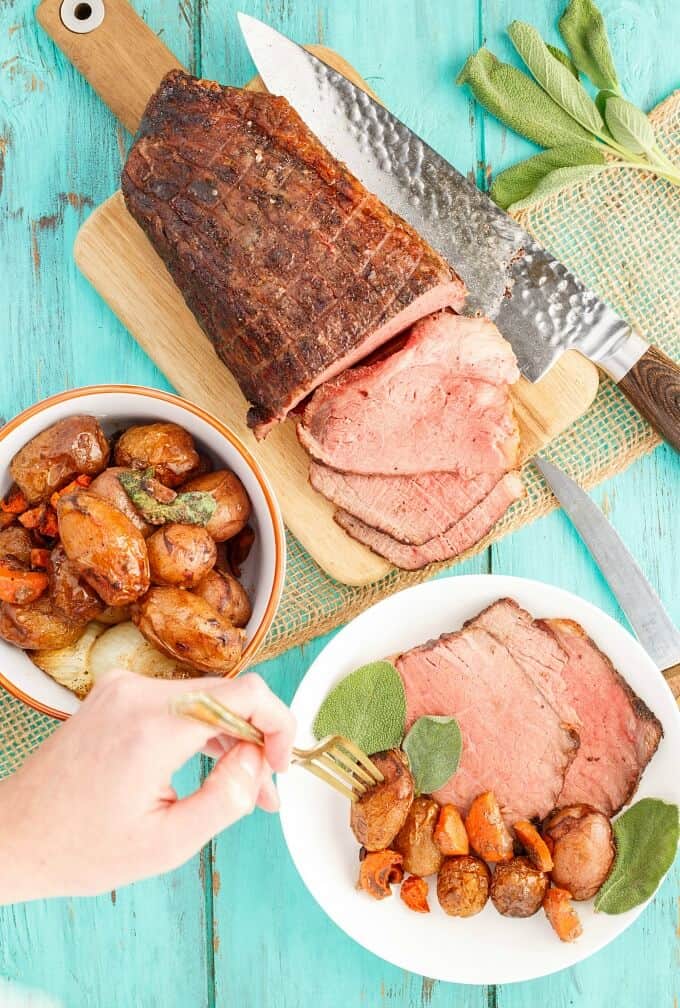 That being said, nothing beats comfort foods during the cold months, especially my latest from The Little Potato Company: Sage Butter Round Roast with Creamer Potatoes!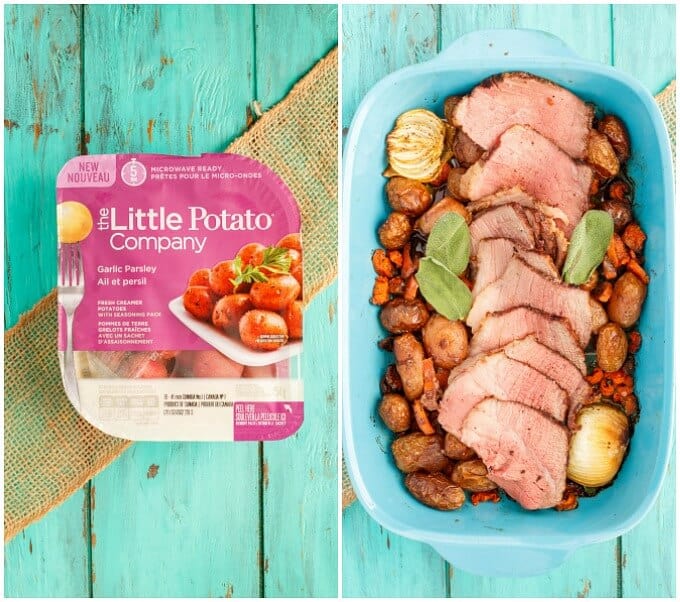 I really do appreciate one-pot meals. Sure, we are heating up our Creamer potatoes in the microwave beforehand, however, you really are not making more dishes as The Little Potato Company provides the cooking tray for your potatoes! That's right: today I am showcasing their Microwave Ready product. I used the Garlic Parsley flavor, but many of their other flavors will work here, too. I LOVE the new packaging for this line: it's fresh Little Potatoes in kits where all you have to do is heat and stir!
Colorful, bright, and let's be honest, both kids and adults are attracted to pretty things, and The Little Potato Company hit the nail on the head here!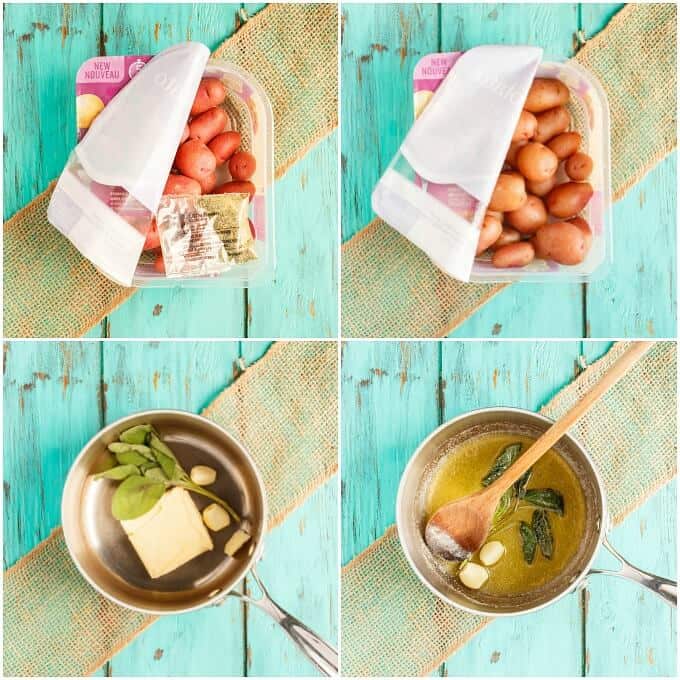 For this sage butter round roast recipe, you can also use any of their other varietals, and just heat them in a microwave-safe bowl. But I have to say, the seasoning packet that comes inside these Microwave Ready packages is super handy! I tend to use spices from my cupboard, however, the seasoning packs are really flavorful! Some nights I will just heat up one of their Oven Ready packages with some veggies and ranch sauce (no judging!!) and enjoy it as my dinner 🙂
The perfect vegetarian snack!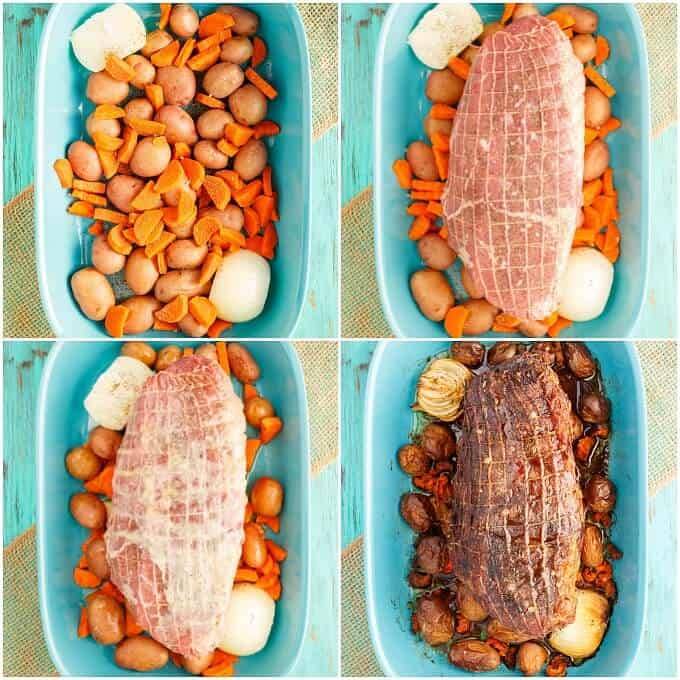 While the Oven Ready packages are great on their own, I do find that the Microwave Ready packages are perfect to use in recipes like today's sage butter round roast. The Microwave Ready package takes only 5 minutes to cook in the microwave. Meaning, you can quickly prep the rest of your meal and pop this into the oven in no time! The potatoes will crisp up as they cook with the roast.
The Oven Ready packages take about 30 minutes, which is still awesome as there is no prep! I just like saving those ones for meals where I won't be roasting much else. Roasted potatoes are my favorite method so these products are seriously AMAZING!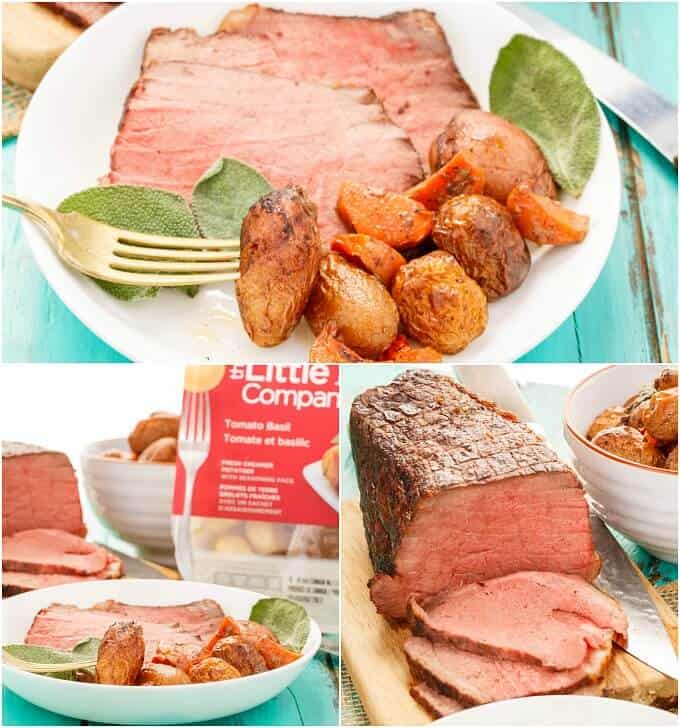 So remember: you can use either the Microwave Ready packages or any other bag varietal. If you decide to use the seasoning mix that comes in the package, it will just add more flavor to the dish!
📖 Recipe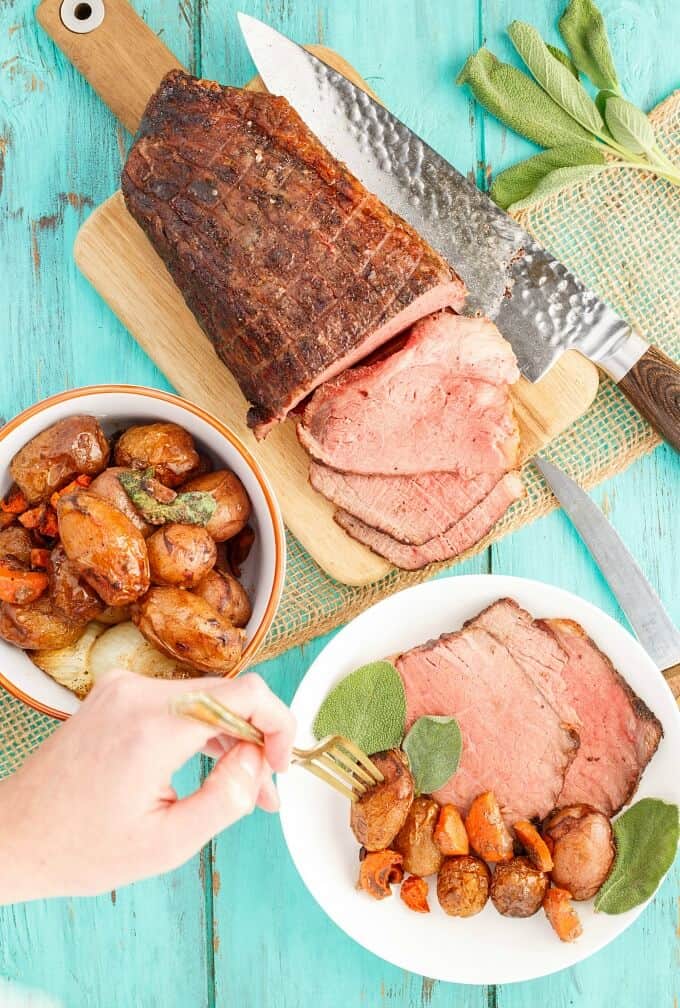 Sage Butter Round Roast with Creamer Potatoes
Basically a one-pot meal that uses The Little Potato Company's Microwave Ready packages! This sage butter round roast is great any day of the year as it makes for wonderful comfort food!
Ingredients
3 ¼ lbs beef round roast
454 g box of The Little Potato Company's Microwave Ready Potatoes (I used Garlic Parsley) OR 1 lb of your favorite Creamer potatoes
1 large carrot, peeled, halved lengthwise and sliced ½ inch thick
1 large onion, halved
Sprig of fresh sage leaves (about 5-7 leaves)
¼ cup salted butter
2 whole garlic cloves, paper removed
Salt and pepper
Instructions
Prepare potatoes by following directions on packaging. You can choose whether to use seasoning package or not (I skipped this time around!)
Place carrots into a microwave safe bowl and cook for 5 minutes.
Preheat oven to 450F.
While potatoes and carrots are microwaving, add butter, sage leaves, and garlic to a small saucepan over medium heat. Once bubbling, cook for 3-4 minutes, stirring frequently so nothing burns.
Add potatoes, carrots, and onion into a large baking dish. Season with salt and pepper.
Add roast on top of veggies. Pour sage butter over roast, burying garlic under roast so it does not burn in the oven, and discarding sage leaves.
Place pan into oven, uncovered, and cook for 20 minutes. Reduce heat to 300F and continue cooking for another 1 hour. Check internal temperature. 125F yields a rarer centre, 135F is about medium rare, and 145F will yield a medium centre. I needed another 20 minutes for to achieve 125F.
Cover pan loosely with aluminum foil and allow to rest for 20-30 minutes before slicing thinly and serving!
Notes
You can easily double up the potatoes with no effect of cook time in this recipe. Discard any sage leaves as they are not pleasant to chew on (but you draw out a lot of their flavor when making the sauce.) If you want more of a well-done cut of meat, add 10 minutes of cook time and check internal temperature until your desired "done-ness" is achieved (continuing adding on 10 minutes at a time so you don't overcook the meat!)
Nutrition Information:
Yield:

4
Serving Size:

1
Amount Per Serving:
Calories:

565
Total Fat:

23g
Saturated Fat:

12g
Cholesterol:

193mg
Sodium:

281mg
Carbohydrates:

24g
Sugar:

1g
Protein:

81g
This is a sponsored post. I was fortunate enough to receive products and/or monetary compensation from The Little Potato Company. Though products were received, all opinions are my own and I would not recommend a product that I did not enjoy.