Just before the cool weather really hits, I want to share with you my newest addiction: apple mojitos! Great with or without alcohol, and the perfect beverage to represent autumn!
As everyone knows, I LOVE mojitos!
Cool, refreshing, and so easy to make! Everyone says mint is a weed (and I totally understand: it spreads like crazy in the garden.) However, I can never keep mine alive!! #Cursed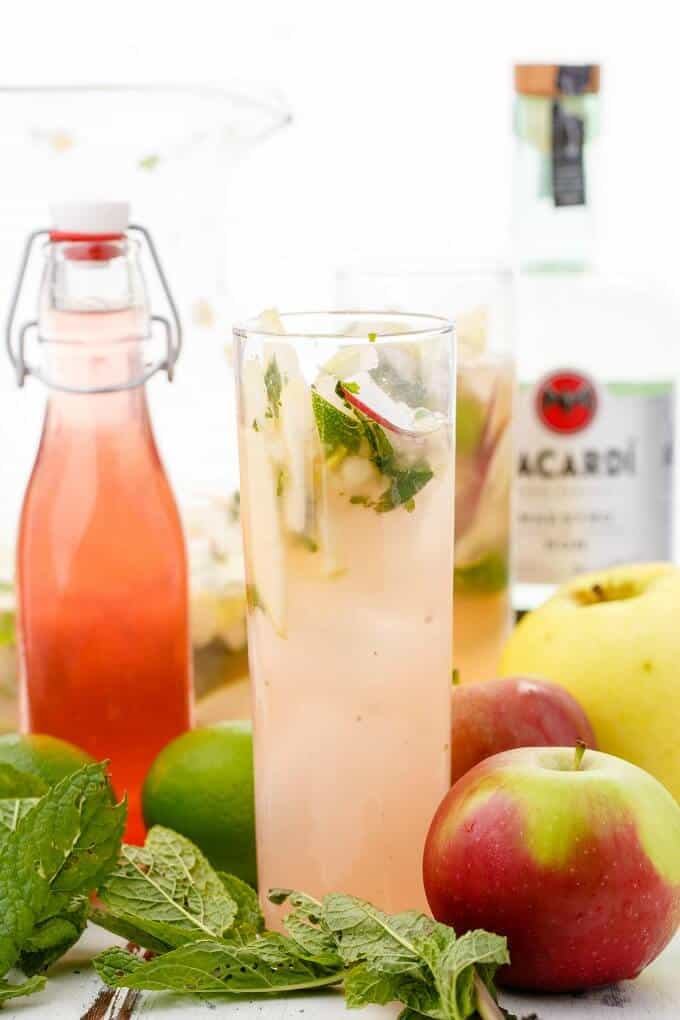 To be honest, I originally photographed these apple mojitos back in September when I was preparing my fall recipes. Since then I have completed another photography workshop and now feel iffy about these pictures (which I originally loved!) Since I make mojitos so often, it would not come as a surprise if these photos are updated in the next few weeks 😉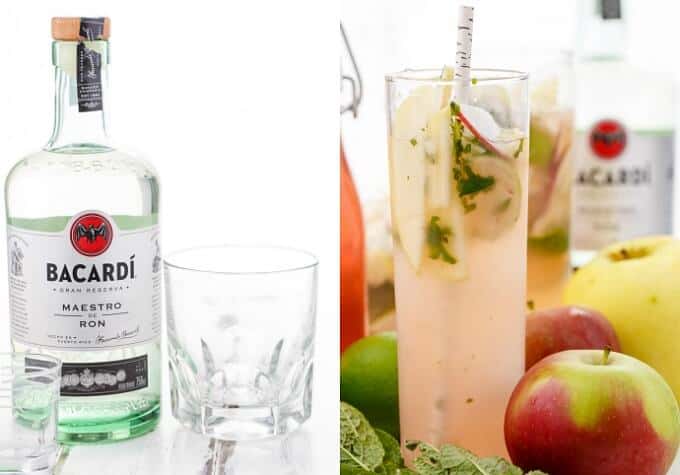 Photography woes aside, I am happy November is here! Christmas is closing in (gasp! First mention of Christmas already!!) Baking season is upon us, and I cannot wait to see what everyone is whipping up! It is that time of year!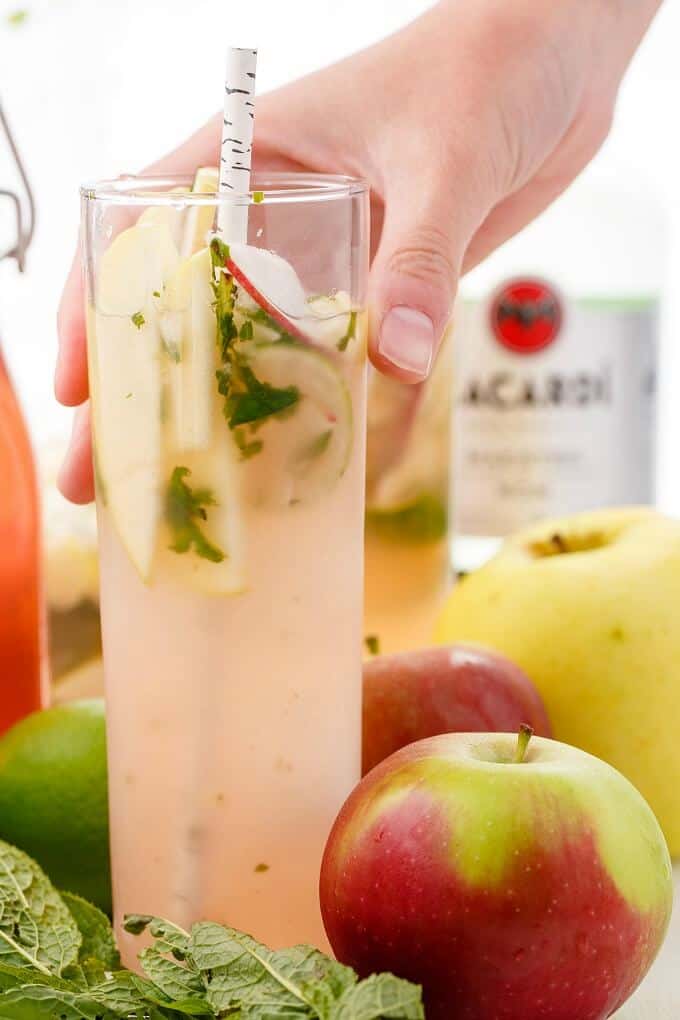 These apple mojitos differ from my fresh apple whiskey sour recipe. Obviously they are two different drinks 😉 What I mean is that in the fresh apple whiskey sour recipe, I pureed fresh apples to give the beverage thickness. Apple cider, apple juice, or apple sauce would all possibly work, too. With mojitos, I prefer to keep the fruit intact. Not only does it make the beverage prettier, the fruit sits in the liquids and almost "marinades" so that all the flavors blend into the drink. You still have to muddle the fruit a bit, but in the end we are not working with a puree!
Really, any apple type will do here that you are okay with eating raw 🙂 Red delicious for a sweeter take, or perhaps a golden delicious (another favorite of mine!) Tart apples would be amazing here because of the sugar ratio in the drink! So play around and have fun! Ontario has many amazing apple varietals so it is never a dull moment here 🙂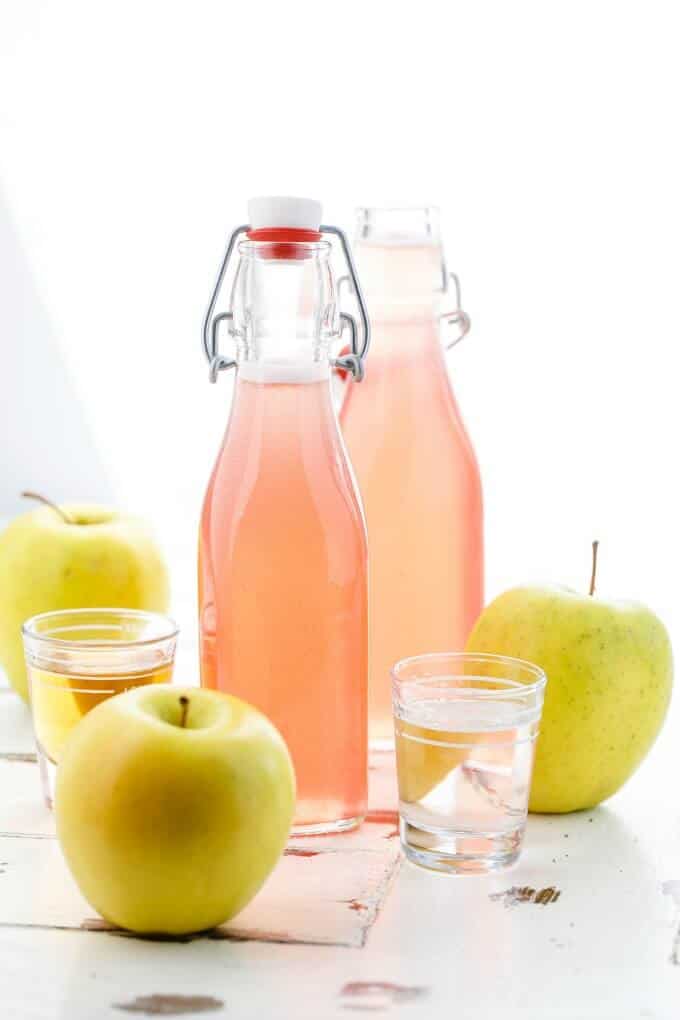 Crud! In all my yapping I forgot to mention the homemade apple-infused simple syrup! It really is a game-changer! You can buy store-made simple syrup but I highly suggest otherwise. It is literally two ingredients and takes under 10-15 minutes to make. Seriously. My apple-infused creation is a bit more work, so you can go basic, but I am not kidding: DO NOT PAY FOR SIMPLE SYRUP!!
📖 Recipe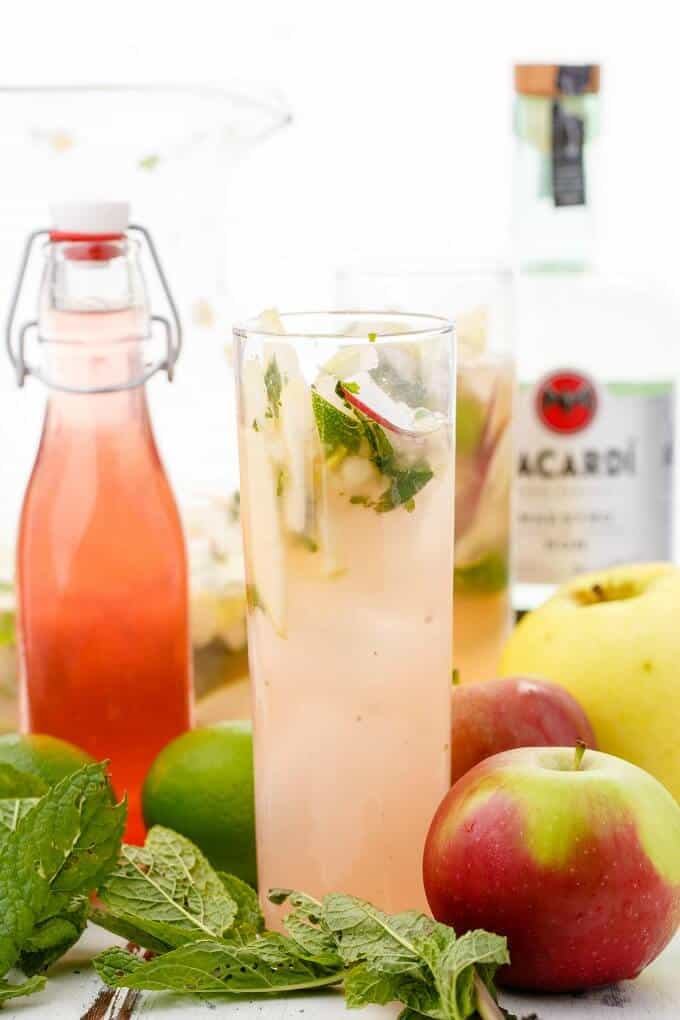 Apple Mojitos (Apple-Infused Simple Syrup)
If you don't have time to make the apple-infused simple syrup, regular simple syrup is perfectly fine! You can always add more apples 🙂
Ingredients
1 lb fresh apples, sliced thin (reserve some for garnish if desired.)
1 cup white rum (omit for alcohol-free recipe)
1 bunch (30 grams) mint leaves, removed from stems
2 limes, sliced into wedges
3 cups club soda
Instructions
Add limes and mint to a large pitcher. Using a muddler, crush limes until all juices have been released. Stir in apples and muddle some more.
Pour in simple syrup, club soda, and rum. Mix until combined (you can muddle the apples a bit more to break them down if desired.) Add more apples if desired!
Serve over ice in tall glasses!
Notes
I like to add additional apple slices to make the drink prettier 🙂 You can never have too many apples! Mojitos are okay to chill throughout the day, but if you are going to chill overnight, remove the added ingredients as the lime rinds will make the drink bitter if they sit too long.
Nutrition Information:
Yield:

1
Serving Size:

1
Amount Per Serving:
Calories:

132
Total Fat:

1g
Saturated Fat:

0g
Trans Fat:

0g
Unsaturated Fat:

0g
Cholesterol:

0mg
Sodium:

2mg
Carbohydrates:

24g
Fiber:

1g
Sugar:

21g
Protein:

0g
Love these apple mojitos?! Try some of these recipes: