Talk about the ultimate birthday treat for both adults and children! This Giant Chocolate Chip Cookie Ice Cream Sandwich is so fun and colorful that surely no one will be disappointed!
I'm so excited to show you my daughter's birthday dessert!
Each year I make a cake for her. My goal is to always make her birthday dessert and I am happy to say so far, so good 🙂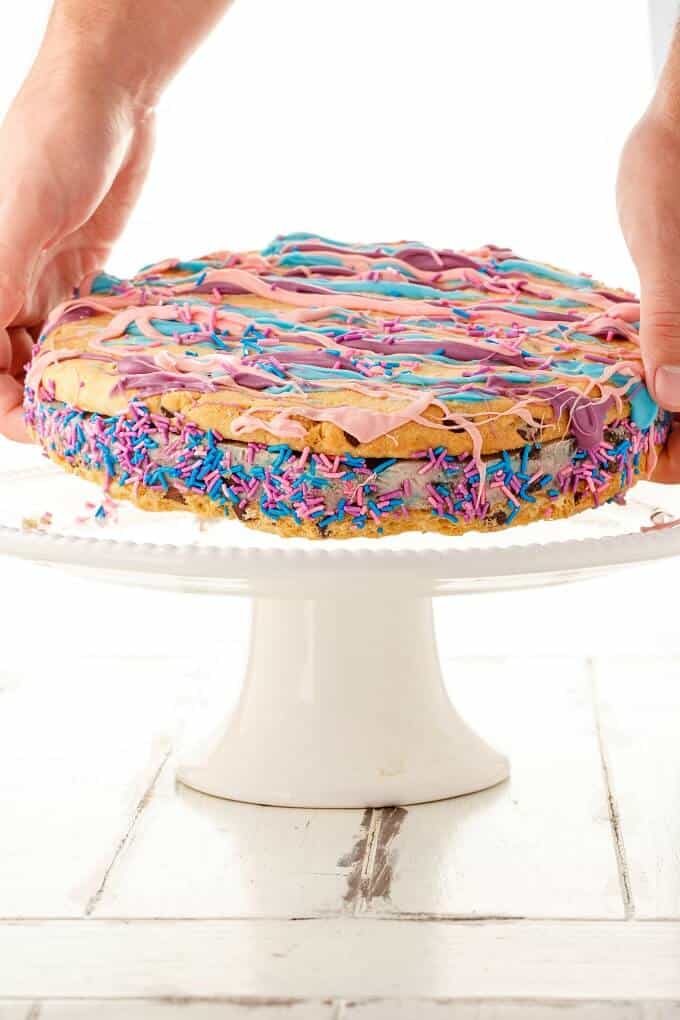 I threw her off this year. She usually gives me three birthday cake ideas/themes. And she did the same this year, however, when I heard her mention an ice cream cake, I knew I could get creative!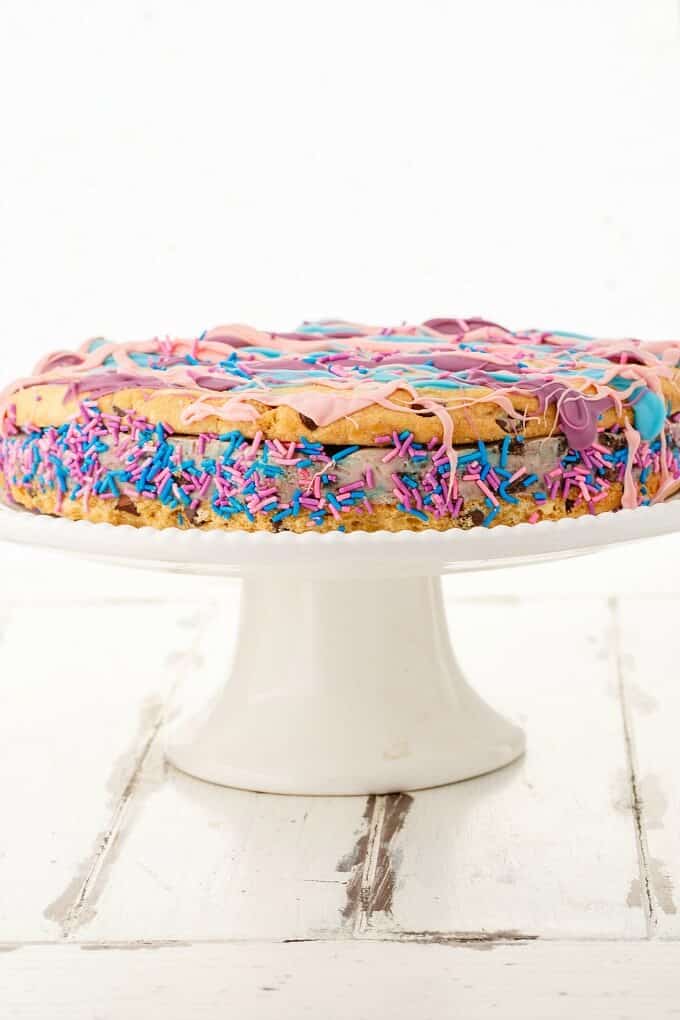 This giant chocolate chip cookie ice cream sandwich didn't turn out as expected, but that is a good thing! It turned out way better than I could have imagined!
Bright colors, somewhat girly, and it fills the theme: ultimate birthday dessert!!
Now, this dessert looks like a lot of work, but I assure you it is not! And it is really easy! You can make it even simpler by using store-bought ice cream, but where is the fun in that when it comes to ice cream flavors?! Then again, ice cream brands have been getting more and more creative with their flavors 🙂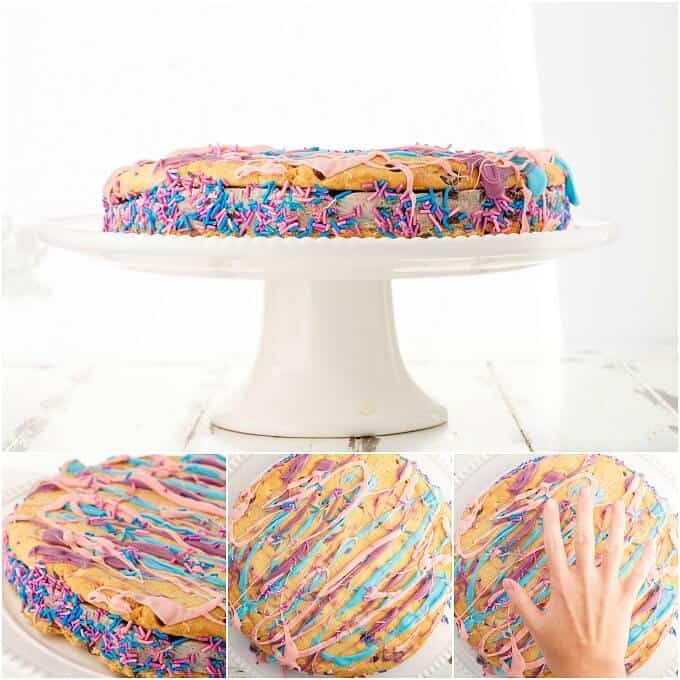 The giant cookie is my standard chocolate chip cookie recipe, and the filling is my Oreos cookies and cream ice cream. (If you take a look at my giant fudge stuffed cookie recipe, I have a video that walks you through some important steps such as forming the big cookies.) I went this route because my daughter absolutely loves this ice cream flavor and I never have it sitting around because I eat the box of Oreos before it makes its way into the ice cream... Does that make me a bad mom?! I mean, I am saving her from all that sugar, lol.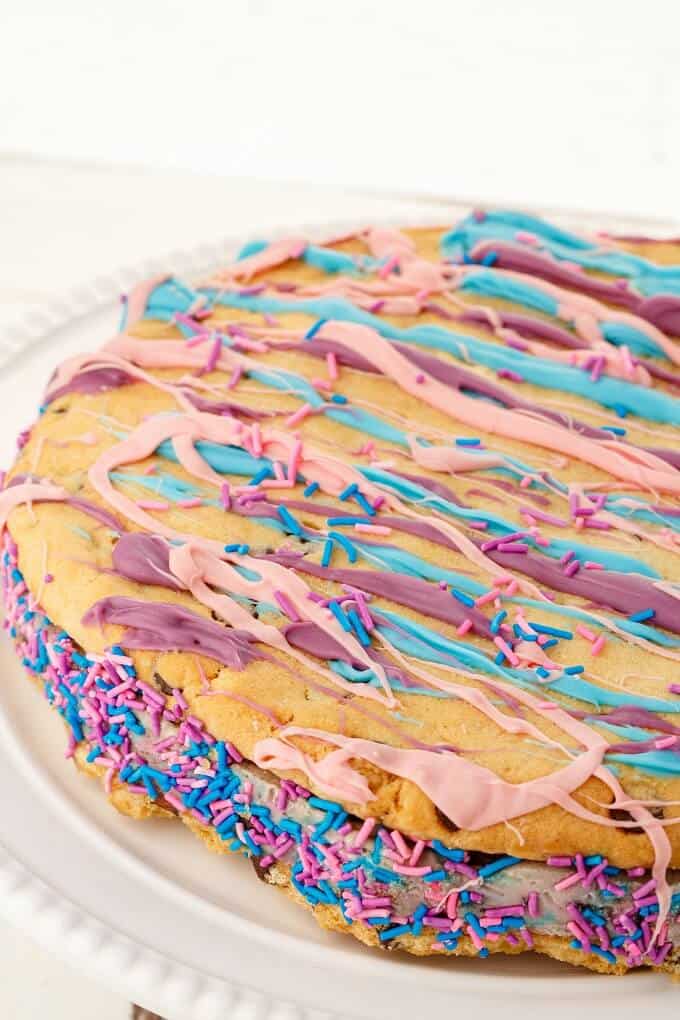 As for the decorative touches, I bought all my sprinkles, candy melts, and chocolate chips from Bulk Barn. I love going to this store because they always have such fun, decorative items! So much candy, chocolates, nuts, you name it. Not to mention the billion different flour types, etc. My dad always complains how expensive it is in there, but I have nooooo issues 🙂
If you don't need a giant chocolate chip cookie ice cream sandwich (who doesn't?!), no worries! Make regular-sized cookies and come out with little ice cream sandwiches 🙂
And on a final note, besides enjoying this giant chocolate chip cookie ice cream sandwich, my daughter began her own tradition and made me a birthday cake! Since our birthdays are only a day apart, I tend to spend my birthday working on her dessert. Not this year! And she did a great job! Mr. TCW helped trace some letters out with a toothpick but she did a great job with the piping bag. Cannot wait for my next birthday now!
📖 Recipe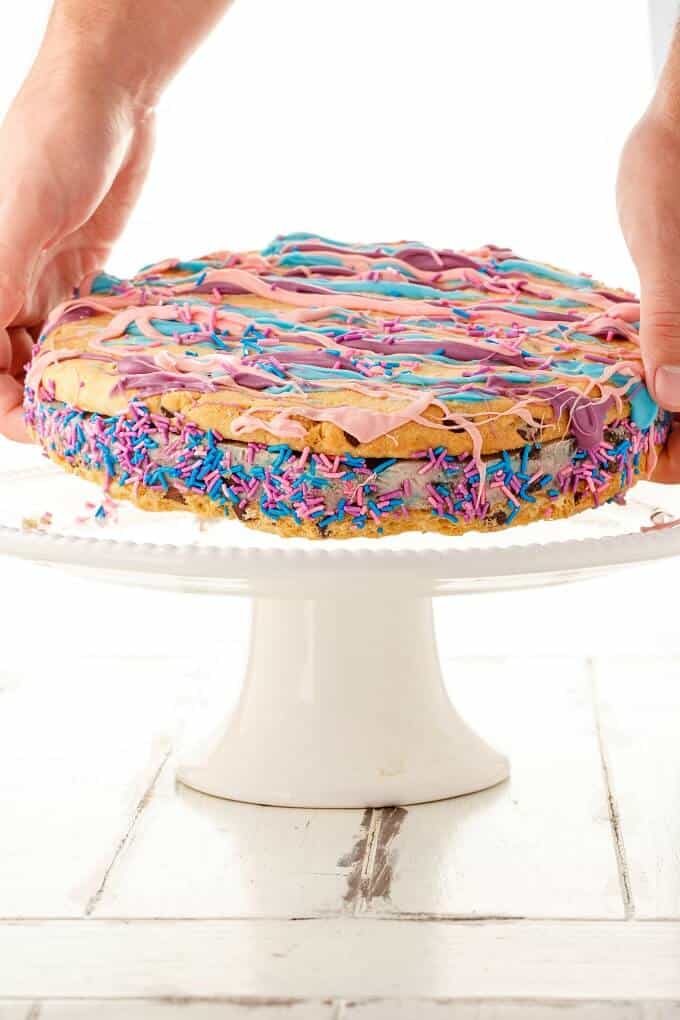 Giant Chocolate Chip Cookie Ice Cream Sandwich
Total Time:
1 hour
5 minutes
Store-bought cookie dough and ice cream will work just as well, but you can get so creative making your own!
Instructions
Prepare Oreo ice cream at least one day in advance. Prepare cookie batter according to directions but DO NOT cook or shape into small portions.
Preheat oven to 350F. Line baking sheet with silicone liner or parchment paper.
Form cookie dough into a giant ball and cut in half. Flatten and shape into equal portions (it is okay if they are a bit off: we can trim them later.)
Place into oven and bake for 25-30 minutes, or until lightly golden.
Allow to cool on cookie tray. Repeat with second cookie portion.
Assembly
Allow ice cream to sit out until softened and easy to work with (not melted!!)
Flip one section of cookie so it is upside down. Place onto baking sheet. Spread ice cream over the cookie (trying to get close to the edge but not overly so.) Place other cookie on top (it will help spread the ice cream to the very edge: maybe even over the sides.)
Immediately transfer to freezer.
Once solid, remove and trim if necessary (my top cookie slid a bit so we had to trim.)
Using a pastry brush, wet all the edges of ice cream around the sides. As you wet the sides, push sprinkles over top so they stick. Continue until everything is covered (my husband helped me!)
Melt candy melts in microwave. Use a spoon and drizzle over top of the cookie. Finish off with extra sprinkles if desired.
Return to freezer until hardened. If not serving right away, wrap well in plastic wrap. When ready to serve, allow to sit out a bit at room temperature to make it easier to cut.
Notes
This feeds A LOT of people! Make sure the cookies are completely cool before moving them (and before you add the ice cream or else it will melt!)
Nutrition Information:
Yield:

10
Serving Size:

1
Amount Per Serving:
Calories:

78
Total Fat:

4g
Saturated Fat:

2g
Trans Fat:

0g
Unsaturated Fat:

2g
Cholesterol:

5mg
Sodium:

32mg
Carbohydrates:

11g
Fiber:

0g
Sugar:

8g
Protein:

1g
Love this giant chocolate chip cookie ice cream sandwich?! Try some of these recipes: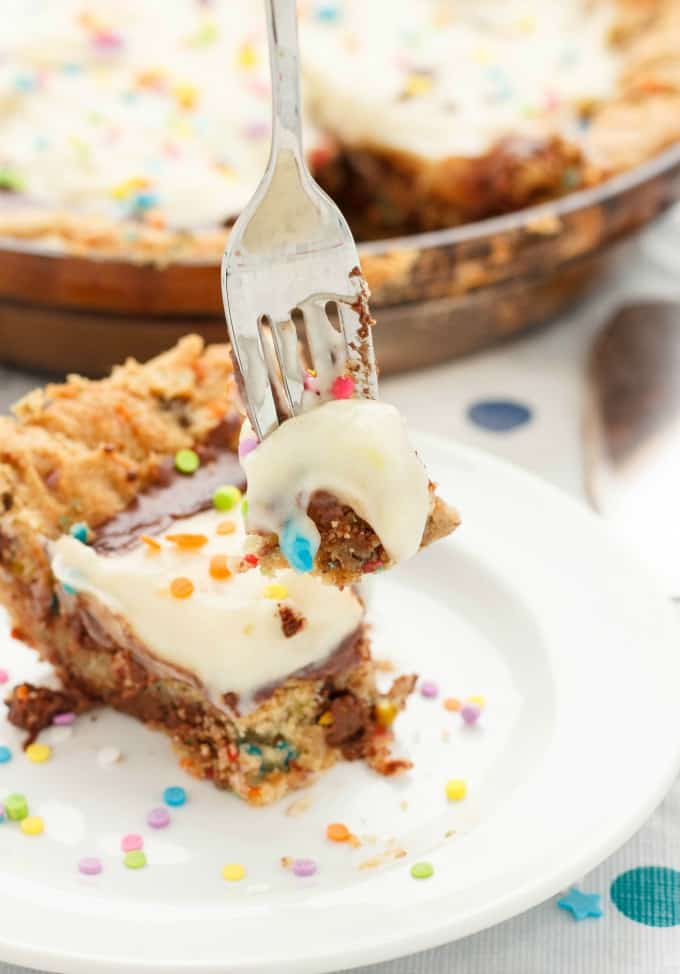 Birthday Cake Cookie and Pudding Pie