Welcome back to Dairy Farmers of Canada's #CanadianCheese of the month club! Today's Cheesy Broccoli-Cauliflower Risotto uses a cheese from Manitoba, and it will surely knock your socks off! We have never had a cheese like this one!
This is a sponsored post. I was fortunate enough to receive products and/or monetary compensation from Dairy Farmers of Canada. Though products were received, all opinions are my own and I would not recommend a product that I did not enjoy!
Hey everyone!
I'm back with our latest Dairy Farmers of Canada's #CanadianCheese reveal 🙂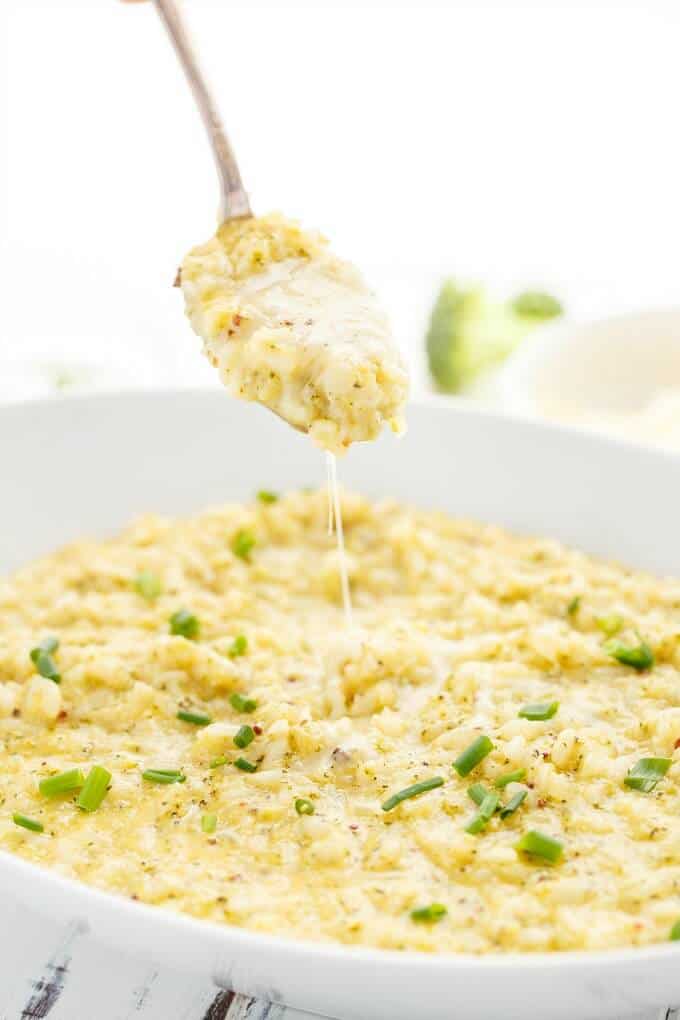 Today's cheesy broccoli-cauliflower risotto uses our first prairie cheese in this campaign: Black Truffle from Bothwell Cheese located in New Bothwell, Manitoba!
When it comes to risotto, Parmesan is the star. However, over the years people have become comfortable using other types of cheeses. Personally, I find that you just want something bold, maybe on the saltier side, and something that will not become lost in the dish.
So when we sliced into Black Truffle for the first time, both my husband and I immediately said: risotto!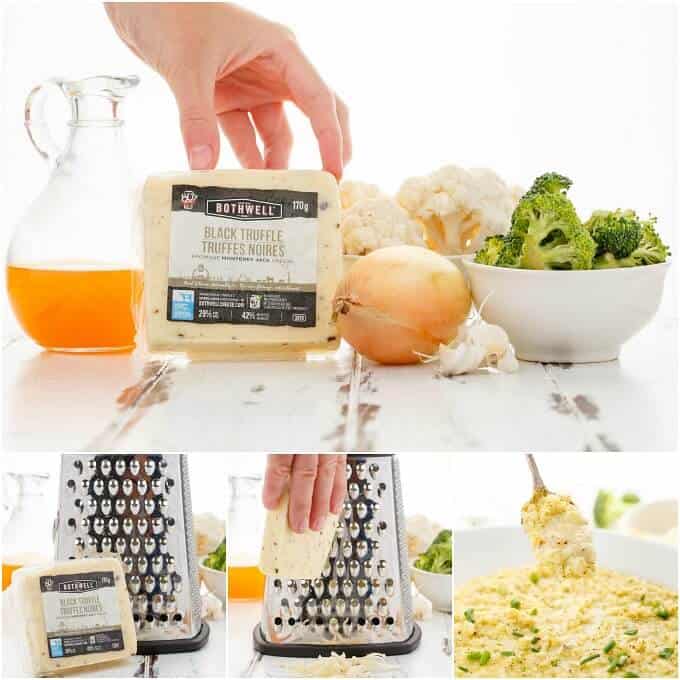 Black Truffle is BOLD! It is a Monterey Jack cheese with pieces of Italian Black Summer Truffles blended throughout. My husband said it was garlicky in flavor, and I have to agree in a way, but it was the aftertaste that stood out the most. Almost sweet. I really do not know how to describe the flavors here as they were so good, and so rewarding, that maybe my brain just went into a trance! All I know is that this cheese is now my go-to for risotto!
With a combination of earthy, complex flavors, Black Truffle stands out remarkably well in this cheesy broccoli-cauliflower risotto. And that is a big plus in my books because the last thing you want to do is mask this Canadian cheese! Especially with all the pride and care that goes into making it!!
Bothwell Cheese began in 1936 as a co-op of dairy farmers in New Bothwell, Manitoba. To this day they believe that the highest quality standards create the best tasting products. And rightfully so, as you can tell immediately from the first bite of Black Truffle that this is unlike any other cheese.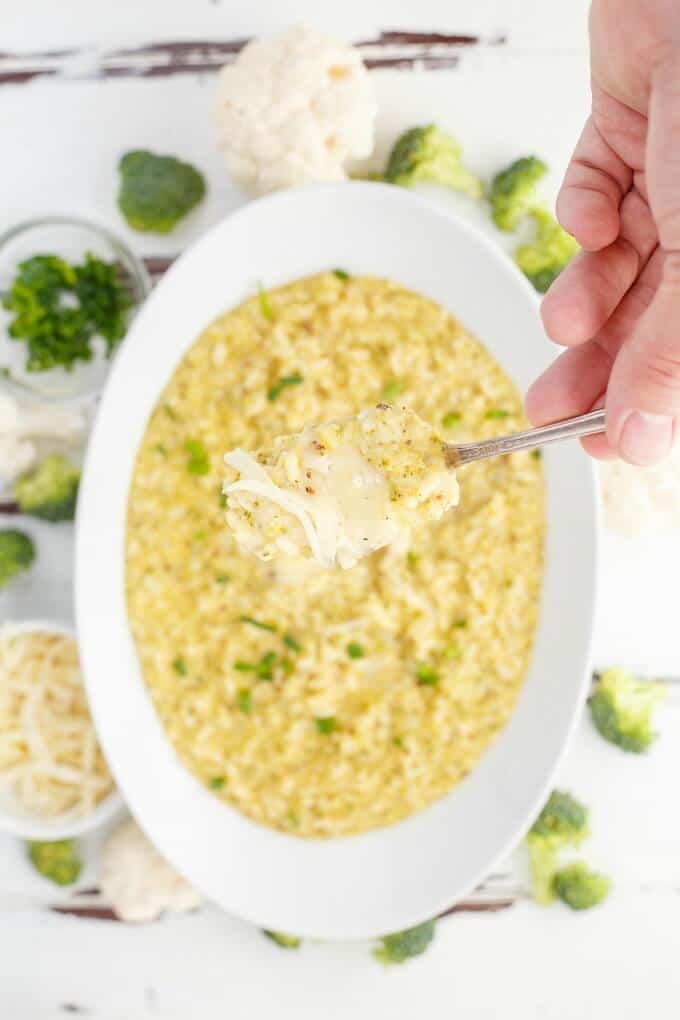 Story time!
Every year for my birthday we go to my favorite fancy restaurant. The owner uses locally grown produce, with imports coming from Italy (specifically their cheese.) He actually tried my Dark Chocolate Blue Cheese Ice Cream (using another Canadian Cheese) and really enjoyed it! I always get dishes that use fresh cheese because, well, I LOVE cheese!! That being said, I feel I have tried a lot! However, this year, we didn't go to Chanterelle for my birthday. Nope, instead we made our own risotto at home using Black Truffle and both my husband I agree that this risotto trumps theirs (don't hate me!!) Yes, they use high-quality European cheeses, but our latest Canadian Cheese won us over BIG TIME. I have no doubts in my mind that this cheese would win over the hearts of many and have people realize that Canadian Cheese is better than even the most sophisticated European cheese 🙂
Real people stir, measure, weigh, package—and yes, cut—the cheese. (Source from Bothwell Cheese)
Bothwell Cheese uses 100% Canadian Milk for all their cheese products, sourcing the hormone free milk from local dairy farms ensuring optimal freshness. No antibiotics, no preservatives, no artificial colors, no fillers, and no additives. My favorite tidbit? They pride themselves on the team of people creating each batch of cheese and taste each batch to ensure the cheese is perfected and authentic in flavor. How awesome is that?! Seriously, it makes me love #CanadianCheese and Canadian Dairy Farmers so much. Just one bite of Canadian cheese will tell you a story 🙂
Since Black Truffle is a semi-soft, it makes for a great fondue cheese. And since it melts so well, it works perfectly in our broccoli-cauliflower risotto! Did you know risotto gets all its creaminess from cheese? Yup! No milk or cream (though some do add these extra fine ingredients.) The cheese does all the work! With the addition of raw, riced cauliflower and broccoli, you may use a bit more stock than you usually do but you are still rewarded with an awesome, creamy risotto!
📖 Recipe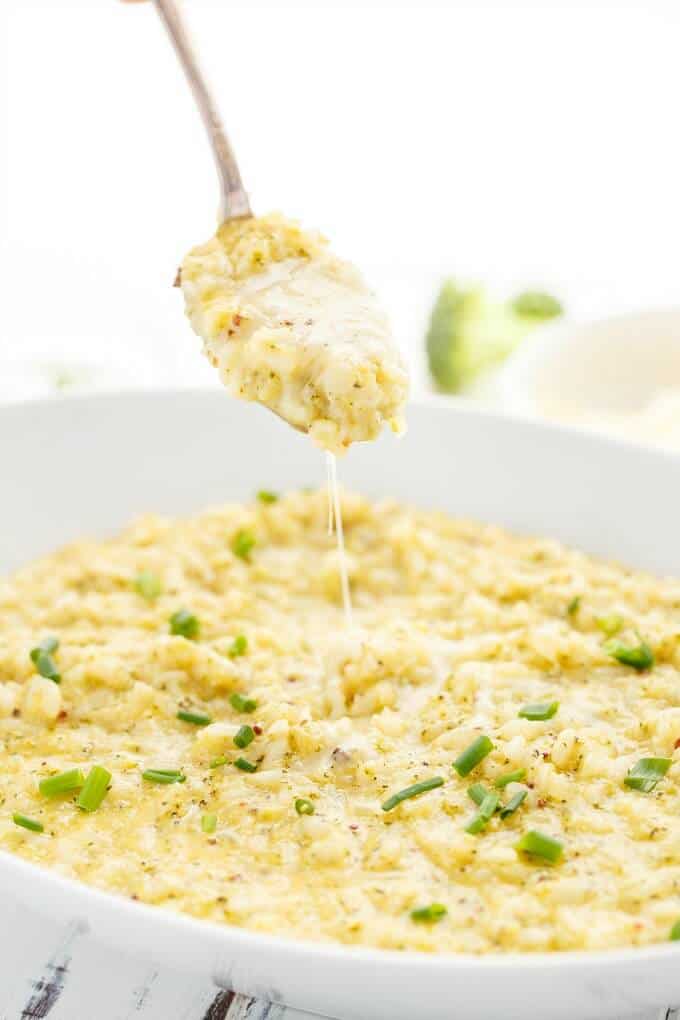 Cheesy Broccoli-Cauliflower Risotto
Risotto makes for a great appetizer, side, and main dish!
Ingredients
6 cups simmering vegetable broth
3 tbsp. butter, divided
1 small onion, diced
1 garlic clove, minced
5 oz cauliflower, riced (you can use a cheese grater or a food processor to achieve this.)
4 oz broccoli, riced
1 cup Arborio rice
½ cup grated Black Truffle Monterey Jack cheese
Salt and pepper
¼ tsp. crushed red pepper flakes
½ tbsp. coarse whole grain mustard
¼ cup white wine
Chopped chives for garnish!
Instructions
I mix my coarse mustard into the simmering broth so it disperses evenly.
Add two tablespoons butter to a sauté pan, melting over medium-high heat. Add the onion and cook until translucent and tender, about 3 minutes. Season with salt, pepper, and chili flakes.
Add garlic and cook for 1 minute.
Pour in the rice and cook for a good couple of minutes. Carefully pour in white wine. Lots of steam will appear as the liquid touches the pan. Quickly stir the bottom of the pan with a spatula so you can get all the nice brown bits up.
Pour in one ladle of broth at a time, stirring until almost all of the liquid is gone before you add the next amount. After the 4th ladle, stir in broccoli and cauliflower. Continue adding broth until desired consistency is reached (I like a bit of bite to my risotto: think al dente.)
Stir in the cheese and mix until it is melted. Stir in last tablespoon of butter.
Serve immediately with chives if desired!
Notes
Make sure your broth is at a good simmer because cold/warm broth won't cut it for risotto! Don't pre-rinse your rice!
Nutrition Information:
Yield:

2
Serving Size:

2
Amount Per Serving:
Calories:

458
Total Fat:

23g
Saturated Fat:

14g
Trans Fat:

1g
Unsaturated Fat:

7g
Cholesterol:

58mg
Sodium:

2497mg
Carbohydrates:

47g
Fiber:

5g
Sugar:

8g
Protein:

12g
Since I love this cheese so much, I had to find out where I could order/pick it up from and the people at Bothwell Cheese were kind enough to locate the closest store to my house that carries their cheeses 🙂 You can search their
website here
to find the nearest retailer!
This is a sponsored post. I was fortunate enough to receive products and/or monetary compensation from Dairy Farmers of Canada. Though products were received, all opinions are my own and I would not recommend a product that I did not enjoy!
Love this cheesy broccoli-cauliflower risotto?! Try some of these recipes: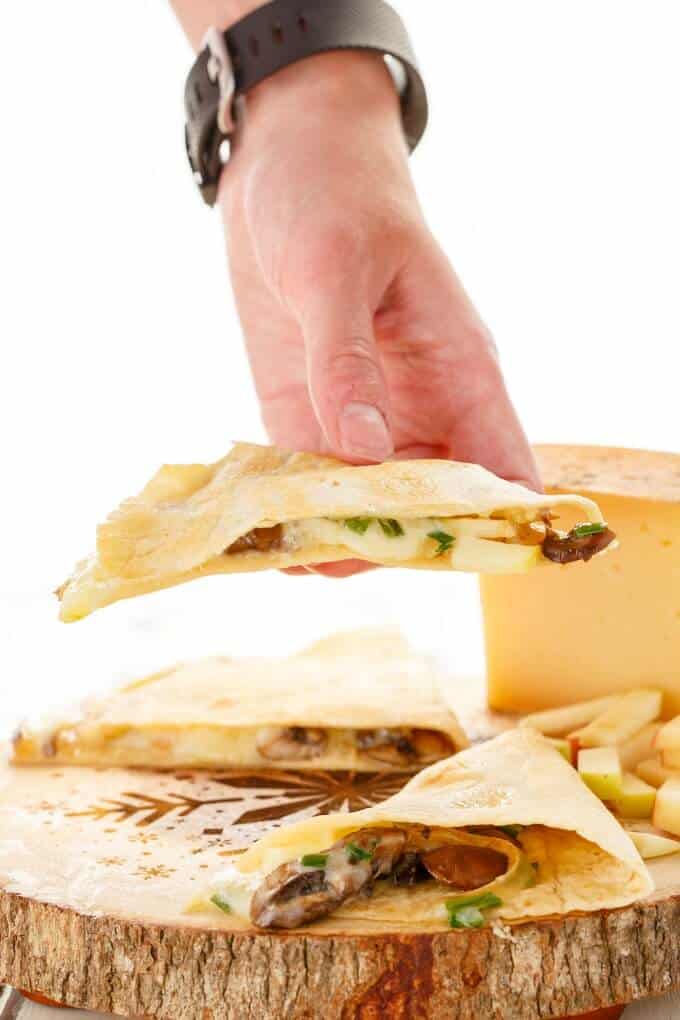 Apple-Cheese Quesadillas with Mushrooms