Apple season is upon us, and while I can eat copious amounts of apples, sometimes you need a little help 🙂 This fresh apple whiskey sour recipe utilizes apple puree, though you could go crazy and sub in apple juice or apple cider!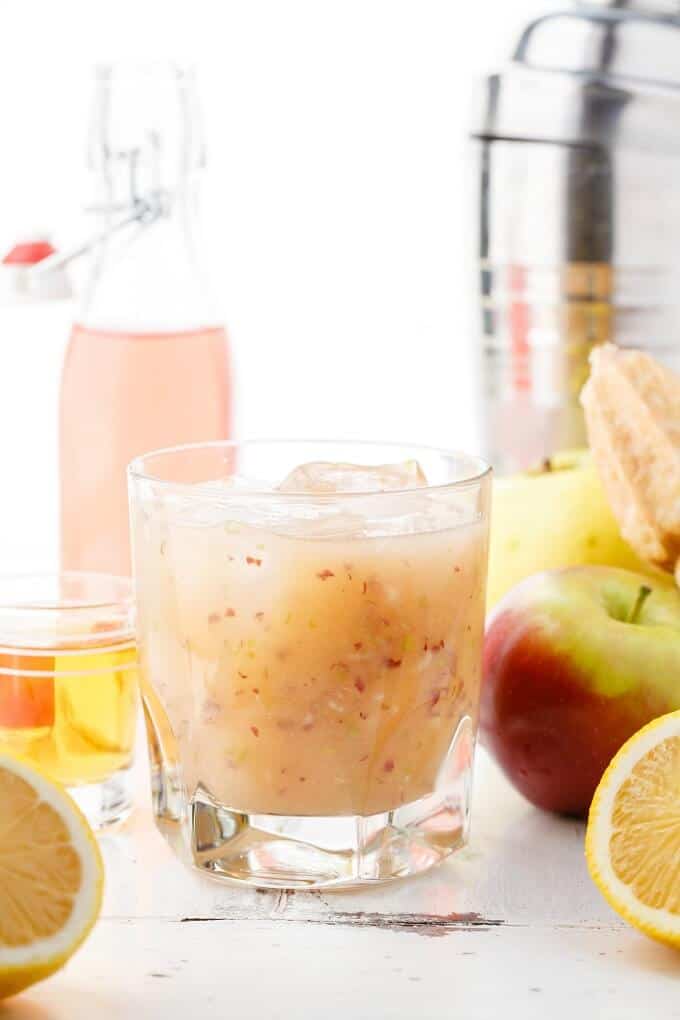 We survived Thanksgiving!
Now I just have to get through the rest of October, haha 🙂
With our weather being all over the place, it makes planning events, chores, and life a bit complicated. We are closing our pool this Friday. FRIDAY! This time last year it would have been closed in September.
And don't get me started on our grass. Or lack there-of after the pool installation. All these plans to get some sod down and now it is going to rain a ton. I'm sure my neighbors understand 😉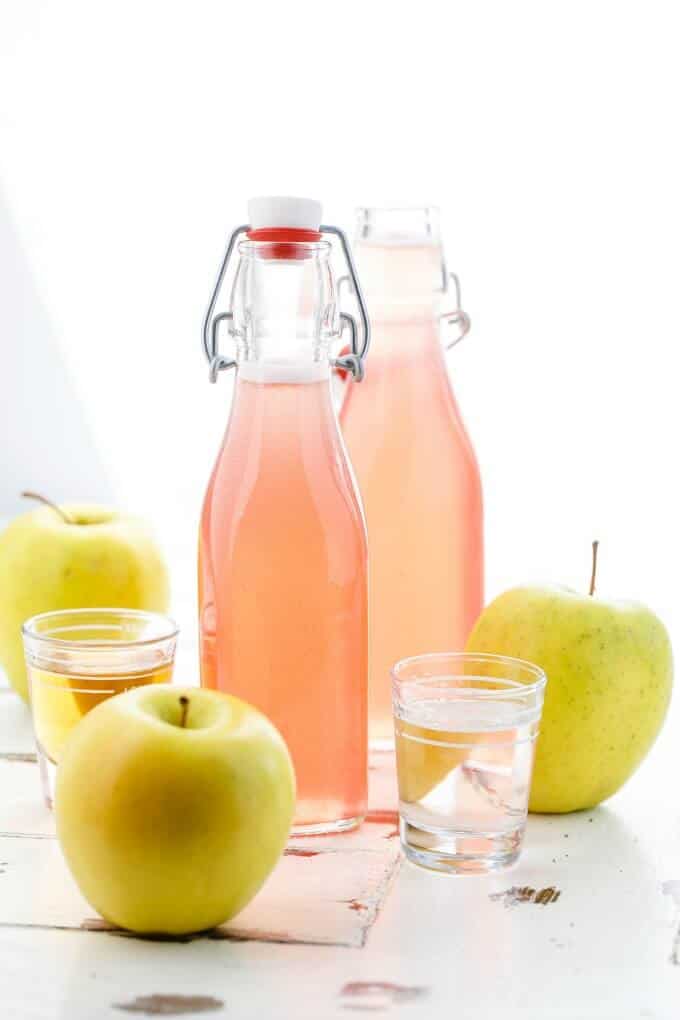 Pushing that all aside, apple season is upon us! My neighbors have given us some apples already, and I, of course, went back in my blog archives and remade some apple butter. With that recipe, you need to remove all the apple skins. I did not want to see them go to waste, so I made my own homemade apple-infused simple syrup. Bold apple flavor that is perfect for fall drinks!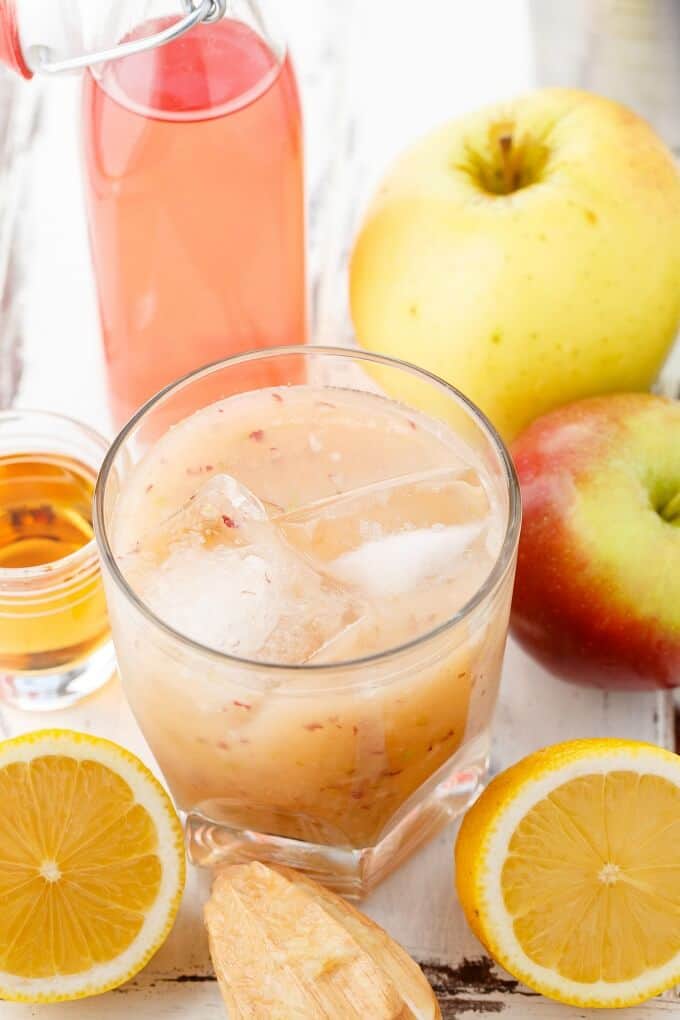 Then I had to think about what to make with the syrup. That's where this fresh apple whiskey sour comes into play! Apple syrup with a balance of fresh apples in the drink; no one will have to guess what is in this beverage 🙂 I feel apple juice or apple cider would work fantastic here and I plan to revisit this one now that I have some cider chilling in my fridge 🙂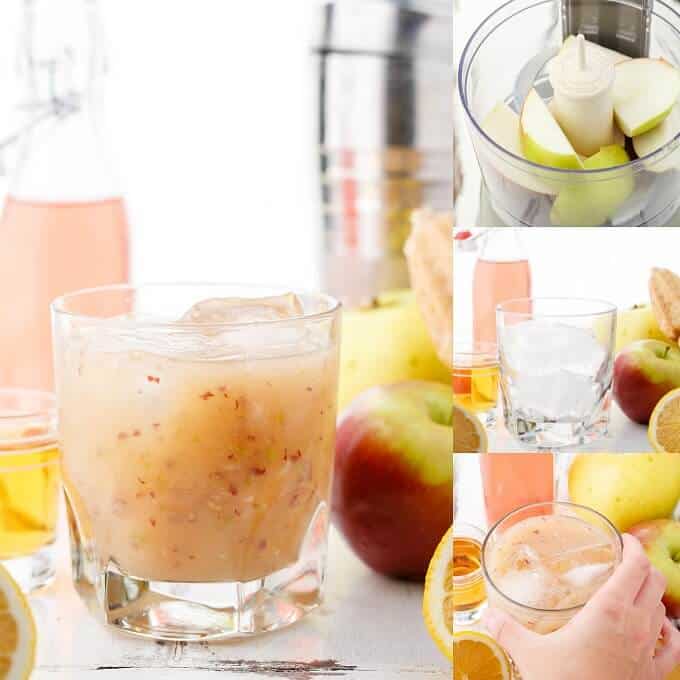 However, who doesn't love fresh apple desserts, foods, and drinks?! It is what autumn is all about! We are not the craziest of pumpkin fans, though our palette is improving. But when I think of fall, I really do think of apples!
Of course, my appliances are a bit on the weaker side. As you can see in the photos, this apple whiskey sour definitely shows remnants of the apples I pureed. Not a bad thing! It sure makes the drink look pretty 🙂 But I was going for a smooth beverage. That's why I think apple juice or cider would be perfect here. How great would that be?! Freshly made apple juice in our whiskey sour?! If you have a good blender or food processor, this shouldn't be an issue 🙂
You can also strain the fresh apple puree, too! But I am that weirdo who actually loves really pulpy drinks so this one was great for me!
📖 Recipe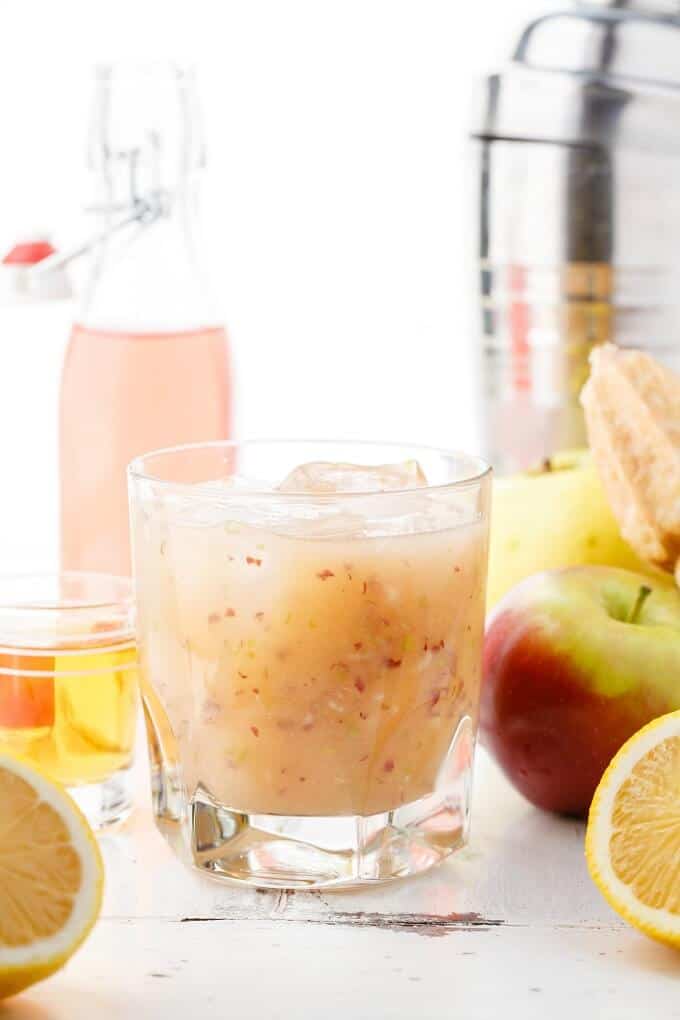 Fresh Apple Whiskey Sour
The perfect fall drink to warm you up!
Ingredients
¼ cup freshly pureed apples, strained if desired (I did not strain mine!) You can also peel the apples.
⅓ cup whiskey (bourbon is the common element)
¼ cup freshly squeezed lemon juice
Instructions
Fill a cocktail shaker (or makeshift one) half way with ice. Pour in whiskey, lemon juice, simple syrup, & pureed apples. Place lid on and shake vigorously for 30-45 seconds.
Add ice to a small whiskey glass. Strain beverage into cup and serve immediately.
Garnish with fresh apple if desired.
Notes
This recipe yields a "thicker" whiskey sour because of the pureed fruit. Adjust whiskey ratio according to your personal preference! Regular simple syrup works great here 🙂
Nutrition Information:
Yield:

1
Serving Size:

1
Amount Per Serving:
Calories:

200
Total Fat:

1g
Saturated Fat:

0g
Trans Fat:

0g
Unsaturated Fat:

0g
Cholesterol:

0mg
Sodium:

5mg
Carbohydrates:

52g
Fiber:

2g
Sugar:

55g
Protein:

1g
I highly recommend
Ontario apples
for this drink, such as Crispin, Empire, Golden Delicious, and Jonagold. Obviously the more tart the apple, the tarter the drink. Sweet apples balance nicely with the whiskey and lemon juice but I have a soft spot for sour 🙂
Love this fresh apple whiskey sour?! Try some of these recipes: