Chunks of fresh fruit and a unique topping: that all can be found in these pear pancakes with grape sauce! Great way to use up leftover fruit!
I shared quite a while ago how my daughter was on a pancake kick and wanted them every day for breakfast, lunch, and dinner. It wasn't so bad, but I am not a breakfast person and making pancakes every morning was getting a bit hectic. I prefer eating some leftovers (I know, terrible) or eggs. Kiddo was on a big egg kick and then one day stated "I don't like eggs." Yeah... Okay, so onto pancakes. And then one day it was "I don't like pancakes." This kid knows how to push my buttons! Once I put the plate in front of her we are all good, but I have to listen to "I don't like this" for the entire time!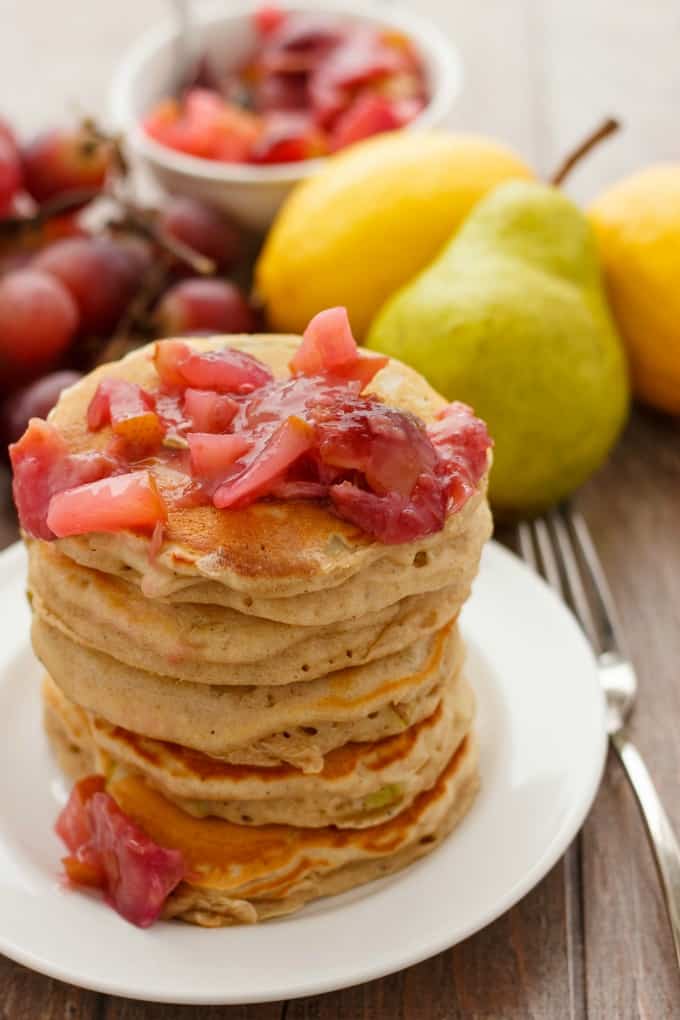 When she got a bite of these pear pancakes with grape sauce, I could see her eyes light up. Usually she smothers her pancakes in syrup, but not this time! I always feel grapes do not get enough love in baking or cooking, so the grape sauce came to me with the intentions that it should be used more often outside of raw consumption. I was so happy with the sauce, and wish there was more, but a certain small child got to it first...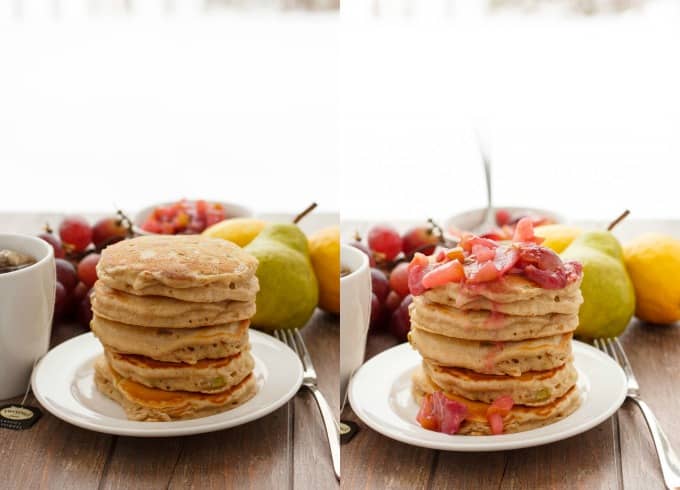 When it comes to the pear type in these pear pancakes with grape sauce, the option is all up to you. I have made them with ordinary green pears, and also with Asian pears (something I really enjoy.) Sometimes I will change things up and do half grated pear, half chopped pear. This way the pancakes get some texture. Grating the pear is a great choice, too, but when I grate them, it makes almost like a pear sauce (think applesauce) so you are not biting into big chunks of fruit. A combination of both adds great flavor and texture.
📖 Recipe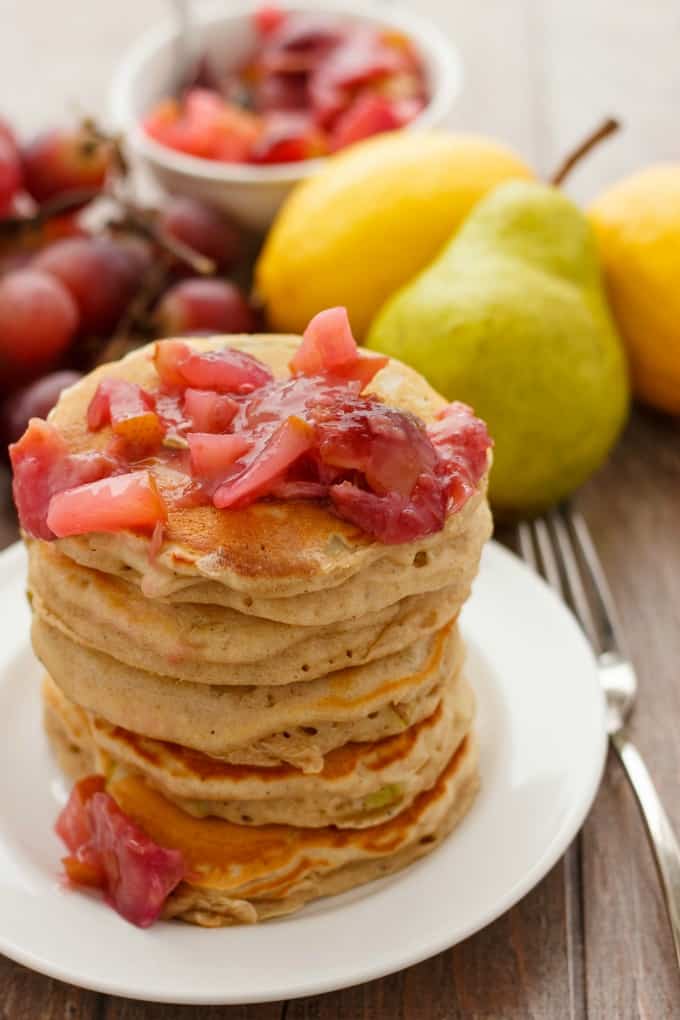 Pear Pancakes with Grape Sauce
Breakfast is looking good today with these pear pancakes with grape sauce! Quick, simple, and way better than the box mix!
Ingredients
¾ cup milk *can use buttermilk, but omit vinegar below
1 tbsp. vinegar
1 ¼ cups all-purpose flour
2 tbsp. granulated sugar
1 tsp. baking powder
½ tbsp. freshly squeezed lemon juice
1 cup chopped or grated pear (about 1 pear)
½ tsp. baking soda
¼ tsp. salt
1 egg
2 tbsp. butter, melted
½ tsp. vanilla
¼ tsp. nutmeg
¼ tsp. ground cinnamon
Sauce
1 cup red grapes
¼ cup diced pear (optional but I like the texture it added!)
⅛ cup freshly squeezed lemon juice
Pinch of salt
⅛ -¼ tsp. almond extract
Instructions
If using buttermilk, skip the next step. If not, combine the milk and vinegar together. Set aside to combine.
In a medium mixing bowl, add the flour ,salt, sugar, baking soda, nutmeg, cinnamon, and baking powder. Whisk to combine.
Once the milk and vinegar have time to react, whisk in the egg, lemon, and vanilla until combined. Pour in melted butter and give a final stir.
Pour the wet mixture into the dry mixture. Stir in the grated and diced pear and mix until just combined. I usually give the batter a quick taste to see if it needs more seasoning. It will be quite thick.
Heat a large frying pan over medium heat. Add in some butter or coconut oil (I prefer the coconut oil) and allow it to melt. Once the pan is nice and hot, I reduce heat to about 4 or 4.5 on my stove and add ¼ cup portions of batter to the pan, making two pancakes at a time. Cook until the underneath side is nice and golden. Flip, and do the same for the remaining side. Cook until no batter remains.
Sauce
In a small saucepan over medium heat, add the grapes, pear, lemon juice, salt, and almond extract. Cook until grapes begin to breakdown and resemble a sauce/compote, about 10-15 minutes, If you find the mixture too sour still after it breaks down, you can add some sugar!
Pour over top pancakes and serve!
Nutrition Information:
Yield:

8
Serving Size:

1
Amount Per Serving:
Calories:

171
Total Fat:

4g
Saturated Fat:

3g
Trans Fat:

0g
Unsaturated Fat:

2g
Cholesterol:

34mg
Sodium:

332mg
Carbohydrates:

28g
Fiber:

2g
Sugar:

11g
Protein:

5g
Something different from your ordinary pancake breakfast. And if you don't feel like making pancakes from scratch, you can easily add some of these ingredients into the box-mix pancakes. I know homemade isn't for everyone, but when it comes to pancakes, they are sooooo easy to make from scratch (and probably cheaper/better, too.) Heck, you can mix all the dry ingredients together and store them in little jars so they are already prepared. Just add milk and butter and you are good to go!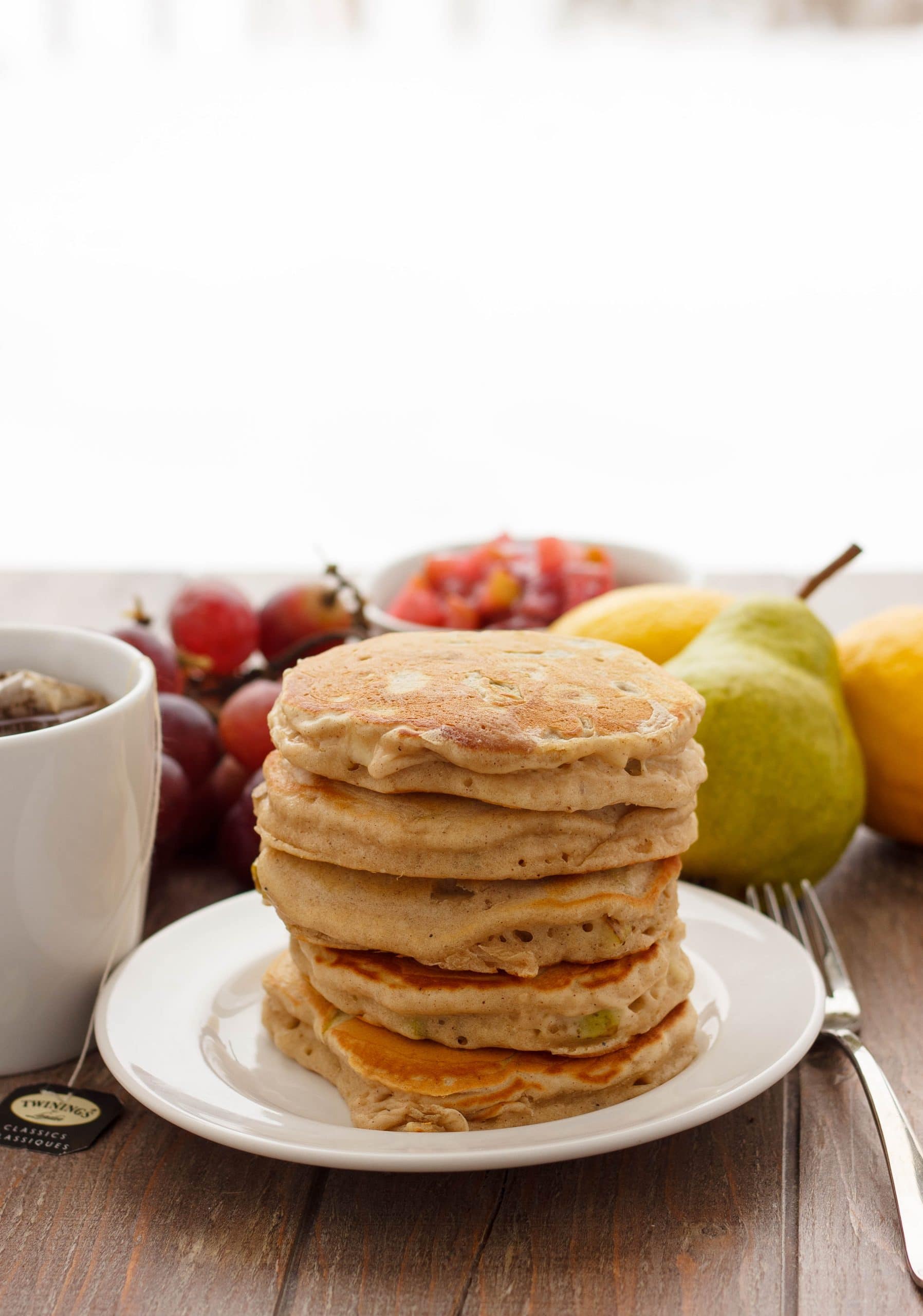 On a final note, when it comes to making pancakes, I find cooking them in coconut oil is the way to go. I love butter, don't get me wrong, but the coconut oil adds a lighter element to them. Either works, I just find my pancakes look nicer with the coconut oil (did I mentioned I suck at making breakfast?!)