Craving a granola bar?! These granola bar chocolate chip cookies are made with all the ingredients you would find in granola bars! Homemade, chewy, and the perfect balance of ingredients!
As a food blogger you are expected to come up with new and creative recipes. And I love doing that! It is part of my job, and sometimes the recipes work, and sometimes they do not. It is all trial and error.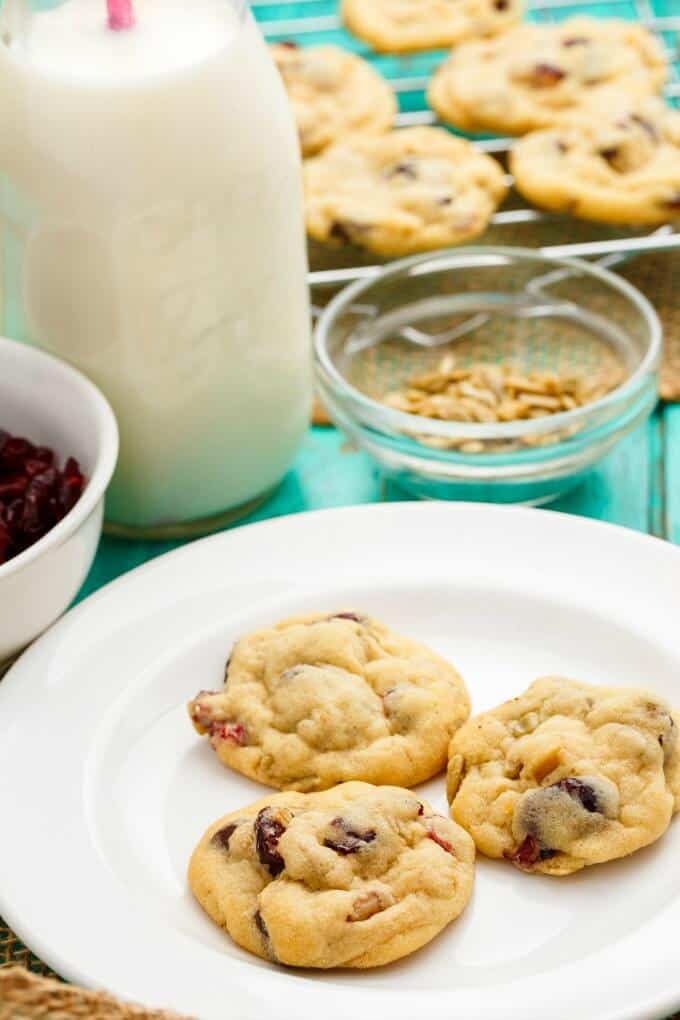 I am happy to share with you these awesome granola bar chocolate chip cookies! I named them this way because they totally reminded me of a granola or nutrient bar when I bit into the first one.
Before you knew it, I had already ate four! I love chocolate chip cookies, but these granola bar chocolate chip cookies had oomph to them. It may be the sunflower seeds as I wanted them to shine. It was tempting to name them sunflower seed cookies, but it didn't sound as fun as granola bar chocolate chip cookies!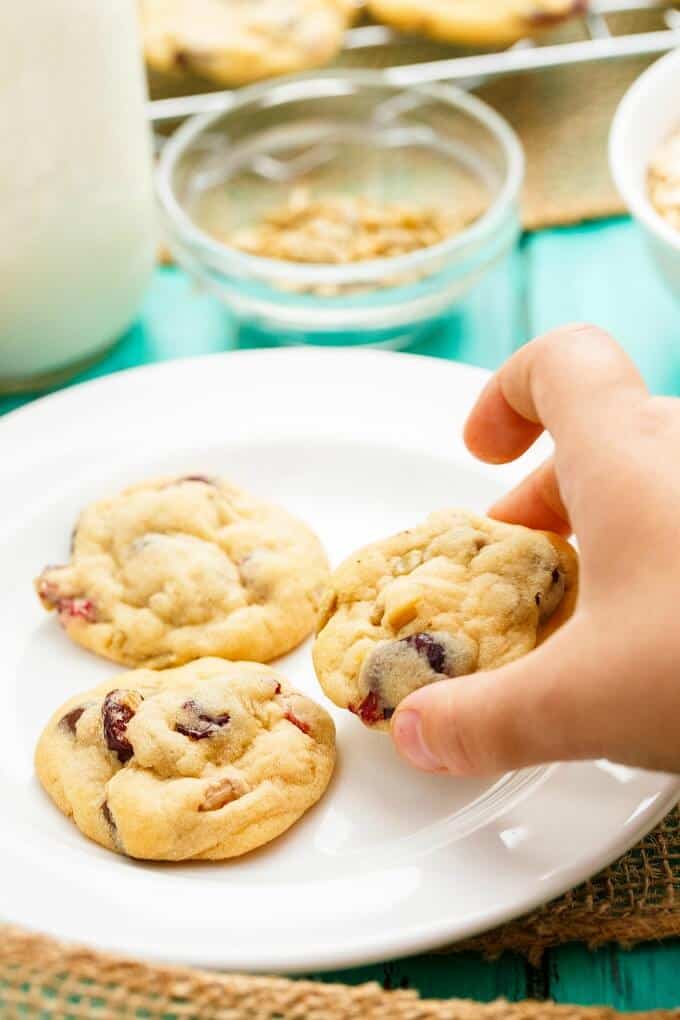 While these cookies may not be as healthy as granola bars, they would still be nice to take camping or hiking. Moderation is key, and after baking for many years I have learned to control myself (says the girl who ate four cookies as soon as they were out of the oven!) Everyone could not keep their hands off these and in a way I did not feel bad eating a couple extra.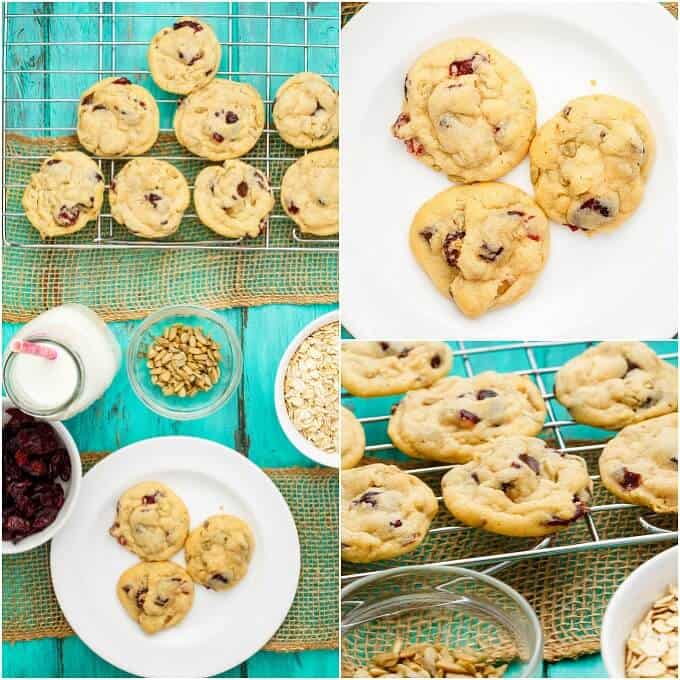 📖 Recipe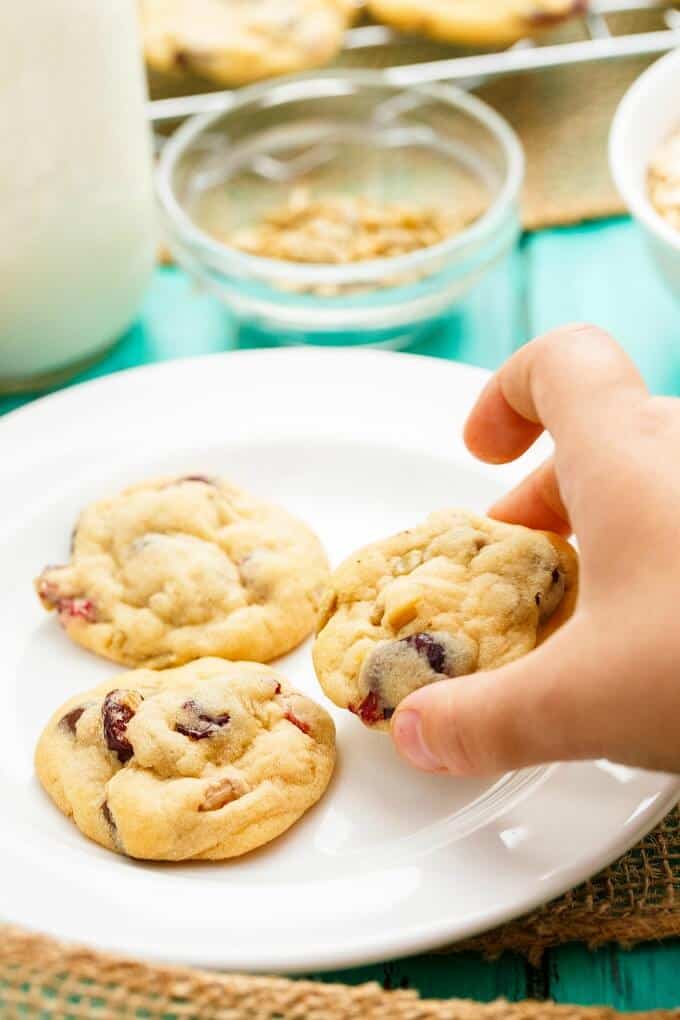 Granola Bar Chocolate Chip Cookies (Sunflower Seed Cookies)
I LOVE cookies, so I would rather have granola bars in cookie form 😉
Ingredients
½ cup brown sugar
½ cup granulated sugar
1 cup butter, room temperature
1 tsp. vanilla
1 large egg, room temperature
2 cups all-purpose flour
1 tsp. baking soda
Pinch of salt
¼ cup old-fashioned oats
½ cup unsalted, roasted sunflower seeds
½ cup dried cranberries
¼ cup chocolate chips
Instructions
Preheat oven to 350F. Line baking sheet with parchment paper or silicone mat.
In the bowl of your stand mixer, cream together butter and sugars until light and fluffy, about 5 minutes. Add egg and mix until well combined. Stir in vanilla.
Sift together flour, baking soda, and salt. Add to wet mixture and stir until just combined. Mix in oats, sunflower seeds, cranberries, and chocolate chips.
Measure out 1 tablespoon-sized dough portions. Bake for 8-10 minutes. Allow to cool slightly on the baking sheet and finish cooling on wire racks.
Notes
You can always refrigerate your rolled dough balls prior to baking (some say this helps keep them puffy, but I'm usually in a hurry!)
Nutrition Information:
Yield:

36
Serving Size:

1
Amount Per Serving:
Calories:

118
Total Fat:

7g
Saturated Fat:

4g
Trans Fat:

0g
Unsaturated Fat:

3g
Cholesterol:

19mg
Sodium:

189mg
Carbohydrates:

14g
Fiber:

1g
Sugar:

8g
Protein:

1g
I feel with summer almost here, many people (including me) do not want to be baking. If the heat is not too extreme, I have no problem still turning on the oven, but once that humidity hits... Oh, boy, it kills me. I love having my windows open to get the breeze through the house, and living on a hill helps greatly. But once the humidity hits, you cannot keep those windows open. I hate breaking down and turning on the AC, but sometimes you have to (and my Golden will forever thank me!)
Love these granola bar chocolate chip cookies?! Try some of these recipes: