I love spending hours in the kitchen. Heck, I could live in my kitchen! When my daughter starts school I know I will be spending even more time than usual in there. But for now I have limited time and I know others do not share the same love as I do for my kitchen. This being said, I have learned to start toning down my recipes and making them fast and easy. Today's recipe sounds fancy and difficult, but I assure you it is neither! You will look like a gourmet chef when you serve your guests these boneless pork loin chops stuffed with apple and bacon.
Boneless pork loin chops go on sale quite a bit in my area so I tend to pick them up whenever I can. Nothing wrong with them, but I know Mr. TCW prefers meat with the bone in. I don't blame him, it helps keep the meat moist while cooking. With this cut of meat, it is often very thin and that gives us the worry of overcooking. The pressure is on! But rest assure, follow these instructions and you are good to go!
Now, as I said, boneless pork loin chops are thin to begin with, but since we are stuffing them, we want them even thinner so we can roll them. I do not own a meat tenderizer... However, it did remind me of my brother in his metal working class in high school and how he made a meat tenderizer. Maybe I should "borrow" his... But for now, my rolling pin worked fine. I would have liked them a bit thinner, but you get what you get. The thinner the meat, the more filling you can add!
Let's talk about that filling. Apples. onions, garlic, and bacon just to name a few. It smelled so good while cooking. I was a little concerned I was adding too many ingredients, but according to Mr. TCW, the filling was perfect. I am awesome! And you know what brought these chops together with the filling? Wrapping the entire meal in bacon... Yes, another bacon-wrapped meal from me. You may be familiar with my bacon-wrapped whole chicken or my bacon chili bowl. This vegetarian is a monster and she knows it!

Boneless Pork Loin Chops Stuffed with Apple and Bacon
While this recipe is made in the oven, these boneless pork loin chops stuffed with apple and bacon could be made on the BBQ for a summer meal!
Ingredients
2 lbs boneless pork loin chops
1 apple, cored and diced
1 large onion, diced
1 tbsp. apple cider vinegar
Salt and pepper
¼ cup cooked bacon, chopped
3 garlic cloves, minced
4 oz fresh spinach
1 tbsp. butter
¼ cup dried cranberries
Bacon slices for wrapping meat
Instructions
Place a large frying pan over medium-high heat. Melt butter. Add in the onions and cook for about 3 minutes, or until onions are somewhat translucent. Add the apple and cook for another couple of minutes. Stir in the garlic, cranberries, and bacon. Cook for about 2 minutes and then deglaze pan with apple cider vinegar. Season with salt and pepper. Toss in the spinach and cook until just wilted, Set aside.
Place the pork chops between plastic wrap and using a meat tenderizer (or rolling pin,) pound the meat until relatively thin. Spread the mixture into each pork loin chop and roll up (or fold over, depending on size of pork chops.) Carefully wrap the bacon around each chop to secure it.
Preheat oven to 400F.
Heat a cast iron pan over medium-high heat with some oil. Add the pork chops (may have to work in batches like I did) and quickly sear both sides of the pork chop. Move the pan directly to the oven and cook for about 10 minutes or until done (this all depends on the thickness of your chop.)
Allow to rest and serve!
Nutrition Information:
Yield:

4
Serving Size:

1
Amount Per Serving:
Calories:

668
Total Fat:

31g
Saturated Fat:

11g
Trans Fat:

0g
Unsaturated Fat:

16g
Cholesterol:

229mg
Sodium:

475mg
Carbohydrates:

20g
Fiber:

3g
Sugar:

14g
Protein:

74g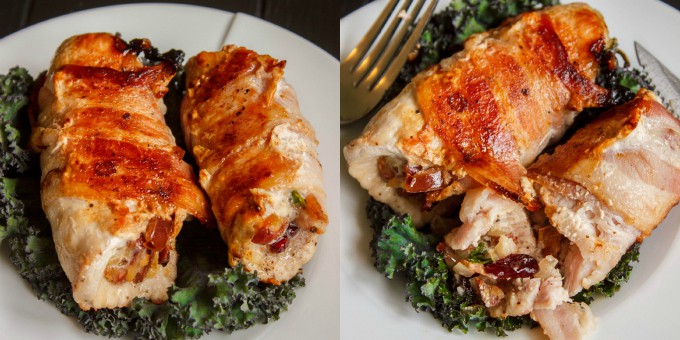 I really love how gourmet these pork loin chops stuffed with apple and bacon look! I cannot comment on the taste, but Mr. TCWdevoured them so I am going to assume A+ on flavor! And like I said, they seem difficult, but they take little effort. For the summer, I would say these bad boys could work on the BBQ. I am not the BBQ master, so I would probably destroy them, however, I trust there are many who are gifted in that element. We can call them BBQ pork loin chops stuffed with apple and bacon... Creative, eh?!