Breakfast and Creamer potatoes?! Here is another recipe (Creamer Potatoes with Sausage and Peppers!) thanks to my brand ambassadorship with The Little Potato Company and an opportunity to win a month's worth of free potatoes!
The photos and recipe for these Creamer potatoes with sausage and peppers has been updated as of May 7th, 2016!
When it comes to breakfast, I prefer meals with eggs. They are quick and simple, and so versatile. Growing up though, my dad would make us home fries as often as possible because we all LOVED them. Still do! It is actually a tradition at Christmas that we all have a bowl (or two.) My husband fits into our family perfectly because he loves potatoes. Whenever he makes breakfast, he uses potatoes. So, today's breakfast throw-together is for him: Creamer potatoes with sausage and peppers! I feel it is dinner for breakfast instead of the other way around for once!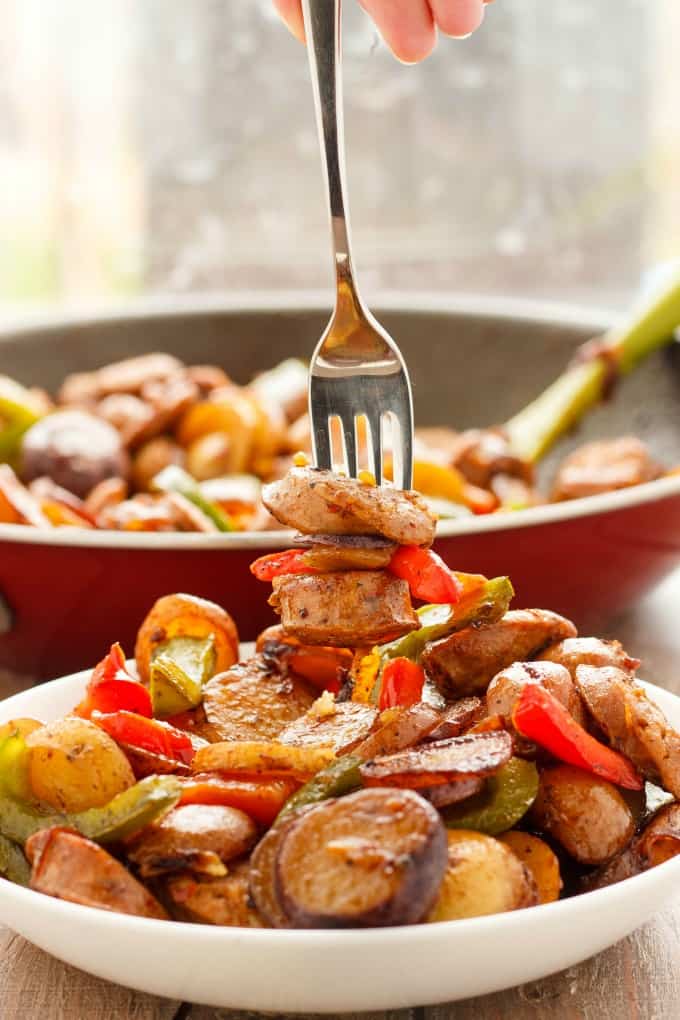 Breakfast is such an important meal of the day, and I know many tend to slack (including me!) I wanted to create a recipe that was hearty, relatively healthy, and easy to make. I feel this Creamer potatoes with sausage and peppers recipe fits all those categories, and more! If you pre-boil your potatoes the night before, you will definitely save time and work. My dad used to peel and cut up a bunch of potatoes for us and store them in the refrigerator so we could cook up home fries whenever we felt the desire. Just the other day I visited and he whipped up his homemade French fry recipe that was also a staple in our childhood.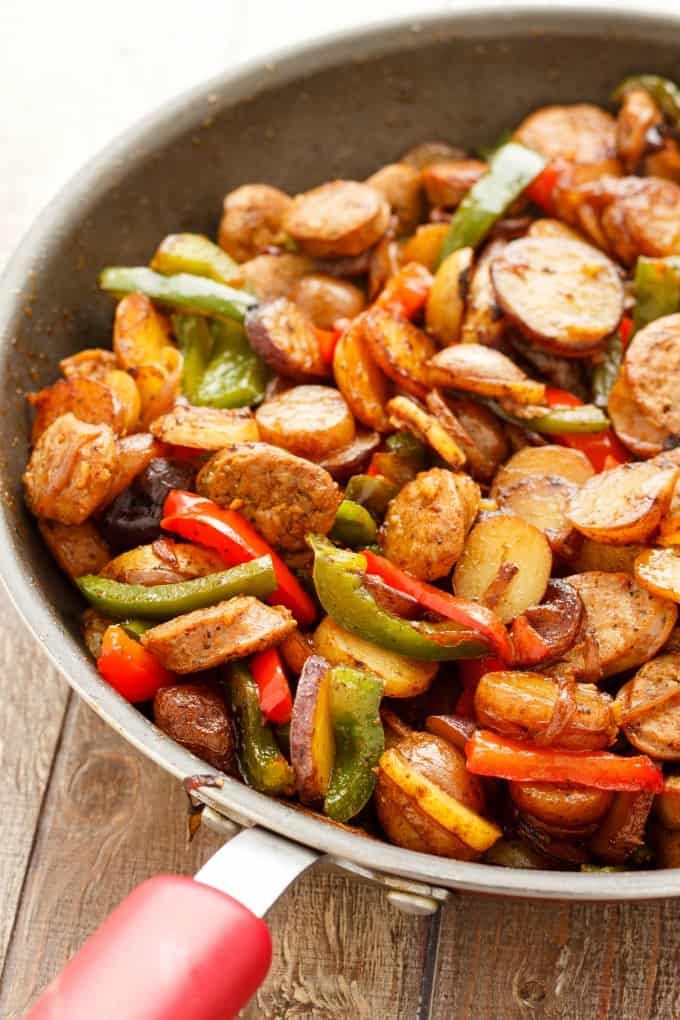 Now, while my recipe today is not something my dad would make per say (way too many onions for his liking!) I was inspired by his recipe creations in our childhood. He would basically throw a ton of ingredients together and call the meal "daddy slop." Yup, quite creative and original there, haha. It took every part of me not to mix in a couple of eggs to "complete" this recipe. Thinking back, much of our childhood revolved around potatoes…
Which brings me to another fact from The Little Potato Company!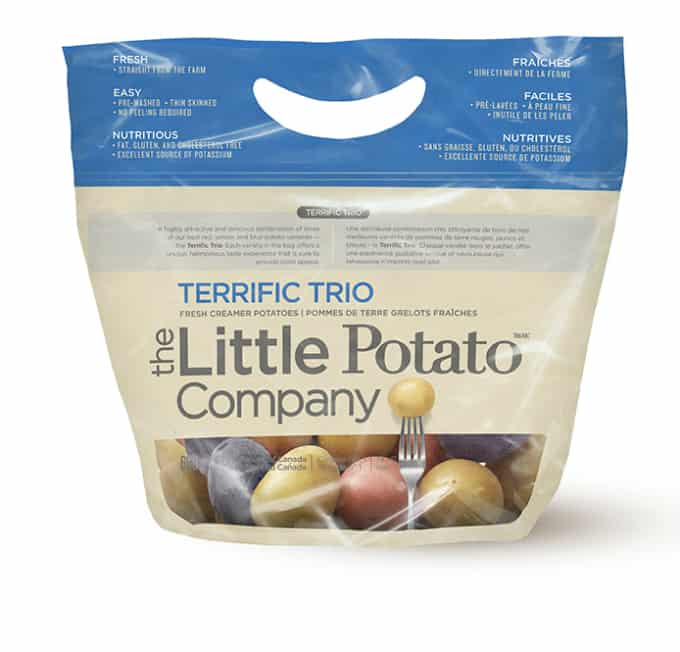 I used their Terrific Trio (1.5 lb bag) for this recipe and I was thrilled! A mix of red, yellow, and blue potatoes, I thought it was the perfect dish to showcase these beautiful varietals. People are always concerned with carbohydrates, but potatoes are great filler, great tasting, and a great sustainable crop that proves itself time and time again by being easy to grow (on less land, too!) I always say "everything in moderation," but pairing potatoes with hearty and healthy ingredients leaves you no time for concern because they are THAT good! Sausage may not be the best meat choice in the healthy department, but it still has wonderful flavour and is great for breakfast!

Breakfast Throw-Together: Creamer Potatoes with Sausage and Peppers
---
Kacey
Yields 4
You can pre-boil your potatoes to save some time frying them, but honestly, this recipe works almost like a one-pot meal!
15 minPrep Time
40 minCook Time
55 minTotal Time
Ingredients
1.5 lbs Creamer potatoes, sliced 1/8-inch thick (I used The Little Potato Company's Terrific Trio)
375 g sausage of your choosing (spicy, mild, honey garlic, etc.)
1/2 cup water (just enough to cover bottom of frying pan.)
Salt and pepper
1/4 tsp. dried thyme
1/2 tsp. paprika
1 red pepper, halved and sliced
1 green pepper, halved and sliced
1 red onions, sliced
3 garlic cloves, minced
1 tbsp. olive oil
3 tbsp. butter (plus more if necessary.)
Instructions
Place a large frying pan over medium-high heat. Add enough water to just cover the bottom of the pan. Add whole sausages and partially-cover with lid, cooking until all the water has evaporated, 8-10 minutes. Flip sausages occasionally to brown all sides. Remove sausage from pan.
Add oil and fry onions for 3 minutes. Slice sausages into rounds. Add in butter and melt. Stir in potatoes,salt, pepper, and cook for another 10 minutes, stirring occasionally. Add the sausage, garlic, and peppers. Season with salt, pepper, thyme, and paprika. Cook for another 10-15 minutes, or until sausage is cooked and potatoes are browned.
7.8.1.2
318
https://thecookiewriter.com/breakfast-throw-together-creamer-potatoes-with-sausage-and-peppers-giveaway/
You know, I find my most favourite and most popular recipes have to do with Creamer potatoes and breakfast. Seems like there are many potato-loving breakfast people out there! And if they are anything like my husband, they could eat potatoes for breakfast every day! I really need to start creating more vegetarian recipes for myself that revolve around breakfast because I feel so left out!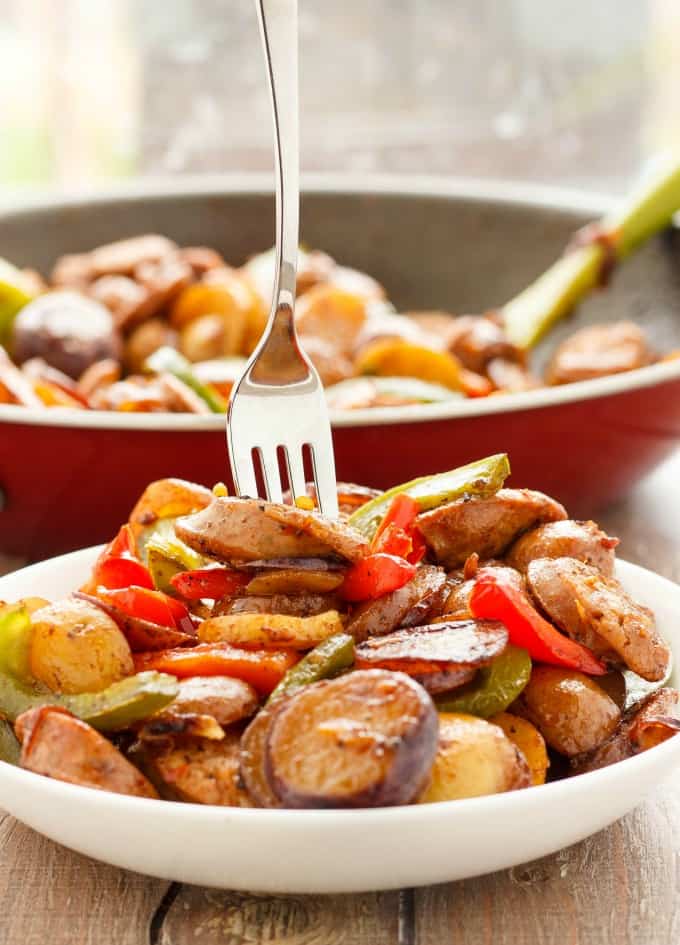 Giveaway time!! This giveaway will start on June 18, 2015 at 12:00 AM EST. It will run until July 3, 2015, 11:59 PM EST. The prize is one months worth of free Little Potatoes from The Little Potato Company! The giveaway is open to residents of Canada and the US. Dig into this giveaway because you know you really want these potatoes! The winner will be notified by email and will have 24-48 hours to respond. If they do not come forward, I will redraw a name. The winner will be announced Tuesday, July 7, 2015.
This is a sponsored post. I was fortunate enough to receive products from The Little Potato Company. Though products were received, all opinions are my own and I would not recommend a product that I did not enjoy.
Love these Creamer potatoes with sausage and peppers?! Try some of these recipes:
Pan-Fried Fingerling Potatoes with Bacon