Just because a meal is vegetarian or vegan, doesn't mean it lacks flavor! This mushroom stroganoff is packed full of flavor, and it is super easy to make!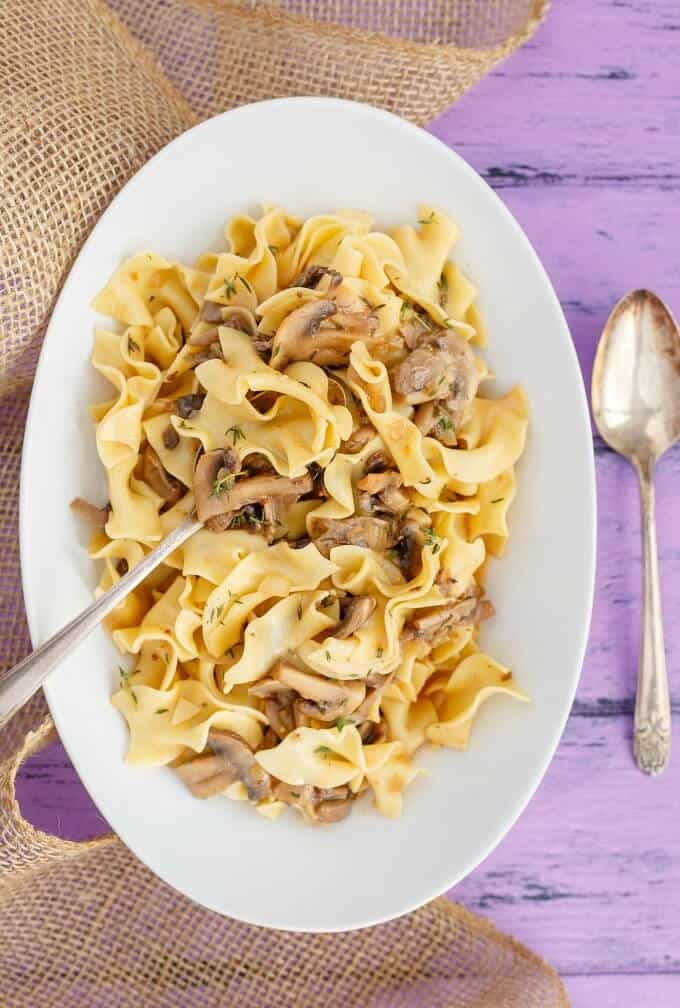 People think when it comes to vegetarian recipes that you need to include tofu as your meat substitute. Don't get me wrong, I love tofu, but it is not necessary in every recipe. If anything, most vegetarian/vegan recipes can be made hearty and filling by adding lots of vegetables and protein fillers such as lentils and beans. One of my favorite meat substitutes are mushrooms. Whether portobello or button mushrooms, I love them all and I find myself using them more often in my vegetarian recipes.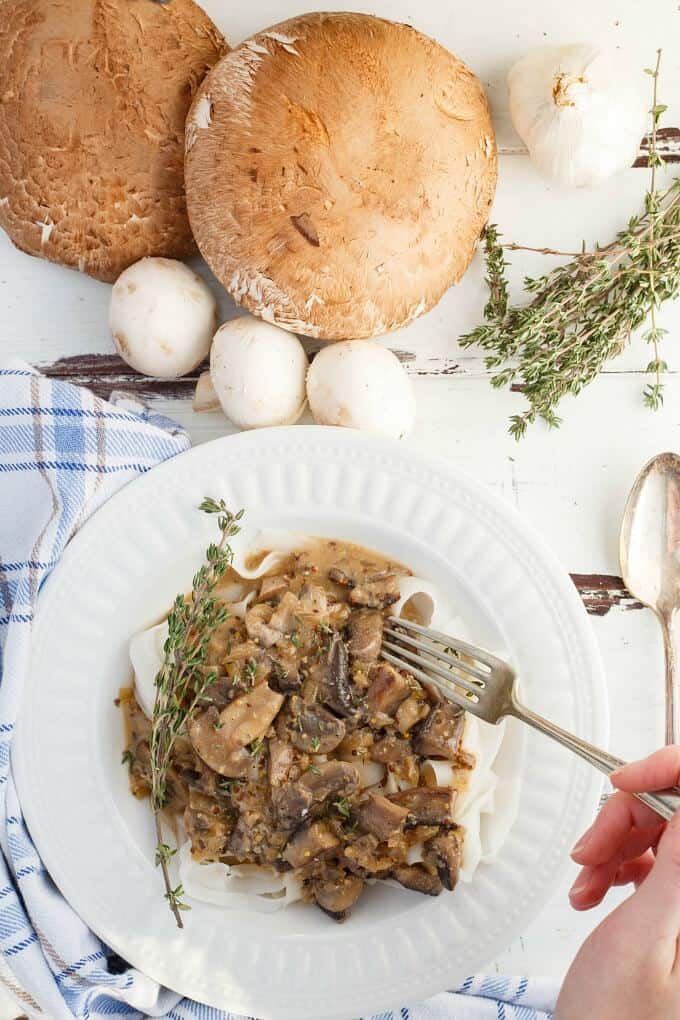 This mushroom stroganoff was so easy to make and I found myself polishing off the dish in two days time (but mostly the first day.) I actually cannot believe how much of this stuff I ate! I kept going back for seconds, and thirds... and then I lost count. This is what happens when Mr. TCW goes away for a weekend!! Good thing it wasn't breaded mushrooms this time around...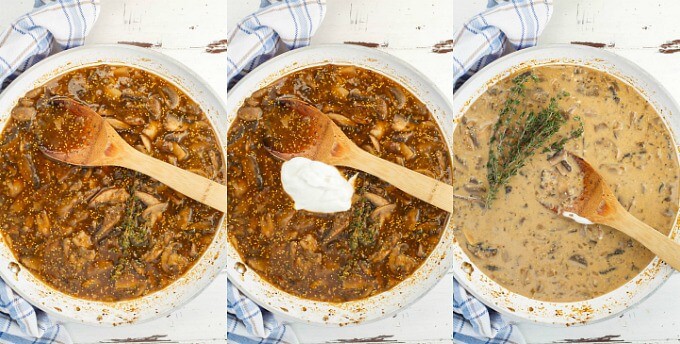 I absolutely loved this mushroom stroganoff. I cannot wait to make it again (it may be tomorrow.) It is just so easy, and packed full of flavors, all the while not being "too mushroomy." Sounds weird, but sometimes I can get creeped out by too many mushrooms (or if my portobello mushroom burger is too thick.) And I feel this recipe is not too bad for you.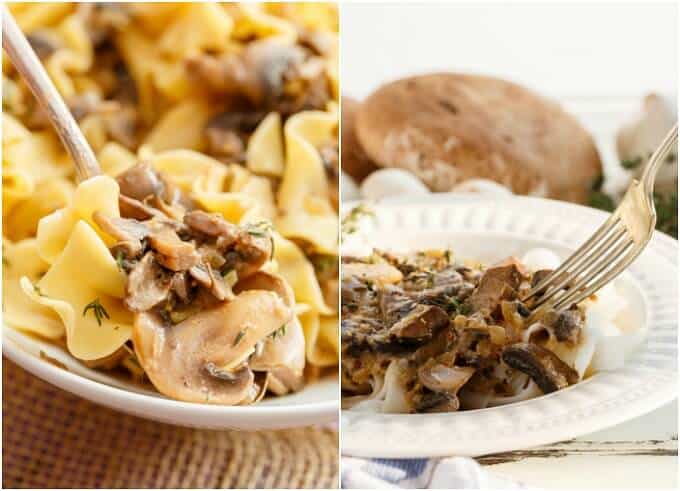 You could easily sub in Greek yogurt for the sour cream UPDATE: I have made this dish many times with both Greek yogurt and sour cream. Either works, and I do prefer the Greek yogurt for a healthier spin, but sour cream seems to curdle less!)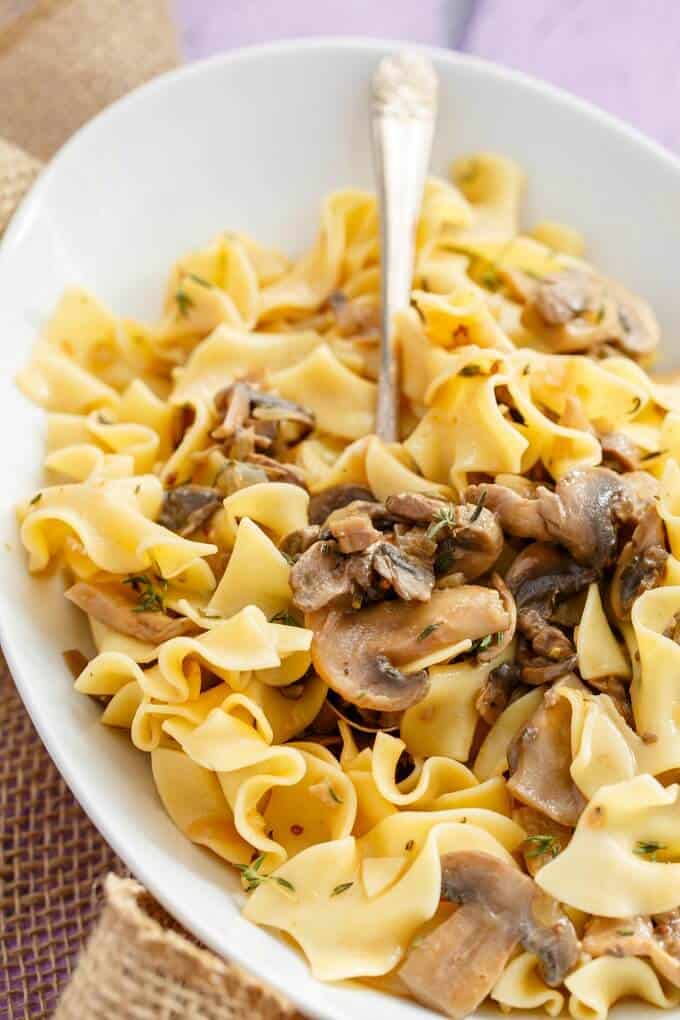 For a not so stroganoff dish, you could omit the cream altogether. Hmm, if you do that and use olive oil instead of butter, you have a vegan recipe (obviously substituting in different pasta.) I am sure someone could play around with this to make it gluten-free, too.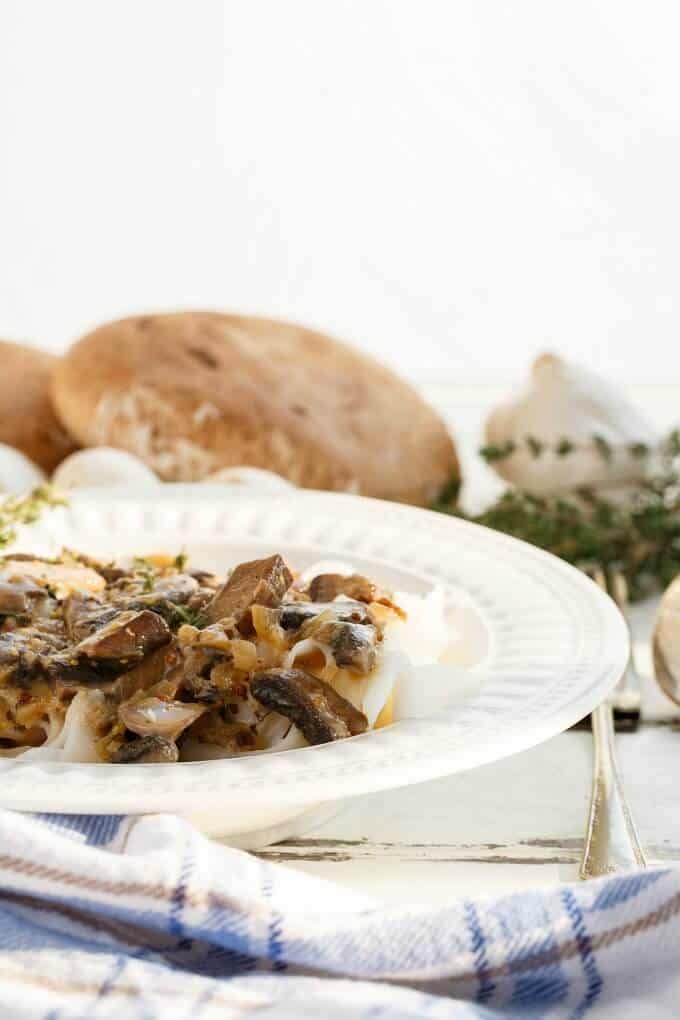 📖 Recipe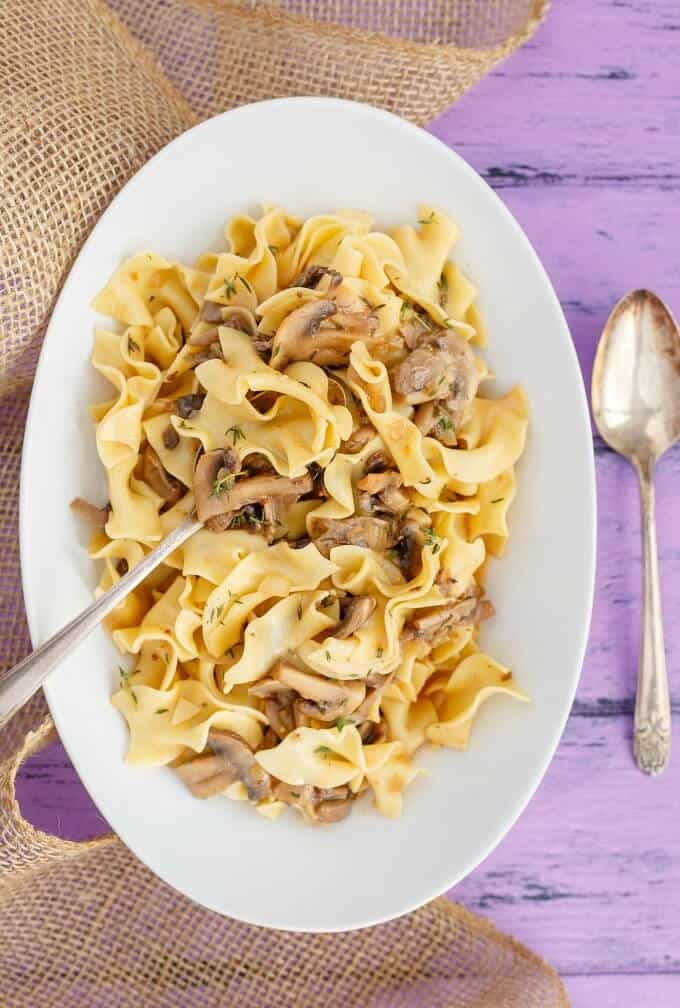 Mushroom Stroganoff
Mushroom stroganoff is a hearty vegetarian dish that uses portobello mushrooms as the sustainable ingredient. Recipe can be adjusted to be vegan.
Ingredients
1 tbsp. butter
1 large onion, diced
1 tbsp. all-purpose flour
2 cups mushroom or vegetable broth
¼ cup white wine
1 tbsp. coarse whole grain mustard
3 garlic cloves, minced
1 tbsp. soy sauce (can use Worcestershire for non-vegetarian dish.)
½ tbsp. tomato paste
½ lb portobello mushrooms, halved and sliced
½ lb button mushrooms, sliced
1 tbsp. chopped fresh thyme
½ tbsp. fresh rosemary, finely chopped
¼ cup sour cream (or Greek yogurt.)
½ - ¾ lb egg noodles (340g bag) (depending on how saucy you like your dish)
Salt and pepper
Instructions
In a large saute or frying pan, add the butter and melt over medium-high heat. Add in the onions and cook for about 3-5 minutes. Stir in the garlic and cook for a minute, or until fragrant. Add the mushrooms , salt, pepper, and cook until the mushrooms are nicely browned, about 10 minutes.
Stir in the tomato paste and cook for 2 minutes. Add the flour and cook for 3-5 minutes. This will result in your pan getting really dry, so stir frequently.
Deglaze pan with the white wine. Cook for another couple of minutes, or until the wine has evaporated. Stir in the broth, coarse mustard, soy sauce, salt, and pepper. Bring to a boil and simmer for 10 minutes. Add in the fresh herbs and cook for a few more minutes.
Remove from heat and allow to cool a bit before adding in the sour cream (it tends to look curdled when it is added too soon, but don't worry, it is perfectly fine.) Reheat if necessary. Cook pasta and stir in noodles. Serve with a garnish of fresh thyme!
Notes
Greek yogurt or sour cream can be used here. If you are not a fan of either, you can omit them as the sauce is delicious on its own.
Nutrition Information:
Yield:

4
Serving Size:

1
Amount Per Serving:
Calories:

214
Total Fat:

8g
Saturated Fat:

4g
Trans Fat:

0g
Unsaturated Fat:

3g
Cholesterol:

28mg
Sodium:

544mg
Carbohydrates:

28g
Fiber:

6g
Sugar:

7g
Protein:

9g
Soooo, I totally used a 340g bag of egg noodles which is fine, but it soaked up a lot of my sauce. I would suggest around ½ lb pasta for a saucier dish, or the ¾ of a lb like I did for less sauce. I still got a ton of flavor and really, it was still very creamy, but it left my pictures looking dry. Trust me, this was not the case but if you like lots of sauce, less pasta is necessary. Making the dish again, I loved the extra sauce and will definitely cut back on my pasta.
On a final note, I find I love using fresh herbs whenever I can for a recipe. In this mushroom stroganoff, I really loved how the fresh thyme came through. I am still hesitant with rosemary. We just do not get along. There is nothing worse when I bite into a large piece of rosemary, it ruins everything for me. So I make sure to really chop my herbs finely. Dried would work perfectly well here, but once you run your fingers across the stem of fresh thyme to remove it, you will fall in love with the smell left on your hands. When I made the recipe again, I omitted the rosemary altogether and used extra thyme (so all up to you!)
Love this mushroom stroganoff?! Try some of these recipes: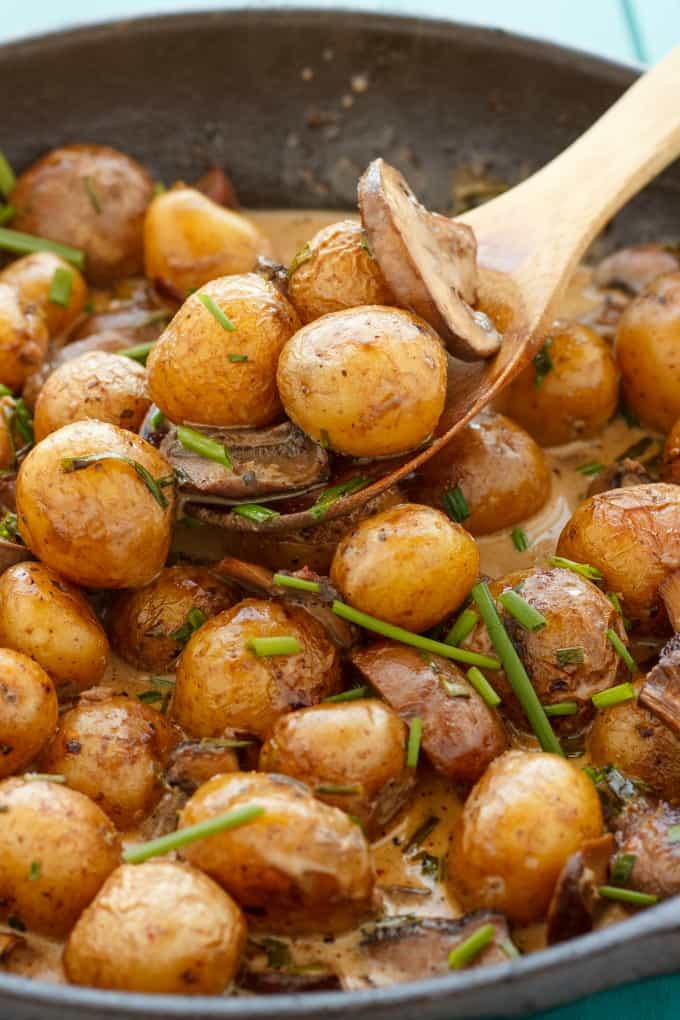 Roasted Baby Potatoes in a Homemade Mushroom Sauce