Continuing our love for spice today with these jalapeno popper chicken wings! I am working with Cookina Cooking Sheets as I try and win a contest held on their behalf!
While this is not a sponsored post per-say, I did receive products from Cookina to enter a food bloggers only contest. Though products were received, all opinions are my own and I would not recommend a product that I did not enjoy.
This week should be all about Halloween when it comes to recipes, but I had to sneak this one in here last minute 🙂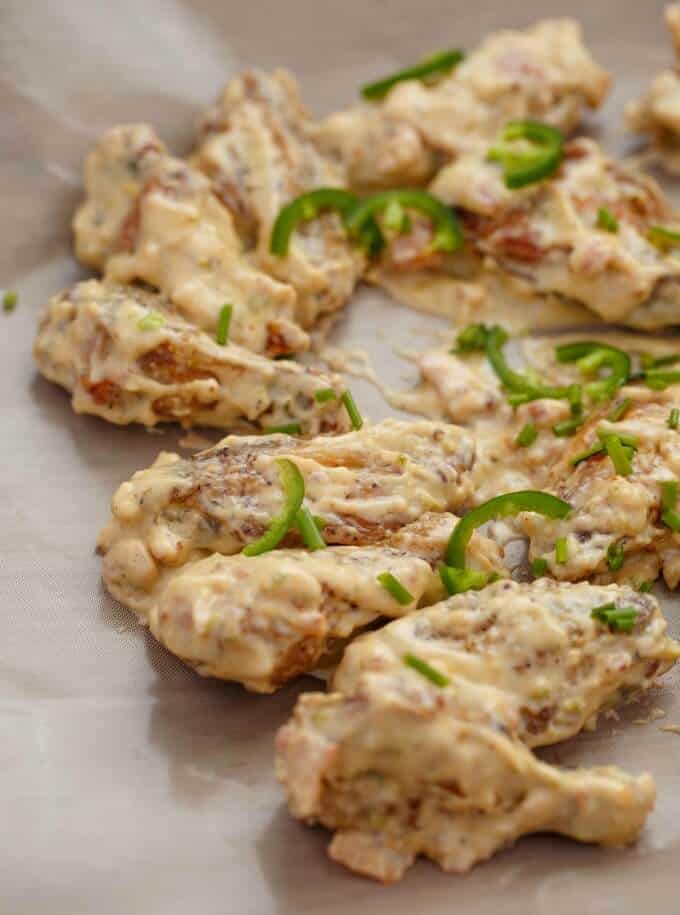 Chicken wings are one of those foods that took off one day. They used to be dirt cheap, but now you have a hard time finding them for a great deal (unless you are going out for a wing and beer night!) Making them at home is a rare occasion because I cannot justify paying so much for them when you can go out and have them made by someone else for the same price! Then again, I do consider myself a half descent cook and tend to promote the homemade route 😉
These jalapeno popper chicken wings were inspired by our love for all things jalapeno popper related right now! You name it, I have made it: jalapeno popper potato poutine, jalapeno popper deviled eggs, jalapeno popper mashed potatoes, and more! Heck, I haven't even posted all my jalapeno popper recipes yet!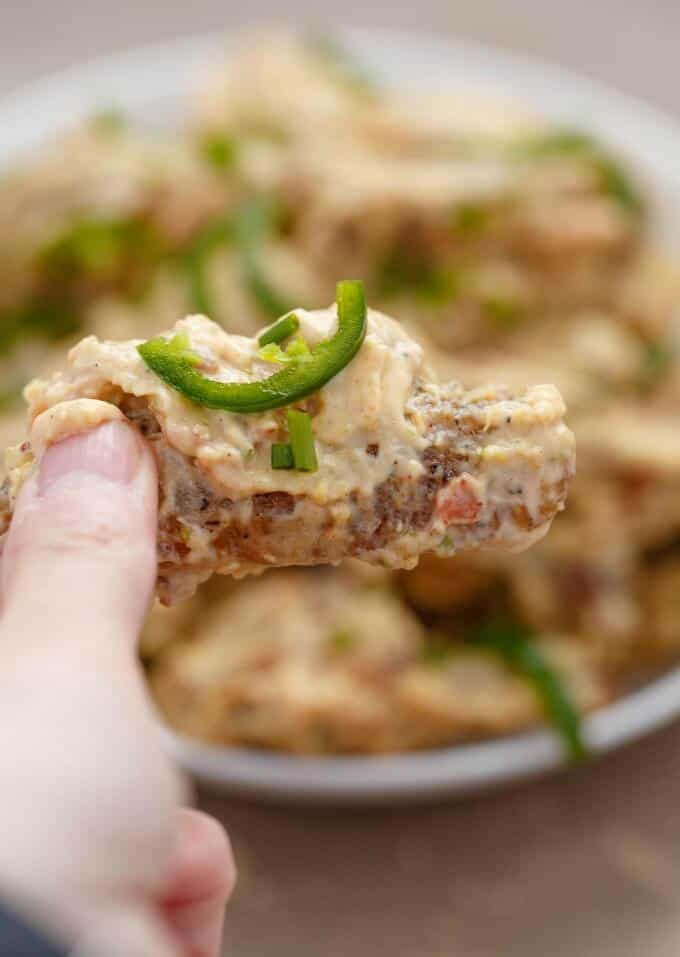 When it comes to these jalapeno popper chicken wings, or any chicken wing recipe for that matter, the final product has to be crispy. Nobody wants soggy chicken wings. NO ONE. That said, how you cook them really depends on what you will end up with when it comes to that final product. I tend to cook my chicken wings on a wire rack, but I recently received these cooking sheets from Cookina and had to give them a try.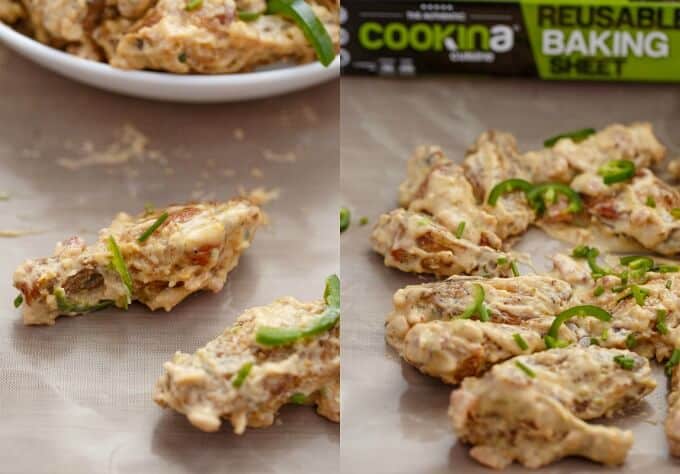 They were awesome! The sheets were a bit big for my pan, but many other food bloggers mentioned they cut down their sheets with no issues. However, I must say I like how the sheets looked draped over the baking sheet. Kind of gave the pan this nice, browned parchment paper. Which is perfect because it really adds to food photography!
Not only did I get pretty pictures from these sheets, but clean up was a breeze! I wiped off the excess grease and combined my chicken wings on the sheet for pictures. The final clean up was easily done by rinsing off the excess sauce and giving it a quick wash with dish water. And my favorite part?! The little ring that you wrap around the rolled up sheets... You won't believe how annoyed I get when I wrap up my other baking sheets and they just open up in my drawers. Such a genius idea!
Since I always cook my chicken wings on wire racks to allow the grease to drip off them, I was a tad concerned these guys wouldn't crisp up, but they did so perfectly! However, if you still fear soggy wings (and I assure you, there were none,) you can place a wire rack on top of Cookina's cooking sheets to ensure easy clean up AND crispy wings. But get this: they make a cooking sheet specifically for the grill. That means you can cook meats and veggies on the grill, without the worry of anything falling through the grills, AND still have those wonderful grill marks show up. I cannot wait to try that sheet on the BBQ!
📖 Recipe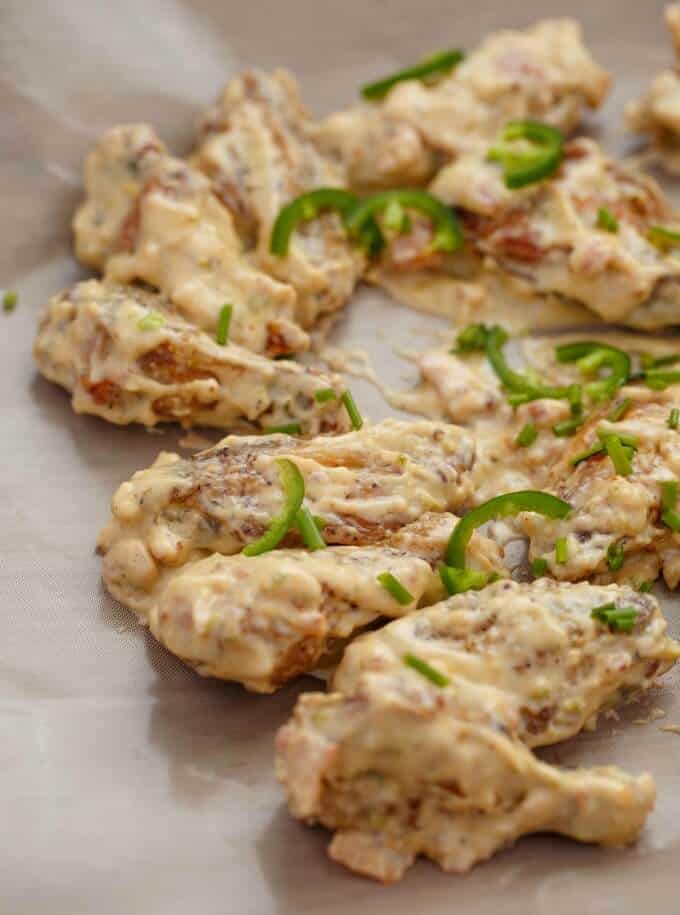 Jalapeno Popper Chicken Wings
A great appetizer for any season: they are definitely not spicy to us, but non-spice people might find they a kick.
Ingredients
2 lbs chicken wings
Salt and pepper
Sauce
2 slices of bacon, cut small
1 tbsp. butter
1 tbsp. all-purpose flour
1 garlic clove, minced
½ cup milk
3 tbsp. cream cheese
⅛ cup grated cheddar cheese
1 jalapeno, halved, seeded, minced
½ tbsp. coarse whole grain mustard
Pinch of ground cumin
¼ tsp. paprika
Instructions
Preheat oven to 450F. Line baking sheet with a Cooking Sheet. Add chicken wings; season with salt and pepper. Place chicken so it is skin side down first.
Bake in oven for 20 minutes. Flip, and bake for another 20 minutes.
Sauce
Place medium-sized saucepan over medium heat. Add bacon and cook for a few minutes. Stir in butter. When melted, add garlic, jalapeno, and flour. Cook, stirring constantly, for 5-7 minutes, or until the roux has browned in color.
Add in milk, cream cheese, mustard, cumin, and parpika. Whisk, stirring frequently, until the mixture thickens and comes to a boil. Stir in cheddar cheese and cook until desired thickness is achieved. Remove from heat.
Toss sauce with chicken wings OR place sauce on the side to dip your chicken wings into.
Notes
450F for 40 minutes sounds like a long time, but trust me, they will still be moist while achieving that crispy texture!
Nutrition Information:
Yield:

4
Serving Size:

1
Amount Per Serving:
Calories:

870
Total Fat:

65g
Saturated Fat:

25g
Trans Fat:

1g
Unsaturated Fat:

35g
Cholesterol:

215mg
Sodium:

1194mg
Carbohydrates:

27g
Fiber:

1g
Sugar:

3g
Protein:

43g
I feel as though I am definitely not going to get all my Halloween ideas out this year. No worries, I have come to terms with this and instead will be focusing on some epic Christmas ideas! Let the baking begin!
While this is not a sponsored post per-say, I did receive products from Cookina to enter a food bloggers only contest. Though products were received, all opinions are my own and I would not recommend a product that I did not enjoy.
Love these jalapeno popper chicken wings?! Try some of these recipes: