Happy Halloween! My daughter gave me three birthday cake ideas, and I chose to go with the Teen Titans Go cake! I feel it kind of fits into Halloween 🙂 Chocolate cake, Swiss meringue buttercream, and marshmallow fondants brings everything together!
As I have said, October is my BUSY month.
I begin asking my daughter what she wants for her birthday cake around early summer. This allows her time to think, and give me a wide range of ideas so in the end, she is still surprised by her birthday cake.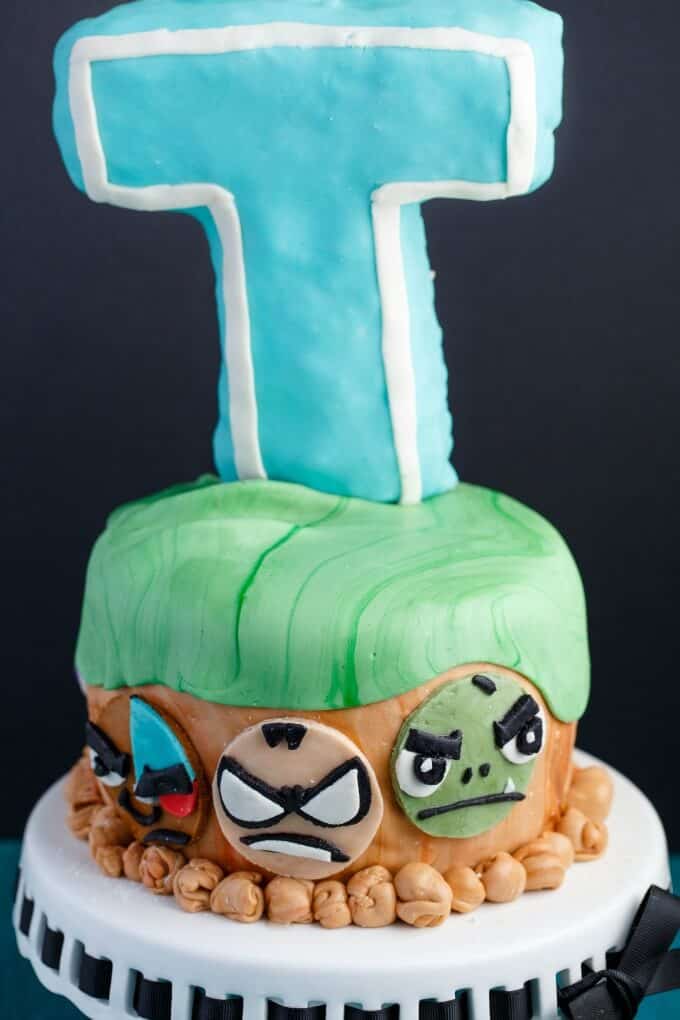 This year I went with the Teen Titans Go cake suggestion. Probably the first year, too, that family and friends did not recognize the theme/show/book etc. as many don't have kids 🙂 I loved the idea! Teen Titans Go is really colorful, and perfect to show through fondant work. I get it, people have their opinions: "the original Teen Titans show was so much cooler; they destroyed a classic." My kid has no interest in the original and this was about HER birthday, not others. Rant over.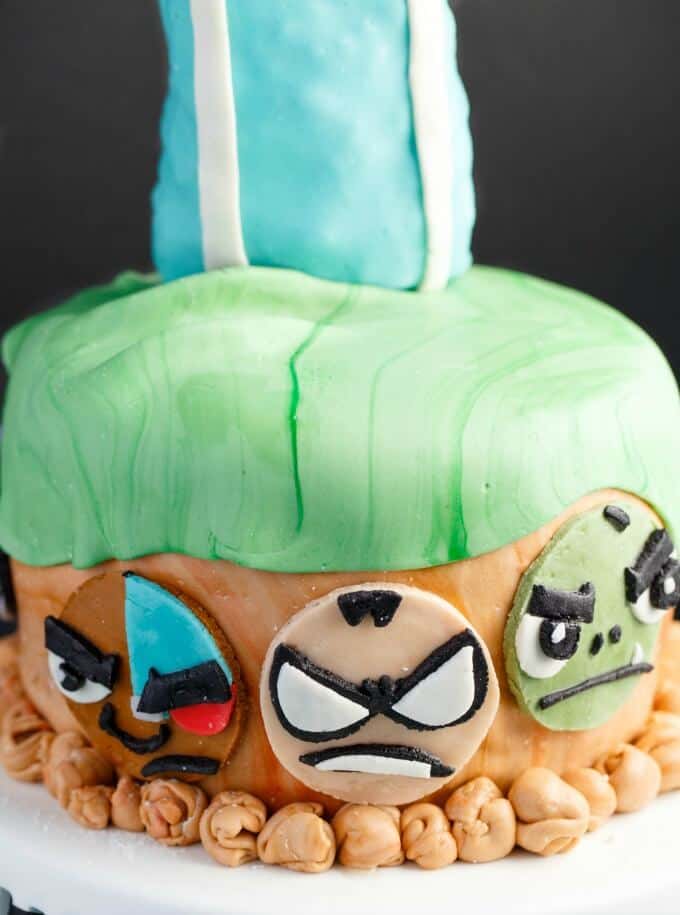 I'm not going to lie, I totally thought this Teen Titans Go cake would be super easy. I mean, it was simple, but putting all those details, as minimal as they were in the faces, did take some time. Everyone said she would love it no matter what, but I still wanted the cake to actually look like the characters!
📖 Recipe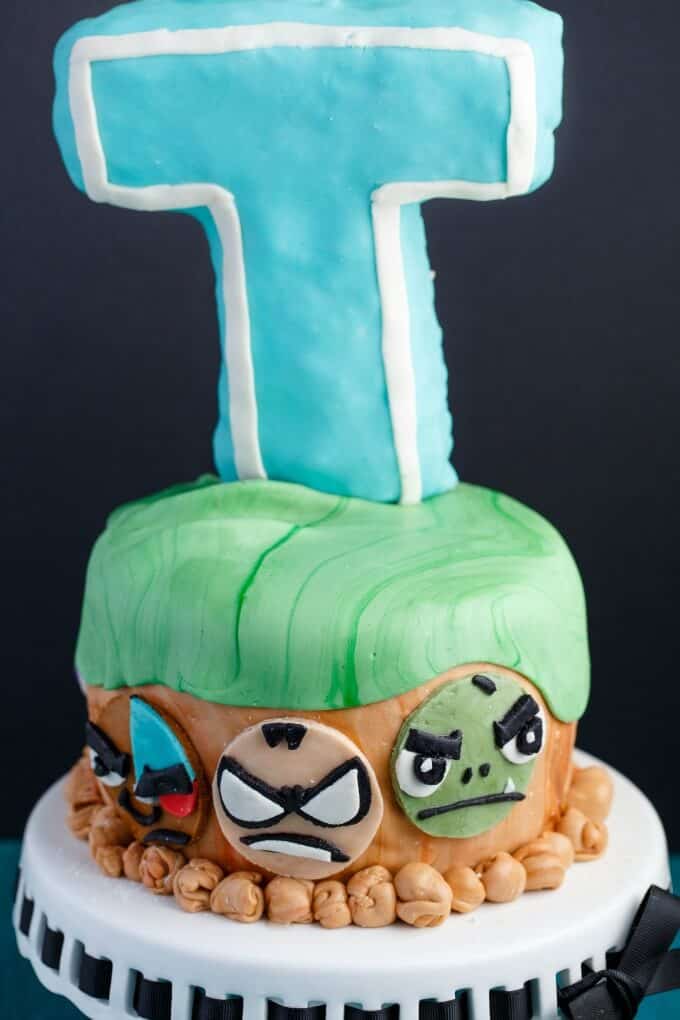 Teen Titans Go Cake (Cookie Geek #4)
This cake can be made in steps! Prepare cake layers the night before and wrap to keep fresh. You can assemble altogether on the same day (as the brown and green parts are super easy, but you will probably want to have the faces and T done in advance.)
Instructions
Prepare chocolate recipe in the link above (it is enough for a 2-layer 6-inch cake.)
Prepare buttercream while cake cools.
Level off cake and assemble, making sure to place icing in between cake layers and smooth around the cake entirely. Cover in desired fondant color (I went with brown, and then did a green layer for the grass/bushes.) Roll out brown "rocks" to cover trim (went random in shape and size as no two rocks are the same!)
Giant T
Make your rice krispies as usual (I left out the butter.) Grab and shape into a T shape (I did this in two parts.) Stick a dowel through the middle or work around the dowel, but just remember to place it inside AND trim it to size so you have enough to stick into the actual cake. Place into refrigerator to harden.
When hardened, cover with buttercream, and smooth the best you can. Refrigerate again until smooth. Cover with fondant and attach white fondant with water or vodka (don't worry, vodka will dissipate!)
Stick into cake where desired and crimp up green "grass" so it looks like hills or layers.
Fondant faces
See post for details! I used a toddler up to get the exact same size for each circle 🙂
Notes
It takes some practice, but marshmallow fondant is great to work with. Assemble the faces in advance so you can put everything together in one day.
Nutrition Information:
Yield:

10
Serving Size:

1
Amount Per Serving:
Calories:

182
Total Fat:

9g
Saturated Fat:

4g
Trans Fat:

0g
Unsaturated Fat:

4g
Cholesterol:

17mg
Sodium:

109mg
Carbohydrates:

22g
Fiber:

1g
Sugar:

18g
Protein:

4g
Soooo, I am sure you want all the details for this cake like colors and assembly! The recipe above gave you the general building on the cake (sorry if it is worded weird, basically you are assembling the cake as you see fit.)
Colors: All colors are from Wilton's line. I am not affiliated with them, just sharing a product I love!
Giant T: Teal with a touch of Delphinium Blue (outline is achieved by mixing in White food coloring.)
Grass: Kelly Green with a touch of Juniper Green
Rocks, dirt, hill: Brown
Beast Boy: Touch of Kelly Green mixed with Juniper Green
Raven: Violet | Grey mouth area made with a touch of Black
Cyborg: Brown with a touch of Orange | No-Taste Red | Same shade of blue from the giant T | Grey from Raven's mouth
Starfire: Pink with a touch of No-Taste Red | Brown and Orange | I just added some extra green and white food coloring to Beast Boy's extra fondant to create her eyes.
Robin: Brown with a hint of Copper
All: Black and White for eyes and details
Mixing in the colors by hand sucked!! But we couldn't make a big batch of one color, so it had to work. Mixing by hand allowed me to adjust the colors accordingly. I feel I remained true to their natural colors for the most part!
There were intentions of doing the Teen Titans Go logo but I just could not be bothered in the end! Without it I feel it is more appropriate for a birthday cake 🙂
Assembly of characters:
I used these links as my guides: faces, logo, and tower. I printed them off and kind of guided myself through the body parts step by step, first finding a cup the exact size that I wanted the round faces to be (worked perfectly!) Otherwise, it was wax or parchment paper over top of the photos and trying my best to cut out each shape.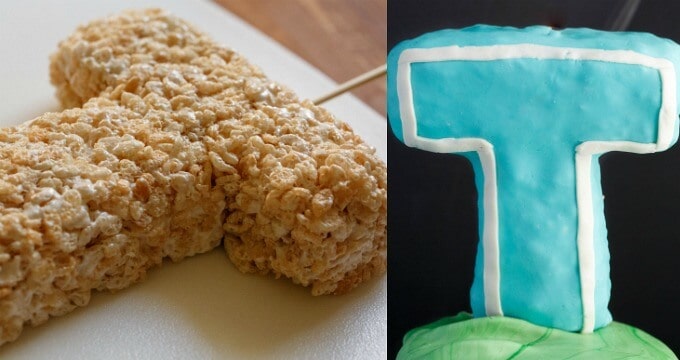 I attached the fondant pieces using straight vodka. Don't worry, vodka dissipates! If you use water, it would leave the fondant looking wet. Vodka dries to a clean finish (and it is great for getting rid of excess confectioners' sugar on your fondant!)
Would I do anything differently? Definitely put that dowel into the giant "T" first, and measure accordingly so it doesn't stick out! Trying to jam that rod in afterwards was just painful. Oh, and wrapping the rice krispies "T" in buttercream first before applying the fondant so you don't see all the bumps underneath. The fondant stuck to them no issue, but you don't want to be seeing that texture underneath. Otherwise, super happy with the outcome!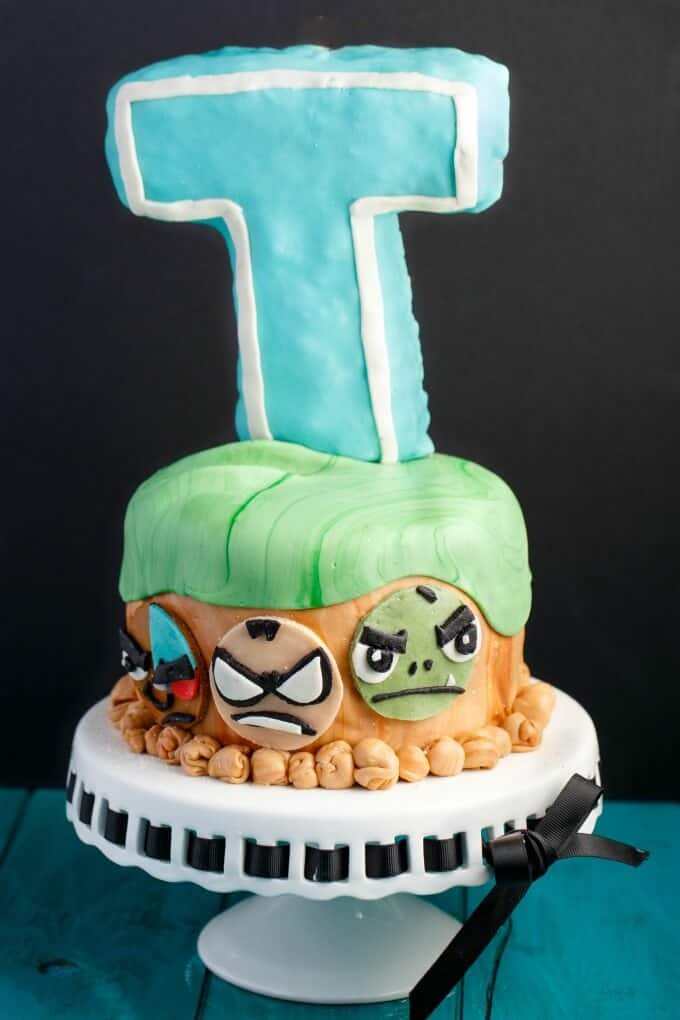 I am dubbing this Teen Titans Go cake as a #CookieGeek project! Been a while since I have done one, but I have so many ideas! There is definitely a following with the original Teen Titans, and while this cake is from the new series, I feel this may bring some people into the project 🙂
Cookie Geek is a project created by The Cookie Writer that brings together all things geeky! The creations will not always be cookie-based, but rest assure I will try and keep the projects simple in respect that you should not have to buy special tools such as custom cookie cutters. Feel free to share what creations you would like to see be a part of Cookie Geek!
Love this Teen Titans Go cake?! Try some of these recipes: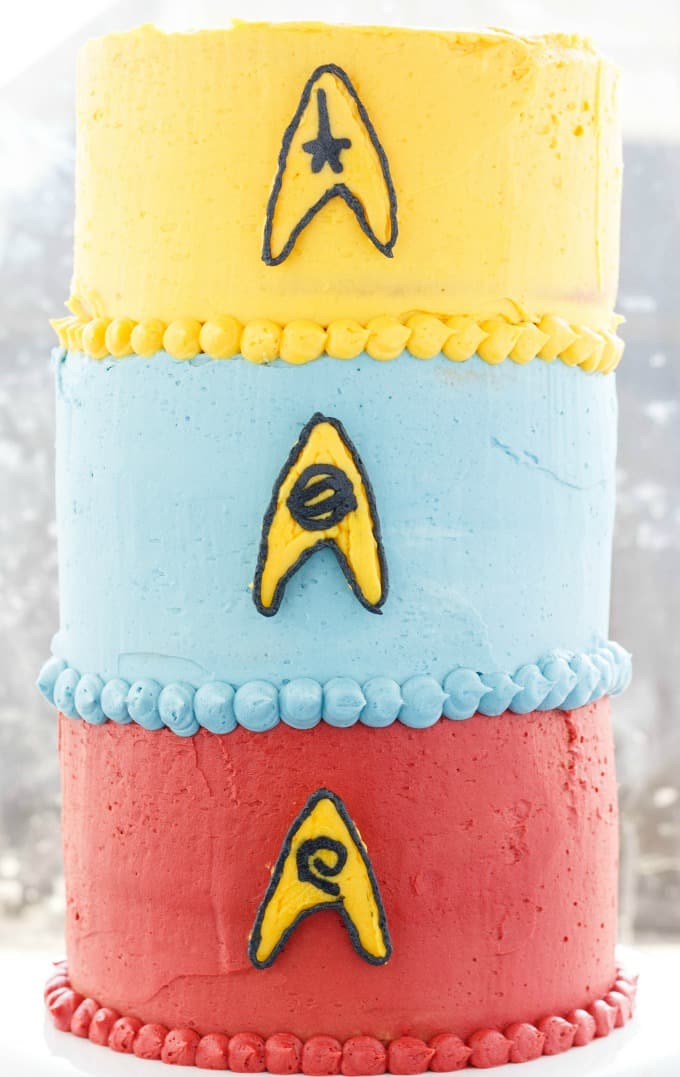 Buttercream Star Trek Cake (Cookie Geek #3)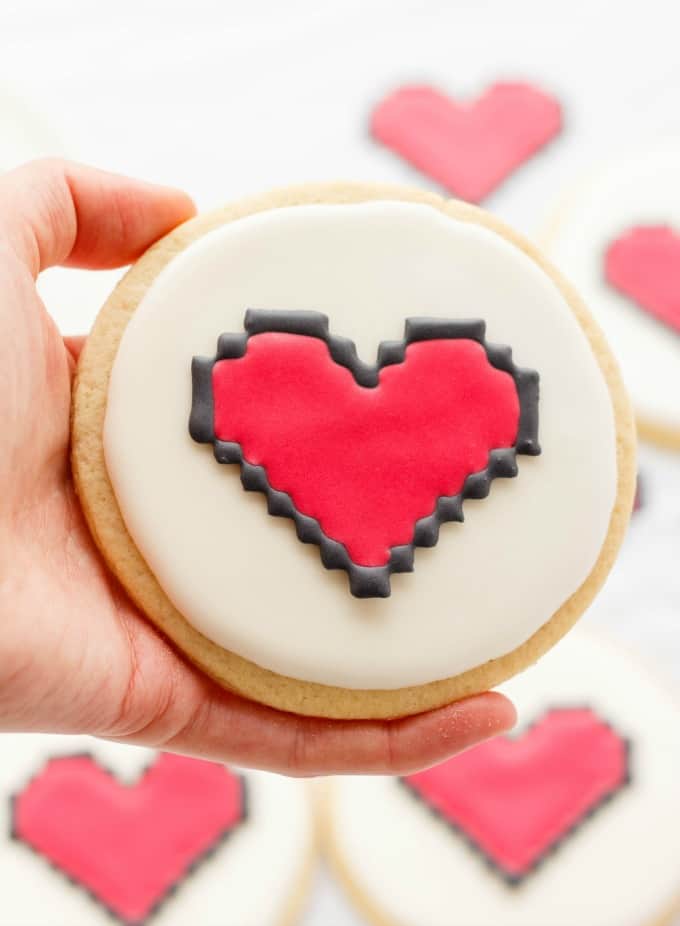 8 Bit Heart Cookies (No Special Cookie Cutter Necessary!) (Cookie Geek #2)