We are getting closer and closer to Halloween, so let the baked goods commence! These Halloween monster doughnuts are a fun treat this holiday season, and a great way to get the kids into the kitchen!
My husband had been pestering me to make doughnuts for some time. He has a coworker who LOVES doughnuts and wanted me to whip up a batch. Timing hasn't been great lately, but I finally managed to sneak some time in to make some homemade doughnuts.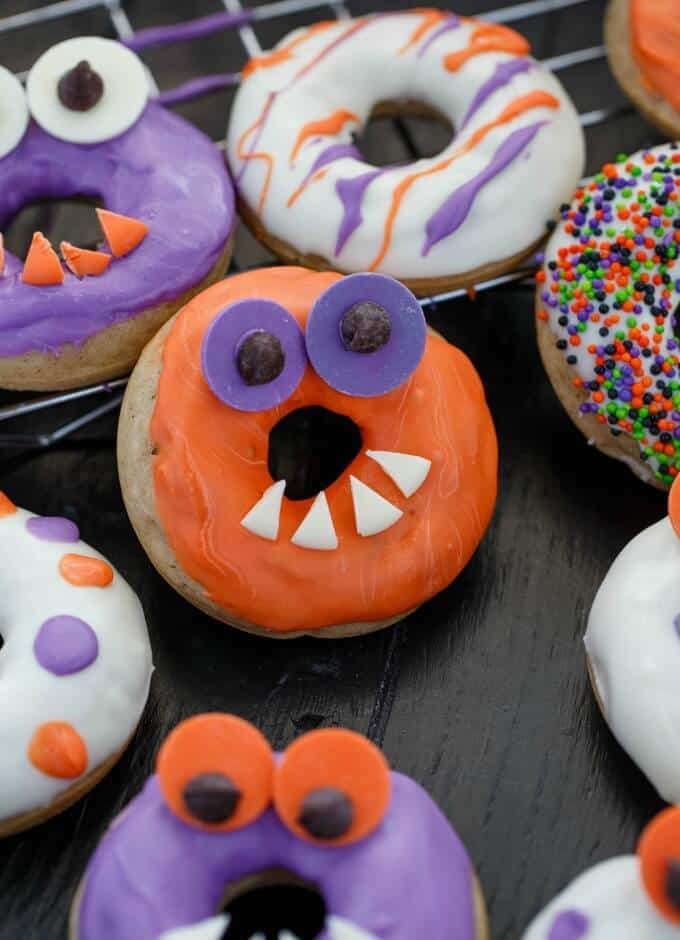 While preparing to decorate these Halloween monster doughnuts, Dan jumped in and said I should turn them into monsters with teeth, where the hole in the middle are their "mouths." I'm thinking, that is a cool idea! So I set to work, creating these monster doughnuts using candy melts and chocolate chips. Of course, no doughnut-making day is complete without at least one or two sprinkle doughnuts! But honestly, I love how these Halloween monster doughnuts turned out!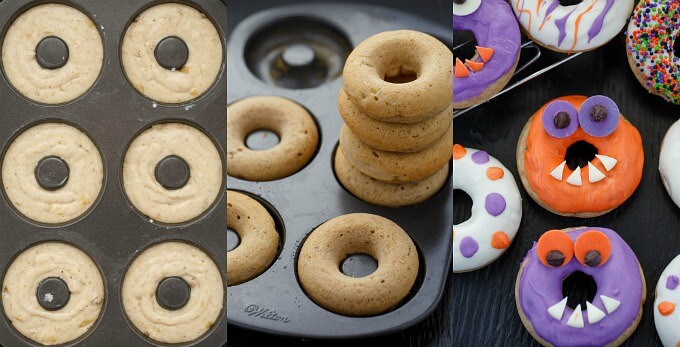 I bought pre-coloured candy melts from our Bulk Barn, but Wilton carries some fun colours, too. You can colour your own but I have talked about this issue before in my Christmas doughnuts with candy melts glaze post. Ordinary food colouring will not do. And since I already have enough food colouring on hand, I don't want to be adding more to my collection 🙂 Orange, purple, and white were appropriate for Halloween colours, and they had more (such as green and dark brown) but I figured less is more in this case.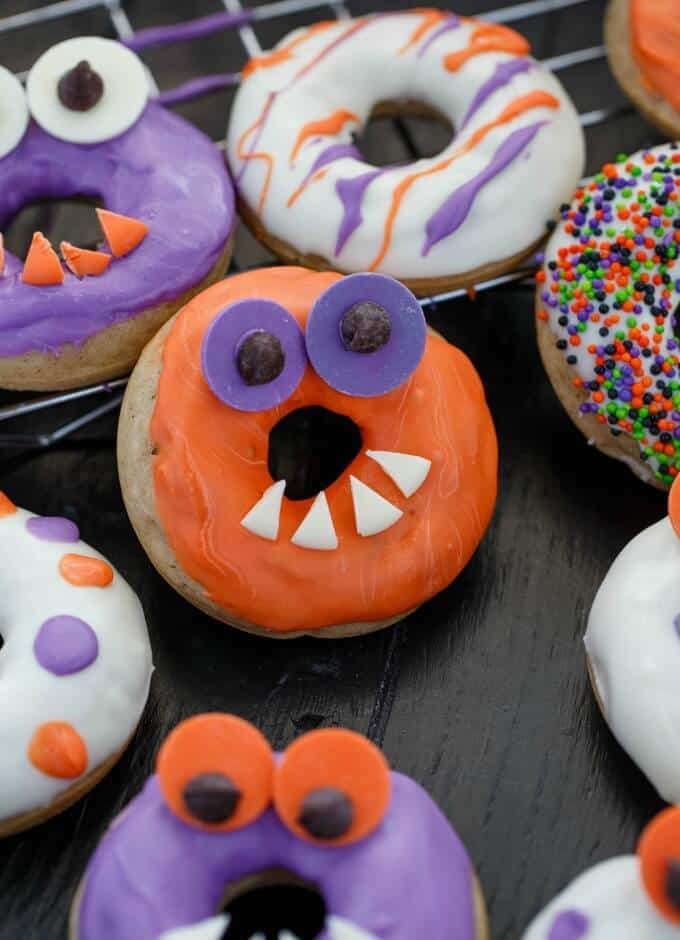 Design wise you can go any which way you like. To make the eyes I placed whole pieces of candy melts onto the doughnuts, followed by "gluing" chocolate chips onto the circles using leftover candy melts. The teeth are just chopped candy melts. I found the white held its shape best and tended not to crumble, but don't worry, even if you break a bunch of teeth, you can just melt down the leftovers to dip the doughnuts into.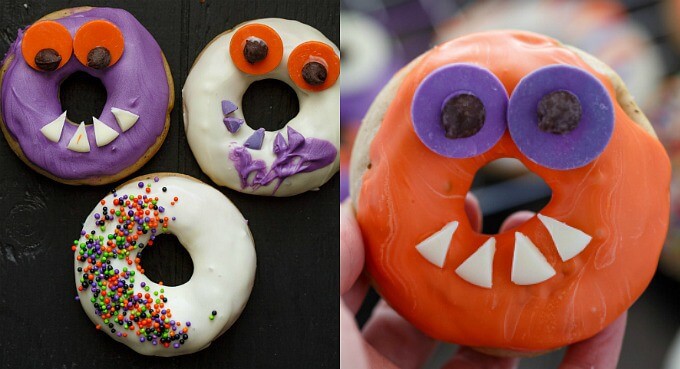 My favourite doughnut monster happened by accident. See that white doughnut with the purple teeth at the top right? I totally dropped him while decorating, resulting in that smeared look on his face. Makes me think he is a ravenous monster who gobbled up something bloody and that is the remnants on his face… Terrifying and disturbing, but totally Halloween!
I used the same recipe for the doughnuts as in my Christmas doughnuts with candy melts glaze (which were adapted from Grab A Plate.) However, this time around I tried going more with a pumpkin spice flavour. The banana flavour still came through, but I so want to try these with pumpkin puree next time! I feel they would still turn out, even with replacing the banana with pumpkin. This may be happening sooner than you think!

Halloween Monster Doughnuts
---
Yields 12-15 doughnuts
Have fun this Halloween as you and your kids put together these Halloween monster doughnuts! Get creative!
15 minPrep Time
11 minCook Time
26 minTotal Time
Ingredients
1 3/4 cups all-purpose flour
1 1/2 tsp. baking powder
1/4 tsp. baking soda
1/3 cup brown sugar
Pinch of salt
1/4 tsp. ground nutmeg
1/2 tsp. ground cinnamon
1/8 tsp. ground cloves
1 cup buttermilk, room temperature
1 egg, room temperature
2 tbsp. coconut oil, melted
2 medium-large bananas
1 tsp. vanilla

Topping

Candy melts in assorted colours
Sprinkles for garnish
Instructions
In the bowl of your stand mixer, combine the sugar, coconut oil, egg, bananas, and vanilla. Using the paddle attachment, mix until everything combines and the banana is broken down.
In a separate bowl, sift together the flour, baking powder, baking soda, salt, nutmeg, cloves, and cinnamon. Stir to combine. Alternatively add the dry ingredients and milk to the banana mixture, starting and ending with the dry mixture. Mix until JUST combined.
Preheat oven to 350F. Grease your doughnut pan.
Add batter to a large Ziploc bag or decorating bag and snip the end off so you have a small opening. Pipe batter into each doughnut crevice, filling about 3/4 of the way up (too little will result in small doughnuts, but too much batter will result in over-stuffed doughnuts with no hole!)
Bake for 11-12 minutes or until toothpick comes out clean. Allow to cool for a couple of minutes in pan before moving them to a cooling rack.
To top the cooled doughnuts, melt candy melts. Dip doughnuts into melts and top with whole candy melts as eyes. Place some melted candy on the back of chocolate chips to attach to the eyes. Cut "teeth" out of melts and add to face.
Notes
I used candy melts from my local Bulk Barn, but Wilton also makes great candy melts!
7.8.1.2
477
https://thecookiewriter.com/halloween-monster-doughnuts/
Counting down the days to FBC 2016! Not only will I meet a ton of awesome people (including some favourite Canadian food bloggers,) but I get to attend a photography workshop with Dennis Prescott! Going to be awesome learning from the master himself!
Love these Halloween monster doughnuts?! Try some of these recipes: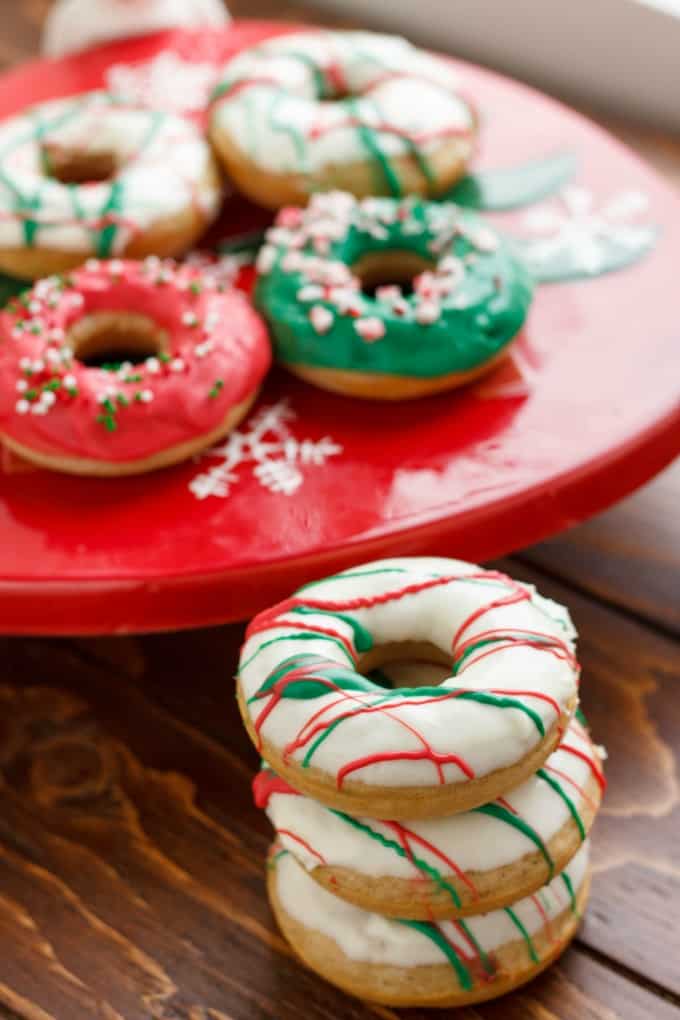 Christmas Doughnuts with Candy Melts Glaze