Sometimes recipes need to be semi-homemade to save time and effort! This turkey pizza bread recipe uses store-bought bread loaves that are topped with your favorite pizza toppings! A fun one to make with kids as even the pickiest eater can choose their toppings.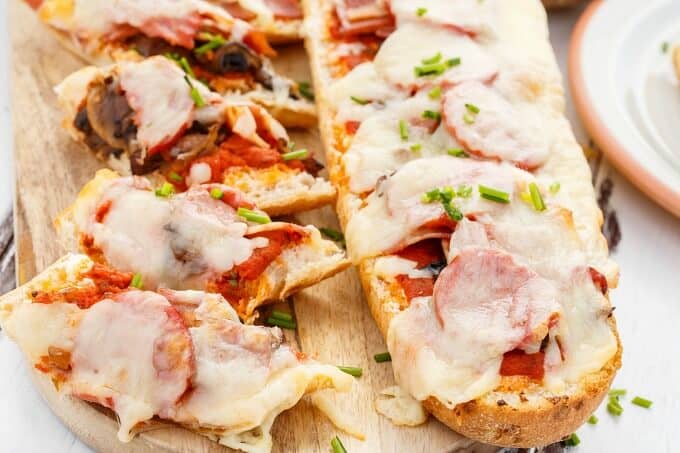 Over the past few weeks the weather has been quite temperamental.
I remember many Easters where we would be sitting outside eating our food because it was nice out. This year, well, I just feel warmer temperatures will never come!
We were testing out some grilled pizzas on the BBQ (have you ever grilled pizza directly on the grill?!) First off, why am I still using the oven for pizza-baking?! Okay, it is simple and can be used any time of the year, however, grilled pizza really does belong in its own category! You know we love pizza! See some of my pizza recipes below:
The big issue is that it is still cold out and even when we got the grill to over 600F, as soon as we opened the lid the grill temperature plummeted. On a nice, hot, summer day, your pizza will cook super quick on the grill! These cold, winter-like temperatures? Well, you kind of get uneven cooking, lack of melted cheese on top, and just a mess.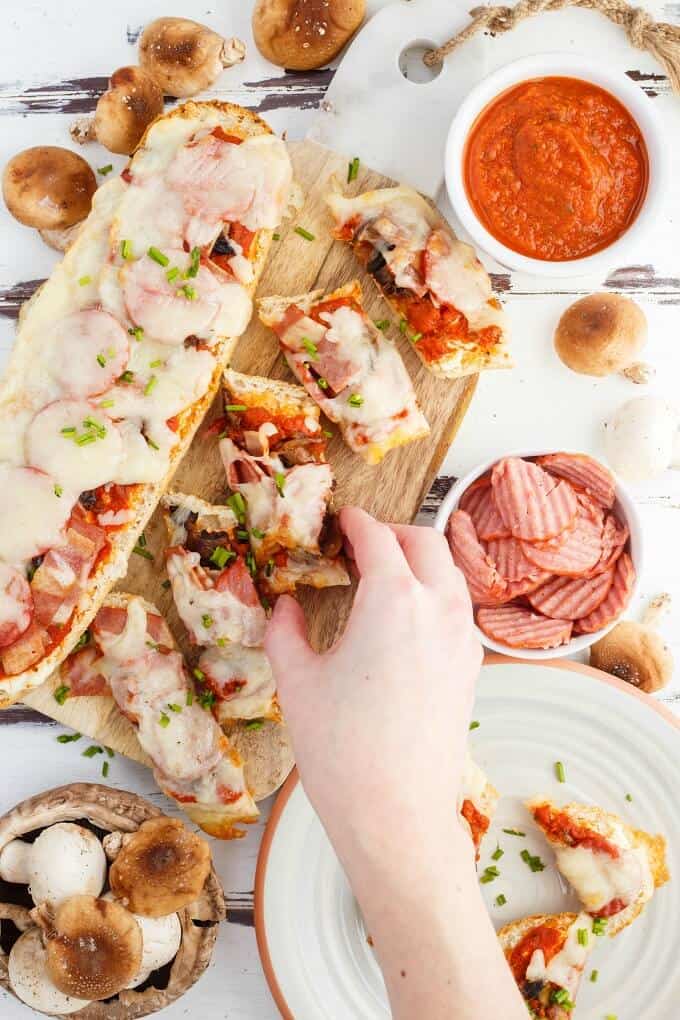 So I turned back to indoor pizza!
And kind of cheated with this turkey pizza bread!
I did not feel like baking fresh bread. There, I said it! With both my husband and I having battled the flu in the last two weeks, I had a lot on my plate (shedding season is going to be the death of me!) Can anyone provide ways to keep my house clean during this brutal shedding season with our Golden Retriever?! I swear brushing his hair just results in more hair growth!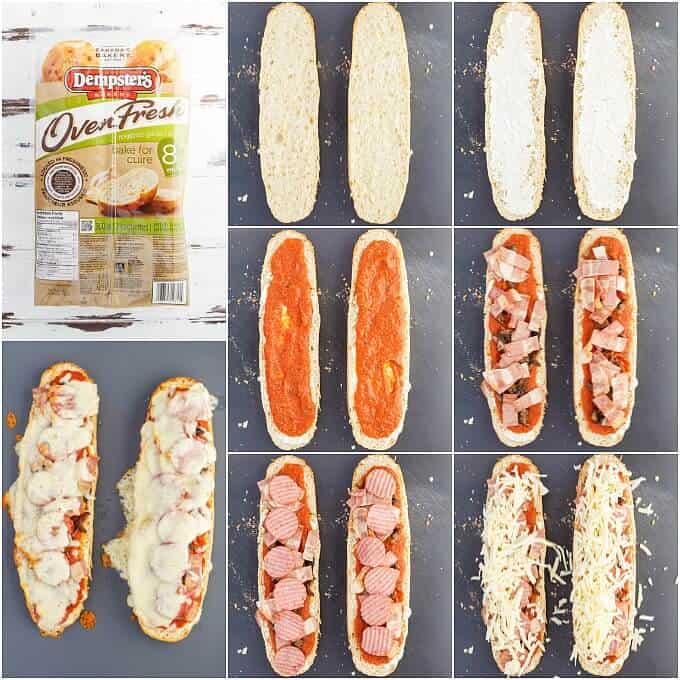 Back to our turkey pizza bread! I had some extra pizza sauce sitting around that I had made for grilled pizzas. I had also grabbed these new bread loaves from Dempster's that I wanted to try out. Can you see where I am going with this?!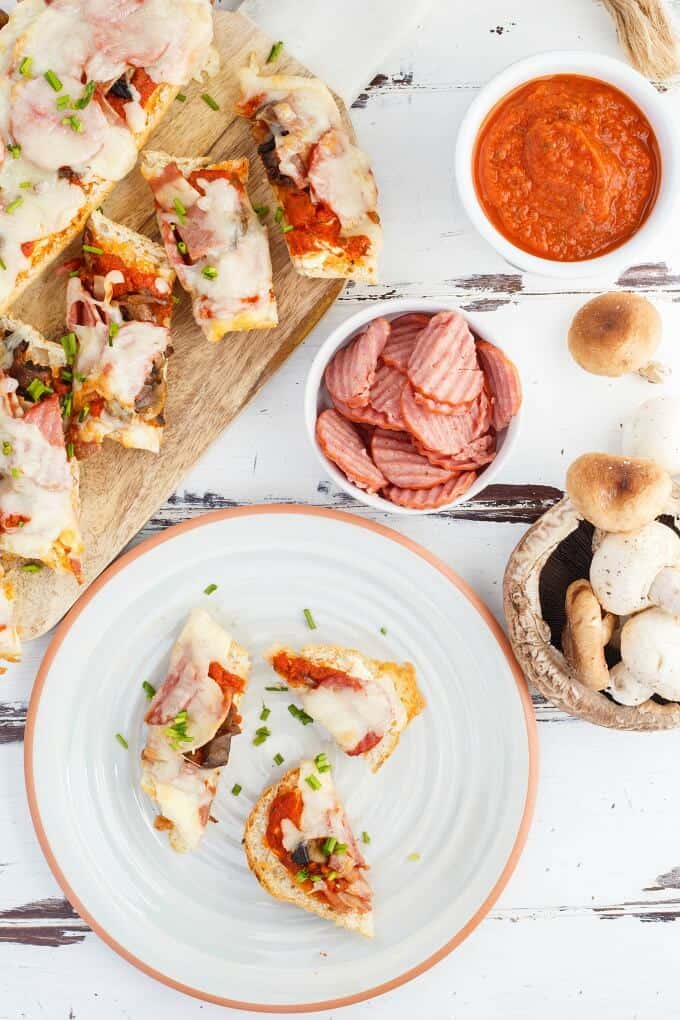 I love, love, LOVE creating meals where people can customize to their liking. We don't have any picky eaters here, however, some nights one person may want one thing, and then someone else wants another. With pizza, you have endless topping combinations! Ahhh! Just another reason to love pizza!
In this case, my vegetarian mushroom pizza bread recipe came in handy for the meat varietal. If you cook up enough mushrooms, you can use them on both pizzas! Which I did here because everyone loves them! But if your family isn't a fan, remove them altogether! Completely optional (just like you can add more toppings!)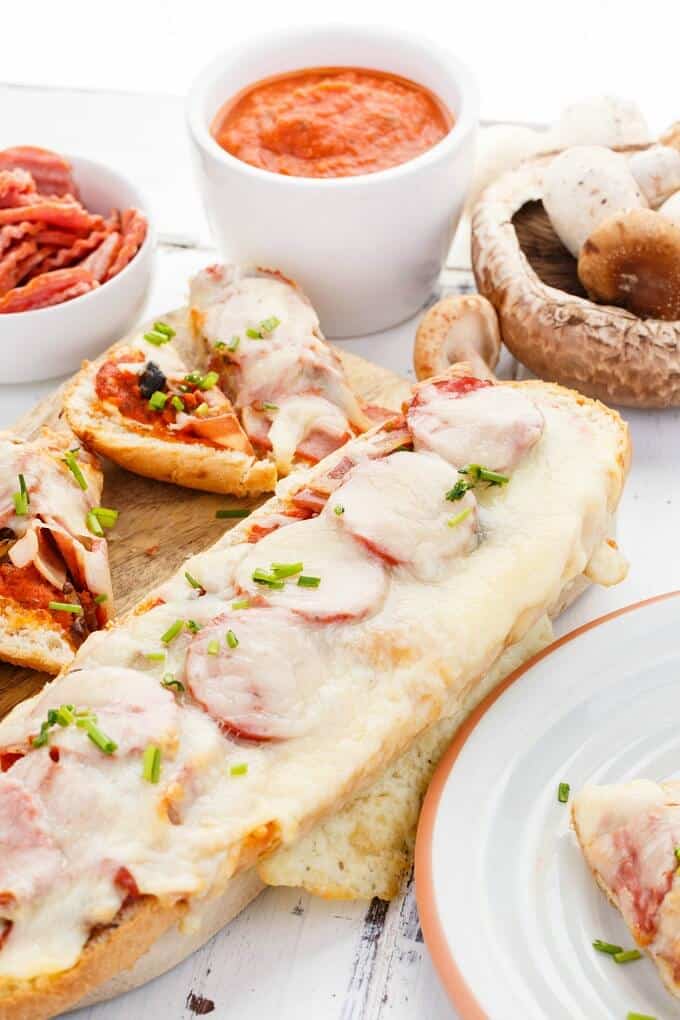 Remember all that grilled pizza talk from earlier? Well, it does tie in! This turkey pizza bread would make for a great BBQ appetizer! I foresee many of these happening poolside 😉 Then again, grilled pizza won us over so maybe we will stick to traditional for dinner 🙂
📖 Recipe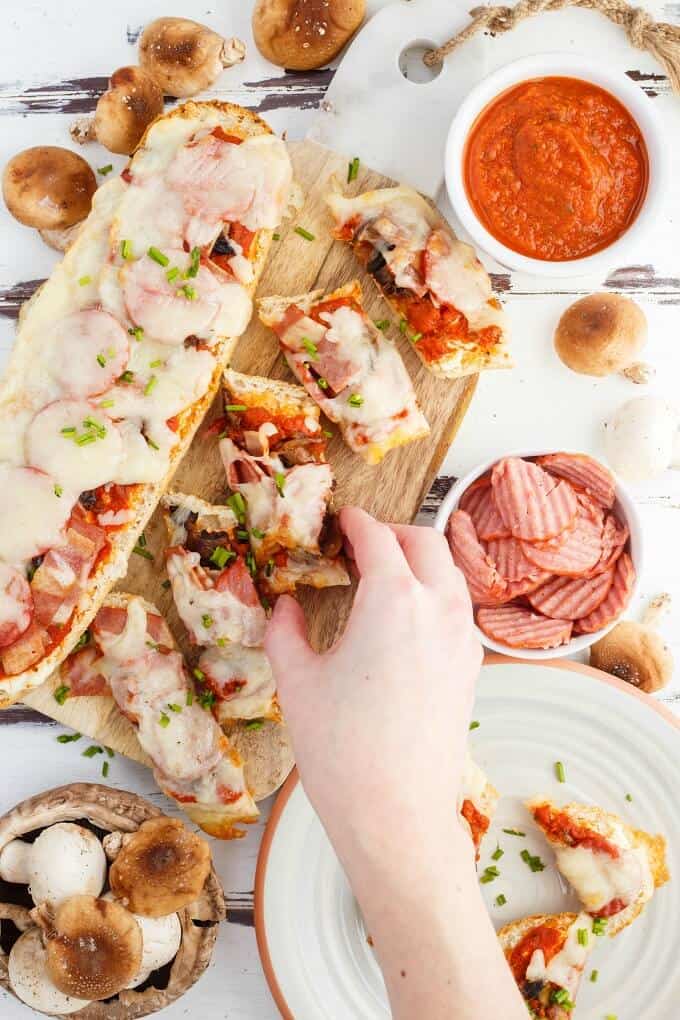 Turkey Pizza Bread
An easy weeknight appetizer or perfect for a pool party (can you imagine this on the grill?!) This turkey pizza bread can be made completely homemade or with store-bought ingredients.
Ingredients
1 small baguette (about 150 g,) sliced in half lengthwise
3 tbsp. plain cream cheese, melted
6 tbsp. store-bought or homemade pizza sauce
4 tbsp. sauteed mushroom mixture (see vegetarian recipe here.) Optional!
4 slices turkey bacon, cooked and sliced
12-16 turkey pepperoni slices
1 cup grated mozzarella cheese
Chopped chives for garnish if desired!
Instructions
Preheat oven to 400F. Line baking sheet with silicone liner or parchment paper for easy clean up!
Place baguettes onto baking sheet. Smear both pieces evenly with cream cheese mixture. Smooth out 3 tbsp. sauce onto each slice.
Top with mushroom mixture (if using,) turkey bacon, pepperoni, and cheese.
Place into oven and bake for 8-10 minutes.
Remove, allow to cool slightly, slice and serve with chives if desired!
Notes
Feel free to add any toppings you like (even take some away!) Would make a great recipe on the BBQ. Mushroom mixture comes from my vegetarian alternative: mushroom pizza bread.
Nutrition Information:
Yield:

4
Serving Size:

1
Amount Per Serving:
Calories:

193
Total Fat:

14g
Saturated Fat:

7g
Trans Fat:

0g
Unsaturated Fat:

6g
Cholesterol:

55mg
Sodium:

593mg
Carbohydrates:

5g
Fiber:

1g
Sugar:

2g
Protein:

13g
Need something to pair this meal with?! Here are my recommendations: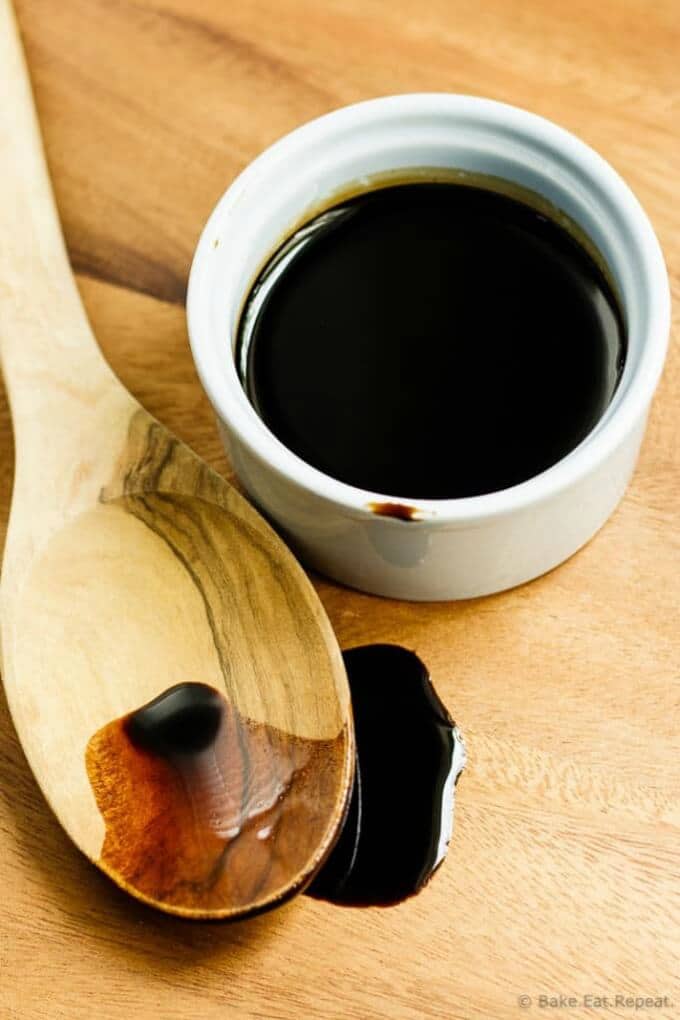 Homemade Balsamic Glaze from Bake.Eat.Repeat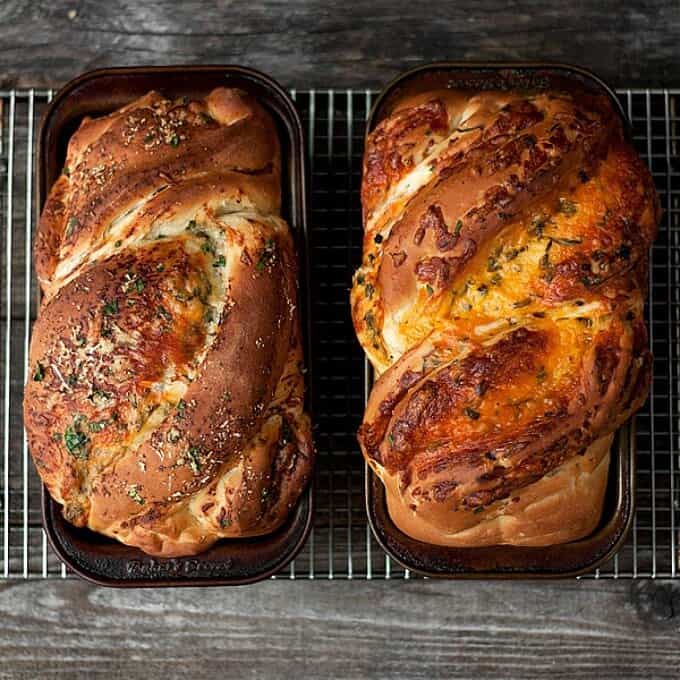 Homemade Cheese Bread: Two Ways from Seasons & Suppers
Here is the sneak peek of the vegetarian mushroom pizza bread going live tomorrow!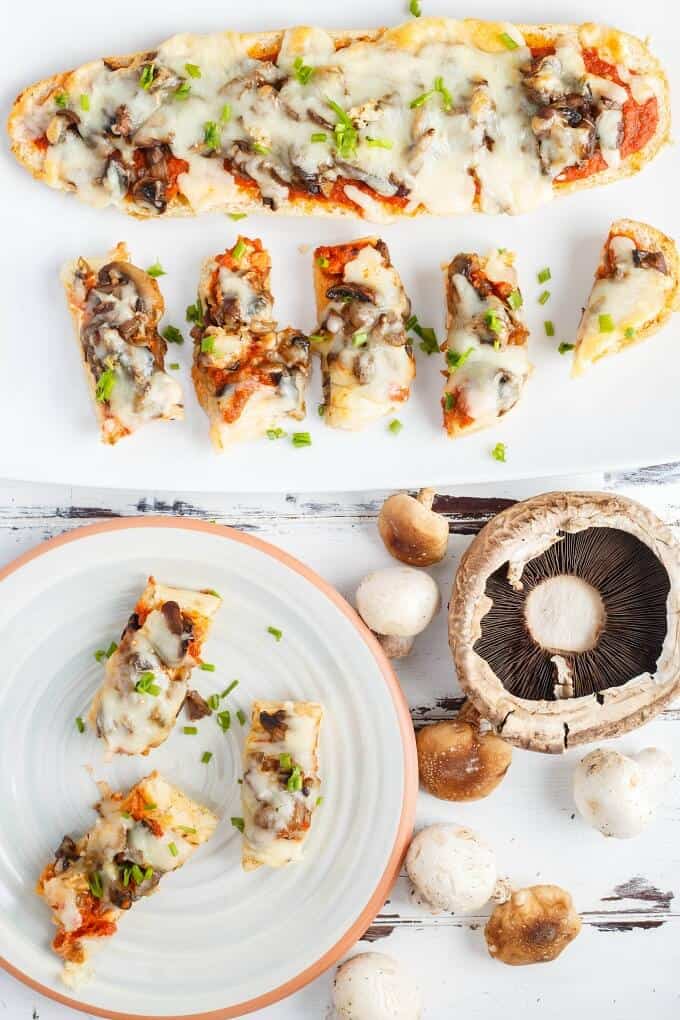 Love this turkey pizza bread?! Try some of these recipes: