Easter is this weekend, and I am already sharing what I did with my leftovers (yes, had to celebrate early as my husband works this weekend!) This inauthentic Thai basil turkey soup is not your traditional recipe, but darn is it ever good! #2meal1recipe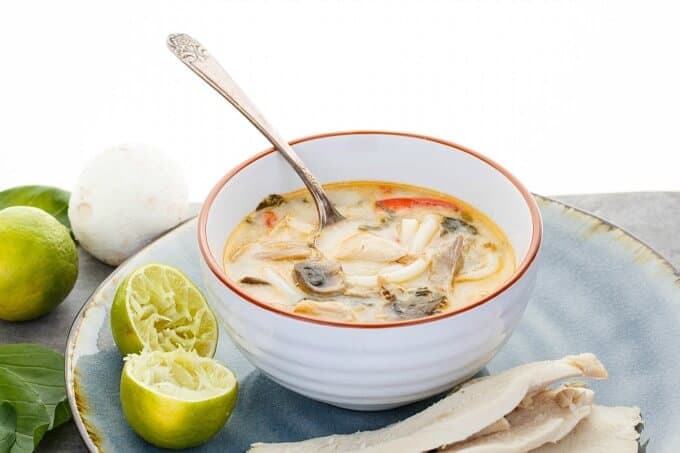 Last week I shared my Canadian Turkey post: Inauthentic Thai Basil Turkey.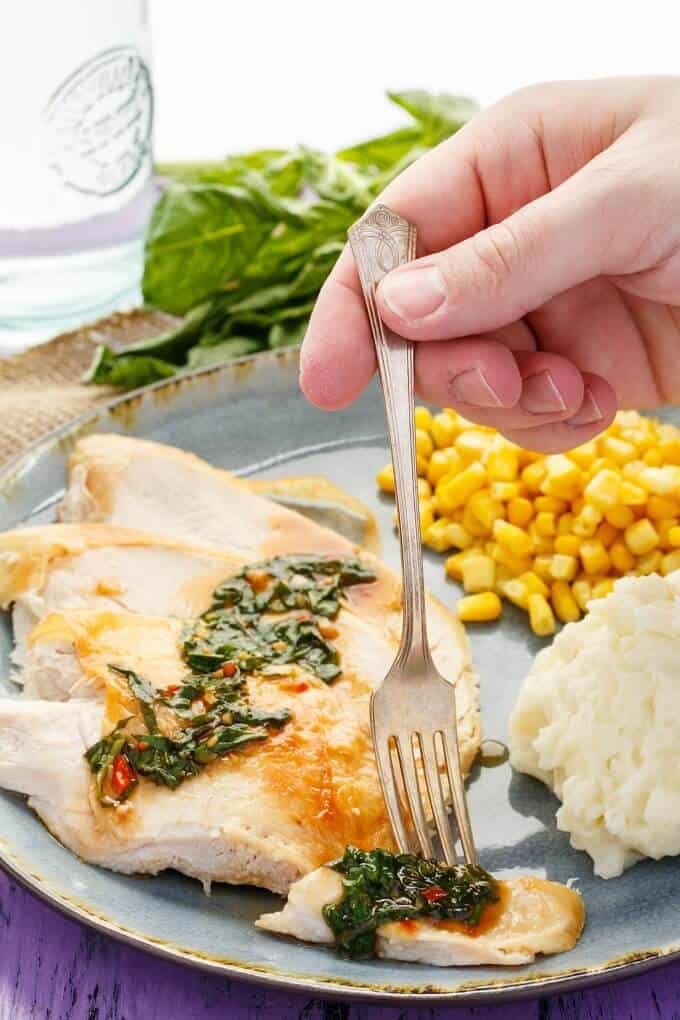 Of course, leftovers are always on the mind! Especially since kiddo and Mr. TCW are the only two eating turkey. I actually have a homemade turkey pot pie using leftovers to share, but I am going to save that for the fall. Getting ahead!!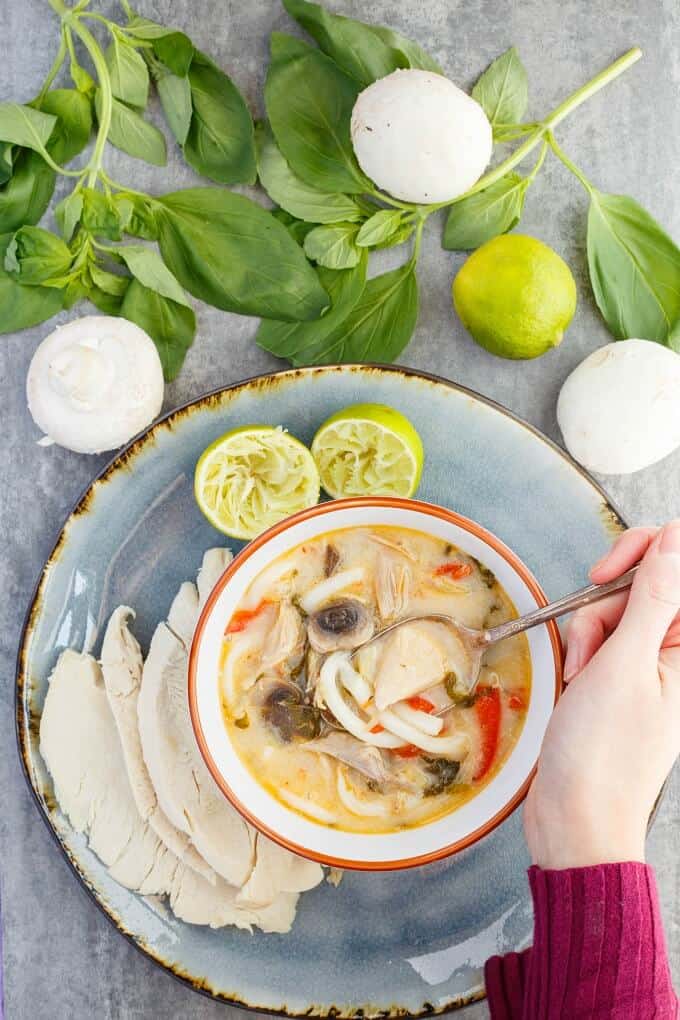 This Thai basil turkey soup uses the word "inauthentic" much like the explanation I gave in my previous two posts: I am using ingredients and techniques that are not traditionally used in Thai cooking. But still delicious!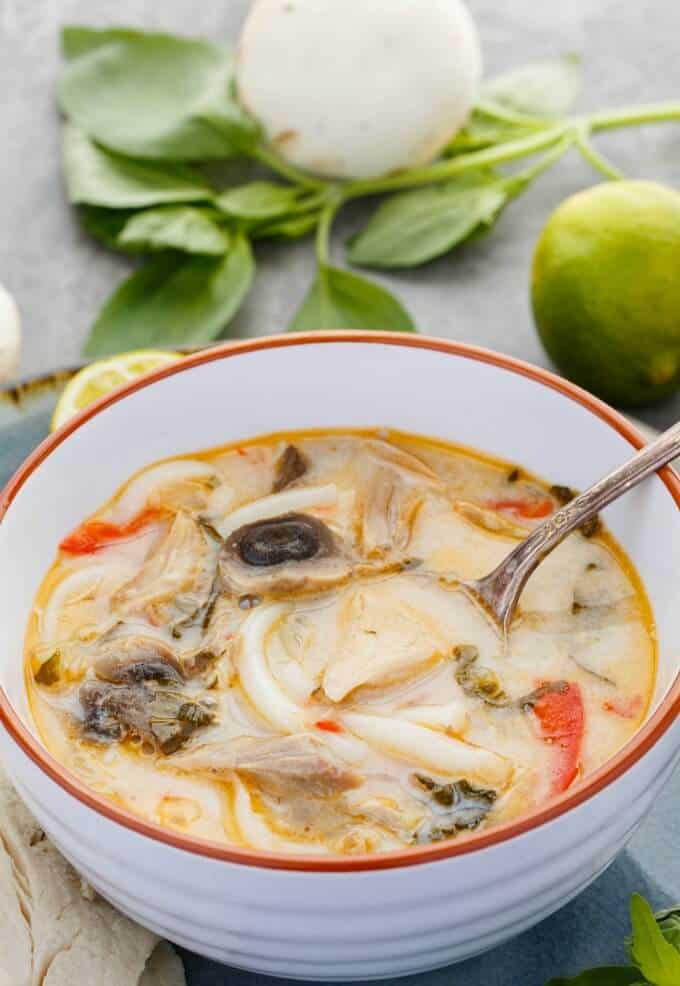 I LOVE making soup using leftovers! It's not only a great way to clean out the fridge, but soups are generally healthy and freeze great! I will admit I threw my husband for a loop when I had him try this. He was thinking I was going with a more traditional soup! Now that I think of it, I am actually surprised he thought any less from me 😉
For some of my more traditional soups using leftovers, checkout these bad boys:
Tomato Turkey Soup with Wild Rice
Homemade Turkey Soup with Creamer Potatoes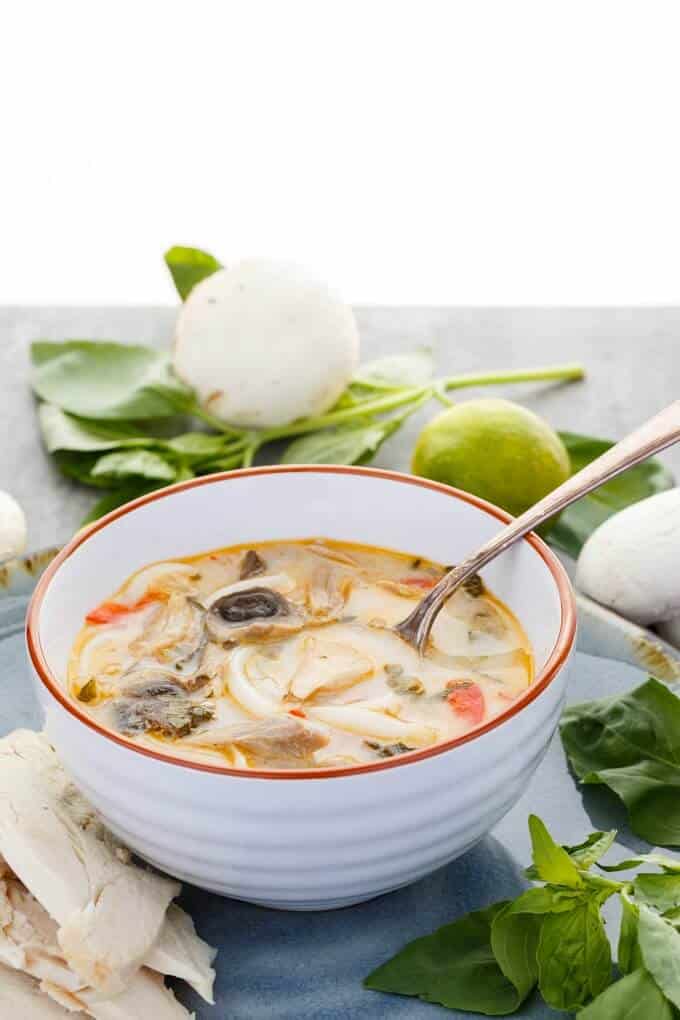 However, the reason for my non-traditional use of leftovers here in this Thai basil turkey soup is our frequent visits to the local Thai restaurant. The "sourness" of their soups from using lime juice has me crawling back for more! I didn't go overboard with the lime here, but highly suggest tasting as you go and adding what you see fit. For the vegetarian version going live tomorrow, I added A LOT more lime because that's how I like it 😉
On that topic, the soup customization is all up to you! Want more veggies? Add them! Not a fan of coconut milk? Omit it! You cannot go wrong with soup as long as you taste-test along the way!
PS: I think the worst of my flu is over! These are the Karma Gods coming at me for bragging about being healthy all the time 😉
📖 Recipe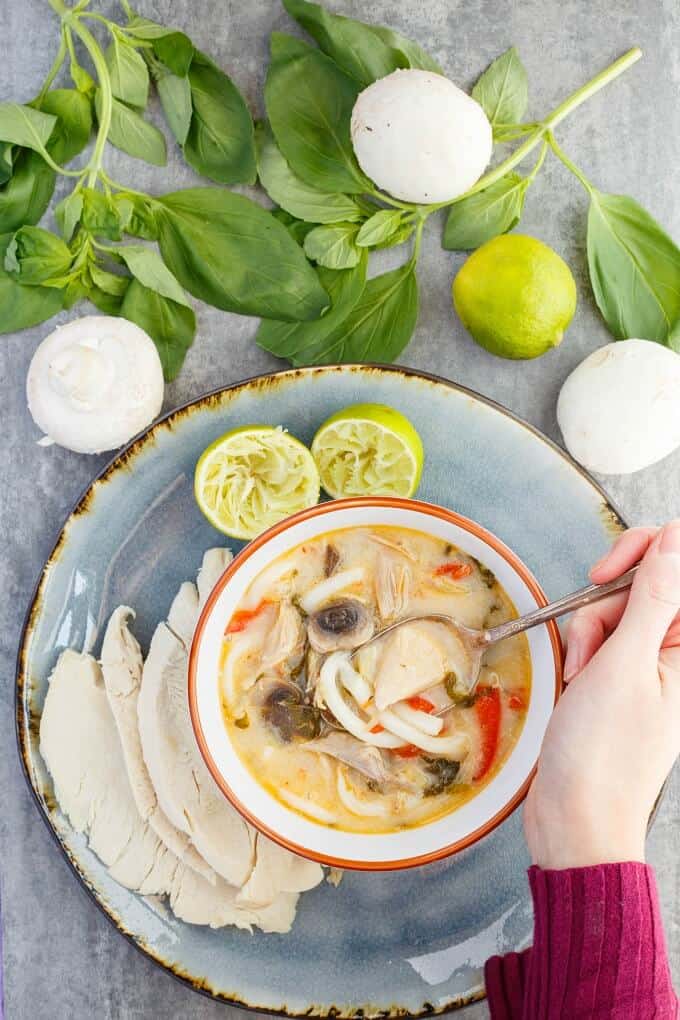 Inauthentic Thai Basil Turkey Soup (Using Leftovers!)
This inauthentic Thai basil soup utilizes holiday leftovers! But don't worry, the vegetarian/vegan version is available, too!
Ingredients
1 tbsp. vegetable oil
1 tbsp. freshly minced ginger
2 lemongrass stalks, halved (so they are easy to pick out of the soup)
2 garlic cloves, minced
1 Thai chili pepper, minced (about 1 tbsp.)
1 small onion, diced
2 baby bok choy, washed, trimmed, white stems sliced thin, green leaves roughly chopped
1 red pepper, quartered and thinly sliced
1 tbsp. oyster sauce (I used a vegetarian version)
8 cups turkey broth
2 cups leftover, roughly chopped turkey
1 (400 mL) can coconut milk
1 lime, juiced
4 oz mushrooms, sliced
¼ cup chiffonade basil
Salt and pepper
Instructions
Add oil to a large pot over medium heat. Once shimmering, stir in ginger, lemongrass, garlic, Thai pepper, onion, and bok choy stems. Cook for 5 minutes, stirring frequently. Season with salt and pepper.
Pour in broth, oyster sauce, and turkey meat. Bring to a boil, reduce heat, and simmer for 20 minutes, uncovered.
Add in coconut milk, mushrooms, and red pepper. Simmer for 10 minutes. Add in bok choy greens and basil. Continue cooking for a few more minutes, or until mushrooms are cooked to your liking. Stir in lime juice (add a bit at a time until desired "sourness" is achieved.)
Remove lemongrass and serve over udon or rice noodles!
Notes
I like to simmer my soups as long as possible to get a more concentrated flavor. However, this soup is pretty bold, and even more flavorful the days afterwards!
Nutrition Information:
Yield:

4
Serving Size:

1
Amount Per Serving:
Calories:

401
Total Fat:

23g
Saturated Fat:

13g
Trans Fat:

0g
Unsaturated Fat:

8g
Cholesterol:

84mg
Sodium:

2156mg
Carbohydrates:

27g
Fiber:

5g
Sugar:

7g
Protein:

28g
Need something to pair this meal with?! Here are my recommendations: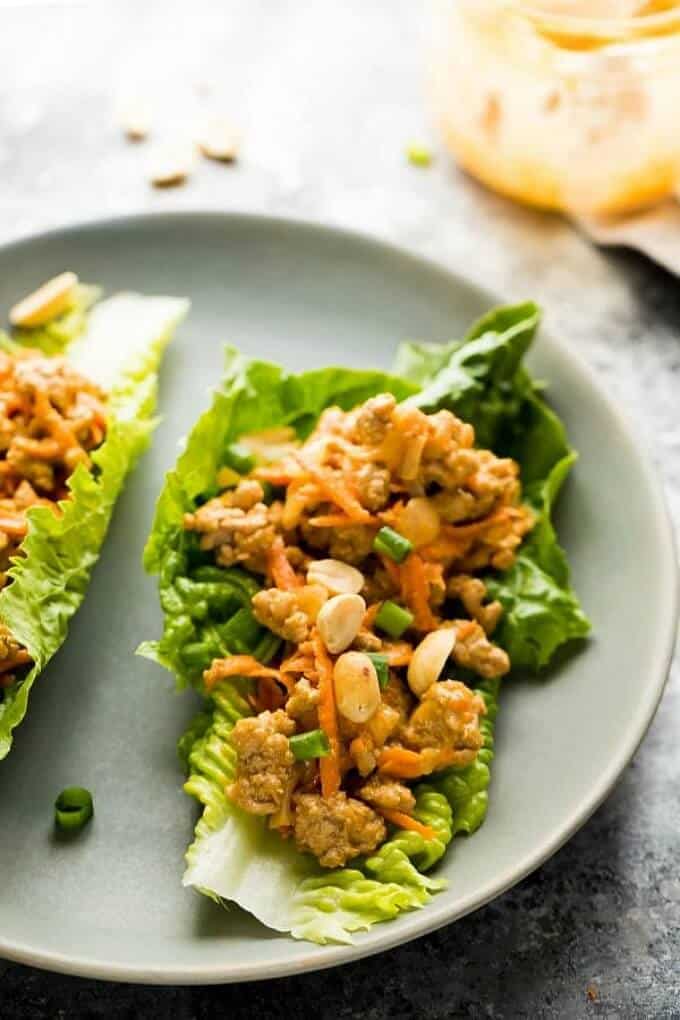 Thai Turkey Meal Prep Lettuce Wraps from Sweet Peas and Saffron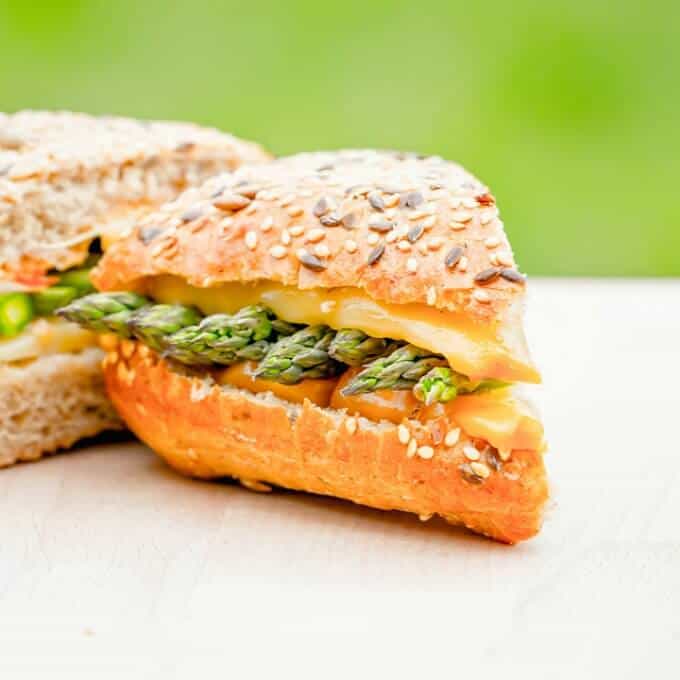 Grilled Cheese and Asparagus Sandwich from Krumpli
Here is the sneak peak of the (inauthentic) vegetarian Thai basil soup going live tomorrow!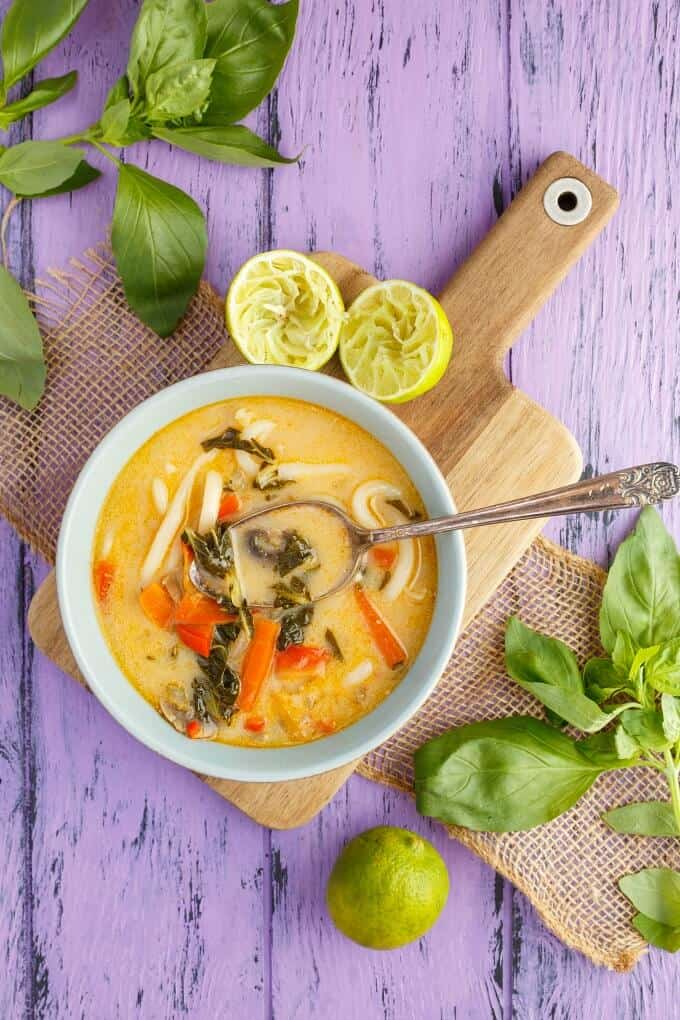 Love this inauthentic Thai Basil Turkey Soup?! Try some of these recipes: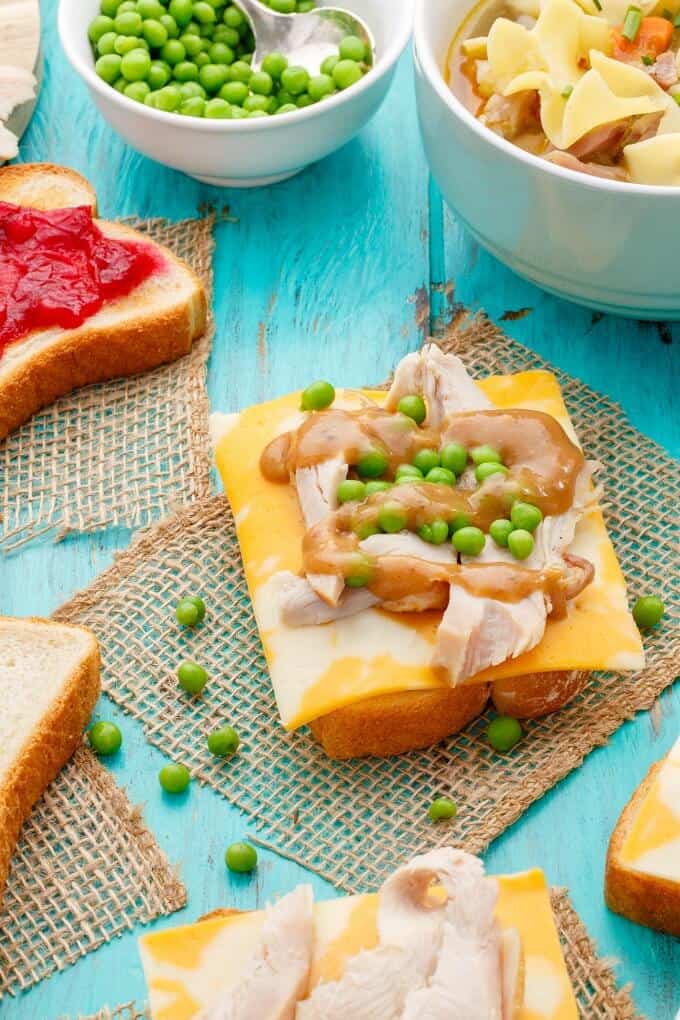 Open-Faced Turkey Sandwiches (Using Leftover Turkey)