We are always trying to come up with new traditions! When it comes to whole turkeys, people want crispy skin, but bold flavors! This inauthentic Thai basil turkey recipe in partnership with Canadian Turkey puts the whole turkey to use, and is perfect for Easter, Mother's Day, Father's Day, or any day of the year!

This is a sponsored post. I was fortunate enough to receive monetary compensation and/or products from Canadian Turkey. Though compensation was received, all opinions are my own and I would not recommend a product that I did not enjoy.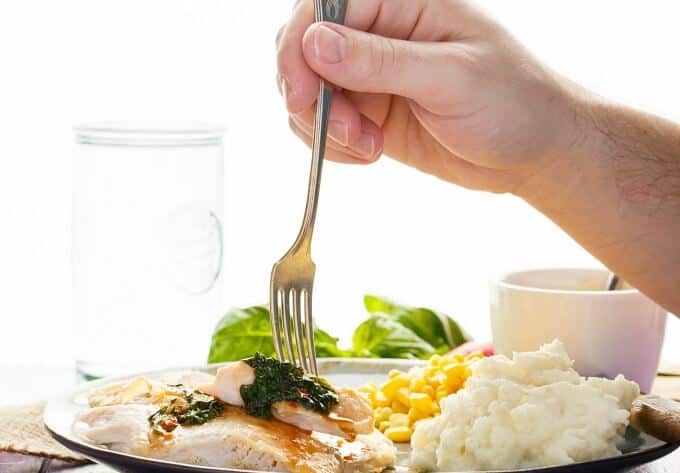 I feel Easter falls early this year!
Last week was March Break for kiddo (the equivalent of spring break for my American readers.) She's back to school for the week, followed by a nice break again afterwards for Easter 🙂
Hopefully it will be warmer then! With the first day of spring tomorrow, it sure could fool me! However, that has not stopped us from BBQing recently 😉
If you are lucky enough to be able to grill this Easter, I highly recommend my grilled herbes de Provence turkey! If you are looking for something more traditional, but with a spin, today's inauthentic Thai basil turkey is for you!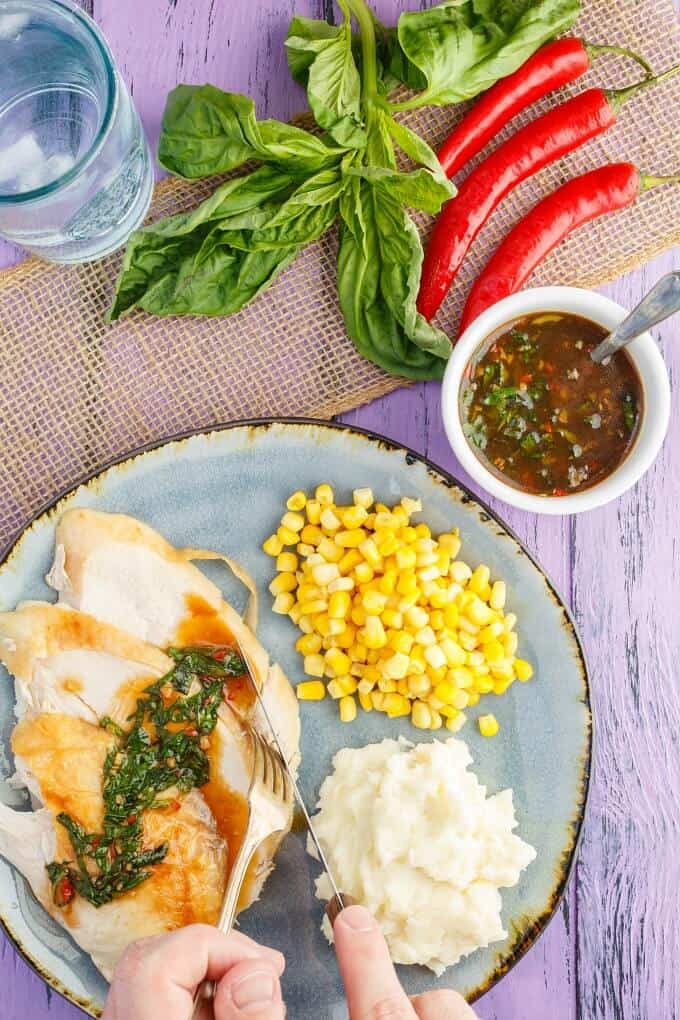 I know whole turkeys can seem daunting, but they are far from it! I have learned so much over the years, and every time I cook one, I am always trying to figure out ways to make the meal easier, affordable, and flavorful. Having jumped into brining, I can no longer skip this step! Sure, it adds in some extra steps, but the results are worth it. Not only does the turkey remain super juicy, it cooks much faster! My 11 pound turkey was completed in just over 2 hours of cooking. Unbrined turkeys of the same size would take about 3 hours (give or take: and remember, I always cook my turkey unstuffed!)
HOWEVER, if you don't have the time to brine, or more commonly, don't have the space, that is okay, because the sauce I made to go along with this turkey is so flavorful, it would probably mask your mom's typical overcooked turkey 😉 Mom, if you are reading this, I am sorry!!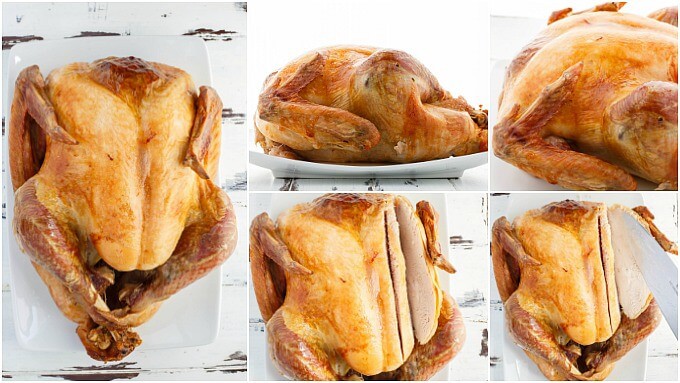 I never marinade a whole turkey. Not that I don't want all those delicious flavors for my family! It is the issue of getting a crispy skin in the end. Any meat with a skin, I tend to let the meat dry out (uncooked) in the refrigerator overnight. When it comes time to cook, I place the meat into the oven with no oil/butter/fat. The skin will naturally crisp up, resulting in some of the best textures compared to other methods. If you put a sauce over top of the skin, well, it isn't going to be able to crisp up, resulting in flappy skin...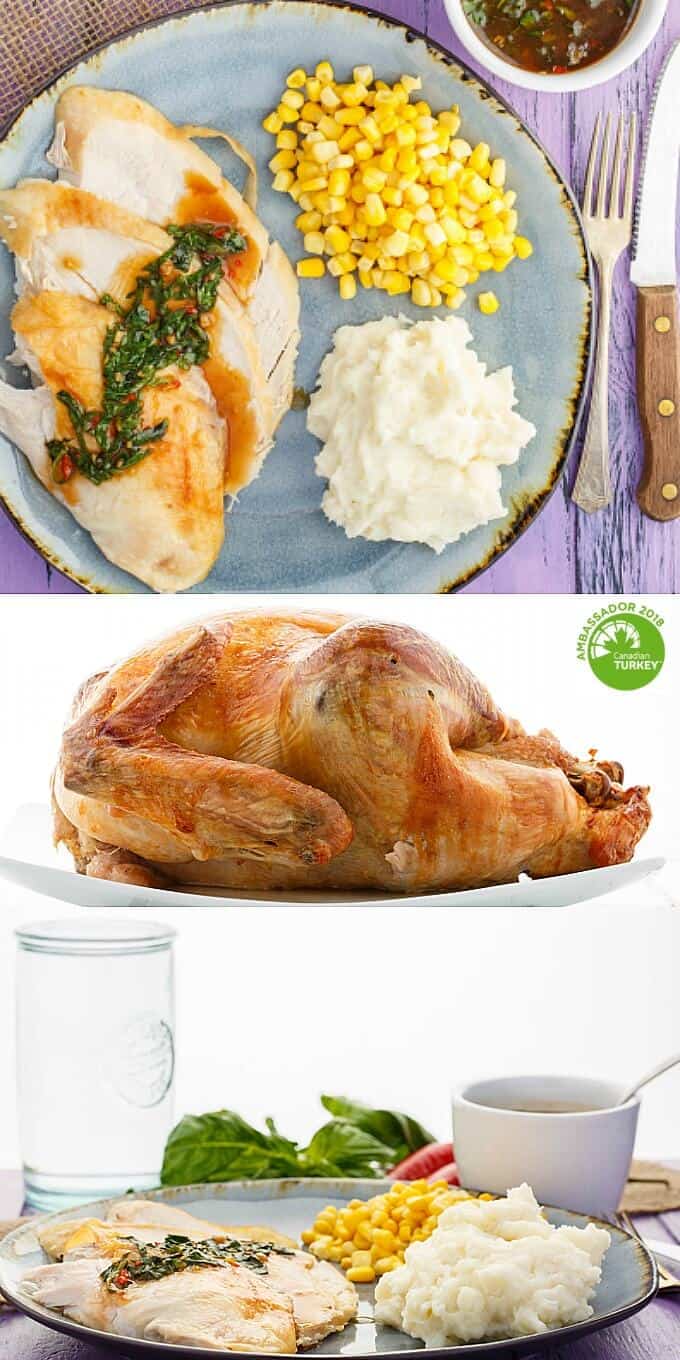 So how are we to get any flavors onto the turkey if we are not marinading? I tend to make my sauce on the side now! Today's thai basil turkey shows you that you can still have a flavorful turkey without smothering it in sauce while cooking. Plus, if you have some old-fashioned guests at your dinner table, they may prefer a traditional method. Here we are roasting a turkey traditionally, but serving it with a modern flair 🙂 That means old and new traditions can come together without anyone feeling left out 🙂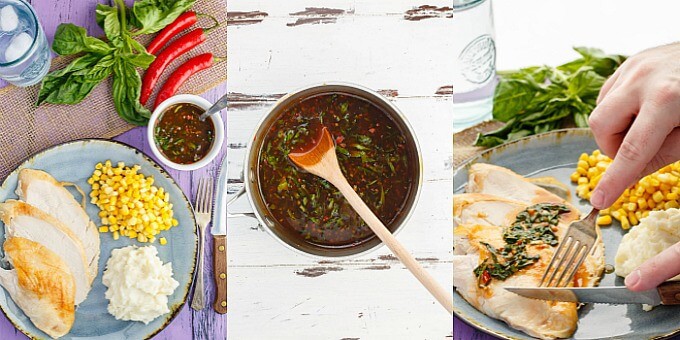 You will notice I use the word "inauthentic." That is because this is my own spin on a traditional Thai basil sauce. You usually see this type of sauce in stir frys and quick meat-searing recipes. I wanted a bit more volume as we are cooking a whole turkey for the holidays. I used traditional ingredients, but added in broth to make it more gravy-like. I never seem to want to make actual gravy, so this Thai basil sauce is a nice change! If you can find true Thai holy basil leaves, that is GREAT! If not, regular basil works perfectly (it is what I used here because it is cold and no one is growing different varietals of basil in their gardens right now!) Thai chili peppers can be found at your grocery store and are actually not spicy after cooking!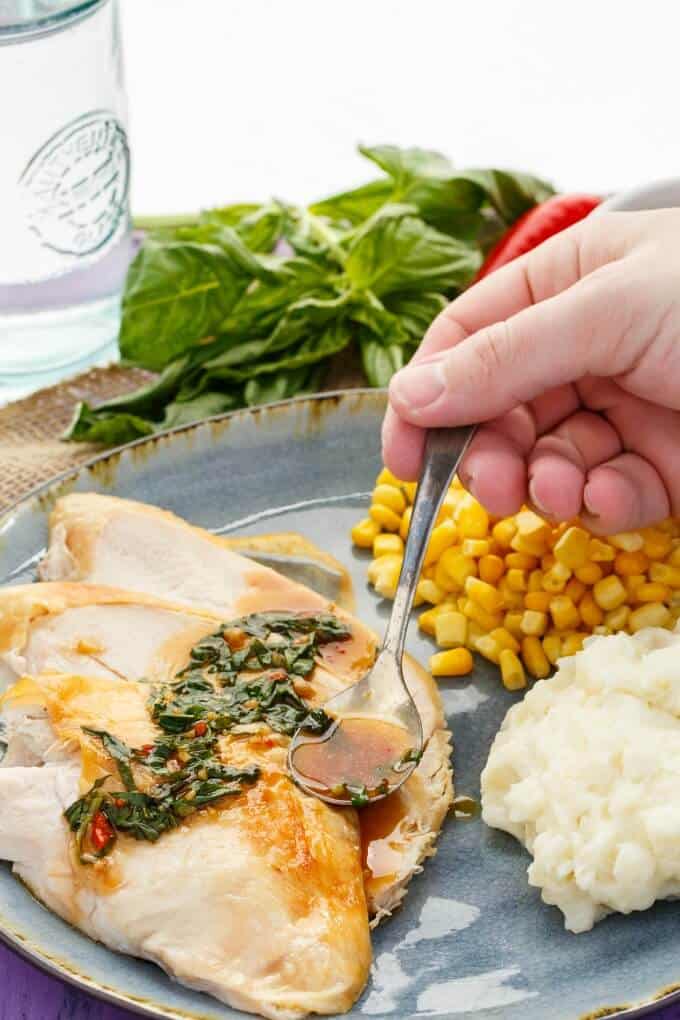 As always, Canadian Turkey is all about tradition, ease of preparation/cooking, and meal planning . Since I want to sit down and eat with my family, without worrying about making a completely new meal, I have utilized this sauce to serve over tofu! The additional step of frying up some tofu is nothing alongside the turkey, and I did not feel like I was cooking a completely new meal. Such a win in my books! I am loving where the new direction of the blog is going, and cannot wait to come up with future turkey recipes that work alongside my vegetarian lifestyle 🙂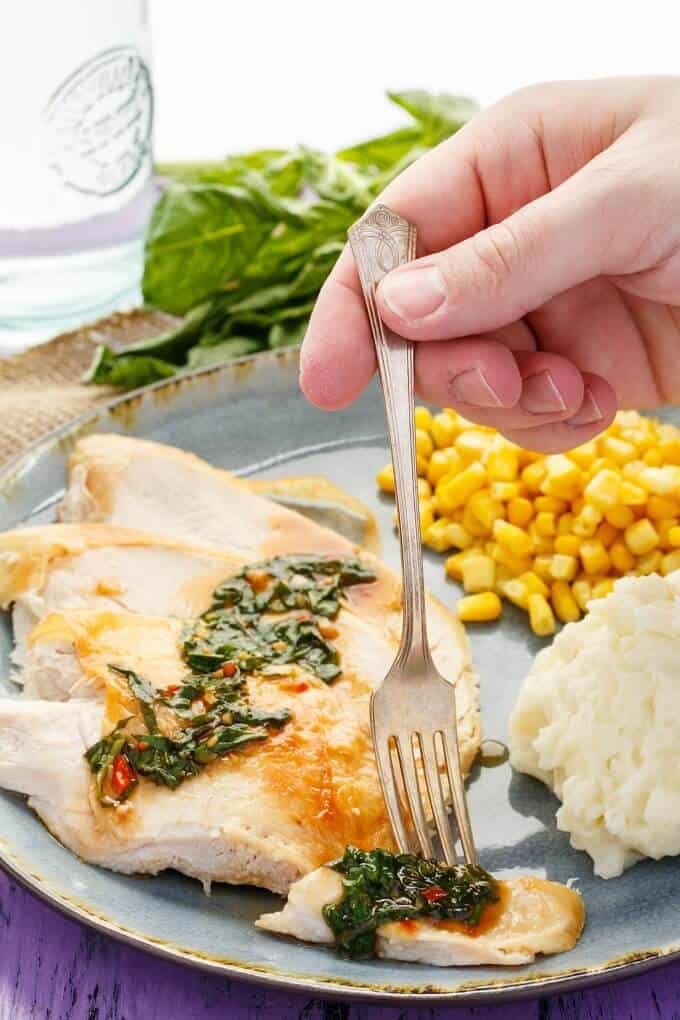 Helpful Tips!
Give ample time for your turkey to thaw.
Brined turkey cooks faster than unbrined, so begin checking your turkey temperature around the two hour mark for a 11 pound turkey.
Cook turkey for the first initial 1 hour, and then baste in intervals afterwards (this allows time for the turkey to release juices so you can use them to baste with.)
Don't have time/space to brine? Consider another method like dry-brining.
DON'T OVERCOOK YOUR TURKEY! Everything from thawing, to stuffing, to carving a turkey can be found on Canadian Turkey's website. Every oven differs, so make sure to keep a meat thermometer handy!
📖 Recipe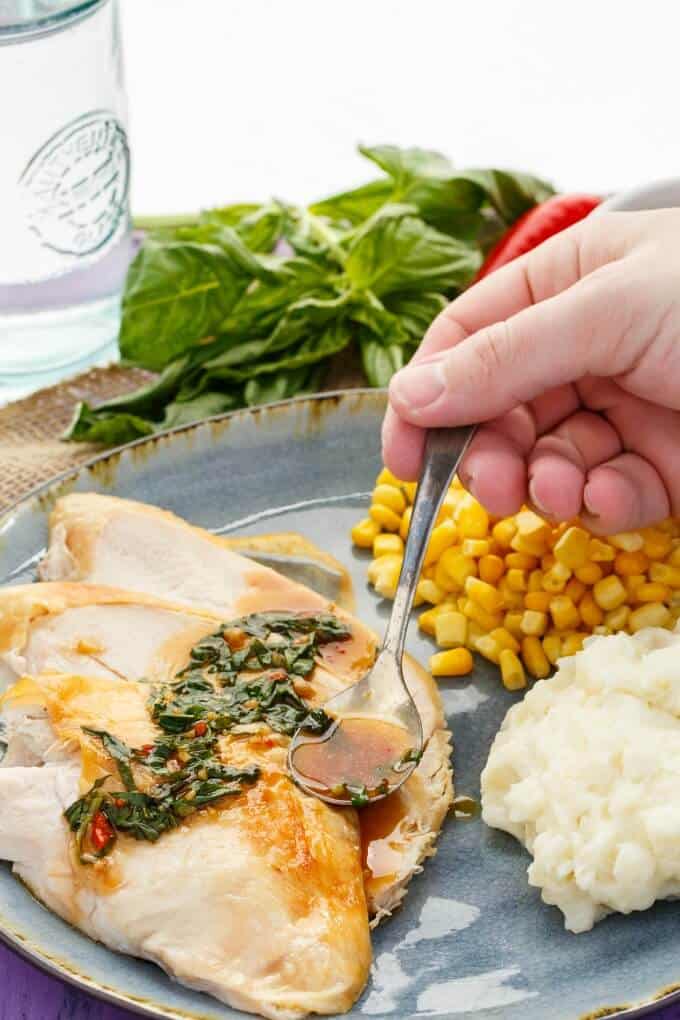 Inauthentic Thai Basil Turkey (Roasted)
Cook Time:
2 hours
10 minutes
Total Time:
2 hours
25 minutes
Creating a sauce on the side allows for your more traditional guests to choose whether they want to leave their roasted turkey as is, or smother it in this delicious Thai basil sauce!
Ingredients
11 pound unstuffed, thawed turkey, giblets and neck removed.
Thai Basil Sauce
1 tbsp. vegetable oil
1 tbsp. freshly minced ginger
1 thai pepper, minced (about 1 tbsp. minced)
4 garlic cloves, minced
⅛ cup soy sauce
2 tbsp. oyster sauce (I used a vegetarian version!)
1 tsp. brown sugar
½ cup + 1 cup vegetable broth
1 tbsp. cornstarch
4 large whole basil leaves + ½ cup chiffonade basil
Instructions
I used Canadian Turkey's brining method this time around!
Pat turkey completely dry from brine and allow to sit, uncovered, in refrigerator overnight if possible.
Cook Time
Preheat oven to 450F.
Place turkey into a turkey roasting pan. Add about 2 cups water to the bottom of the pan.
Place pan into oven, reduce heat to 350F, and roast turkey for 1 hour, uncovered. Remove from oven, baste turkey with pan drippings, and return to oven, uncovered. Continue cooking for about 1 hour, basting every 20-30 minutes, or until turkey breast reaches 165F. Remove from oven, cover, and allow to rest for 15 minutes.
Sauce
In a small saucepan over medium heat, add oil. Once hot, stir in ginger, thai pepper, and garlic. Cook for 3-4 minutes, or until aromatic and browning, but not burnt! Stir in soy sauce, oyster sauce, brown sugar, 4 basil leaves, and ½ cup broth. Bring to just a boil, reduce heat, and simmer for 5 minutes. Combine cornstarch and remaining broth. Stir into saucepan and simmer for 10 minutes, or until sauce has thickened.
Remove from heat and stir in chiffonade basil.
Serving
Slice turkey and serve with Thai basil sauce!
Notes
If you are NOT brining your turkey, make sure to salt it. If the turkey is brined, DO NOT salt it further. Remember: brined turkeys cook faster than unbrined, so you may need another hour for your unbrined turkey. For cook times, check out Canadian Turkey's guide.
Nutrition Information:
Yield:

8
Serving Size:

1
Amount Per Serving:
Calories:

1110
Total Fat:

43g
Saturated Fat:

11g
Trans Fat:

0g
Unsaturated Fat:

18g
Cholesterol:

3249mg
Sodium:

1147mg
Carbohydrates:

3g
Fiber:

0g
Sugar:

1g
Protein:

166g
Need more turkey ideas?! Here are my recommendations: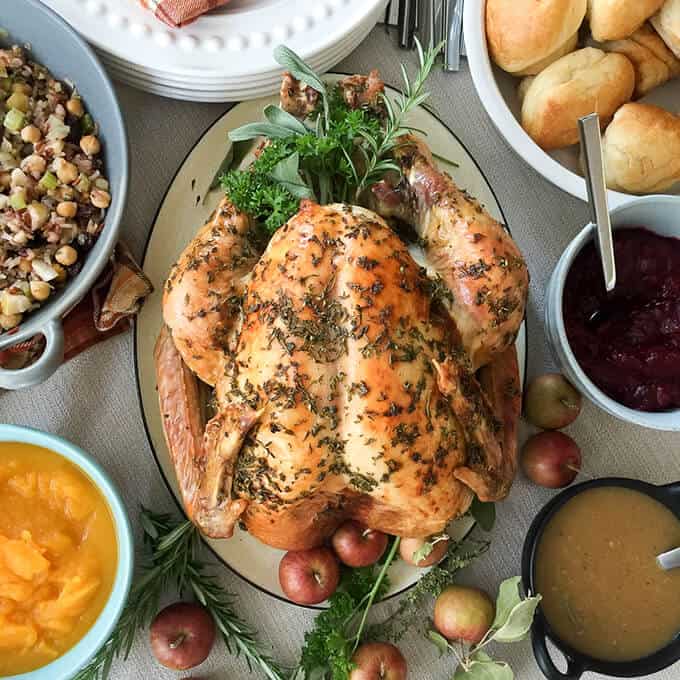 Traditional Roast Turkey with Pan Gravy from A Pretty Life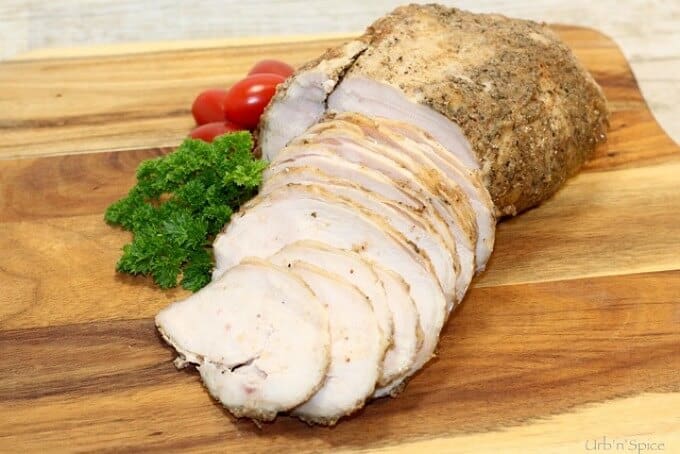 How to Make Your Own Herb and Spice Turkey Deli Meat from Urbnspice
Have some vegetarian/vegan guests attending dinner? No fear! Tomorrow I am showcasing my inauthentic Thai basil tofu recipe which uses the same sauce from today's Thai basil turkey! Very little extra work to entertain all your guests! #2meals1recipe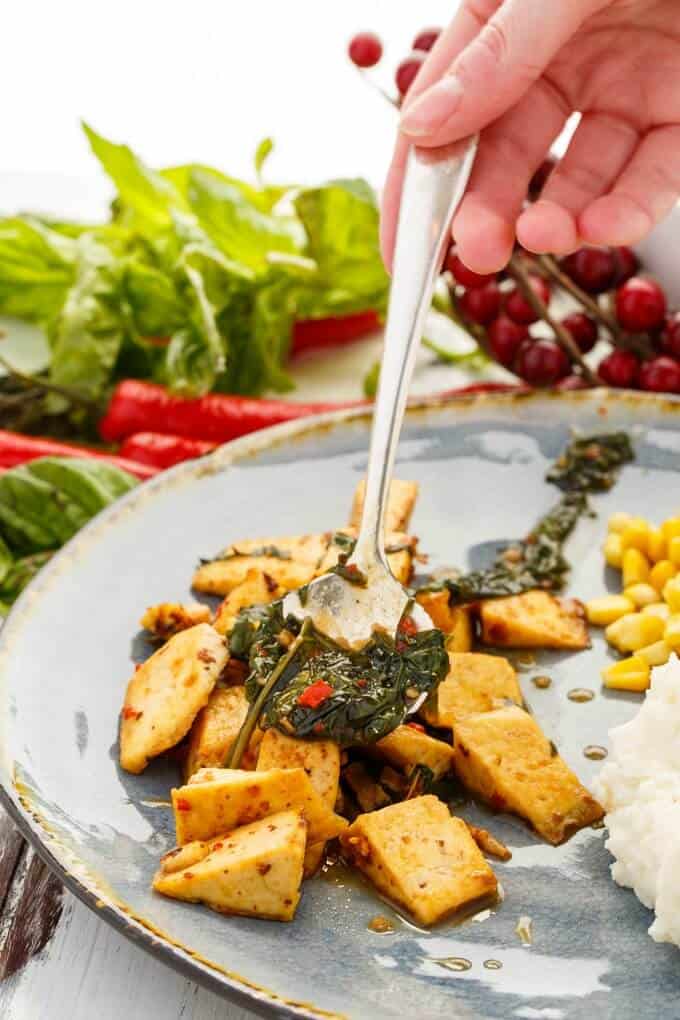 This is a sponsored post. I was fortunate enough to receive monetary compensation and/or products from Canadian Turkey. Though compensation was received, all opinions are my own and I would not recommend a product that I did not enjoy.
Love this inauthentic Thai basil turkey?! Try some of these recipes: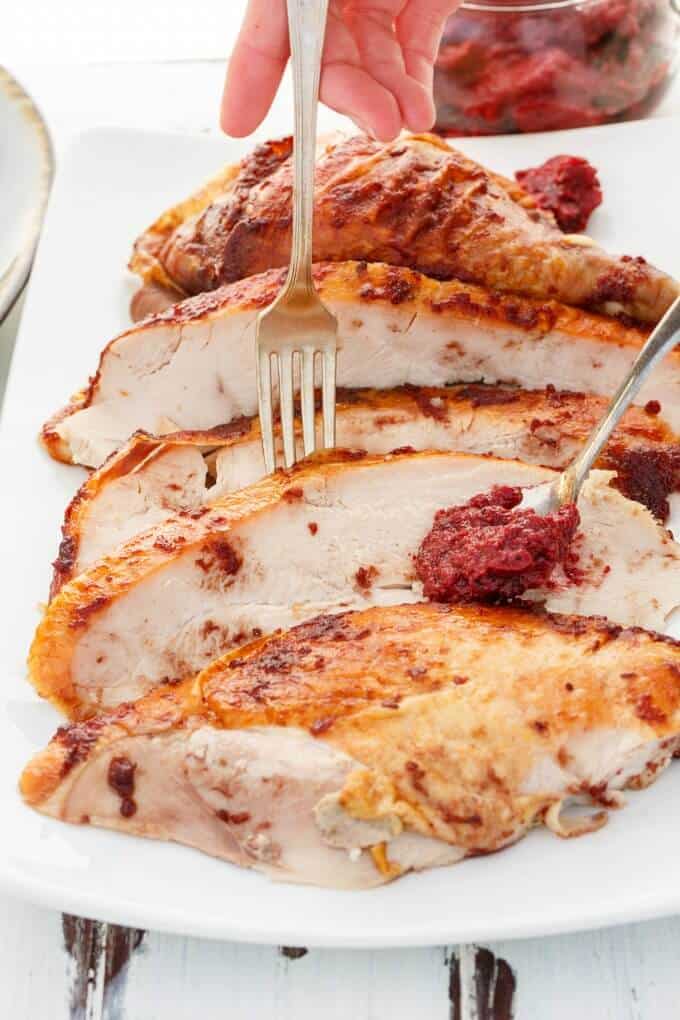 Roasted Cranberry Butter Turkey