My vegetarian and vegan friends do not have to feel left out this holiday season! This inauthentic Thai basil tofu is perfect on its own, served during a family dinner, or AMAZING in a stir fry! #2meals1recipe
I feel this idea of creating a vegetarian alternative to my Monday meat recipe is coming along nicely.
Mind you, we are only into the second week! 😉
I took last week off as it was March Break for kiddo, but I am back into the game!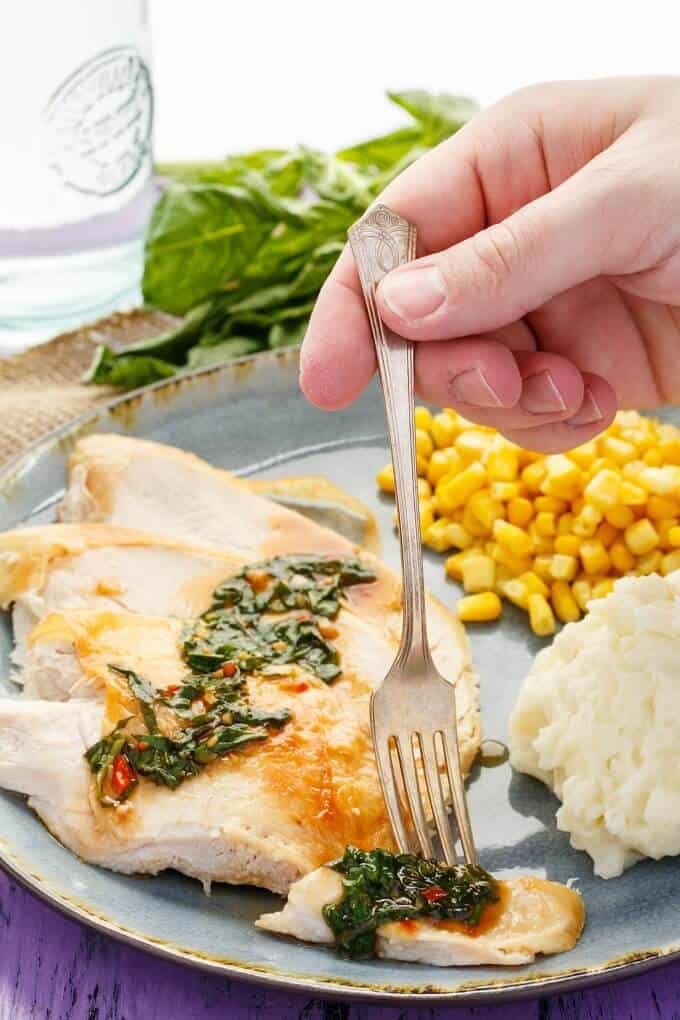 In case you missed it, yesterday's meat post was in partnership with Canadian Turkey: Inauthentic Thai Basil Turkey.
It is so nice NOT cooking two different meals for our household. My husband and daughter have no issues eating vegetarian with me, and that makes my life easier. However, there are certain times of the year I feel meat just takes over, especially during the holidays. I want to show you that every guest can feel welcomed with this #2meals1recipe project 🙂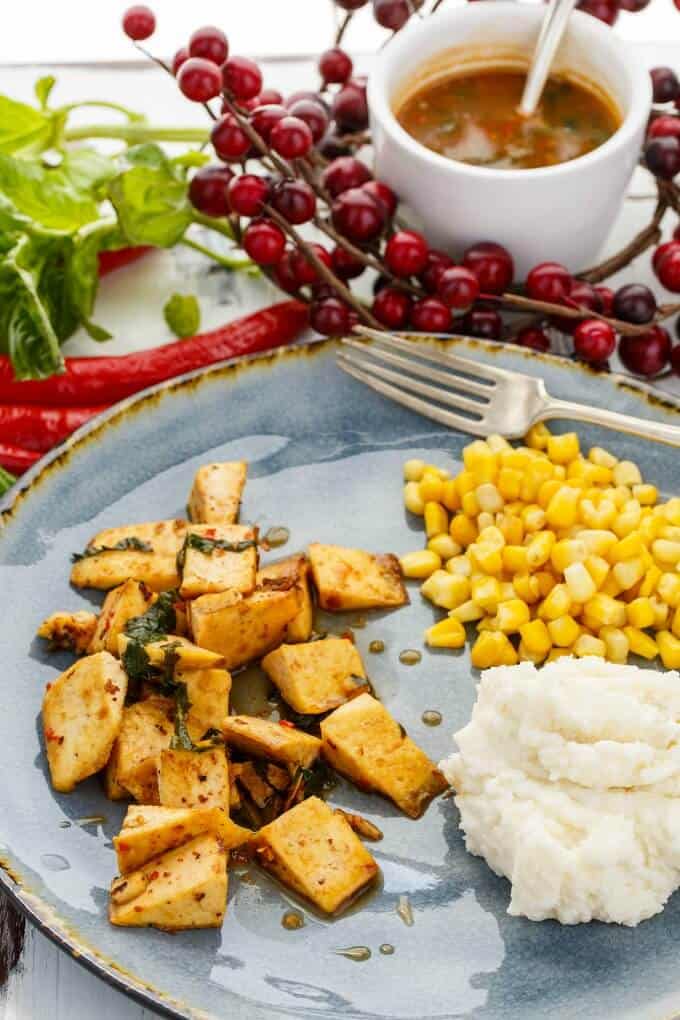 So why am I using the word "inauthentic?" Well, this Thai basil tofu recipe uses my variation of a traditional Thai basil sauce. I could not find Thai holy basil, so regular basil worked fine. But I also added vegetable broth, which is not found in typical Thai basil sauces. The reason for this decision was that I was going for a more gravy-like sauce to accompany the turkey. However, we all loved the flavors in this sauce and feel it worked for us! But I just wanted to mention that the sauce is NOT authentic (because, you know, SOMEONE would just have to point out how wrong I am!)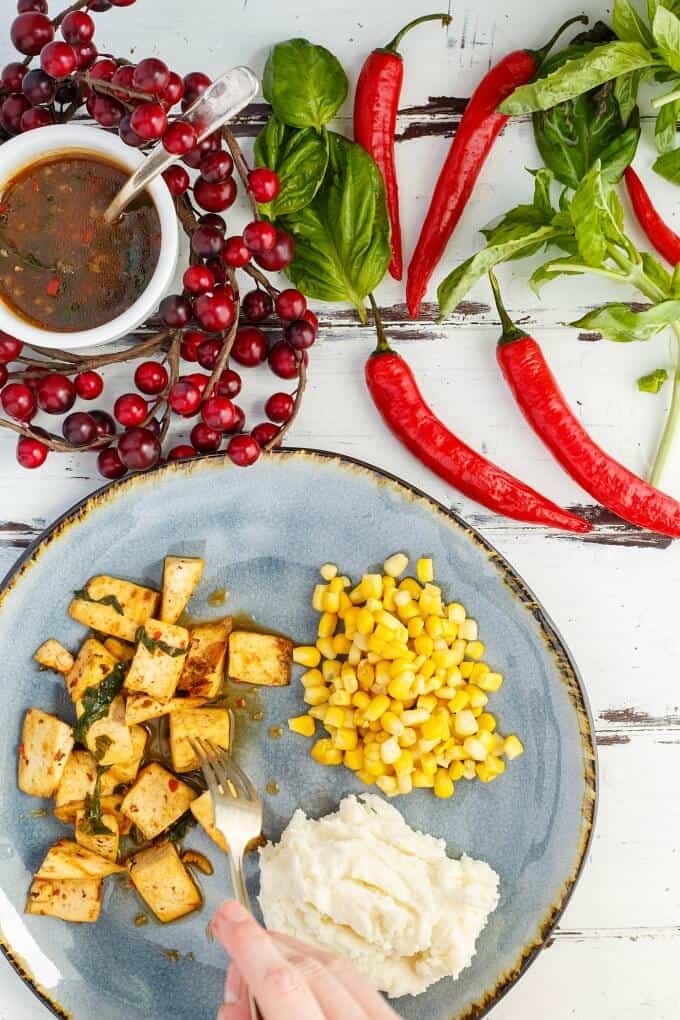 If you are looking for a more traditional Thai basil sauce, I have been eyeing this one from Eating Thai Food!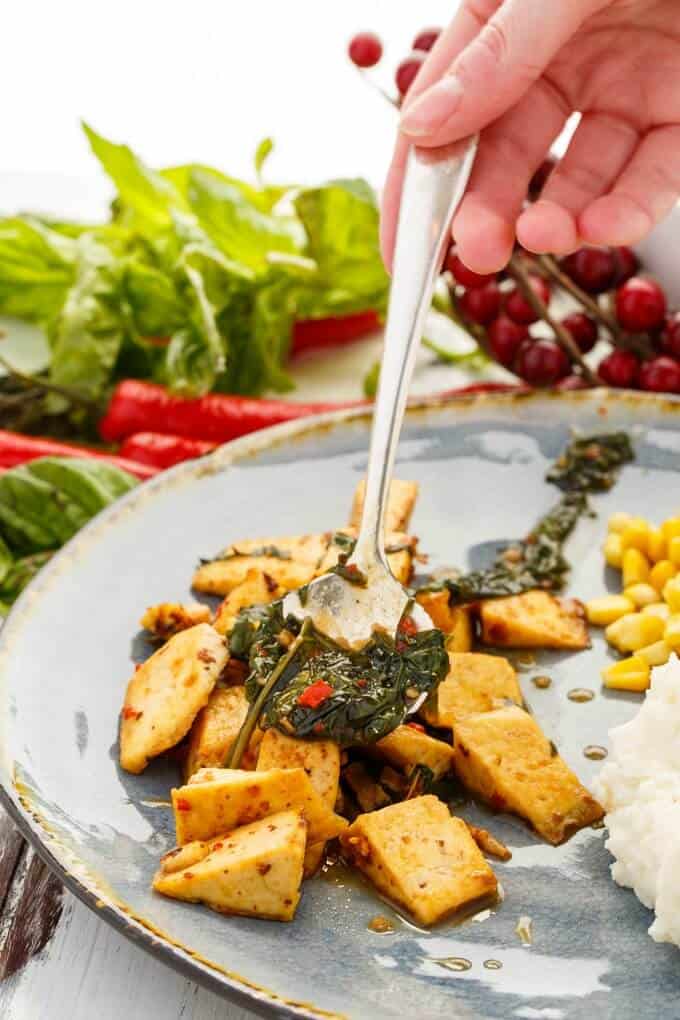 I styled this Thai basil tofu to represent a holiday dinner, with some delicious corn and mashed potatoes. It wasn't until afterwards that I realized "wow, this would make one awesome stir fry sauce!" Nothing wrong with having stir fry for Easter dinner! Would probably yield a more filling plate, too 🙂 I actually love how versatile this sauce is, and if you are not a big tofu fan, spreading it over copious amounts of veggies is just as amazing!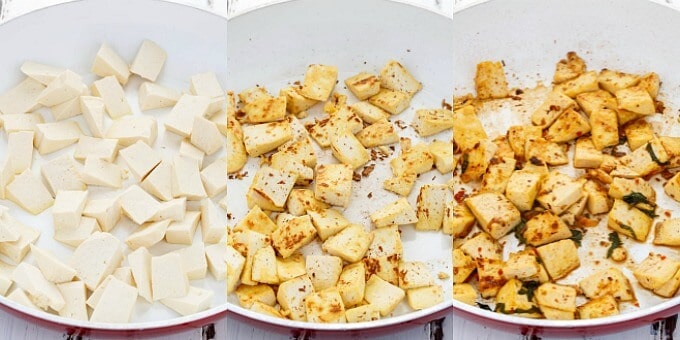 Lastly, I want to mention that I like to dry-fry my tofu. That means cooking it over medium-high heat in a non-stick frying pan with no fats/oils. I like this method because the tofu gets a nice, golden crust on it. If you have a method you prefer, go ahead and use it! I'm starting to dream of Thai basil mushrooms... Guess you guys won't be surprised when that recipe makes its way onto the blog 😉
📖 Recipe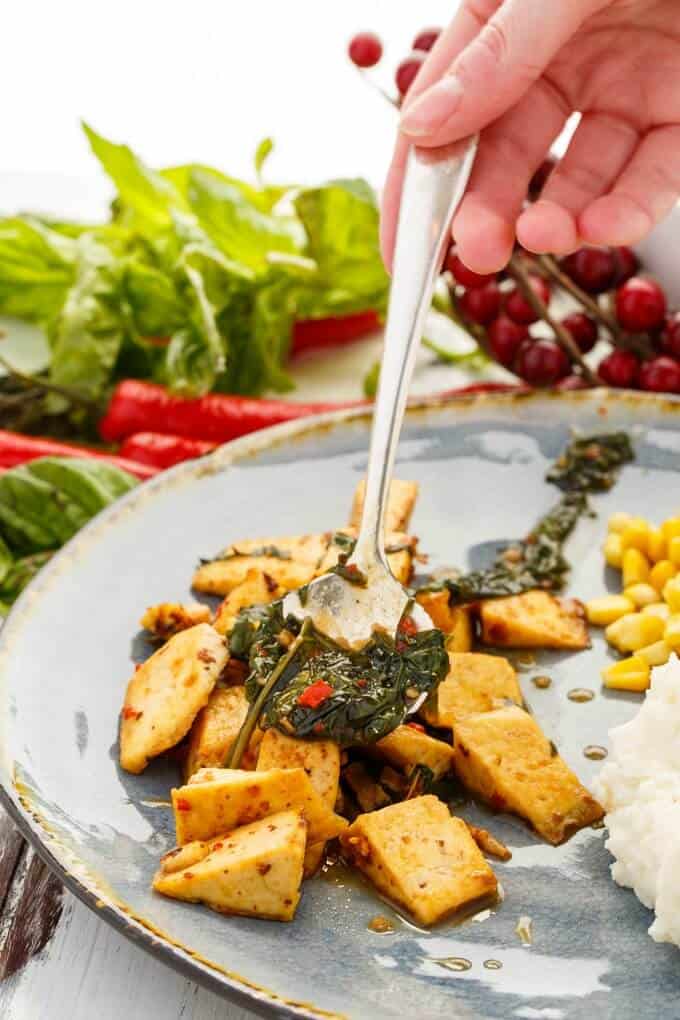 Inauthentic Thai Basil Tofu (Stir Fry Worthy!)
A quick and easy Thai basil sauce that can be served over tofu, veggies, potatoes, or used in a stir fry!
Ingredients
1 tbsp. vegetable oil
1 tbsp. freshly minced ginger
1 thai pepper, minced (about 1 tbsp. minced)
4 garlic cloves, minced
⅛ cup soy sauce
2 tbsp. oyster sauce (I used a vegetarian version!)
1 tsp. brown sugar
½ cup + 1 cup vegetable broth
1 tbsp. cornstarch
4 large whole basil leaves + ½ cup chiffonade basil
Toppings
2 lbs extra firm tofu, squeezed of liquid and sliced into little triangles
Stir fry veggies
Mushrooms
Instructions
In a small saucepan over medium heat, add oil. Once hot, stir in ginger, thai pepper, and garlic. Cook for 3-4 minutes, or until aromatic and browning, but not burnt! Stir in soy sauce, oyster sauce, brown sugar, 4 basil leaves, and ½ cup broth. Bring to just a boil, reduce heat, and simmer for 5 minutes. Combine cornstarch and remaining broth. Stir into saucepan and simmer for 10 minutes, or until sauce has thickened.
Remove from heat and stir in chiffonade basil.
Tofu
Place a large, non-stick frying pan over medium-high heat. Once hot, add in tofu slices (no need to use oil: we are dry-frying!) You will probably need to work in batches. Cook, turning occasionally, until tofu is golden brown on all sides.
Reduce heat to medium, stir in sauce, and cook for a minute or two, or until tofu has time to soak up some of the liquid.
Serve as is, over veggies, or tossed into a stir fry!
Notes
This dish is not spicy! You can always add more heat for a kick 🙂 If using for a stir fry, I recommend cutting back the 1 cup vegetable broth to ½ cup for a thicker sauce.
Nutrition Information:
Yield:

1
Serving Size:

1
Amount Per Serving:
Calories:

1173
Total Fat:

73g
Saturated Fat:

11g
Trans Fat:

0g
Unsaturated Fat:

57g
Cholesterol:

0mg
Sodium:

4290mg
Carbohydrates:

53g
Fiber:

16g
Sugar:

17g
Protein:

102g
And just for fun, I shall mention that if you do not like basil, this dish is not for you! Basil lends a big helping hand to the flavor of this dish, and if you omit it, well, it would be one sad sauce, lol. If you like basil, but don't LOVE it, you could strain out the chiffonade basil so you aren't chewing on it, but once again, basil is key here!
Need more tofu ideas?! Here are my recommendations: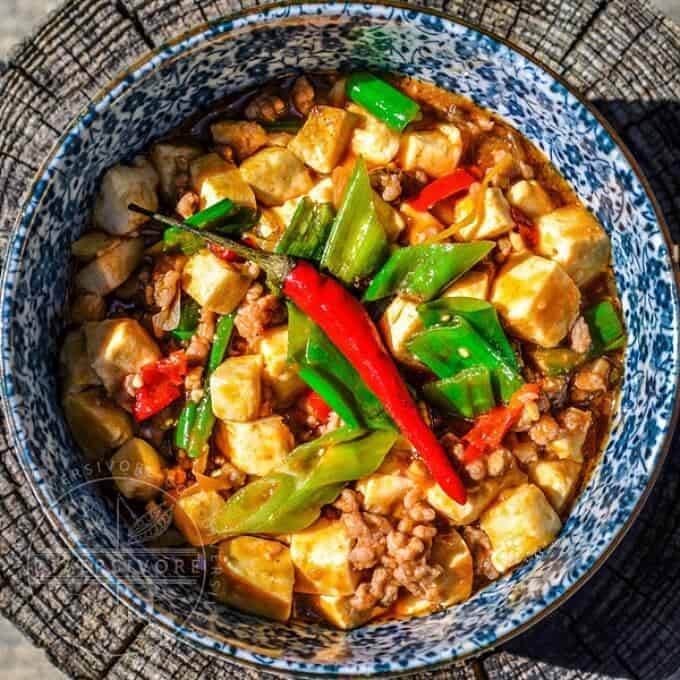 Mapo Tofu from Diversivore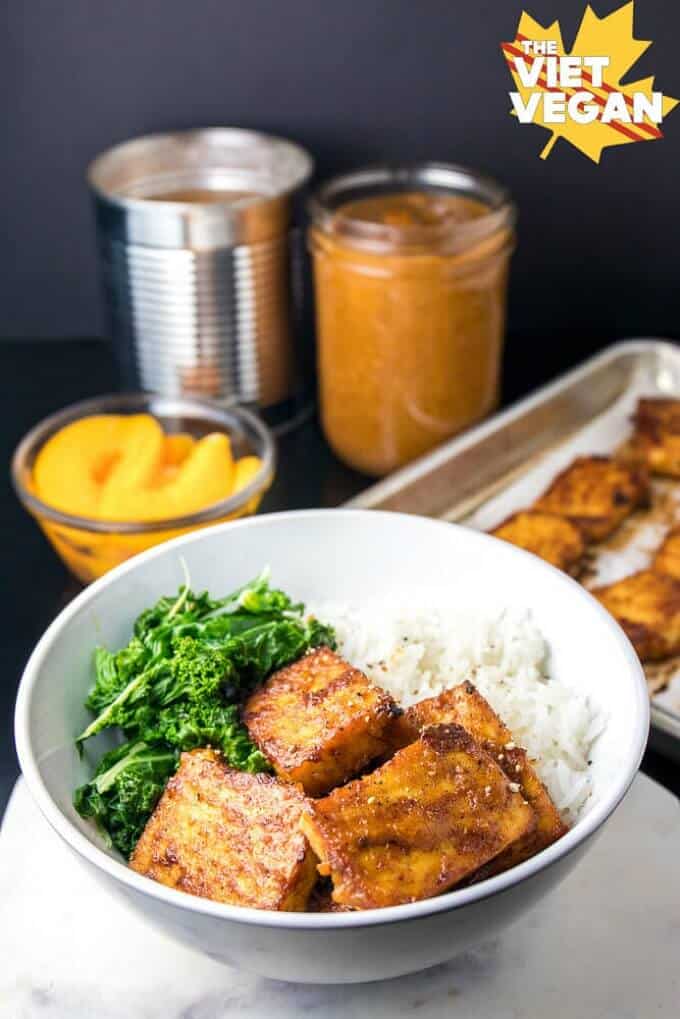 Peach BBQ Baked Tofu from The Viet Vegan
Love this inauthentic Thai basil tofu?! Try some of these recipes: