We saw the meat version of this recipe yesterday, but today is all about this vegetarian lentil cheeseburger pizza! Read all about my new #2meals1recipe project (perfect for mixed dietary families!)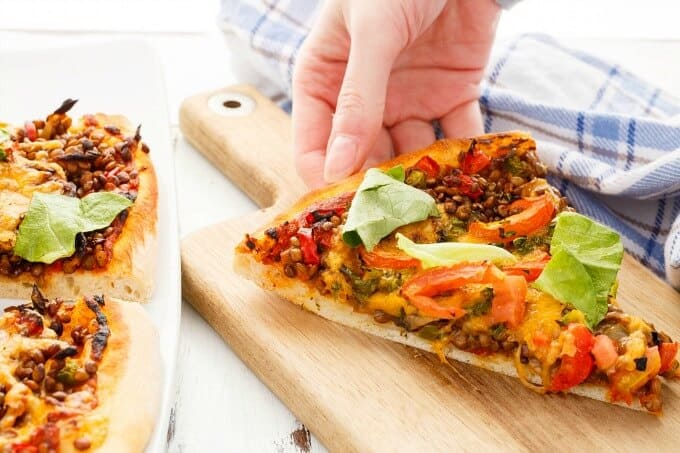 If you are back here today from my Turkey Bacon Cheeseburger Pizza post, welcome!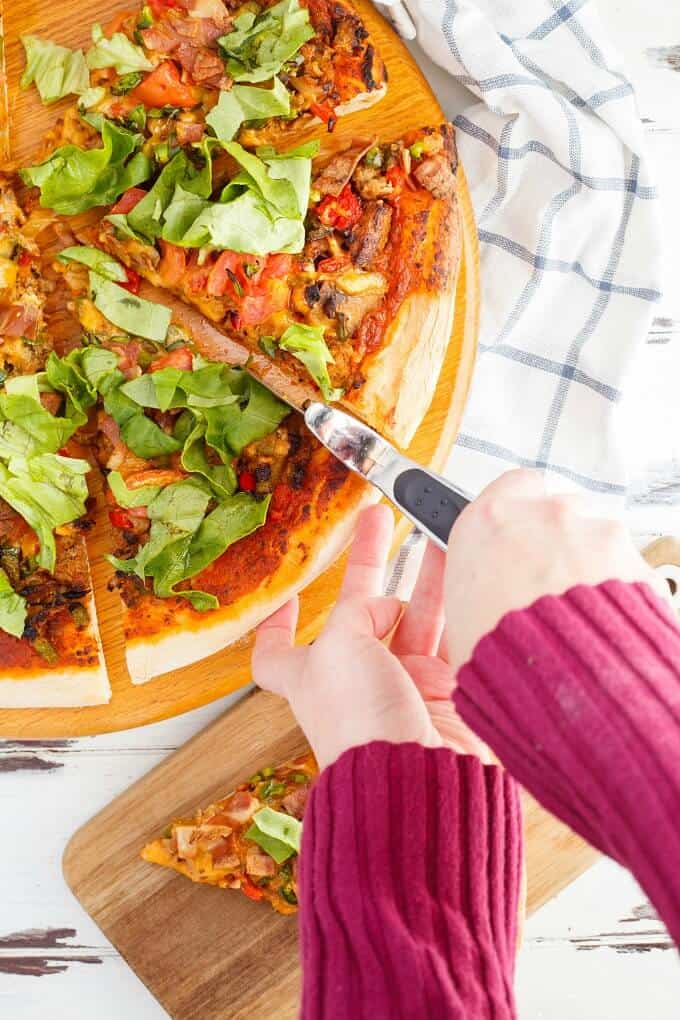 If you are new, well, I am still explaining things!
Basically my new program is showcasing a meat recipe every Monday, with the Tuesday featuring the vegetarian alternative. The premise is that both recipes are pretty similar, meaning you should feel like you are really only making one dish as opposed to two.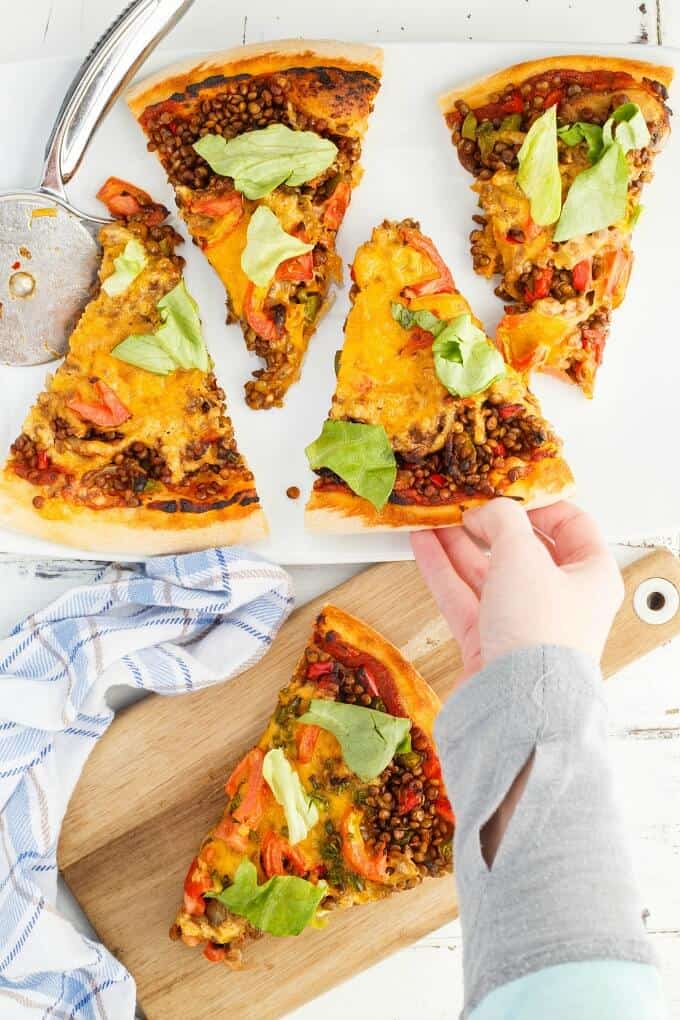 So Monday was the turkey bacon cheeseburger pizza. And today is our vegetarian lentil cheeseburger pizza. Both recipes share a batch of my homemade pizza dough recipe, along with my herb pizza sauce recipe. The only difference between the two recipes is that we have a ground meat mixture for one, and lentil mixture for the other. That is it. You can be cooking both filling recipes at the same time, so it still feels like one recipe 🙂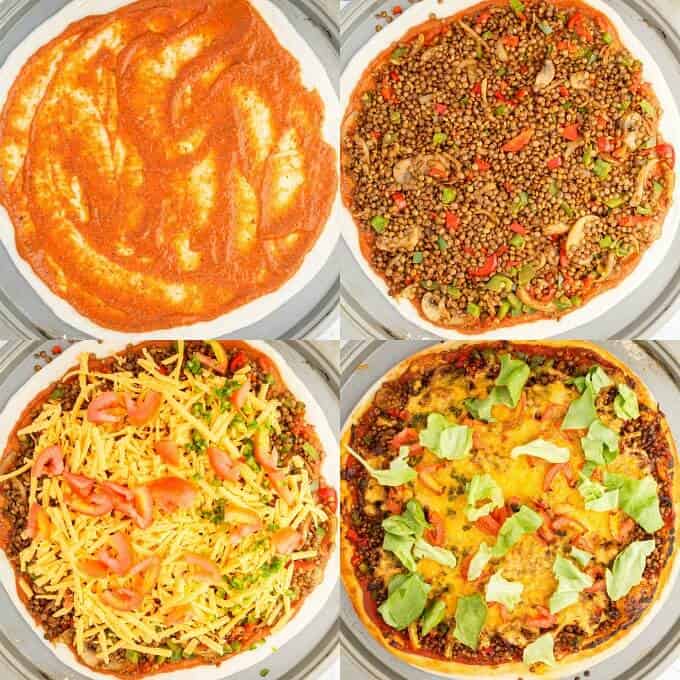 Now, not every meat recipe will be that easy to translate into a vegetarian one. But I am hoping to help out mixed families like ours who are beginning to get sick of cooking two different meals for each dinner. Once I get a few recipes up, I am going to make an info-graph page to highlight my project and ways to make life easier for everyone 🙂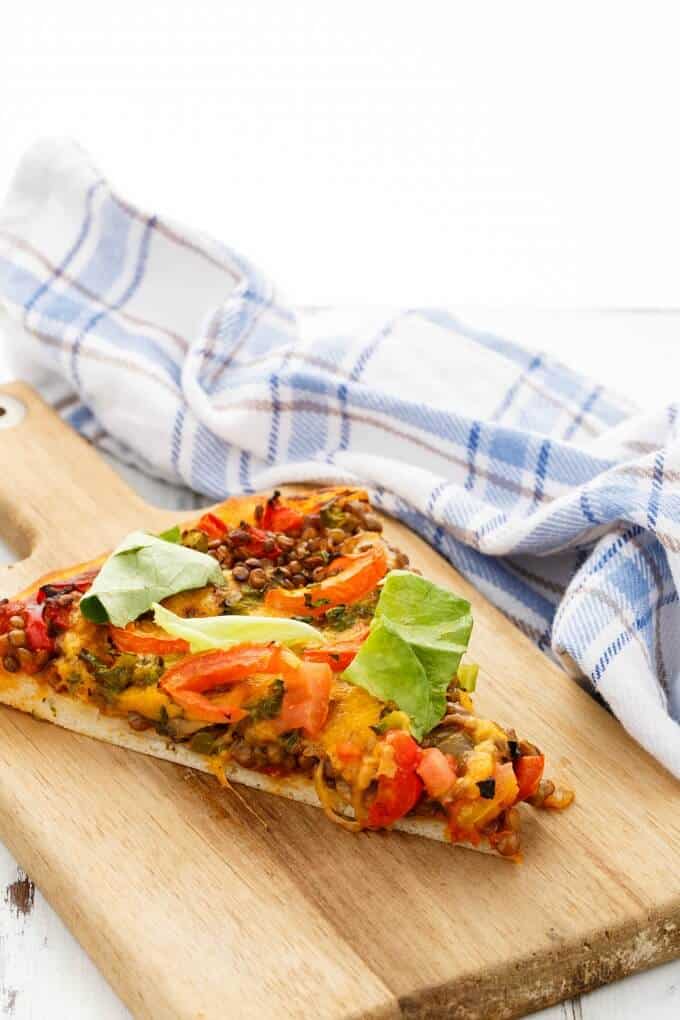 Anyway, this vegetarian lentil cheeseburger pizza is a fun one! I found it super flavorful and my husband really enjoyed it (though he still says the turkey bacon cheeseburger pizza is the BEST pizza he has ever had! Woooooohoo!) If fake meat is your thing, you can easily use it here! There are even fake bacon substitutes out there, but portobello mushrooms make for a fun alternative. I mean, I always say mushrooms are "meaty." 🙂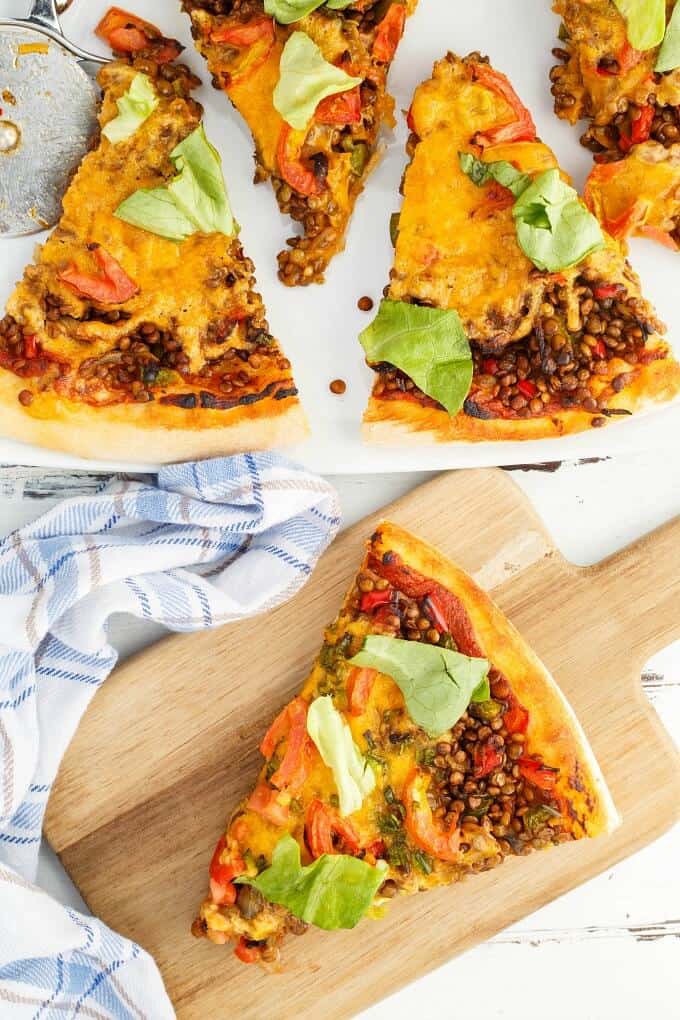 Lentils.org has been showcasing ways to get more lentils into your diet (whether you are vegetarian/vegan or not.) They are cost-effective and full of nutritional properties. And they are great for batch cooking/meal prep! For this recipe, we need to boil our lentils first and then cook them for our mixture, but if you always have boiled lentils sitting around in your fridge, you are already a step ahead!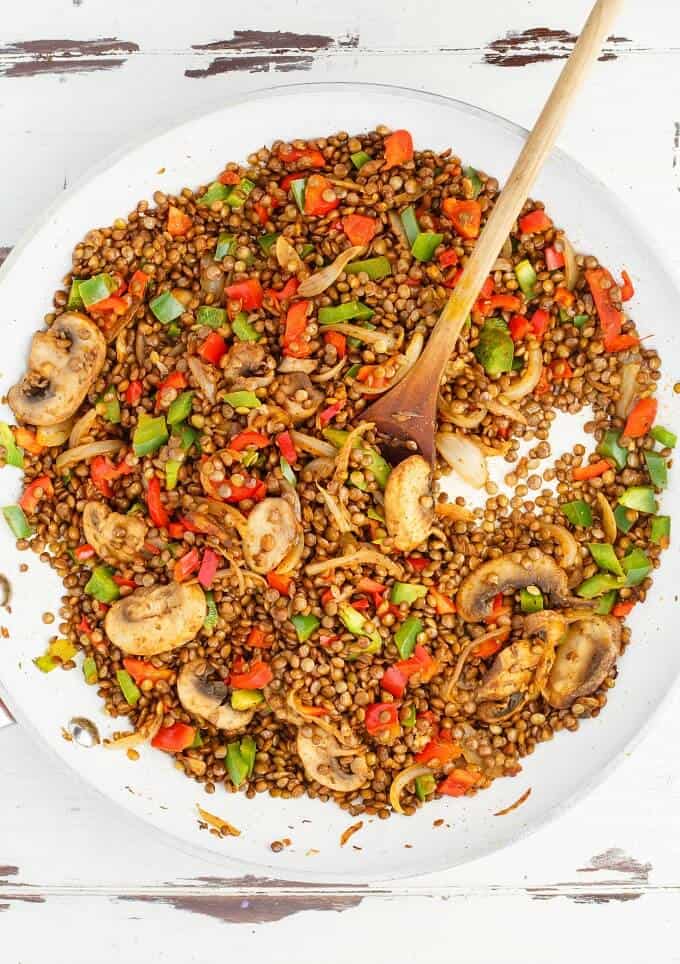 I also suggest in the previous recipe to do a mix of lentils and ground turkey in the meat recipe. Not only are both nutritious, but it a great way to extend meat! Our prices have been going up big time in Canada, so any way we can save some money from time to time...
📖 Recipe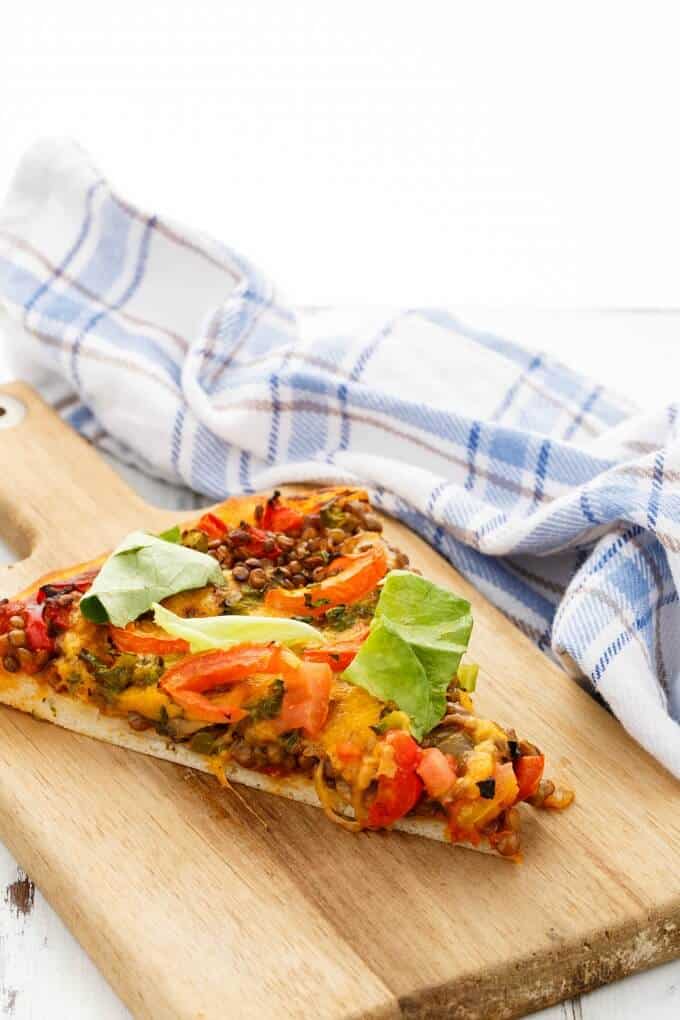 Vegetarian Lentil Cheeseburger Pizza
This vegetarian lentil cheeseburger pizza is a great spin on a classic cheeseburger pizza! Get creative with your toppings (the more the merrier for me!)
Ingredients
1 batch of homemade pizza dough, split in half (you can also use the entire batch for a thicker crust!) OR store-bought pizza dough
1 batch of herb pizza sauce (you will only need about half unless you like an overly saucy pizza!) OR store-bought pizza sauce
8 oz (1 cup) dried green lentils (or 1 lb cooked lentils)
1 tbsp. olive oil
1 portobello mushroom, sliced thin (optional) OR meatless bacon
4 oz mushrooms, sliced
½ red pepper, diced
½ green pepper, diced
1 small onion, sliced thin
3 garlic cloves, minced
1 ½ tsp. vegetarian Worcestershire sauce OR soy sauce
1 ½ tsp. dried oregano
1 tsp. paprika
Salt and pepper
1 roma tomato, halved, seeded, chopped
½ jalapeno, diced (optional)
1-2 cups grated cheddar cheese
Leaf lettuce for garnish
Instructions
Add lentils to a medium saucepan with 3 cups of water over high heat. Bring to a boil, cover, and simmer for 15 minutes, or until tender but not mush (I like a bit of bite to mine!) Drain excess liquid and season with salt.
Topping
In a large frying pan over medium-high heat, add olive oil. Add the mushrooms (not the portobello,) red pepper, green pepper, and onion. Season with salt, pepper, oregano, and paprika. Cook for about 5 minutes and then stir in cooked lentils. Continue cooking until desired vegetable consistency is reached (about 5-8 minutes max.) Stir in garlic and Worcestershire sauce and cook until aromatic. Remove from heat.
Preheat oven to 475F. Roll out pizza dough to form a large surface. Place onto pizza pan.
Add ½ cup of sauce (or more if you desire.) Spread evenly on dough. Spread meat topping evenly over sauce.
Sprinkle cheese on top, followed by tomato, portobello mushroom slices, and jalapeno (if using.)
Place into oven and bake for 12-14 minutes, or until crust is golden. Allow to cool slightly, top with lettuce, and slice!
Notes
Portobello mushrooms are not necessary, and you can use another veggie "bacon" substitute if desired (or leave it off altogether!) Just season the mushrooms with a bit of olive oil, salt, pepper before adding to pizza 🙂 If making this recipe along with the meat one, everything cooks simultaneously except you have to remember to boil the lentils first!
Nutrition Information:
Yield:

6
Serving Size:

1
Amount Per Serving:
Calories:

544
Total Fat:

17g
Saturated Fat:

8g
Trans Fat:

0g
Unsaturated Fat:

7g
Cholesterol:

37mg
Sodium:

584mg
Carbohydrates:

66g
Fiber:

23g
Sugar:

8g
Protein:

35g
Need something to pair this meal with?! Here are my recommendations: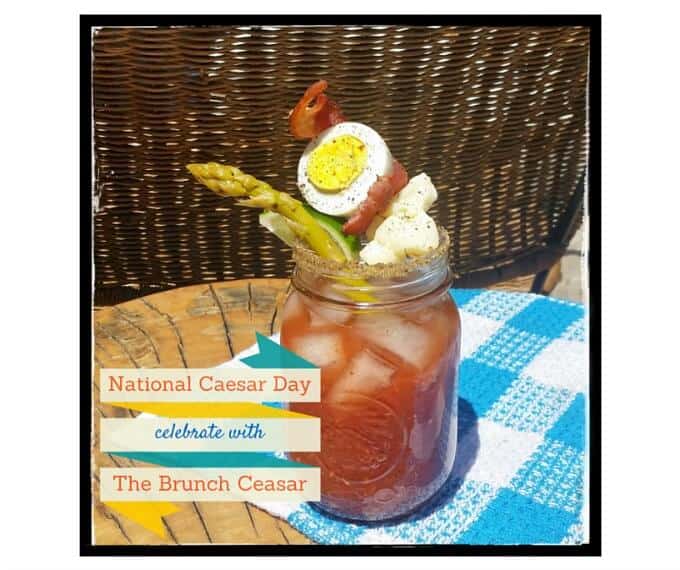 The Brunch Caesar from The Dip Diva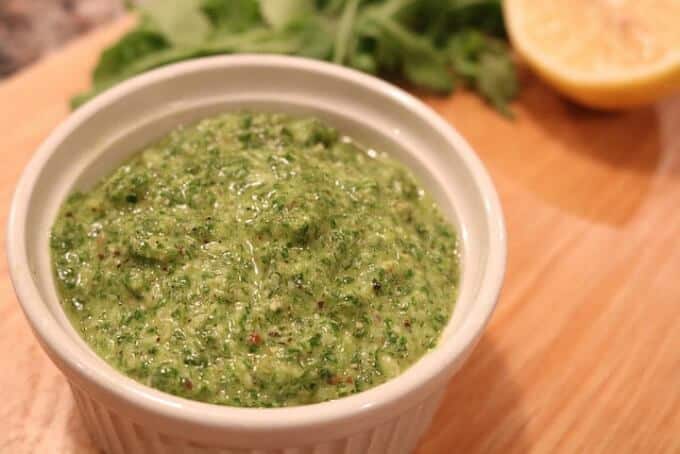 Lemony Arugula Pesto from Girl Heart Food
Love this vegetarian lentil cheeseburger pizza?! Try some of these recipes: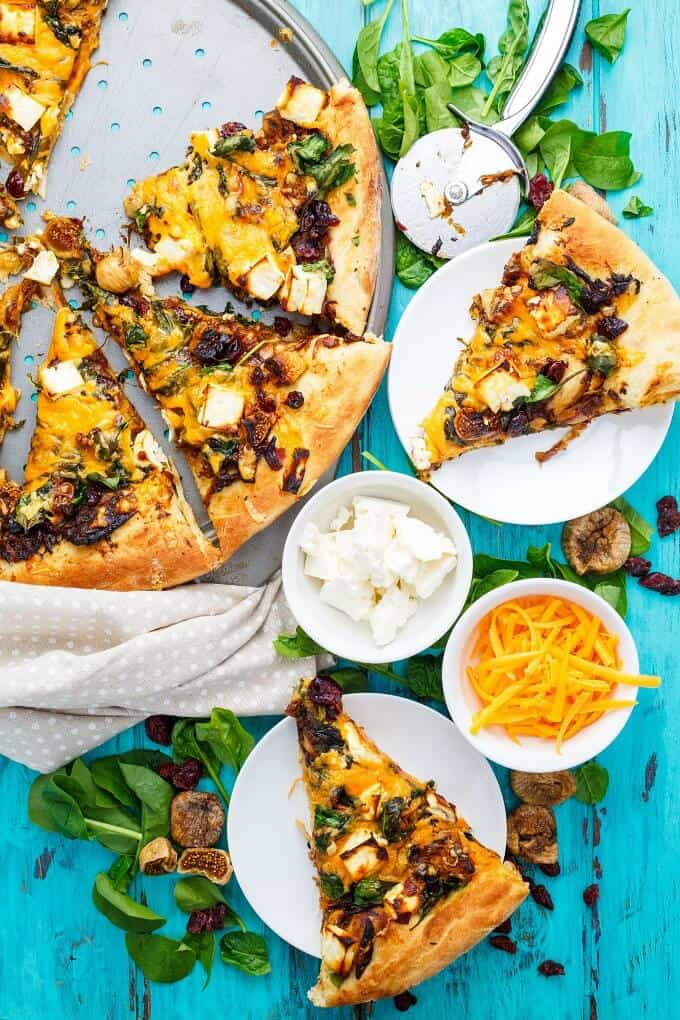 Caramelized Onion Dried Fig Pizza with Feta