I love, love, LOVE today's creation.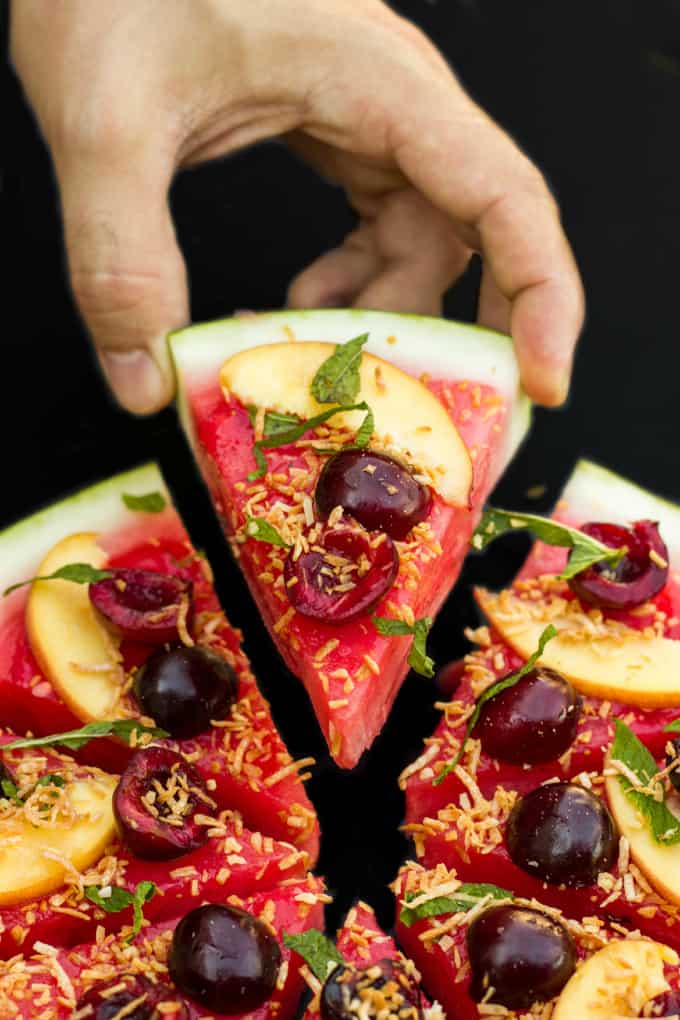 The idea comes from Sweet Simple Vegan and I knew immediately that I was going to make this vegan watermelon pizza. I love mint and watermelon, as you can see from my watermelon popsicles, and figured you could do no wrong to this recipe.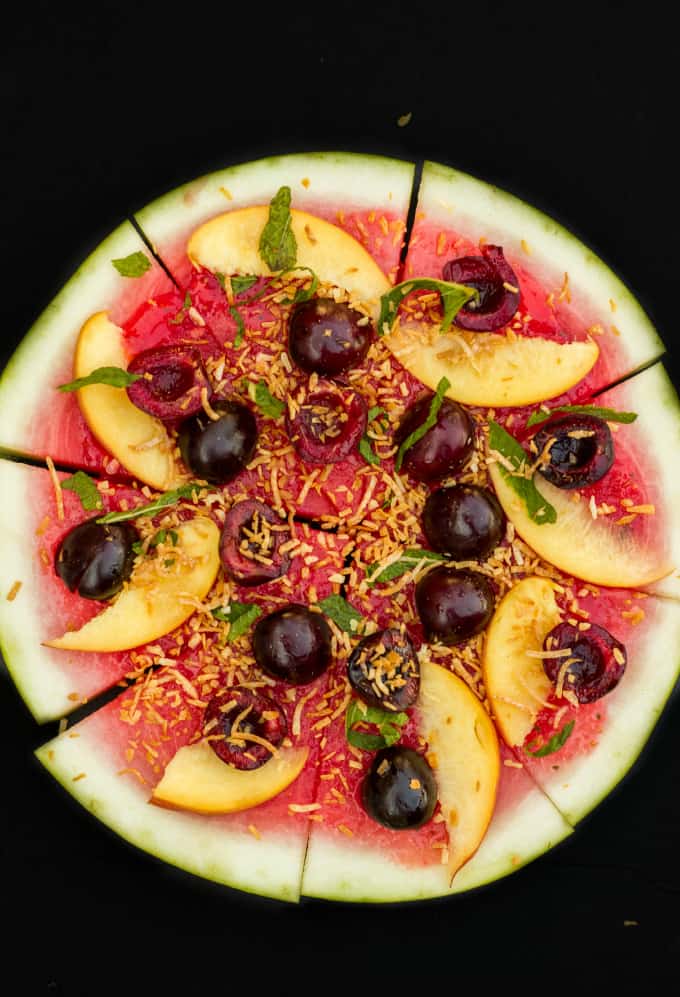 You can customize it how you see fit, which is awesome! I used cherries to represent "pepperoni" and toasted coconut to represent "cheese." It was a lot of fun coming up with a combination, but the best part is, you can use whatever is handy in your refrigerator. Try to pair your fruit accordingly so you don't have too much going on. I wanted to use strawberries but thought it would be too many toppings, so I made a "tomato sauce" by pureeing my strawberries with some lime and fresh mint. I thought the idea turned out cute and tasted delicious! A perfect vegan, gluten-free, and dairy-free dessert.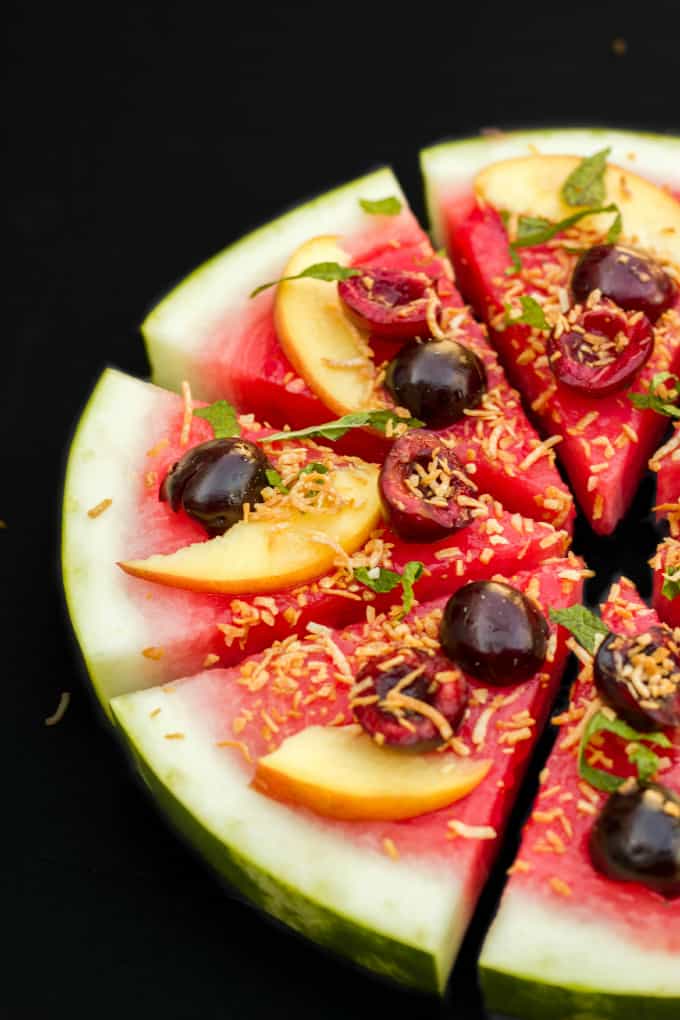 Vegan Watermelon Pizza Dessert
---
Kacey
Yields 4-6
A fun twist on your standard pizza that will please and awe just about everyone.
10 minPrep Time
10 minTotal Time
Ingredients
1 watermelon
1 peach
Cherries (about 10)
Fresh mint
Toasted coconut
Sauce:
5 strawberries
Squeeze of fresh lime juice
Couple of mint leaves
Instructions
To make the sauce, place the strawberries, a squeeze of lime juice, and some mint into a blender. Puree until smooth. Taste and adjust flavours accordingly.
For the watermelon pizza, slice your watermelon in half (not lengthwise!) Cut out 2 1-inch thick "wheels" from the watermelon. Lay the watermelon circles down and cut into pizza slices. Spread desired amount of sauce onto the "pizza." Arrange your toppings onto the watermelon and serve.
7.8.1.2
126
https://thecookiewriter.com/vegan-watermelon-pizza-dessert/
(Inspired by
Sweet Simple Vegan
)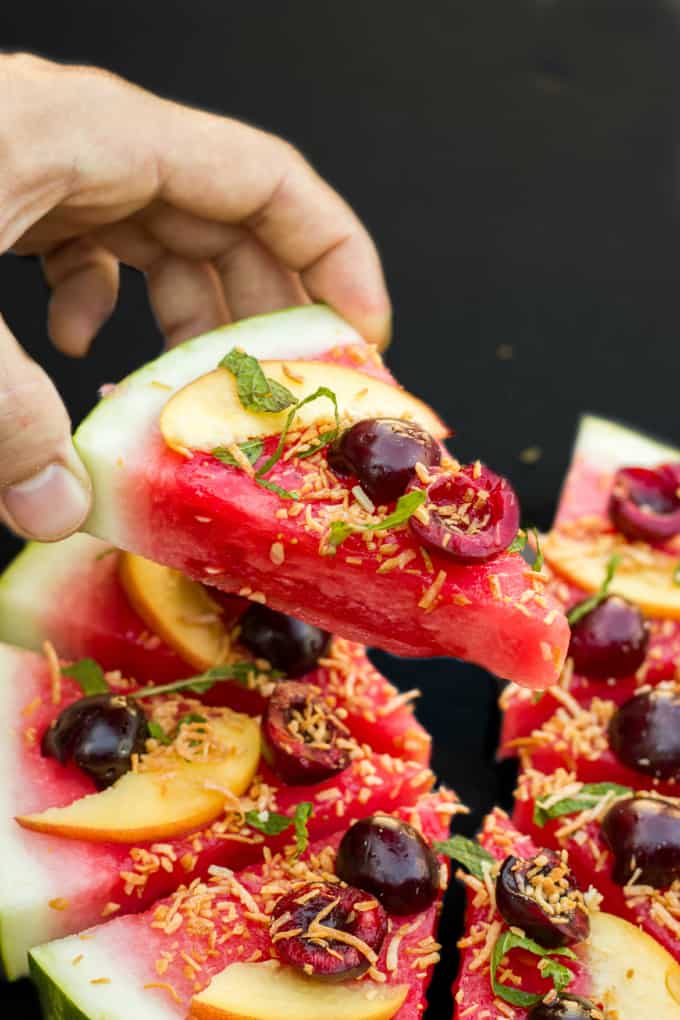 I cannot emphasize enough how easy and tasty this creation is. It is pure genius! Healthy eaters will dive right in, and no one will feel guilty after this snack. Plus, it is very refreshing on a hot summer day.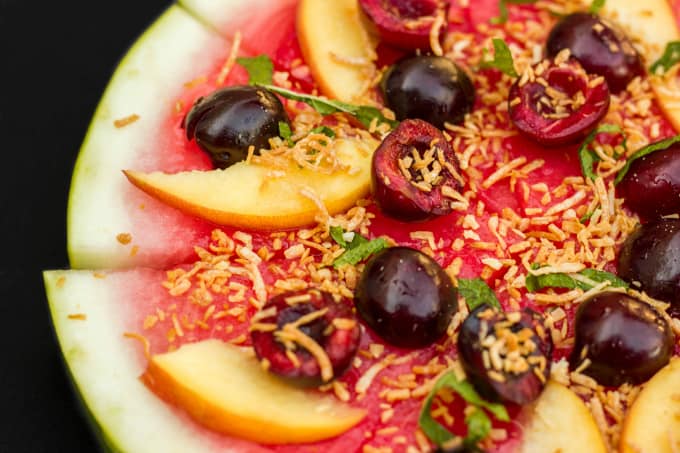 Of course, the only downside is all the leftover watermelon… Wait, who am I kidding?! Well, in all honesty, we did have a ton of watermelon leftover, but I shared it with my neighbours so there was no waste. I am thinking about doing a watermelon "cake" next. The idea came to me when my brother sent me a link specifying what type of birthday cake he wanted this year: a pizza cake. Looks like I have my work cut out for me!