Canadian Thanksgiving is this long weekend, and I already have my leftover recipes underway! This tomato turkey soup with wild rice is my aunt Julia's famous recipe, and it doesn't get any easier than this!
I had good intentions to get this recipe up earlier in the week, but with the amount of birthday celebrations, extra curricular activities, and Thanksgiving prep, there just wasn't enough time!
But this tomato turkey soup with wild rice is here now and I cannot wait to tell you all the amazing details about this recipe!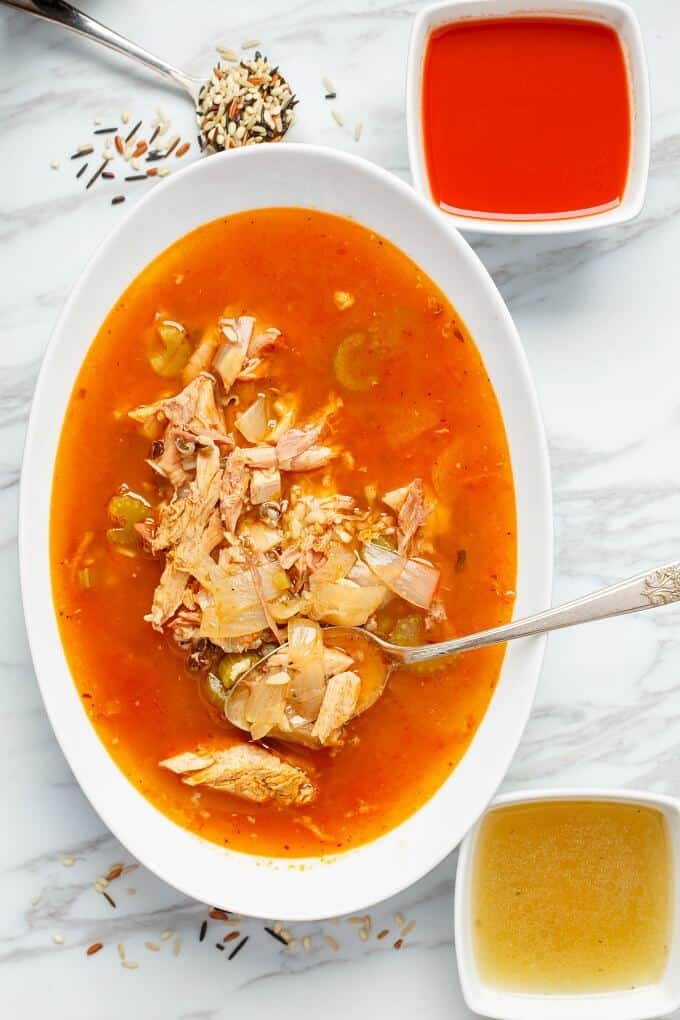 My aunt Julia has been making this recipe since we were kids and it is one recipe that we all fight over (well, obviously before I went vegetarian, lol.) So simple to make and very cost-effective, you can easily freeze a big batch of this for your freezer 🙂
Of course, everyone has their own variant when it comes to leftover turkey soup, and many, like my husband, can be a bit skeptical of just how flavorful a soup can be with simple ingredients. But he shall never question me again! He now requests this tomato turkey soup with wild rice whenever we have extra turkey meat/bones hanging around!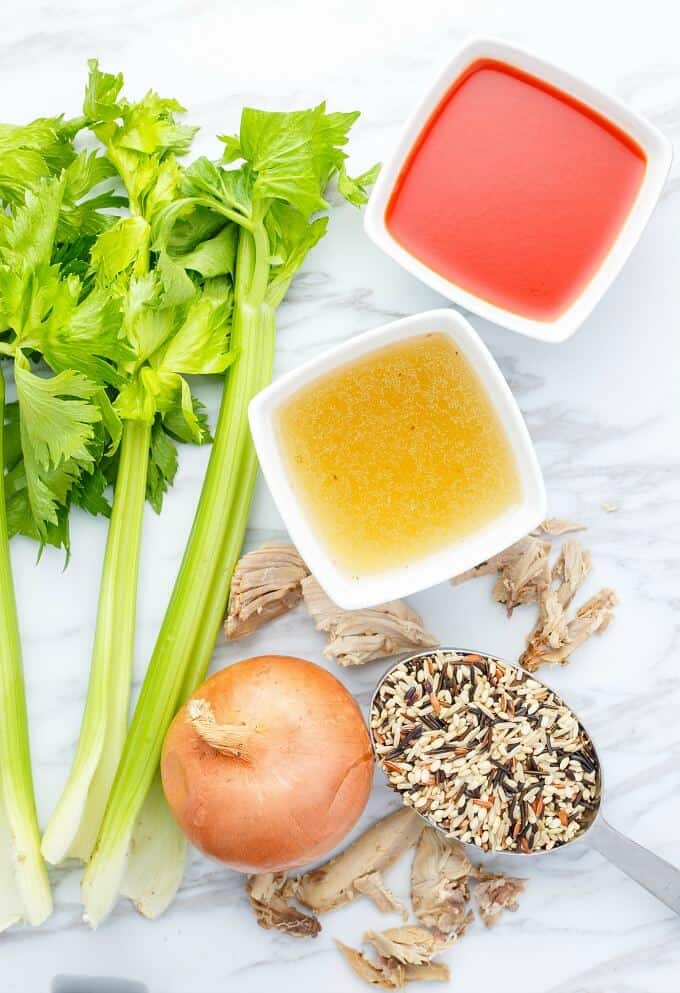 So how easy is this recipe? Well, you can go as simple as simmering your turkey bones in water for a few hours, remove them, add veggies, cook until softened, stir in rice and tomato juice and cook until rice is tender! Bam, done!
OR, you can go crazy like me and make your homemade turkey stock ahead of time and then use it for your soup. I like this method because chances are, you will have more than enough stock for this soup AND for more recipes, meaning you can store some away for future use. Plus, more flavor in the actual soup! One of my husband's biggest concerns when it came to this tomato turkey soup recipe is the fear of the tomato juice masking the flavor of the homemade broth.
Not the case! By adding only 2 cups of tomato juice, you are still rewarded with that rich, flavorful broth! Now, my aunt uses a whole can of tomato juice, but she also cooks the turkey bones right in the soup (no pre-making the broth.) I'll let you decide what you want to do (you can always add, but you cannot take away!)
Enjoy your Thanksgiving, Canadian readers! PS: if wild rice isn't your thing, feel free to sub any other kind in (my aunt uses plain white rice.) Copious amounts of veggies can be added, too!
📖 Recipe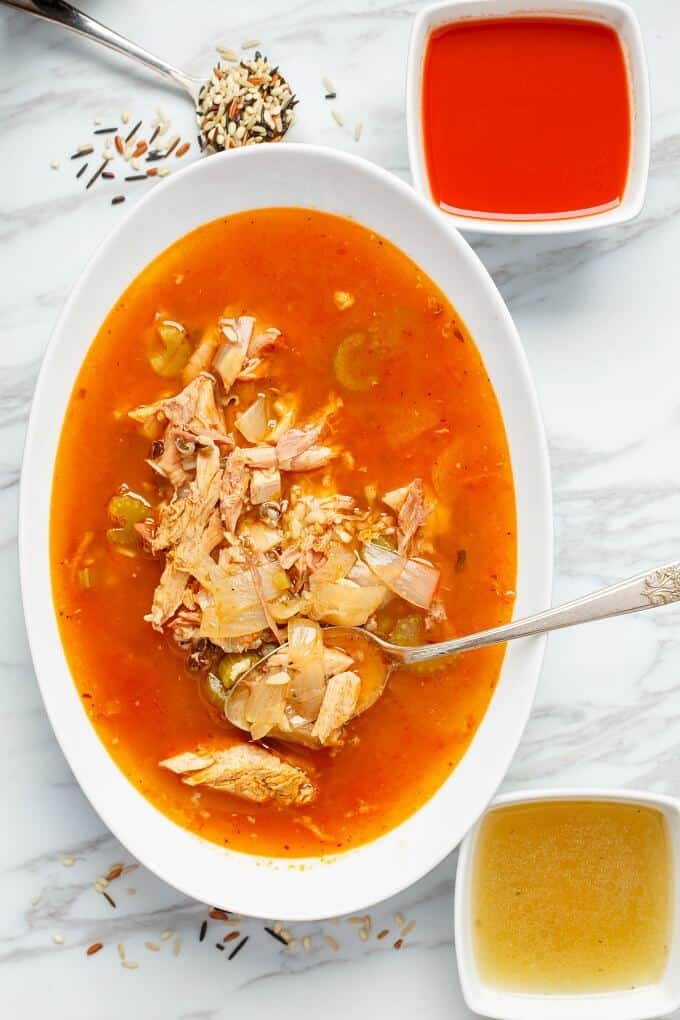 Tomato Turkey Soup with Wild Rice
Cook Time:
1 hour
30 minutes
Total Time:
1 hour
40 minutes
You don't want to mask the homemade turkey broth here so add the tomato juice slowly to see how flavorful you want it!
Ingredients
2 lbs roughly chopped cooked turkey
12-16 cups homemade turkey stock
2 cups tomato juice (you can use a whole can for more tomato flavor!)
1 cup uncooked wild rice
3 celery stalks, sliced
1 large onion, roughly chopped
Salt and pepper
Instructions
Add broth, onion, and celery to a stock pot over high heat.
Bring to a boil, reduce heat, and simmer for 1 hour.
Stir in turkey, tomato juice, rice, salt, and pepper.
Cook for another 30-45 minutes, or until rice is cooked through.
Season and serve!
Notes
All the ingredients can be adjusted (want more onion? Add more! Want less tomato juice? Omit it!) This soup thrives on the homemade broth 🙂
Nutrition Information:
Yield:

4
Serving Size:

1
Amount Per Serving:
Calories:

375
Total Fat:

12g
Carbohydrates:

30g
Protein:

37g
Love this tomato turkey soup with wild rice?! Try some of these recipes: