Comfort food is the best during autumn! This vegetarian pizza meatloaf (pizza lentil loaf) allows non-meat-eaters to enjoy some delicious and healthy comfort food this season!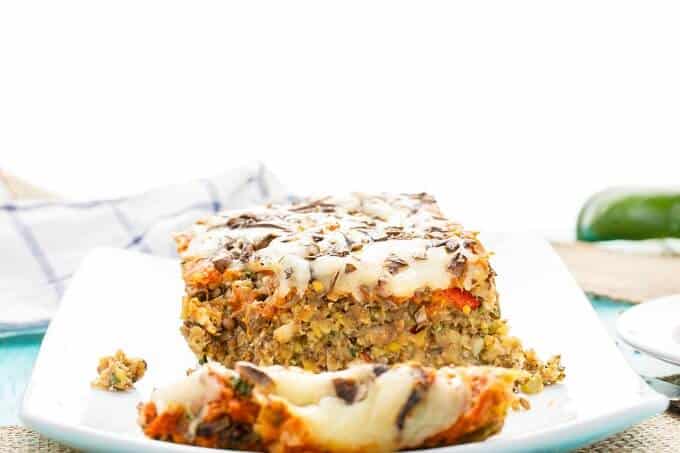 Nothing beats a comforting meal during the cooler weather.
While cooler weather is not here yet, I am getting ahead!
Lentils are a big part of my vegetarian lifestyle and a great source of protein. They are also versatile and delicious!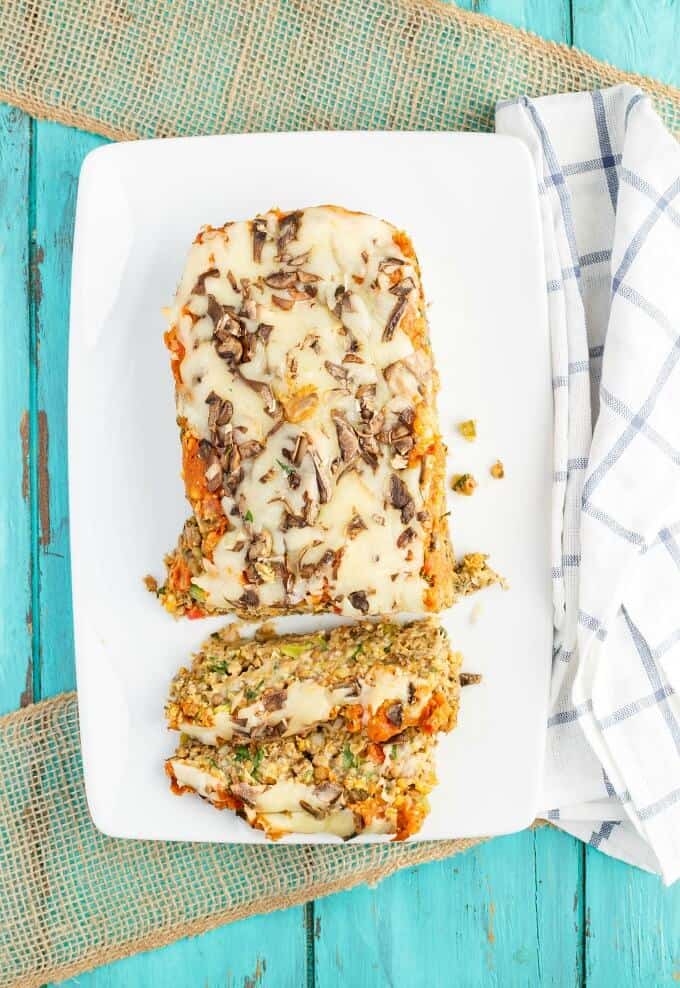 So it is no wonder I used them to make this vegetarian pizza meatloaf!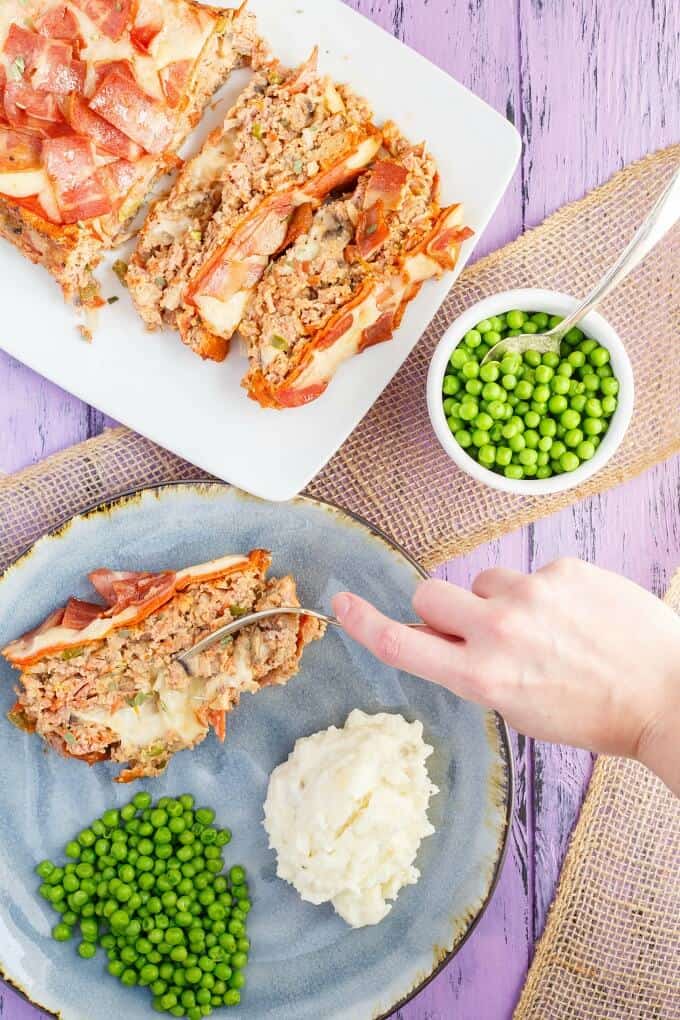 Yesterday's turkey pizza meatloaf is a huge hit here and I knew I would not be left out!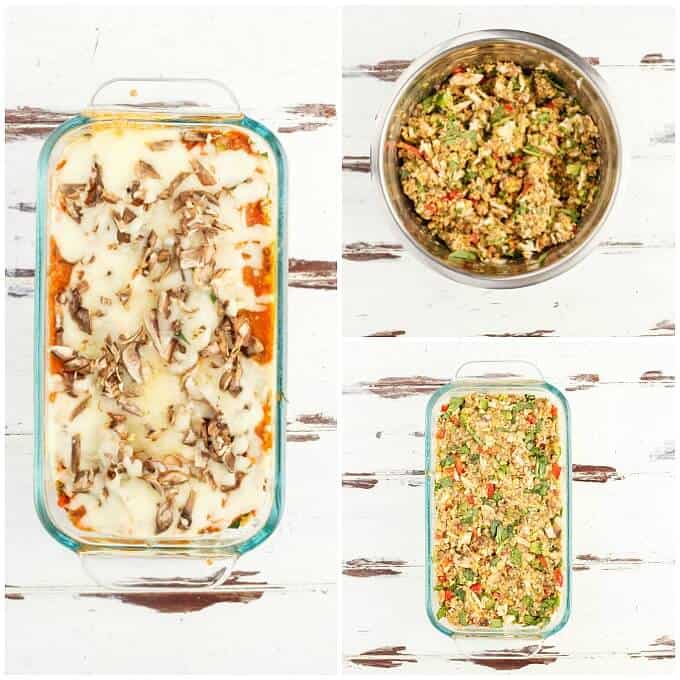 Instead of bacon, I use mushrooms to represent that meaty protein. I also use typical pizza ingredients like peppers, onions, and other delicious veggies to replicate that awesome flavor. Cheese is my best friend and I am not cheap here! Add as much (or as little) as you like and play around with your "toppings." It is okay if you don't care for a specific veggie: omit it and add more of another 🙂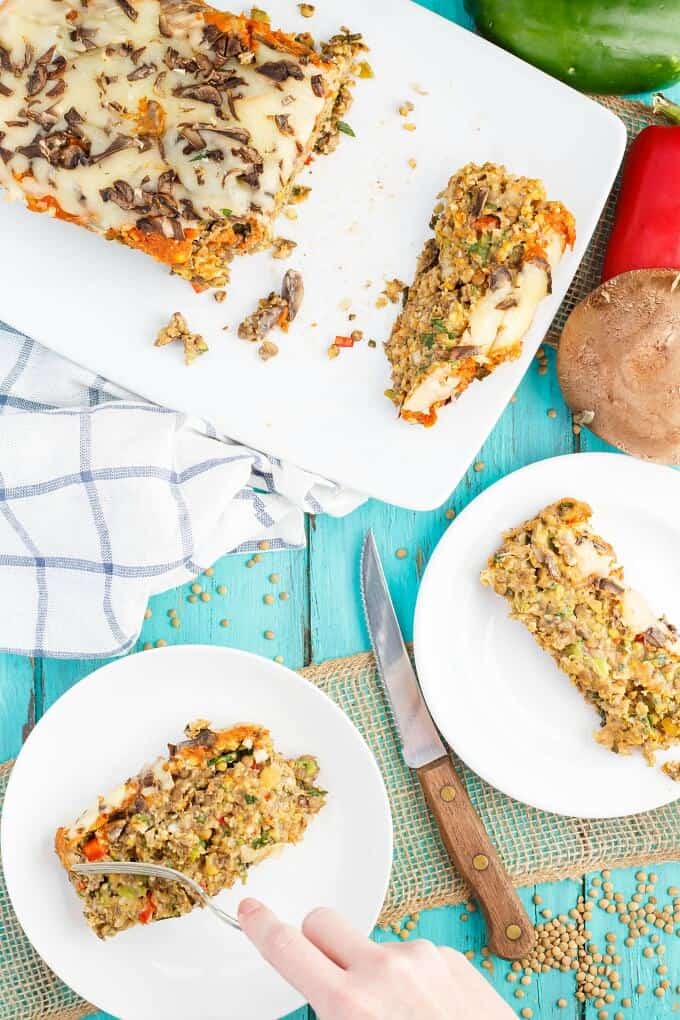 On the topic of vegetarian pizza meatloaf, last weekend my family and I were sitting around the fire talking about anything and everything. The discussion moved to vegetarian "meats" and why people call them meat if they contain no actual meat. It was a lot of fun to hear everyone's opinions!
And I completely agree that it is strange to call meals like this vegetarian pizza meatloaf, well, "meatloaf," but for some, they have made the transition and still want those classic meals. Nothing wrong with calling it a pizza lentil loaf but when searching online, new vegetarians may not know about lentil loaves. Their first thought is "vegetarian meatloaf."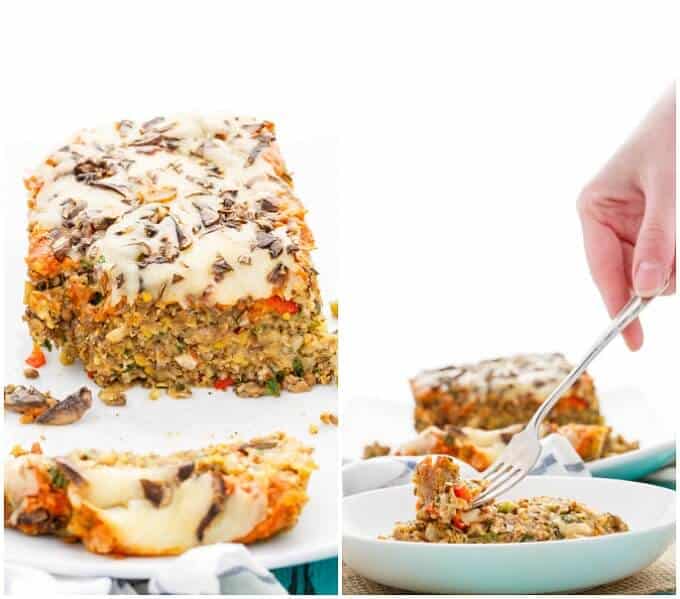 So whatever you call this recipe, it surely will have the word delicious in or around it 😉
📖 Recipe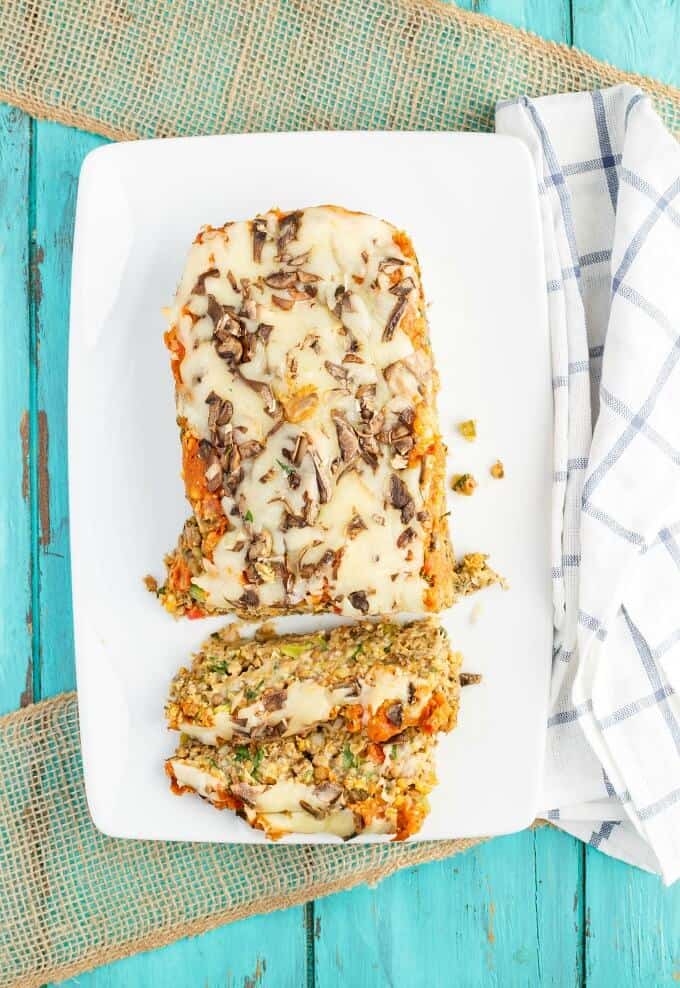 Vegetarian Pizza Meatloaf (Pizza Lentil Loaf)
Cook Time:
1 hour
20 minutes
Total Time:
1 hour
40 minutes
This vegetarian pizza meatloaf is packed full of veggies and perfect for non-meat-eaters!
Ingredients
1 cup dried green lentils
1 cup roughly chopped up canned chickpeas (liquid drained.)
1 large egg
1 small onion, diced (about ¼ cup)
4 oz mushrooms, diced (about ¼ cup)
½ green pepper, diced (about ¼ cup)
½ red pepper, diced (about ¼ cup)
Handful fresh baby spinach, roughly chopped
2 garlic cloves, minced
¼ cup milk
¼ cup homemade pizza sauce (or store-bought!) + more for topping
1 cup old-fashioned oats (breadcrumbs work, too!)
Salt and pepper
2 tsp. dried oregano
2 tsp. dried basil
¾ grated mozzarella cheese
Topping
4 oz mushrooms, roughly chopped
2-3 tbsp. pizza sauce
¼ cup grated mozzarella cheese
Instructions
Add lentils to a medium-sized pot with 2 cups water. Bring to a boil, cover, and simmer for about 15-20 minutes, or until tender (but not mushy!) Drain excess liquid and move lentils to a large mixing bowl.
Combine all remaining ingredients EXCEPT cheese into a large mixing bowl. Mix until JUST combined. Overworking the meat will make it tough.
Preheat oven to 350F.
Place about half the mixture into a loaf pan (I use a standard glass bread loaf pan: 9 inches, by 5 inches, by 2 inches.) Press a hole into the centre, working the mixture up the sides a bit. Add ½ cup of grated cheese (or more if desired, but just remember you need to cover the cheese!!) Add remaining lentil-mixture and cover the cheese. Press down until even across the top.
Add "meatloaf" to oven and bake, uncovered, for 10 minutes. Remove and place a couple of tablespoons of pizza sauce, mushrooms, and remaining cheese onto "meatloaf."
Place back into oven and continue cooking until firm, about 30-40 more minutes.
Remove, allow to cool slightly, carefully remove from pan, slice and serve! Or slice right in the pan!
Notes
This mixture is much softer than the meat version, so free-forming the "meatloaf" onto a baking sheet may not work.
Nutrition Information:
Yield:

4
Serving Size:

1
Amount Per Serving:
Calories:

392
Total Fat:

10g
Saturated Fat:

4g
Trans Fat:

0g
Unsaturated Fat:

5g
Cholesterol:

62mg
Sodium:

826mg
Carbohydrates:

56g
Fiber:

13g
Sugar:

11g
Protein:

22g
Need more lentil ideas?! Here are my recommendations: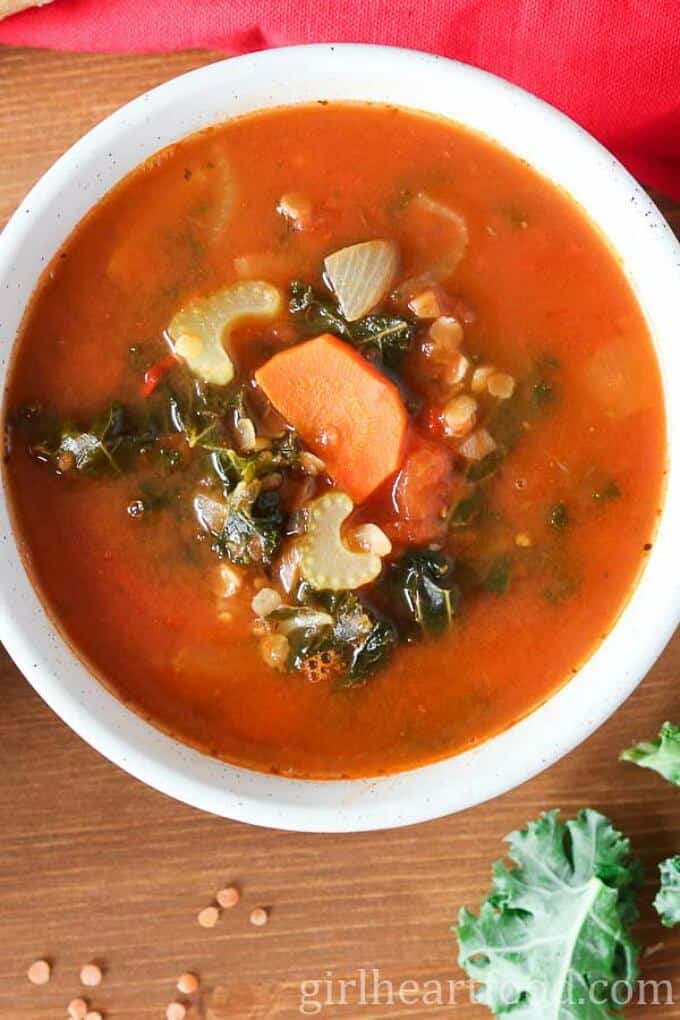 Spicy Lentil Soup with Kale from Girl Heart Food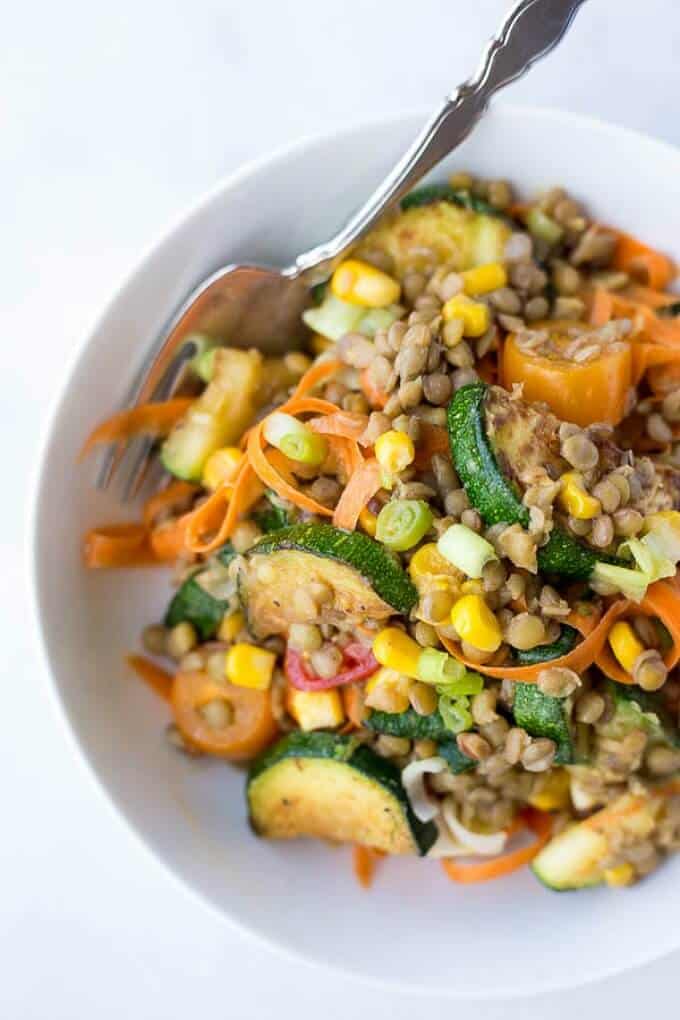 Honey Mustard Lentil Vegetable Salad from fooduzzi
Love this vegetarian pizza meatloaf (pizza lentil loaf)?! Try some of these recipes: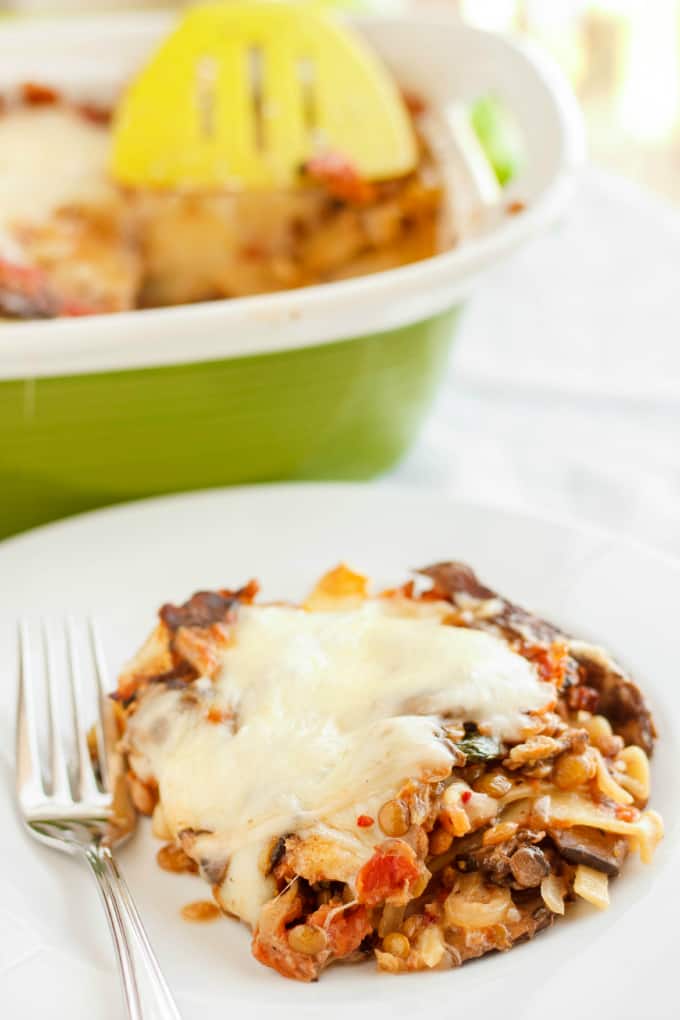 Lentil Lasagna in a Roasted Portobello Cream Sauce