Using up homemade chicken broth has never been easier! This portobello mushroom soup with homemade chicken stock is easy and versatile: meaning, you can use turkey here, too!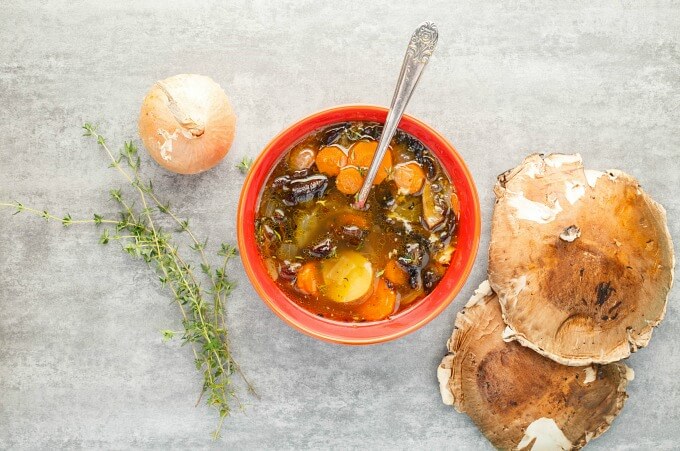 Remember my tutorial on homemade chicken stock?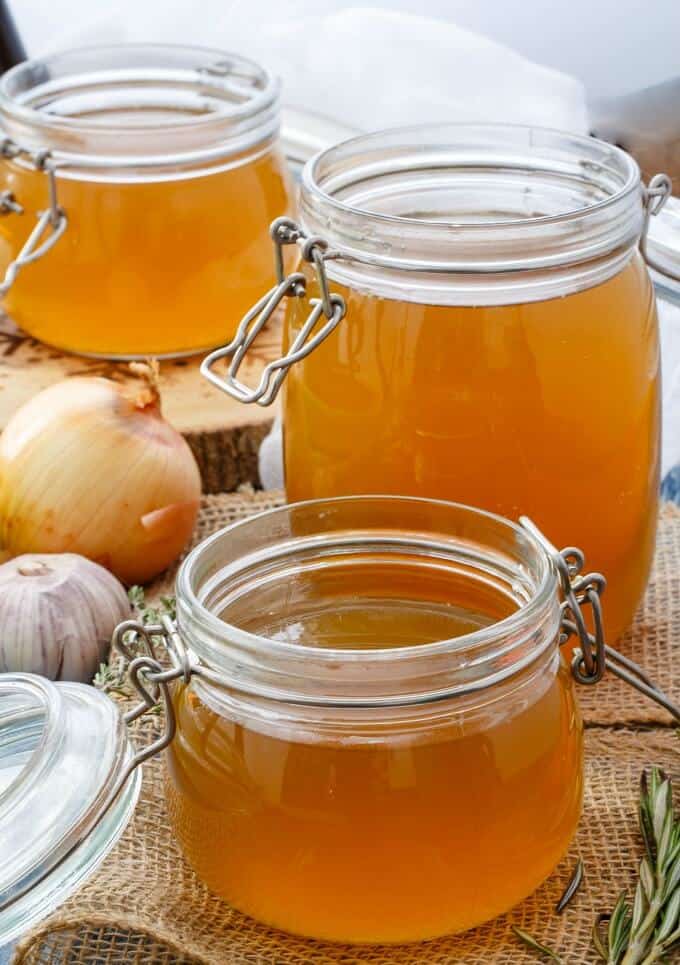 Well, let's be honest, my first thought was to make chicken noodle soup with the stock.
Come on, you know it would cross your mind, too! However, while I had chicken on hand, I was out of many ingredients! Not wanting to see anything go to waste, I decided to journey through my fridge and use up what I had.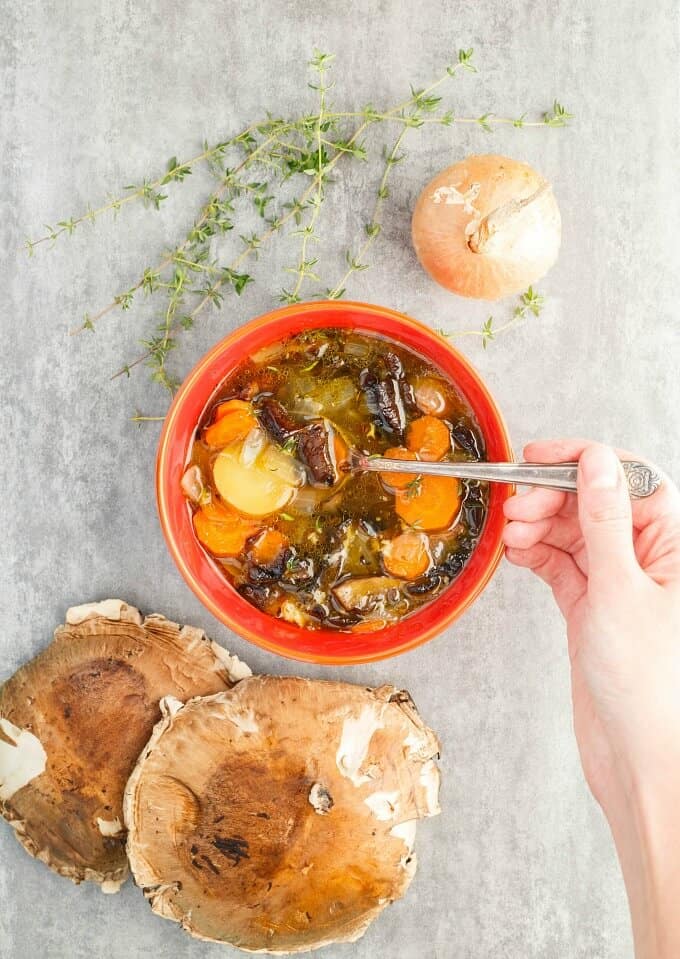 What came out of using up all these ingredients is a soup that I deem hearty, easy, and soooo great for the summer! Say hello to my portobello mushroom soup with homemade chicken stock.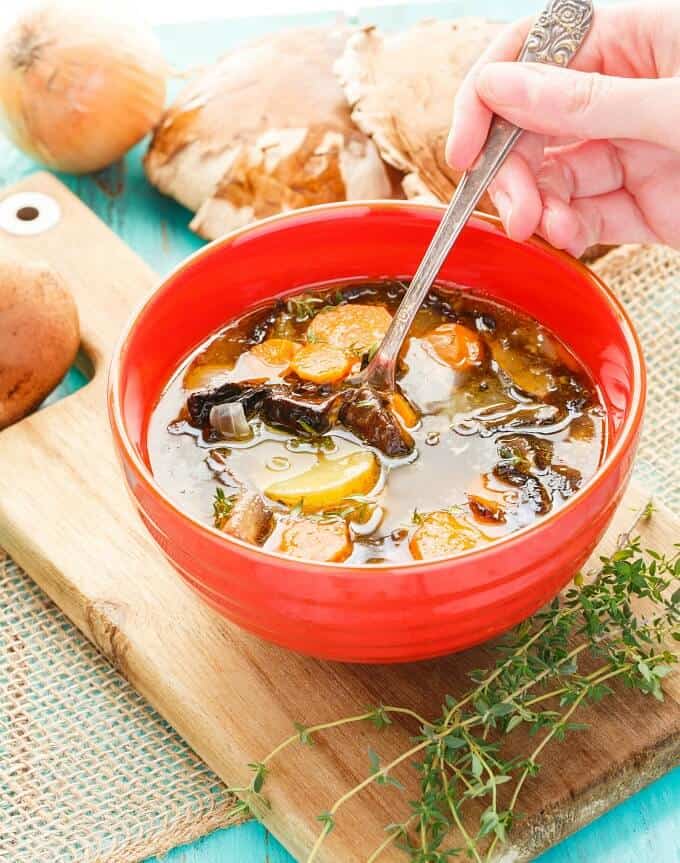 Let's face it, I spent the time and effort making homemade chicken stock and do not want to mask the flavor.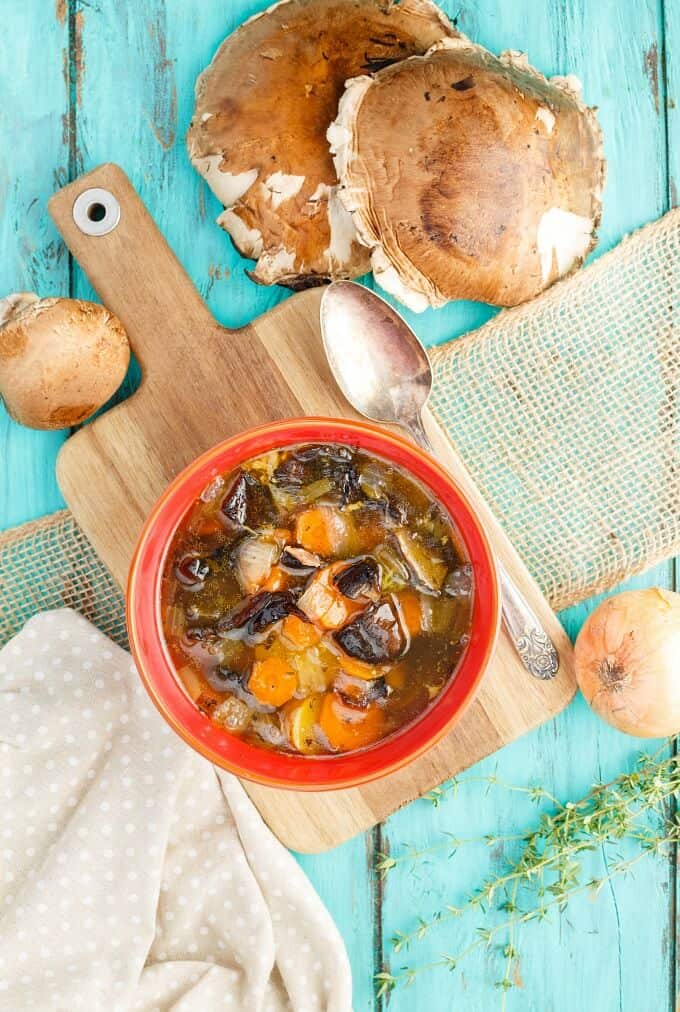 This soup brings out all the flavors from the stock and then some. My husband loves it! So light and refreshing, he likes that is is different from traditional chicken noodle soup. Store-bought chicken stock will work here, too, but I feel you don't get that unique flavor unless you make the broth yourself (super easy and you are not letting the chicken carcass go to waste!) That aside, make it however you like, but let me tell you, making this soup was a nice change from the traditional!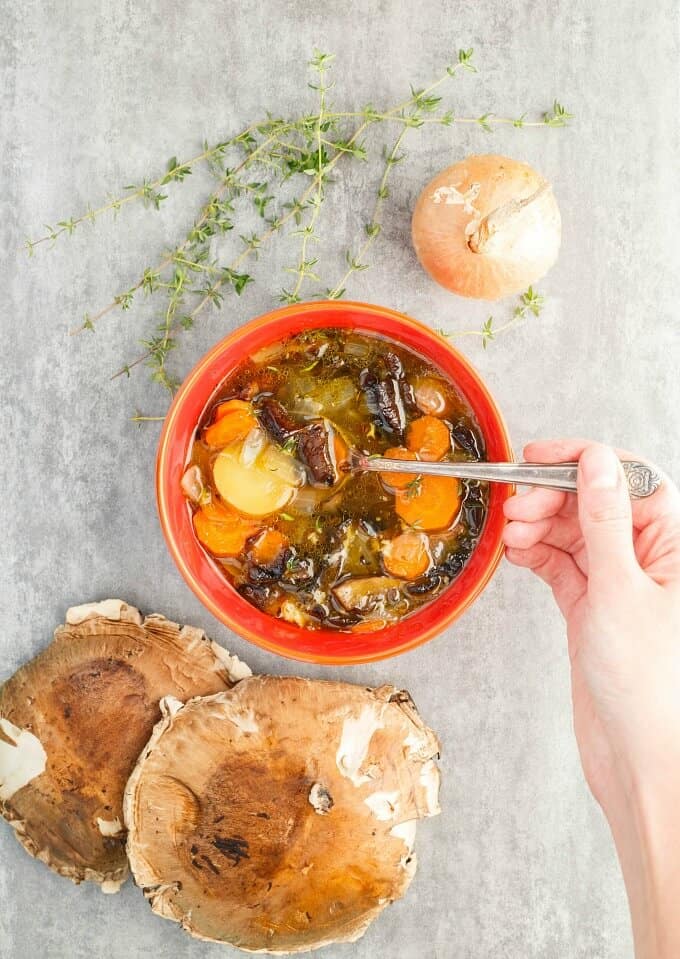 Portobello Mushroom Soup with Homemade Chicken Stock
Roasted vegetables make all the difference in soup recipes! This homemade portobello mushroom soup uses homemade chicken broth or turkey broth, to make one delicious meal!
Ingredients
1 lb (about 3 large) portobello mushrooms, gills and stems removed, chopped
1 onion, chopped
½ lb carrots, chopped
½ lb baby or Creamer potatoes, halved
¼ tsp. dried thyme or two sprigs of fresh thyme
Salt and pepper
6 cups homemade chicken broth (or store-bought broth)
¼ tsp. chili flakes
1 head of garlic
1 tsp. olive oil + more for veggies
Fresh thyme for garnish
Instructions
Slice the top off the head of garlic to expose the cloves. Place onto sheet of aluminum foil and drizzle with some olive oil, salt, and pepper. Wrap up and place aside.
Preheat oven to 425F.
Line a baking sheet with parchment paper or silicone mat. Toss together the mushrooms, onion, carrots, and potatoes with just enough olive oil to coat the veggies. Season with salt, pepper, thyme, and chili flakes. Place the pan into the oven, along with the head of garlic, and cook for 20 minutes (the garlic may need a bit longer, so keep an eye on it.) Remove from oven and set aside.
Heat a large pot over high heat and add the broth. Bring to a boil and add veggies and roasted garlic (which has been removed from the paper skin and lightly chopped.) Simmer everything together for 20 minutes, covered. Remove sprigs of thyme (if used) and serve with fresh thyme if desired!
Notes
You can use turkey or chicken in this recipe! Perfect for Thanksgiving leftovers!
Nutrition Information:
Yield:

4
Serving Size:

1
Amount Per Serving:
Calories:

359
Total Fat:

14g
Saturated Fat:

7g
Trans Fat:

0g
Unsaturated Fat:

6g
Cholesterol:

31mg
Sodium:

699mg
Carbohydrates:

41g
Fiber:

4g
Sugar:

10g
Protein:

18g
Love this Portobello Mushroom Soup?! Try some of these recipes: