Autumn is coming to a close, and what better to part ways than with this carrot, leek, and mushroom risotto!
Trying to fit in the last of my autumn recipes before the holiday season rolls around is proving difficult! December means holiday cookies, desserts, and sides! Don't worry, I will be filling in all the necessities but I still have to cook regular meals you know?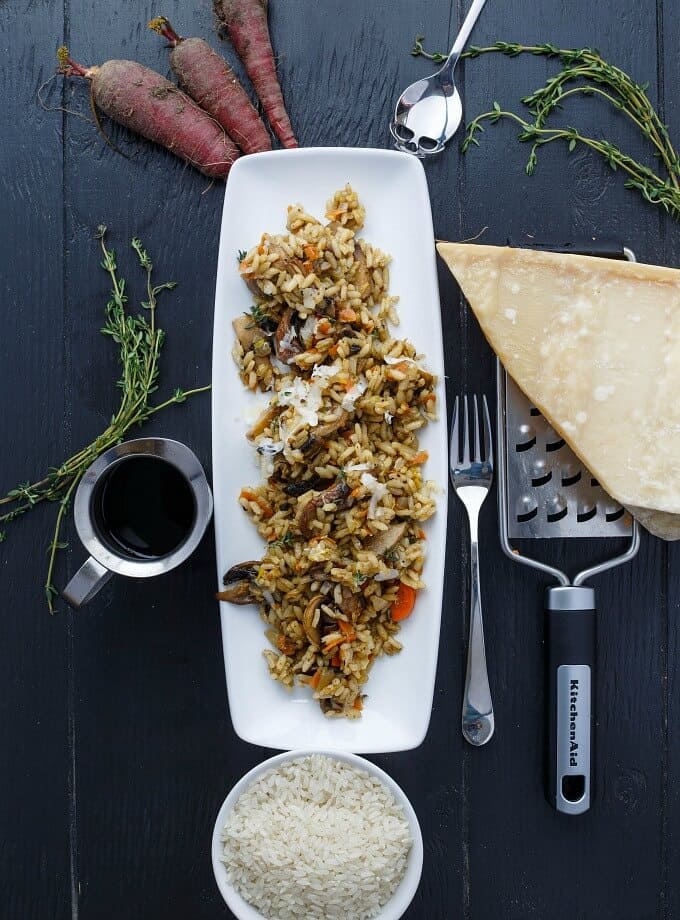 Last week I spoke highly of my leftover Thanksgiving turkey risotto and must say, while it looked and sounded delicious, it was a no-go for me (no meat in my books!) I don't mind making risotto at all, so when the first one was complete, I moved onto my own vegetarian version: carrot, leek, and mushroom risotto!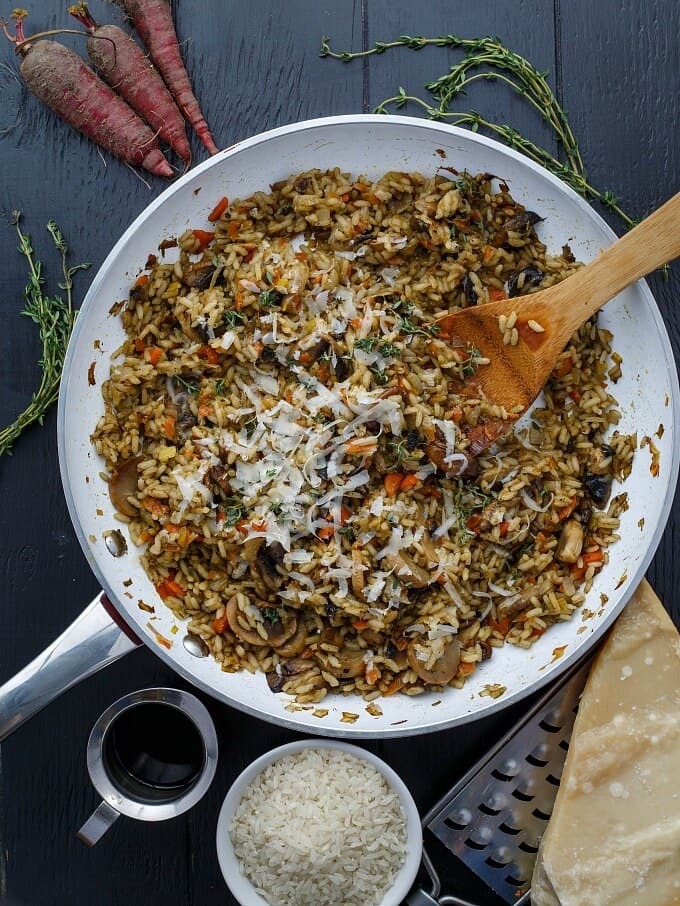 If you frequent my blog, you know of our love for risotto. They often get flack for being difficult, but once you get into a rhythm, there is no going back. Yes, they do take some time but honestly, sooooo worth it! Risottos can be used as a side dish, appetizer, or even a main! How versatile!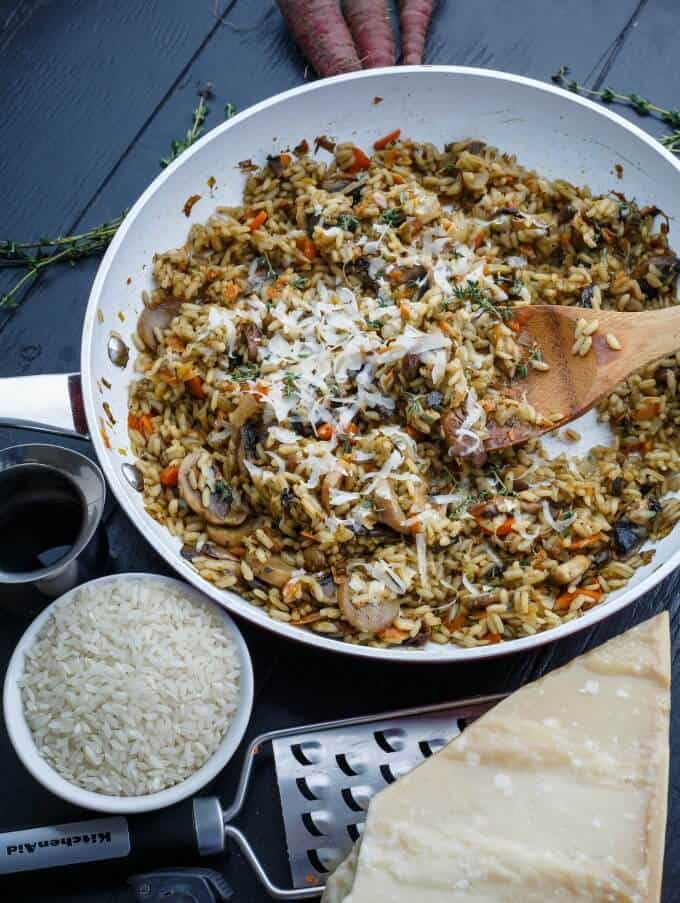 Mushroom risotto is by far my favorite, but this autumn blend with carrots and leeks really reminds me of the cool, fall days. I am kind of sad to see them go (specially with regards to walking my daughter to school!) However, let's be honest, I can eat mushroom risotto all year round so who cares about the temperatures (unless they are really, really cold like our winter last year!)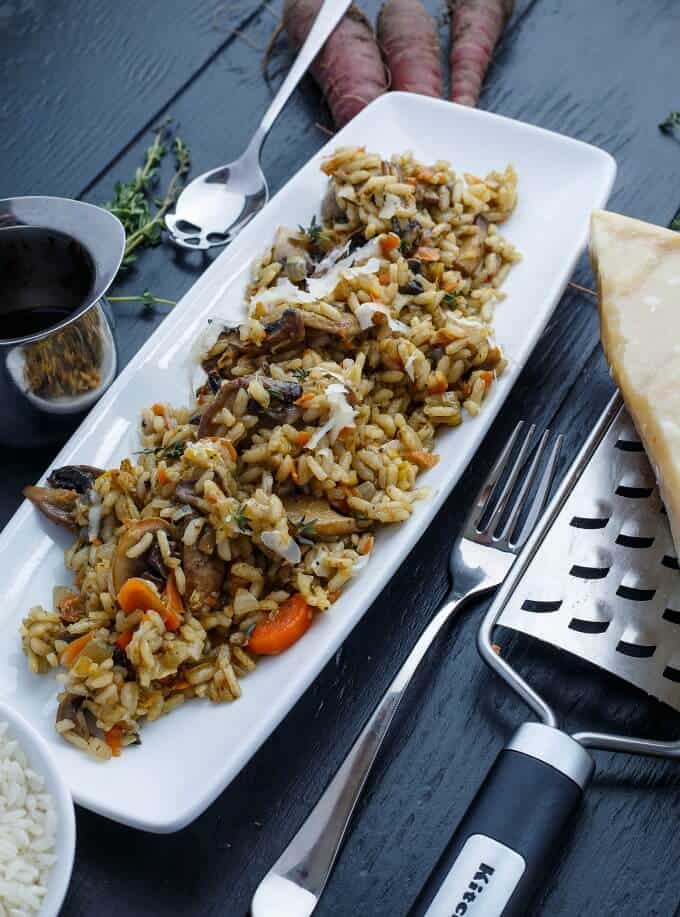 📖 Recipe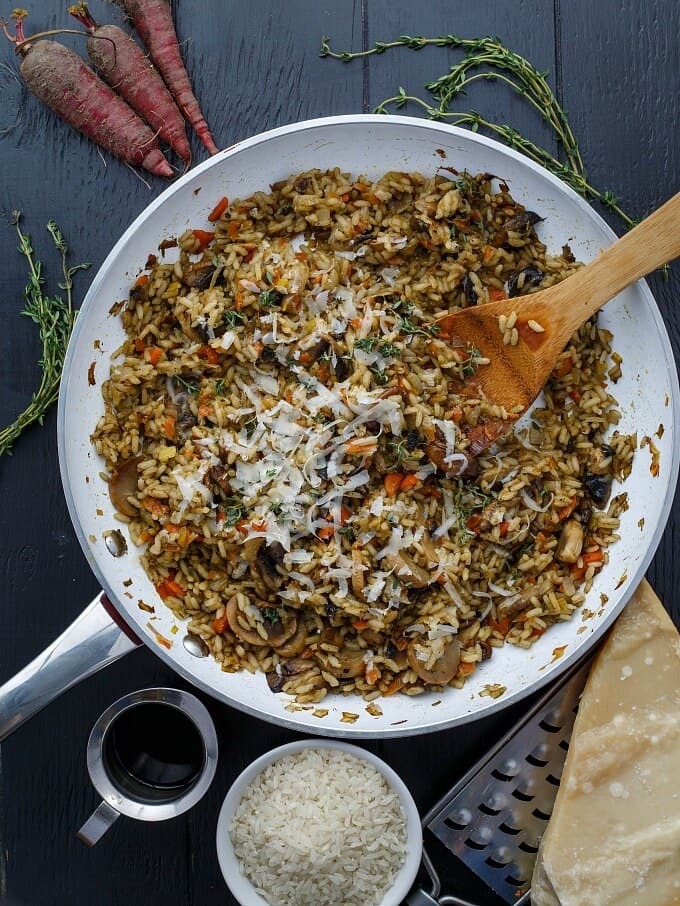 Carrot, Leek, and Mushroom Risotto
Autumn is coming to a close, and what better to part ways than with this carrot, leek, and mushroom risotto!
Ingredients
3 ½ cups vegetable stock (or your favorite stock!). simmering on stove top.
3 tbsp. butter
1 onion, diced
1 small carrot, grated
12 oz button mushrooms, sliced
¼ - ½ cup diced leeks
3 cloves garlic, minced
¼ tsp. dried thyme
1 cup arborio rice
Splash of red wine vinegar
½ cup Parmesan cheese, grated
Salt and pepper
Instructions
Add the butter to a saute pan, melting over medium-high heat. Add the onion, carrots, leeks, and mushrooms, and cook until translucent and tender.
Season with salt and pepper. Add the garlic and thyme, and cook for 1 minute.
Pour in the rice and cook for a good couple of minutes. Carefully pour in the red wine vinegar. Lots of steam will appear as the liquid touches the pan. Quickly stir the bottom of the pan with a spatula so you can get all the nice brown bits up.
Pour in ½ cup of broth at a time, stirring until almost of the liquid is gone before you add the next amount. When you add your last half cup, try to leave a bit of extra liquid so it has a creamy look when we add the cheese.
Stir in the cheese and mix until it is melted.
Serve immediately!
Nutrition Information:
Yield:

2
Serving Size:

1
Amount Per Serving:
Calories:

517
Total Fat:

27g
Saturated Fat:

15g
Trans Fat:

1g
Unsaturated Fat:

9g
Cholesterol:

67mg
Sodium:

1990mg
Carbohydrates:

55g
Fiber:

5g
Sugar:

10g
Protein:

16g
December is just around the corner and I am so ready! Baking, decorating, you name it! Next week I start off the week right with the perfect recipe for gift giving. It is all about sharing and caring, right? So buckle up and get ready for the festive season beginning next week (I wouldn't mind enjoying a bowl of mushroom risotto as we venture in!)
Love this carrot, leek, and mushroom risotto!? Try some of these recipes: